Update: The USA will introduce an India travel ban as of May 4, 2021.
The situation unfolding in India right now is tragic, with coronavirus cases surging, ICU beds full, and hospitals even running out of oxygen. With that in mind, I can't help but pose a question about (the lack of) travel restrictions.
Why isn't the US adding an India travel ban?
The US has a variety of travel bans in place, which prevent most people who traveled to certain places in the past 14 days from entering the US (there are exceptions, like Americans returning home). All of this is in addition to the US requiring pre-travel testing for all arriving international travelers.
There are currently US travel bans in place for the European Union, the United Kingdom and Ireland, Brazil, and South Africa, among others. All of those bans were put in place under Trump, except the South Africa travel ban, which was put in place shortly after Biden took office, while cases were surging in the country.
While rumor has it that the US travel bans will be lifted in the coming weeks (though who knows), can anyone make sense of how we're not seeing an India travel ban added effective immediately? Somehow travel from India to the US is totally fine, even though cases look like this: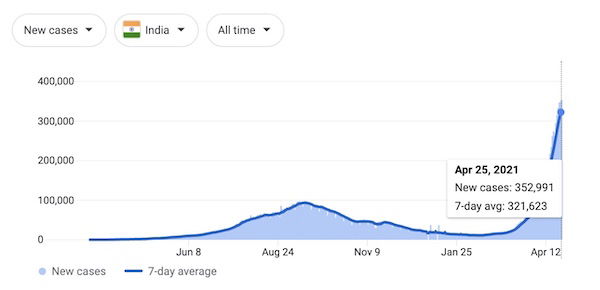 Meanwhile travel from the UK to the US is prohibited, even though cases look like this: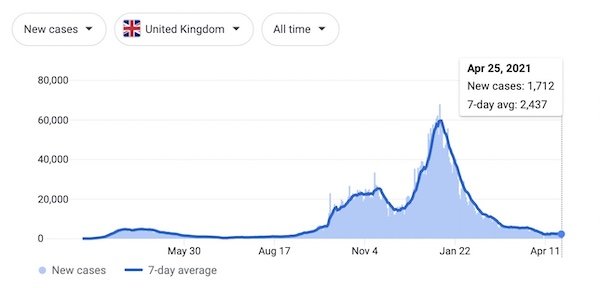 Keep in mind that case numbers in India don't fully reflect how bad the situation is. The test positivity rate in India is right around 20%, so I can only imagine how many cases there really are.
Never mind the fact that there are some questions about the quality of testing for travel in India, given a recent Vistara flight from Delhi to Hong Kong that had 47 people test positive for coronavirus after arrival, even though pre-travel testing was required. While pre-travel testing isn't going to catch all cases, that's still beyond alarming.
I don't know if travel bans make sense, but…
To be clear on my stance on the travel bans we've seen:
There are questions about how useful travel bans are, especially when a country isn't coronavirus free, though perhaps variants make them more legitimate
I do think there needs to be some periodic review of these bans so that they're at least somewhat logical and reflect reality; for example, last summer Germany had among the lowest coronavirus cases, yet Germans were banned from traveling to the US
On the surface I can appreciate that the Biden administration didn't want to immediately lift travel restrictions, instead hoping to take a few months to get a good percentage of the population vaccinated before lifting restrictions on a widespread basis
Still, there's one thing I feel confident saying — people arriving on a flight from India are higher risk than people arriving on a flight from the United Kingdom right now, yet the travel restrictions suggest the inverse is true
Bottom line
I'm curious to see if the White House introduces an India travel ban in the coming days. If it does end up happening then I can't help but wonder what took so long. And if it doesn't happen, then I can't really make sense of how it's justifiable to continue to have the current bans on other countries in place.
Do you think we'll see the US add an India travel ban, or has vaccination progress made it unnecessary? If an India travel ban doesn't make sense, then how does it make sense to maintain other travel bans?