A few days ago I posed the question of why the United States hasn't yet introduced an India travel ban. It goes without saying that the situation in India is heartbreaking and the USA needs to do everything it can to help, though that doesn't mean travel should be allowed without restrictions. Well, it looks like this is finally changing.
Details of new India travel ban
The White House will be introducing a ban on travel from India as of 12:01AM ET on Tuesday, May 4, 2021. As explained by Press Secretary Jen Psaki:
"On the advice of the Centers for Disease Control and Prevention, the Administration will restrict travel from India starting immediately. This policy will be implemented in light of extraordinarily high COVID-19 caseloads and multiple variants circulating in India. This policy will take effect on Tuesday, May 4."
So travel will be restricted immediately… as of May 4? Hmm…
This travel ban will work similarly to other travel bans we've seen (including for the European Union, the United Kingdom and Ireland, Brazil, and South Africa), meaning that:
Americans will still be allowed to travel to India
With this ban, non-Americans who have been in India in the past 14 days won't be permitted to enter the United States
Some exceptions will apply, like certain essential travelers, family members of Americans, etc.
Airlines can still operate as many flights as they want between the USA and India, there are just limits on who can travel on the flights
This is probably the right move, but what took so long?
While there are questions about the general usefulness of travel bans, this ultimately seems like a logical move. A few thoughts:
At least from a consistency standpoint, there's no way that it was justifiable that travel was banned from the United Kingdom, while travel wasn't banned from India
While the US requires pre-travel coronavirus testing, that doesn't catch all cases, and there are questions about how good testing is in India for detecting variants, given that a recent Vistara flight from Delhi to Hong Kong had 47 people test positive for coronavirus upon arrival
I always find it ridiculous how travel bans aren't effective immediately, as it essentially creates a rush for people to travel to the United States, which is counterproductive
What took so long for the White House to introduce this ban? Why wasn't this introduced two weeks ago, because the chart of coronavirus cases in India paints a pretty clear picture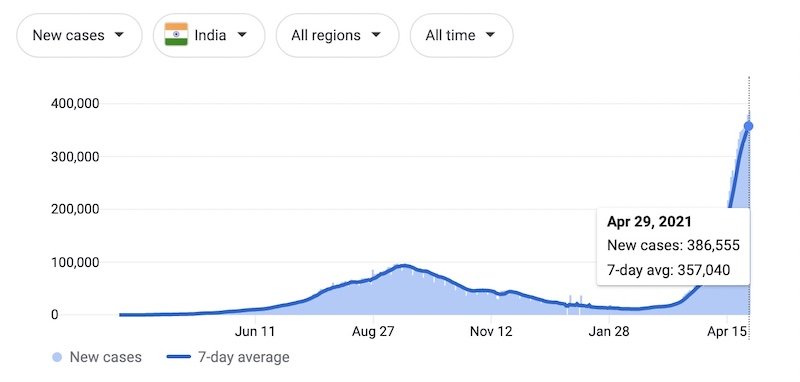 All the while Air India has been increasing service to the United States in light of increased demand.
Bottom line
The United States plans to introduce an India travel ban as of May 4, 2021. Ultimately if the United States is going to have travel bans, it absolutely makes sense that India be on the list.
That said, the execution of this seems like too little too late — what took so long for this to be introduced, and why doesn't this apply effective immediately? Unfortunately that's a pattern we've seen with virtually all travel bans in the USA since the start of the pandemic.
The situation in India is absolutely tragic, so here's to hoping that things improve soon, and that travel bans can eventually be a thing of the past.
What do you make of the new United States travel ban for India?