Reader Mac left the following comment on the "Ask Lucky" page of the blog a couple of days ago:
Hey coins, just reviewed the Avios chart & noticed that they partner w/ EI and flights from BOS-DUB/SNN would only be 25k in Y or 50k in J – which appear to be a fantastic value.

Just checked the full year out and didn't find a single J seat on using both the UA website or EF. Is there a secret to EI J availability? Also any idea what BA would charge in YQ this redemption even in Y would 25k would be a heck of a deal.
I had always known Aer Lingus was a British Airways partner, though never really thought of exploring the options they might open up. After all, Aer Lingus isn't exactly a "premium" airline, and at the same time I had assumed they imposed fuel surcharges on award tickets. I was immediately intrigued when I did a "dummy" booking, and noticed the fuel surcharges for a roundtrip ticket were only $27, compared to British Airways' fuel surcharges for Boston to London, which are $438!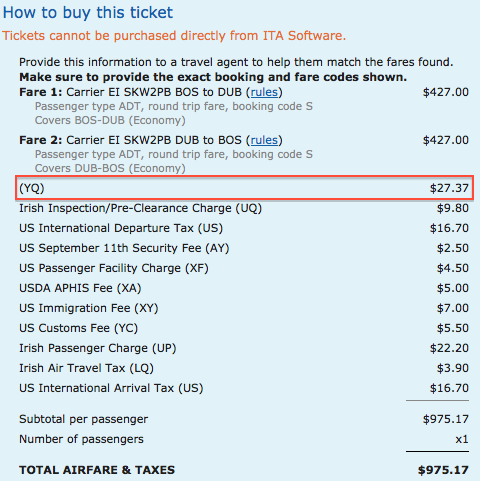 Aer Lingus ' $27 in fuel surcharges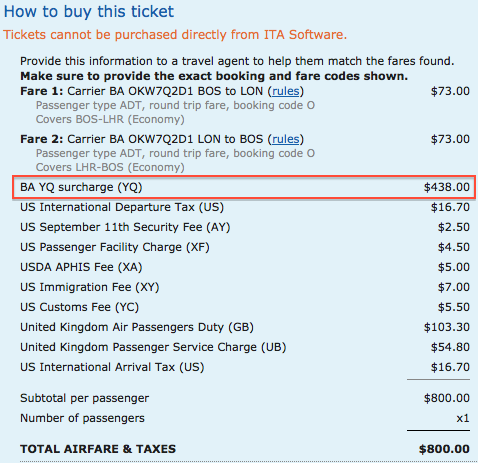 British Airways' $438 in fuel surcharges
So I'm sure you guys can see why redeeming British Airways Avios points for coach travel on British Airways is an awful value. You'd still be stuck paying all of the taxes and fees. The only thing you wouldn't pay by using Avios points is the $73 each way base fare.
As it turns out Aer Lingus may just be the very best option for transatlantic award travel using British Airways Avios points, since you can fly roundtrip from the US to Europe for a total of 25,000 Avios points plus $146.28 in taxes and fees.
So to walk you through the process, first I had a look at Aer Lingus' route network. Their destinations in the US are Boston, Chicago, and New York. They serve both Dublin and Shannon out of Boston and New York, while they serve only Dublin out of Chicago.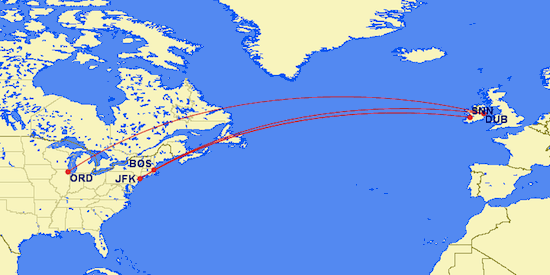 Aer Lingus route network to US
So based on the distances of the flights, the roundtrip cost in Avios would be as follows:
Boston to Dublin/Shannon

Economy: 25,000 Avios points
Business: 50,000 Avios points

Chicago/New York to Dublin/Shannon

Economy: 40,000 Avios points
Business: 80,000 Avios points
So then I started to look at availability. There are two easy ways to search for availability:
Option 1: ExpertFlyer
When you log into your ExpertFlyer account just click on "Awards & Upgrades" and then enter the information for your preferred route/dates.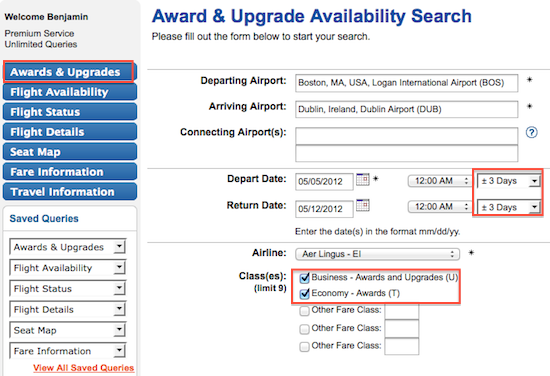 ExpertFlyer search page
You can search for up to seven days at once, and search both coach and business at the same time.
After searching for just about all routes for all dates, I've determined that Aer Lingus has excellent coach award availability and awful business class award availability. Let me take it a step further. Almost every flight I searched had at least nine coach award seats available, while I didn't see a single business class award seat.


At least nine coach award seats available
Option 2: Qantas search tool
If you don't have an ExpertFlyer membership you can also use Qantas' website by signing up for their frequent flyer program.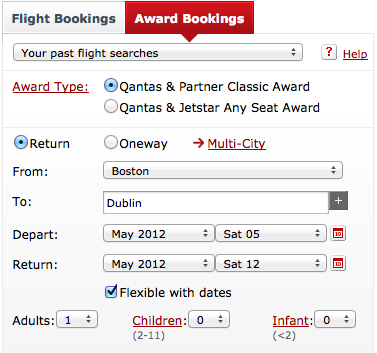 Qantas award search page
Searching with them should return similar results:


Coach award availability
Once I found the space I called British Airways and made sure all of this wasn't too good to be true (I wouldn't put it past British Airways to slap on a $500 fuel surcharge of their own). Sure enough, the availability they saw matched the availability I found online, and the total cost for a Boston to Dublin roundtrip ticket was 25,000 Avios points plus $146.28 in taxes and fees ($121.28 of which was taxes, and $25 of which was a ticketing fee).
While Aer Lingus coach probably isn't the best product in the world, it's the only option I've found for using Avios points for transatlantic travel without paying massive fuel surcharges. I'd jump on this in a heartbeat if only I could find some business class award space, as I have a bunch of Avios points I need to use.
Most intriguing for me is that I've actually always wanted to visit Ireland, so I may end up doing one of these redemptions even in coach. If anyone finds any business class award space on Aer Lingus, please let me know!