In the interest of full disclosure, OMAAT earns a referral bonus for anyone that's approved through some of the below links. These are the best publicly available offers (terms apply) that we have found for each product or service. Opinions expressed here are the author's alone, not those of the bank, credit card issuer, airline, hotel chain, or product manufacturer/service provider, and have not been reviewed, approved or otherwise endorsed by any of these entities. Please check out
our advertiser policy
for further details about our partners, and thanks for your support!
British Airways Executive Club is a unique frequent flyer program, and it has many features you won't find with other programs. For example, British Airways has a distance based award chart, opening up some great award redemption opportunities.
One of the other cool features of the British Airways Executive Club program is the ability to pool Avios in a household account. This is potentially a great option, and can be useful whether you're a frequent British Airways flyer, or have the British Airways Visa Signature® Card. However, there are some important limitations to be aware of, and I wanted to take a closer look at those in this post.
Basics of British Airways household accounts
In order to let you more effectively redeem your Avios, British Airways lets you create a household account, where you can pool the Avios you earn with up to six other people registered at the same address as you.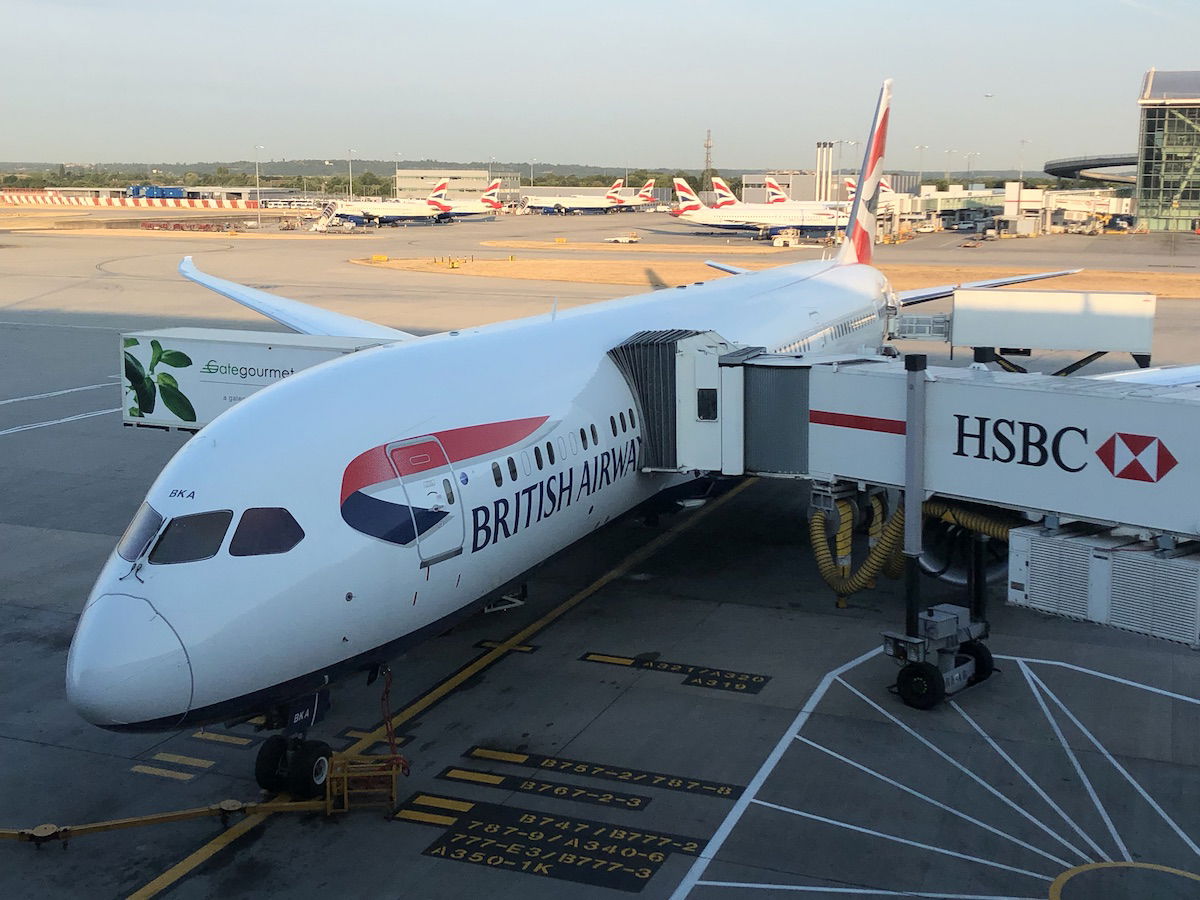 This is especially useful for infrequent travelers. For example, if your family of five takes a long haul trip, chances are that the Avios you earn individually won't be enough for anything great, but if you can pool your Avios, you may already have enough for a free ticket to somewhere fun.
Note that individual members will continue to earn Tier Points to their own accounts, so this doesn't accelerate the earning of status. Rather this just fast tracks the earning of Avios, which can be redeemed for award flights and upgrades.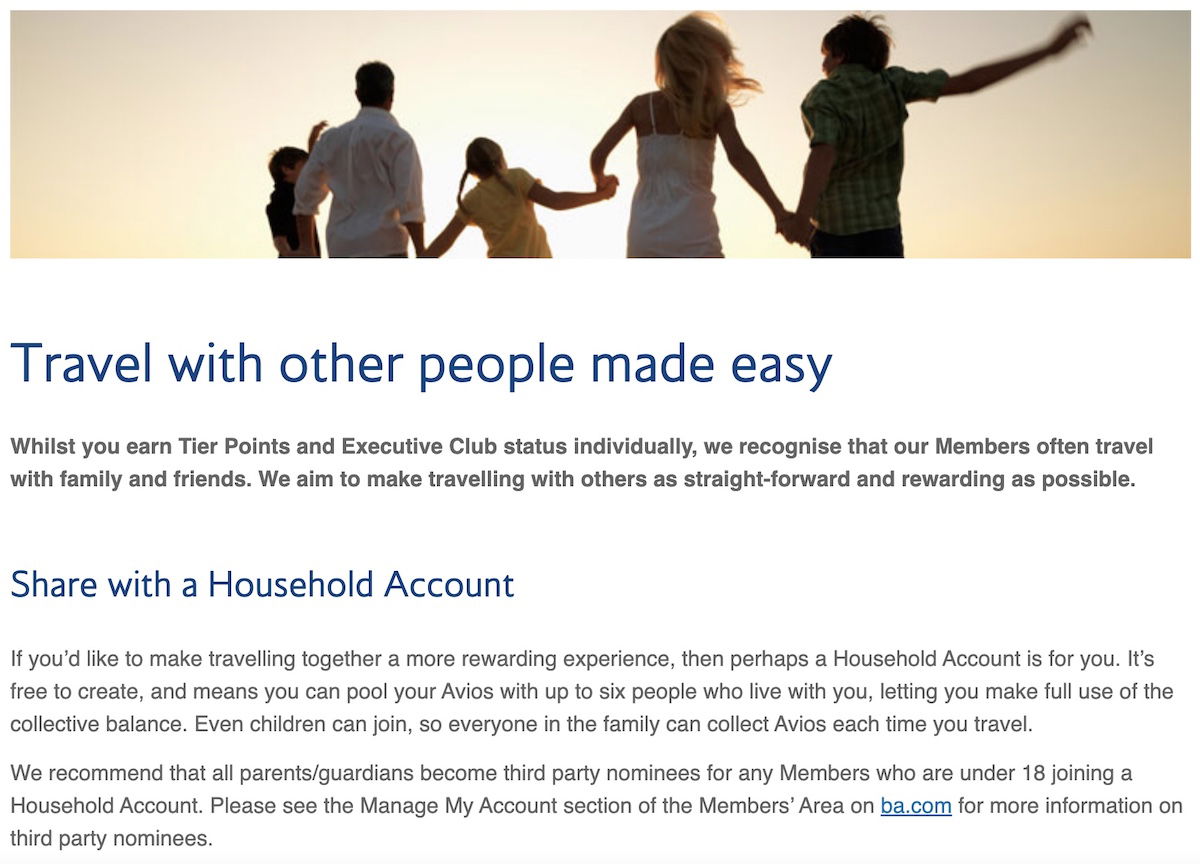 How to set up a British Airways household account
In order to create a household account you'll need to decide on a "Head of Household." This is the person who should complete the application, and then they'll receive the communications regarding the account, and will be the only person who can add and remove people from the account (though all adult members can potentially redeem Avios from the household account).
When you create a household account, the head of household will invite members, so invited members should receive emails asking if they want to join a household account.
Avios accrued in a household account are valid as long as there's some activity at least every 36 months, so this makes it easier to keep Avios alive across several accounts.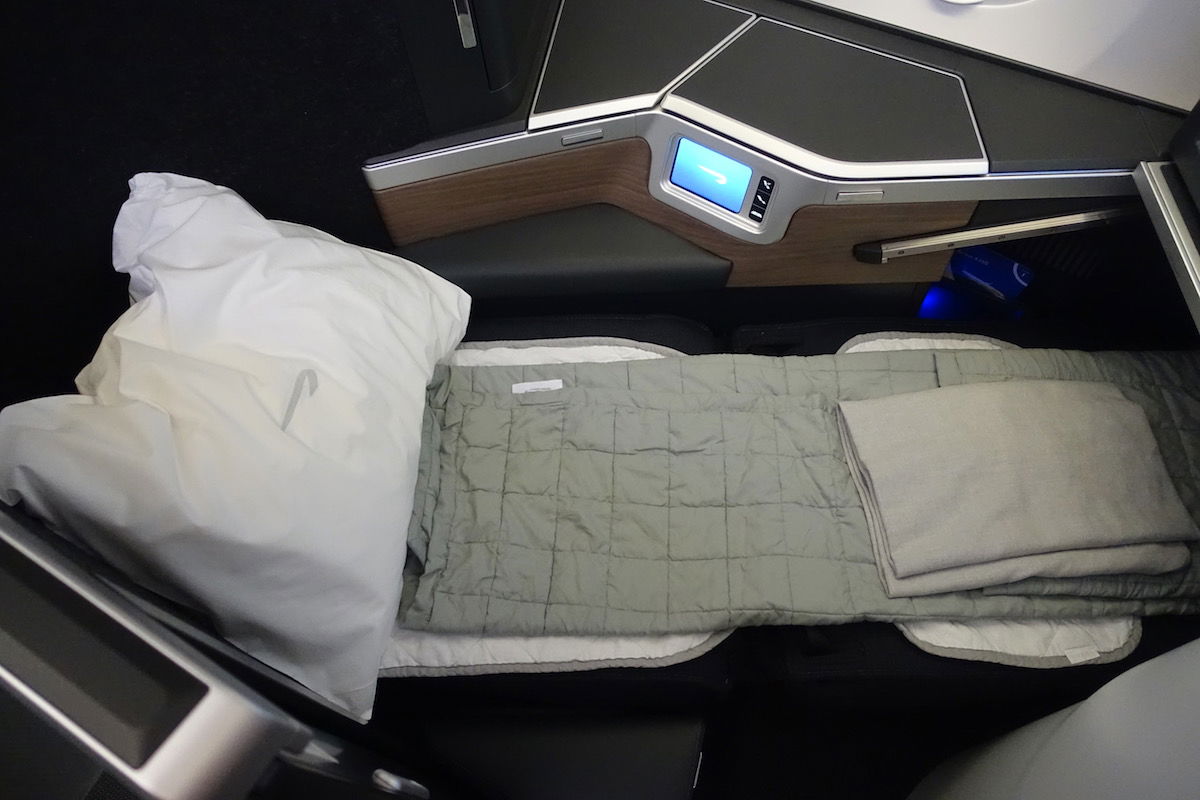 There are a few other things to remember about these accounts:
You can only redeem Avios for members of the household account or select nominated travelers (more on that below); this is the biggest restriction, as joining a household account prevents you from redeeming Avios for anyone
You can only change the address on a household account once every six months
When you redeem Avios from a household account, a proportional percentage of Avios will be pulled from each account in relation to the balance; in other words, if three household members had 50,000 Avios, 30,000 Avios, and 20,000 Avios, and you made a 10,000 Avios redemption, then those members would have 5,000 Avios, 3,000 Avios, and 2,000 Avios pulled, respectively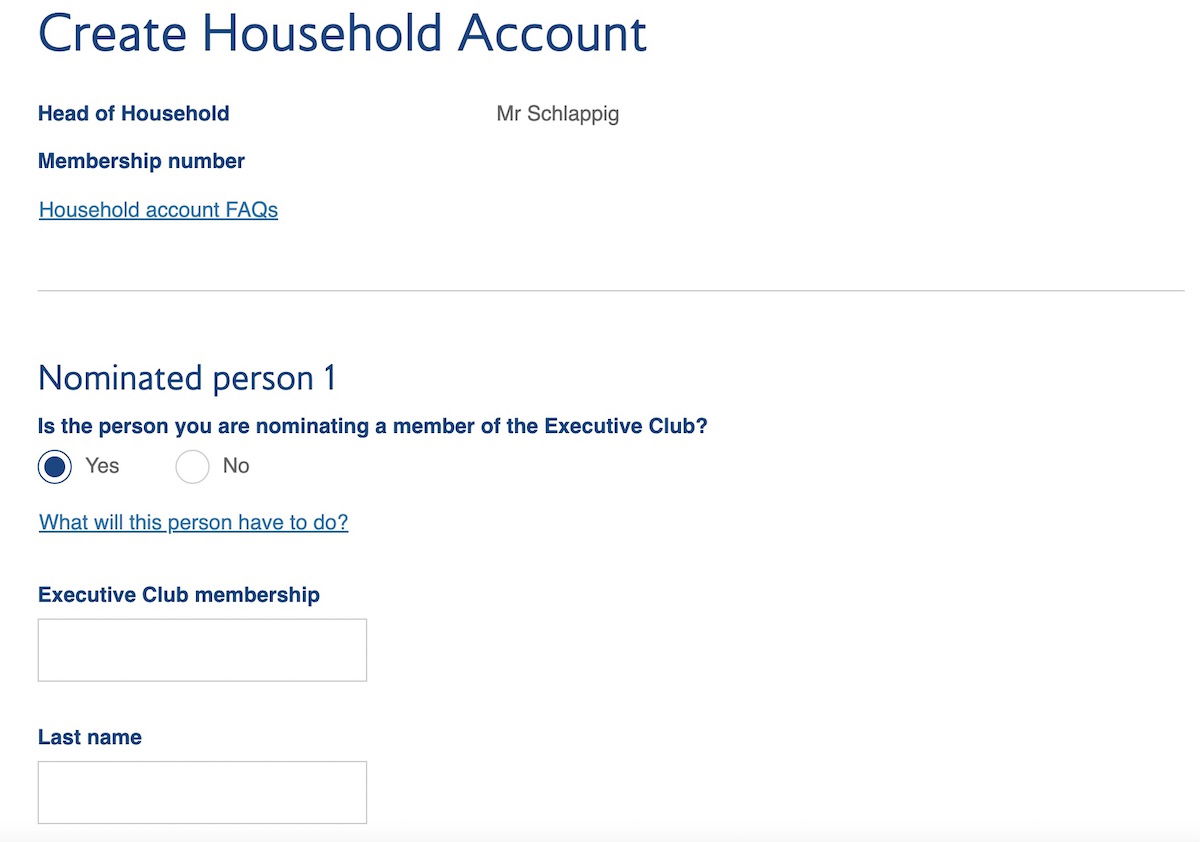 You can also create a list of family and friends
The biggest restriction on household accounts is that they limit the people you can redeem your Avios for. This is a major limitation if you're someone who likes redeeming Avios for those not at the same address as you.
However, the good news is that there's a way to get around this. British Airways lets you nominate up to five family and friends who you can redeem Avios from your household account for, even if they don't live at the same address.
This means that in addition to being allowed up to seven members of the household account, you can add a further five redemption nominees.
The major restriction here is that you can't remove someone from your family and friends list until they've been on there for at least six months, so you can't constantly change these nominees.

Is a British Airways family account worth it?
In general, absolutely. I'm all for consolidating points as much as possible in order to make it easier to keep track of them and maximize redemption opportunities. By creating a household account, it becomes easier to prevent Avios from expiring, and also makes Avios easier to redeem.
With other programs, one major limitation is that you need enough points in one account to redeem for an award. That's not a problem with British Airways Executive Club, thanks to this feature.
There are only two reasons you shouldn't form a household account, which I'll cover below.
Limits on who you can redeem Avios for
One major restriction with creating a household account is that you can only redeem your Avios for up to seven members of your household, plus up to five nominated travelers.
Realistically this shouldn't be a major issue, because that covers a lot of people. But it's at least something to be aware of.
Limits on transferring between Avios programs
I'd argue there's one bigger limitation. There are four loyalty programs earning Avios — British Airways Executive Club, Iberia Plus, Aer Lingus AerClub, and Qatar Airways Privilege Club.
Each program has some unique perks, and as long as each account is open for 90 days and you have at least some activity, you can transfer Avios between accounts at no cost. That's a great feature.
While you can still transfer British Airways Avios to Aer Lingus, Iberia, and Qatar Airways, if you have a household account, you can't transfer the other way around.
For example, in addition to the excellent British Airways Visa Signature® Card (review), there's also the Iberia Visa Signature® Card (review) and Aer Lingus Visa Signature® Card (review). You're potentially eligible for the bonuses on all three of these cards, and if you don't create a household account you could pool all of those Avios.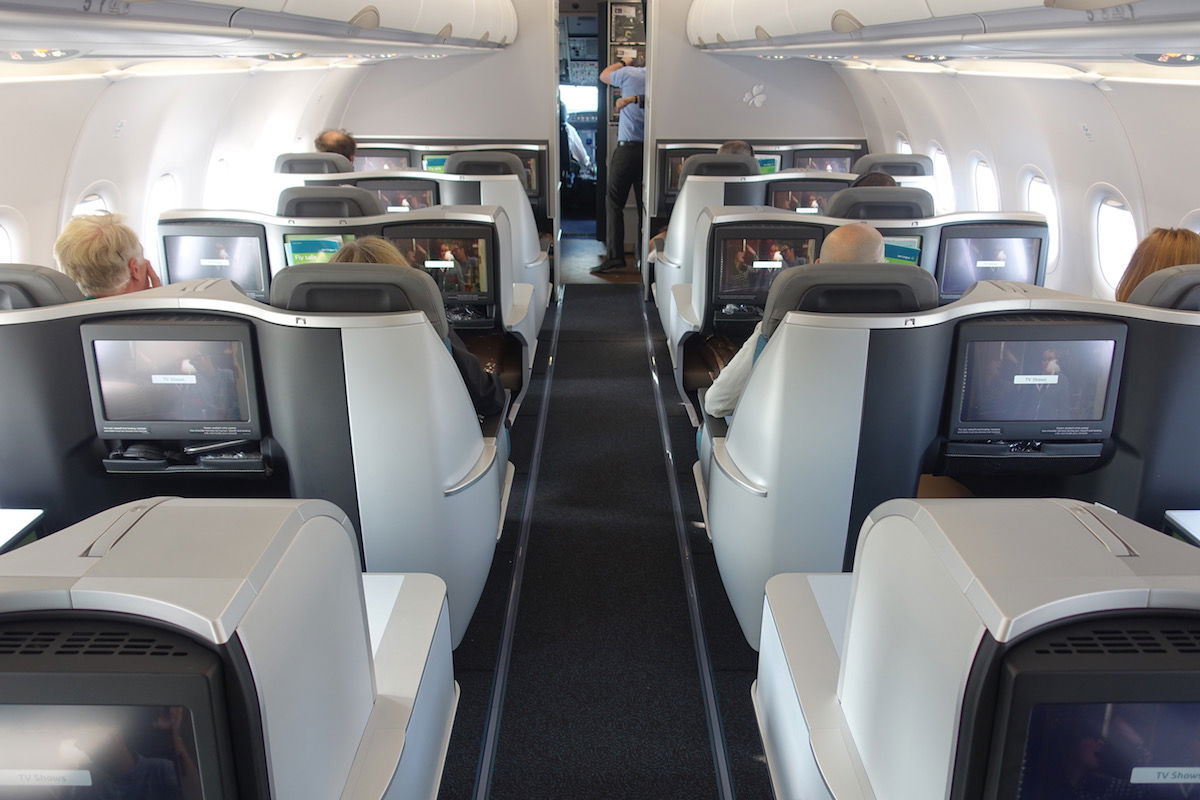 Bottom line
It's great that British Airways allows household accounts, whereby you can pool the Avios earned by several people, and even nominate friends and family that you can redeem for.
This is a solid opportunity in situations where you wouldn't otherwise have enough Avios for the redemption you want, but pooling Avios makes that possible.
That being said, there are a couple of downsides. When you create a household account you can't redeem Avios for non-household or nominated members, and you also can't transfer Avios from Aer Lingus, Iberia, and Qatar Airways, to British Airways.
Personally I think it's worth being aware of household accounts, but I wouldn't form one until you have a specific use in mind.
Have you formed a British Airways household account, and if so, what has your experience been like?