At the beginning of the year I wrote about how Emirates eliminated chauffeur service for those booking through partner airlines.
Emirates has always been among the most generous airlines with chauffeur service, and has offered it free of charge to first and business class passengers regardless of the type of ticket or where they booked. In other words, even award tickets booked through partner airlines qualified for a complimentary chauffeur service.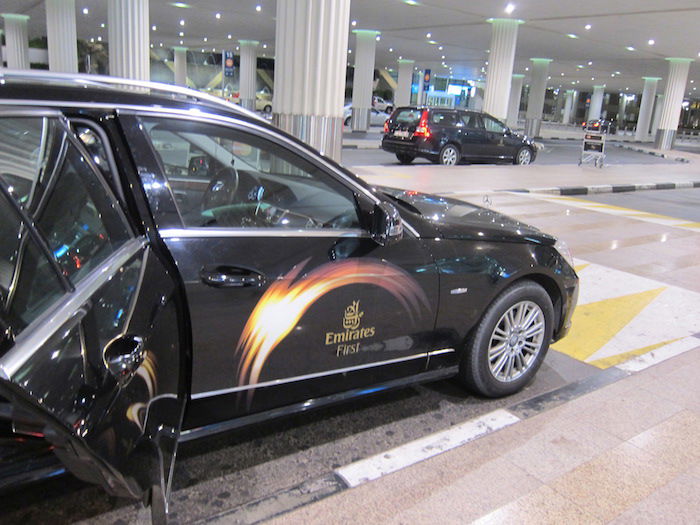 However, as of 2015, only tickets issued through Emirates and Qantas qualify for chauffeur service (update: in the meantime Emirates has also cut chauffeur on select business class fares). It's an unfortunate though justifiable change.
What I find unjustifiable, however, is that Emirates decided to make the change retroactive:
Emirates never actually announced the policy change on chauffeur service
The service was canceled even for those that made bookings before the policy change and already had chauffeur service confirmed
Emirates didn't actually communicate to passengers that their chauffeur was canceled, which makes for an ugly surprise
Personally I don't think it's a battle worth fighting, though that didn't stop some from filing complaints with the DOT (which I find to to be counter productive in this case).
Anyway, I flew Emirates first class from Dallas to Dubai yesterday, which was an award ticket I booked just a couple of days before departure. Obviously I wasn't able to reserve a chauffeur since the policy change.
Emirates has a chauffeur "center" in the arrivals hall of Dubai Airport, so usually you present your boarding pass and they give you a slip for the chauffeur service you had reserved.
However, in the past I've always had luck just showing up at the desk and presenting my boarding pass to get a chauffeur, even without having made a reservation.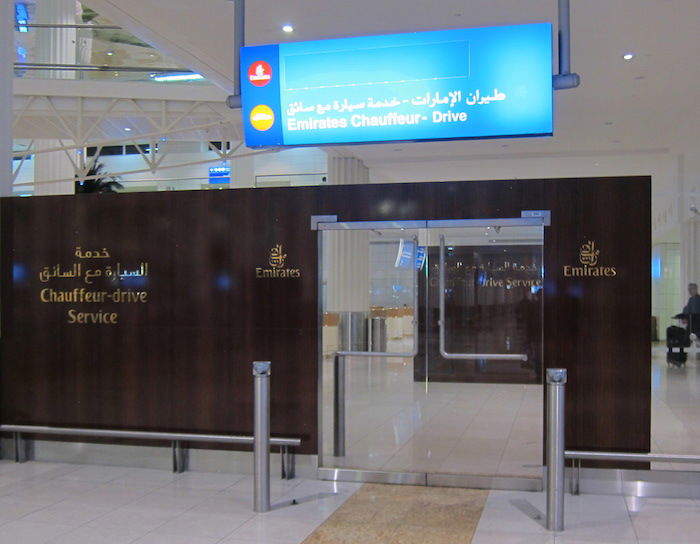 This morning I went to the chauffeur desk upon arrival, and presented my first class boarding pass (for a ticket issued through Alaska). After typing for a few seconds the agent asked where I wanted to go. I told her where, and she printed me a slip. A few minutes later we were in a Mercedes enroute to Abu Dhabi.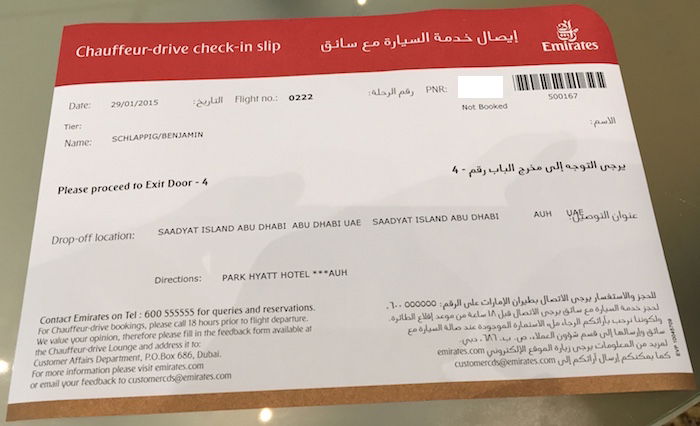 I can't guarantee it will work for everyone, but on arrival in Dubai it does still seem like it's still possible to use the chauffeur service on a partner ticket.
Obviously this won't work on departure or at any other station, though (it works in Dubai because they have dozens of cars sitting around at a time, while at outstations they're specifically assigned to reservations). And it could have just been that I got an agent that wasn't familiar with the new rules. On the plus side, there was nothing in the computer that prevented her from offering it to me.
Would be curious to hear if anyone else has luck with this!