I flew Southwest to Havana recently, which is the first time in five years that I flew Southwest.
The reason I don't fly them has to do with me valuing traditional loyalty programs and a global route network, rather than any issue I have with the airline as such. Southwest is (for the most part) extremely well run, and really the most full service airline in the U.S., as they don't charge for checked bags and allow free ticket changes. Furthermore, their flight attendants know how to hustle, and could teach the crews at some other carriers a trick or two.
But the part of the Southwest experience I found the most interesting was the boarding process. People have long teased Southwest for their "cattle call" boarding, and this was the first time I've flown Southwest and paid attention to the process… and I liked it a lot more than I was expecting… in some ways. It's very complicated if you haven't experienced it before (as my dad can attest), so let me explain how Southwest's boarding works.
How is boarding order determined on Southwest?
On Southwest passengers are broken up into three groups — A, B, and C — and each passenger is given a number in that range, typically from 1 to 60.
The plane is boarded in order of your priority, meaning that A1 boards first, and C60 boards last (assuming there are passengers with those numbers). So while other airlines have zones, Southwest literally has an exact order in which people board.
So first Southwest lines up the people with "A" boarding passes, and you stand in groups of five.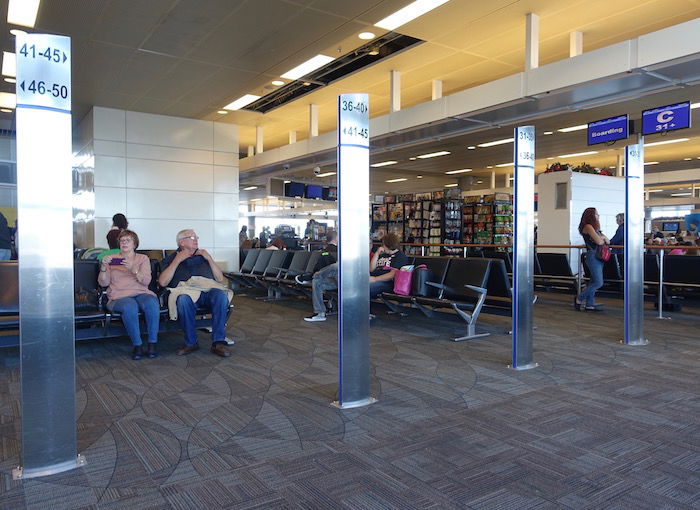 30 people from each zone stand on the left, and 30 on the right, and then the monitors change when they are ready to board the next group.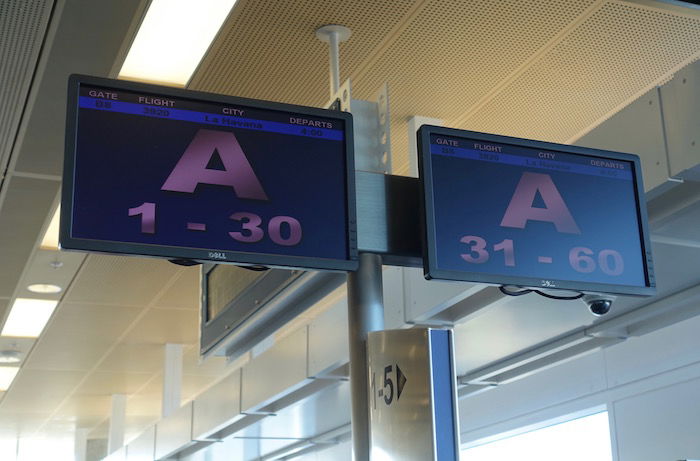 While many people care about boarding priority in general to ensure they can get their bags in the overhead bins, it's especially important on Southwest, given that they have open seating, so it also determines where you sit.
How can you secure early boarding on Southwest?
Assuming you don't want to pay extra for priority boarding, your best bet is to check-in online exactly 24 hours out. If you do so, you'll almost always get an "A" boarding pass, which means you'll be among the first third (or so) of people to board. That should be more than enough to secure you a decent seat.
However, there are options to get even better boarding positions than that:
If you get the Southwest Rapid Rewards® Priority Card you'll receive four priority boardings every anniversary year, where you can buy them on the day of departure, and you'll be reimbursed
If you purchase a BusinessSelect Fare, you'll be guaranteed a seat in the A1-A15 range
A-List members automatically get a boarding position right behind BusinessSelect customers
You can pay for EarlyBird Check-In, where Southwest will automatically check you in 36 hours before departure, meaning you'll typically have a great boarding priority; however, this doesn't guarantee a specific boarding number, and the priority still comes behind A-List members
While not a paid option, families get to board after the A group and before the B group
How chaotic was Southwest boarding?
As I said above, Southwest has historically been known for their "cattle call" boarding. But I'm not sure that's totally fair, given that this is what the gate looks like for most American flights I take nowadays: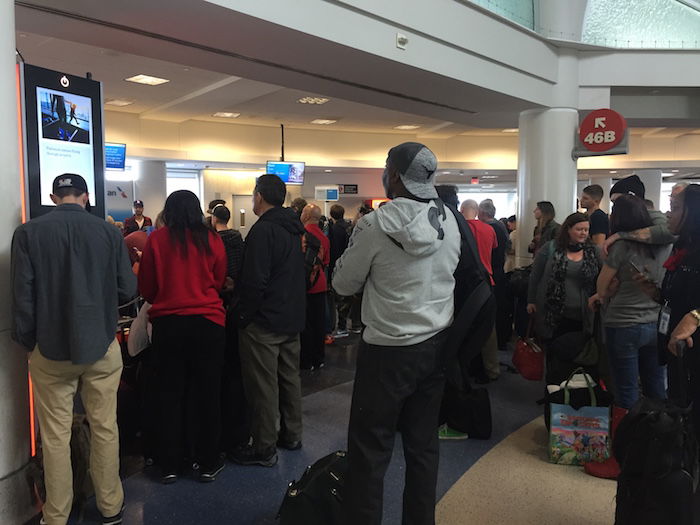 So I was shocked to find how orderly the Southwest boarding process was. Admittedly this is a small sample size, but only about a third of the plane got up when boarding was initially called (those in the A group), everyone seemed to know what was going on, etc.
The process was extremely civilized. People lined up in their "areas," and could quite easily tell who belonged where. At most people seemed to ask one or two other people about their position — "I'm A32, what are you?"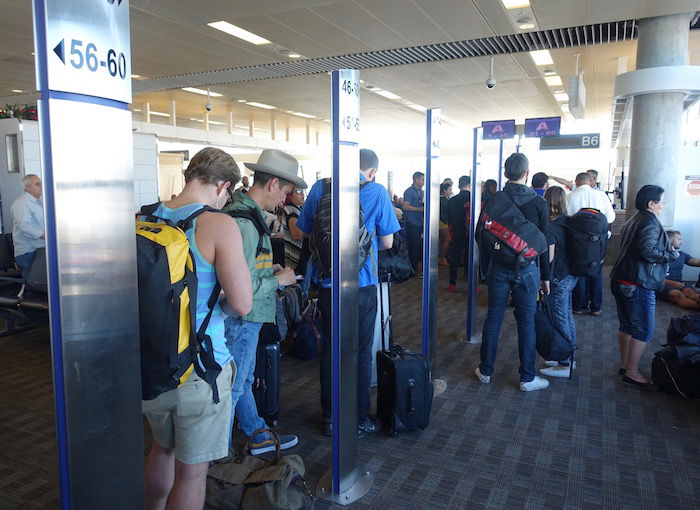 I thought it was significantly more civilized than the pushing and shoving and crowding I'm used to on other airlines. So I actually love the process Southwest has for letting people on the plane.
What I don't love, however, is the Southwest policy of not assigning seats. I get the idea, but in practice I found it to be chaos on both of my flights. Admittedly these were flights to and from Havana which is probably a different experience than usual, but it was chaos in both directions.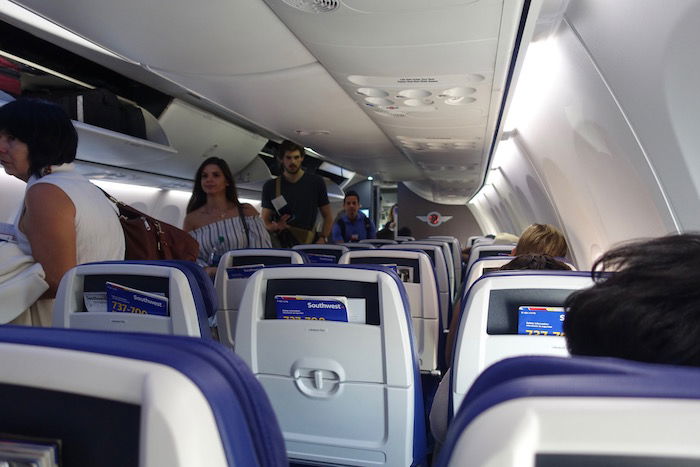 People were reserving entire rows, the crew specifically announced that people couldn't reserve seats, but of course that didn't stop people from taking it upon themselves to do so. Then towards the end of boarding everyone would walk to the back of the plane thinking they'd get an aisle or window there, only to end up coming back to the front of the plane and getting a middle seat.
Bottom line
Perhaps this flight was an exception but I found the process of boarding my Southwest flight to be significantly more civilized than what I'm used to on other airlines. I'm just not a fan of the open seating policy, as it encourages people to reserve seats, spread out in ways they wouldn't otherwise in hopes of getting an empty middle, etc. But that's just me, and with the right Southwest credit card you can at least ensure that you're boarding earlier.
What do you make of Southwest's boarding process? Was my experience typical for Southwest?