The airline industry is seeking a $60 billion bailout after having spent 96% of free cash flow over the past decade on stock buybacks, to enrich executives and investors (as one does). Boeing is also asking for a $60 billion bailout.
Well, the hotel industry is now, like, "hold my beer," and is asking for $250 billion from the government. Yep, a quarter of a trillion dollars. Or to put it differently, that's 250,000 of these: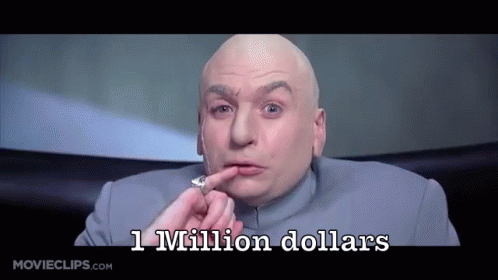 Is there more merit to their request, though, or are taxpayers about to get Bonvoyed?
COVID-19 impact on the hotel industry
The CEO of the American Hotel & Lodging Association has said that the reduction in travel resulting from the COVID-19 crisis is already more severe than 9/11 and the 2008 recession combined.
In major cities that are used to high rates and occupancy, we're now seeing occupancy of under 20%. This includes cities like Austin, Boston, San Francisco, and Seattle. As he explains:
"Our 33,000 small business hotels across the country are facing the difficult decision right now to close their doors and lay off millions of people over the next several days. Not weeks. Not months. But days."
Marriott furloughing tens of thousands of people
Marriott is the world's biggest hotel operator, and yesterday revealed that they plan to furlough tens of thousands of their employees at managed properties. This includes both furloughing employees at hotels that are shutting down, as well as reducing staffing at hotels that are still operating.
While furloughed, Marriott won't pay salaries, though in most cases they'll still be receiving health benefits. This Tweet about Marriott's approach to getting laid off is getting quite a bit of attention:
My brother got laid off yesterday from Marriott.

He applied for unemployment; they called to check his employment status.

Marriott HR says he's NOT laid off but on a ZERO hour schedule. So he can't qualify for unemployment NOR does he have health insurance.

— thot leedurr (@DocDre) March 17, 2020
The hotel industry wants $250 billion
While airlines are asking for a cool $60 billion(ish), the hotel industry is looking for $250 billion. How would this be used?
$150 billion would be used to allow hotel owners to continue to make loan payments and support employees who are being laid off
$100 billion would go to suppliers
I feel like when we start talking about amounts in the billions or trillions we lose sight of just how much money that is. The US has a population of about 330 million people, so when you divide $250 billion by that, you're looking at somewhere around $758 per person for the hotel industry. YOW.
Rewarding irresponsible behavior?
I think most of us can agree that:
This situation is kind of unprecedented
Individuals and small businesses need some kind of relief
I think a lot of us struggle with how much help big businesses deserve, though:
Obviously the travel industry (including airlines and hotels) is vital to the health of the overall economy
At the same time, it's kind of obnoxious when big corporations spend most of their cashflow on stock buybacks to boost their share price, only to not even have enough reserves to operate for a few months if things take a turn for the worse
Are we supposed to feel bad for American Airlines, which has spent billions of dollars on share buybacks, rather than keeping cash reserves and/or not financing the heck out of everything (as they now have over $30 billion in debt)? During good times taxpayers don't get anything from them, and then during bad times they're expected to bail out the airlines?
Yes, the industry needs to continue, but does the cycle ever end if companies can always use the government as a crutch?
Is there more merit to hotel aid than airline aid?
With the above out of the way, there is an important distinction to make with the hotel industry, though. A majority of hotels aren't owned by the actual global hotel groups, but rather are owned by individual investors. The major global hotel groups simply charge a management or franchise fee.
This is a bit different than the airline industry, for example, which is exclusively "big business." With hotels:
Plenty of smaller hotels operate on a franchise model, so your roadside Hampton Inn might be owned by an individual who spent their whole life saving up to buy their own hotel, and relies on this to make a living
Then there are all kinds of major hotels (ones that cost hundreds of millions of dollars) that are owned by multi-billion dollar venture capital firms
Only a small percentage of hotels belonging to the global hotel groups are owned directly by Marriott, Hilton, etc.
That means there's a huge variety of ownership structures here:
Does Wyndham directly deserve aid, when they spent nearly $400 million on stock buybacks last year?
Does a small business owner who runs a Wyndham property deserve some help?
Does a hotel owned by a multi-billion dollar venture capital firm deserve help?
Bottom line
This is obviously all very complicated, though it's noteworthy that the hotel industry wants more than 4x as much government aid as the airline industry. At this point I don't know what to make of any of this anymore.
I do think there's an important distinction to be made with the hotel industry vs. the airline industry, which is that thousands of hotels around the country are run by individuals on a franchise basis, and in my opinion many of those people do deserve help.
Personally I feel less sympathetic towards those properties owned directly by the global hotel groups, and those owned by venture capital firms. But that's just me.
I guess my take is:
It's ridiculous how financially irresponsible big corporations are, not at all preparing for a rainy day
Individuals and small businesses should get relief before big businesses (or at least at the same time, while right now we're seeing the opposite)
At the same time, if big businesses fail the economy will collapse completely, and that's bad for small businesses and all of the hardworking frontline employees who would be laid off
If the government bails out big businesses, they'll never learn their lesson
This is a cycle that never ends…
What's your take on this — should the hotel industry get a $250 billion bailout, and if so, what restrictions should it come with, if any?