Hilton has just announced some major changes to their 2013 Honors program, which will kick in for bookings made starting March 28, 2013 (any bookings made now for stays after March 28 will be honored at the old rate). These changes include the following:
Reward Categories – We will be expanding to ten hotel reward categories to account for all of the new hotels and resorts that have opened in the past few years. With 3,900 hotels and resorts in 90 countries you are sure to find the perfect place for your next reward stay.
Seasonal Hotel Reward Pricing – For most of our hotels and resorts, we will introduce seasonal pricing for reward stays. The amount of points needed for a Standard Room Reward and a Points & Money Reward will vary during certain times of the year.
5th Night Free – Now members with Silver, Gold or Diamond elite status will get a free night* when they book a Standard Room Reward stay of five or more consecutive nights.
This is probably the worst single hotel program devaluation I've ever seen.
First they're changing from seven to ten hotel categories. The old award chart looks as follows:

And the new award chart looks as follows: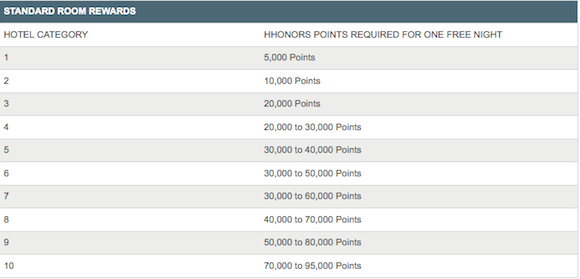 So on the high end the cost of a free night is going up by up to 45,000 Honors points per night. They've published the new hotel categories here.
Then they're also introducing seasonal award pricing, whereby some hotels are more expensive on points in peak season.
This website displays the new award pricing by hotel/city, including the seasonal premiums.
For example, the Conrad Hong Kong is going from 50,000 to 80,000 Honors points per night year round.

Meanwhile in London several hotels are going up by 30,000+ points per night.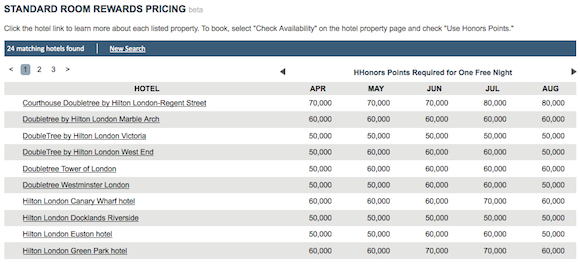 And while the fifth night free is nice in theory, one of the best best values with Honors points is AXON awards, whereby four nights at a category seven property would run 145,000 points, which is better than a buy three get one free.
So I'm curious what impact this devaluation has on AXON awards. If this devaluation impacts AXON awards this may very well be the worst hotel program devaluation ever.
This has been a horrible year so far on the hotel front — Priority Club has devalued their award chart, Starwood has increased the cost of cash & points, Marriott added a category nine and increased the cost of 36% of their properties, and now this, which is by far the worst.
Horrible, horrible, horrible. Not feeling too good about my 500,000 point Honors balance right now.
(Tip of the hat to Jimmy)