I've written in the past about SPG Moments, whereby Starwood Preferred Guest members can redeem Starpoints for tickets at sold out events including concerts, sporting events, cultural activities, etc.
As a general rule of thumb the best use of airline miles is for flights and the best use of hotel points is for hotel stays. But there are certainly exceptions. For example, points can also be transferred at a 3:1 ratio to over two dozen airline partners, and you get a 15,000 point bonus (the equivalent of 5,000 miles) for every 60,000 points you transfer. That's why my valuation of Starpoints has stayed the same for several years now, as there are so many great uses of Starpoints.
But SPG Moments aren't just a gimmick, they're actually in many cases a fantastic use of points. At the end of the day the best use of points is whatever makes you happy. And for a lot of road warriors who spend 200+ nights per year in hotels, being able to redeem points towards more travel doesn't really sound like much of a reward. And that's what makes SPG Moments so great. You can redeem points for some amazing experiences to "reward" your family members and friends for all the time you spend away.
Anyway, I recently spent a few days at the US Open, and one day Starwood invited me to the SPG Luxury Suite. My mom is a huge tennis fan, so I was thrilled to be able to take her with me to this event. My oldest brother passed away over Labor Day weekend many years ago, so it's always a really tough weekend for my mom. I knew taking her to this would keep her distracted, busy, and (hopefully) happy.
The US Open SPG Moments packages went on sale in July, whereby members could redeem points for seats in the SPG Luxury Suite. The cost for two tickets to the SPG Luxury Suite started at just 25,000 Starpoints (75,000 Marriott points), which is a pretty amazing value when you think that these aren't really experiences you can buy tickets to. And if you could, they'd likely be outrageously priced.

Anyway, Tiffany shared her experience in the US Open SPG Suite a few days prior, so I'll keep my review somewhat brief.
The SPG Suite is located inside Arthur Ashe Stadium, and if you're in one of the hospitality suites you can enter through the door closest to the entrance to the grounds.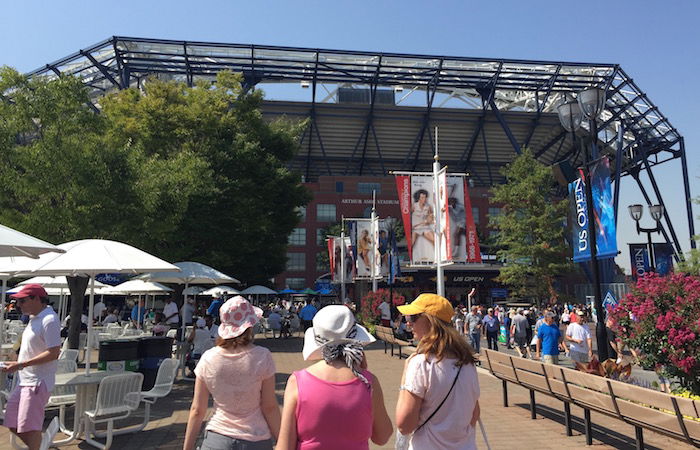 Arthur Ashe Stadium
SPG has Suite #110, which has a great mid-court location. The entrance is a bit hidden, as you think you're walking into some sort of a janitor's closet, or something.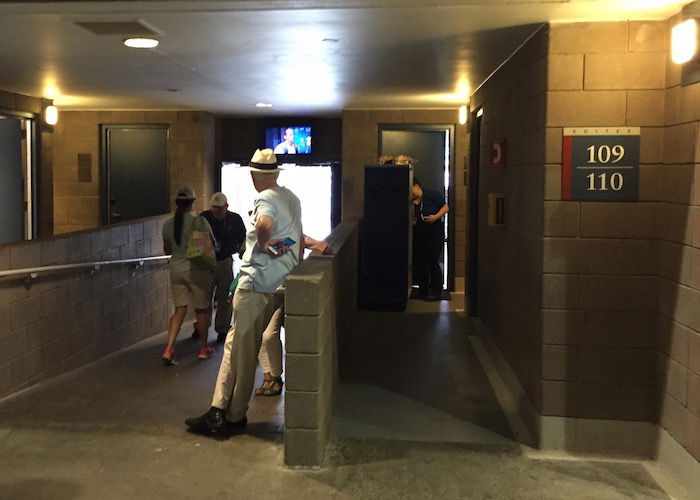 SPG Suite US Open entrance
But you quickly realized that's not the case. Upon entering we were greeted by the two "hosts," who immediately offered us a Westin signature bellini. Don't mind if I do!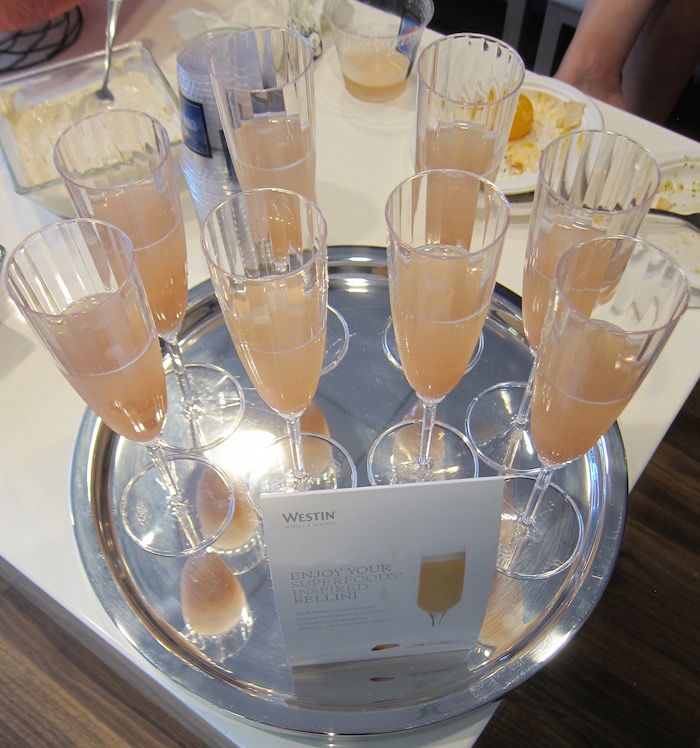 SPG Luxury Suite US Open Westin peach bellinis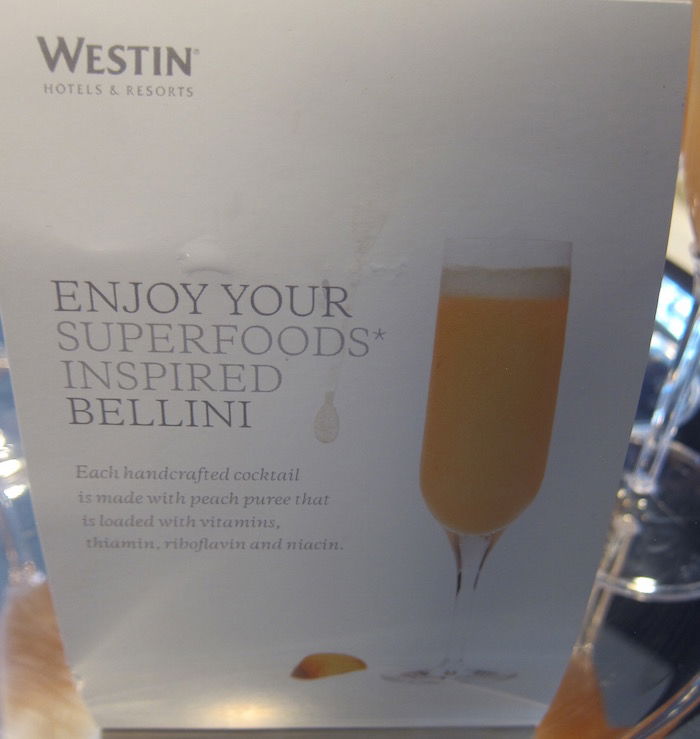 SPG Luxury Suite US Open Westin peach bellinis
The suite was gorgeous, with a long "L" shaped couch and then a handful of bar-top stools.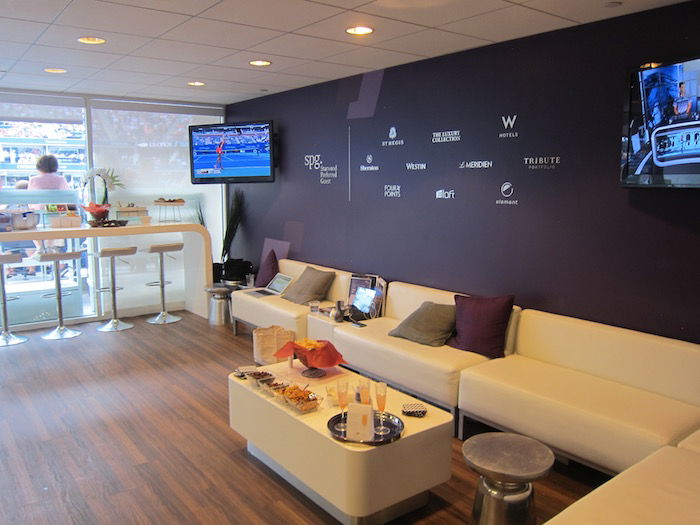 SPG Luxury Suite US Open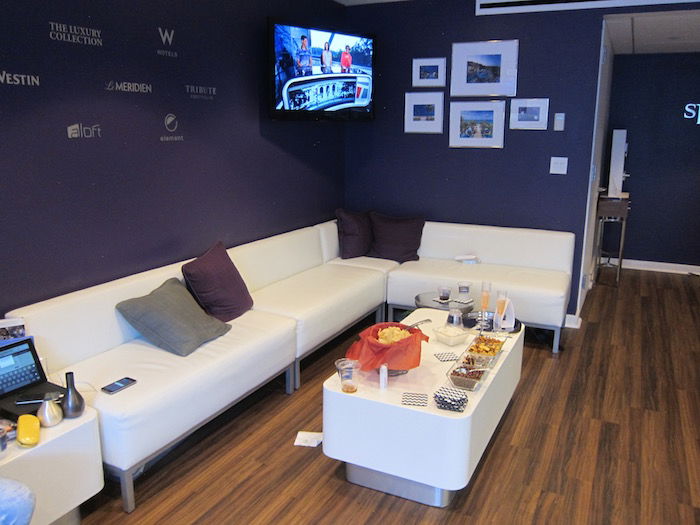 SPG Luxury Suite US Open
As you'd expect, there was plenty of SPG branding — they were promoting their brands, SPG Keyless, etc.


SPG Luxury Suite US Open branding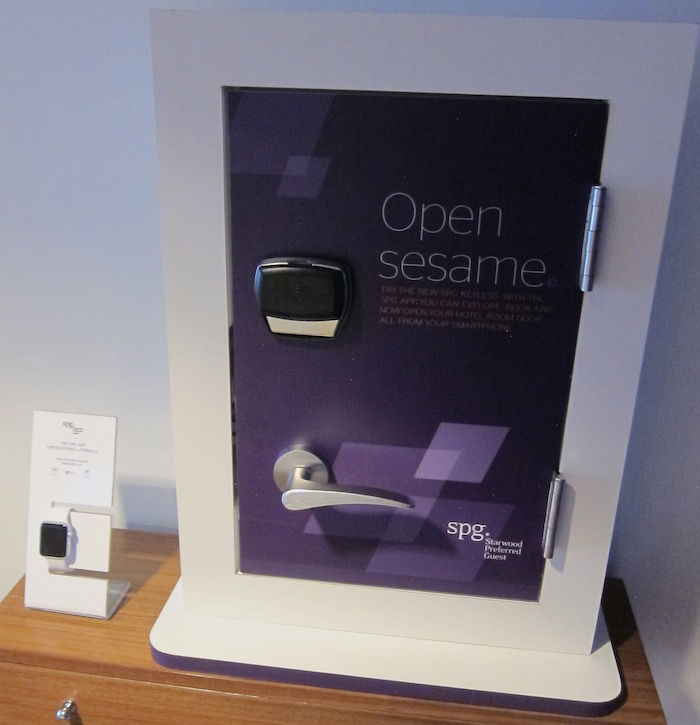 SPG Luxury Suite US Open keyless entry advertisement
While the inside of the suite was nice, at the end of the day people are here to watch tennis, so it's the outdoor seating and view which really matters. And the suite has plenty of seating, with over a dozen exterior seats.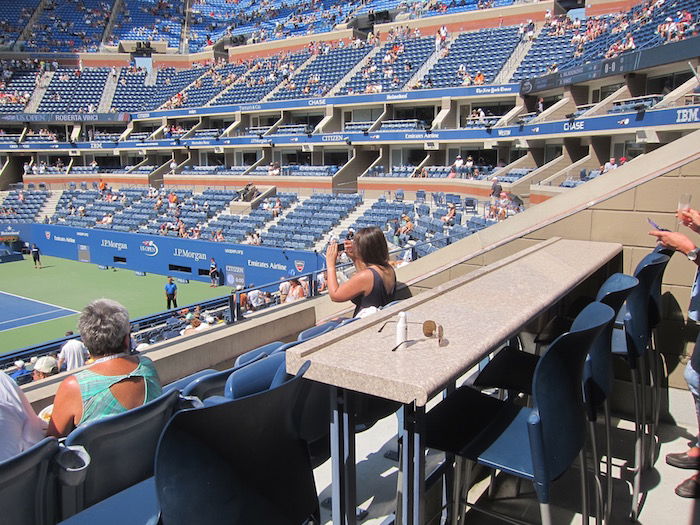 SPG Luxury Suite US Open outdoor seating
Most importantly, the view from the suite is unbeatable. You're mid-court at the perfect height — low enough so you can easily see all the action without binoculars, and high enough so you don't have to pinch a nerve in your neck in order to watch the game. I really don't think it gets better than that!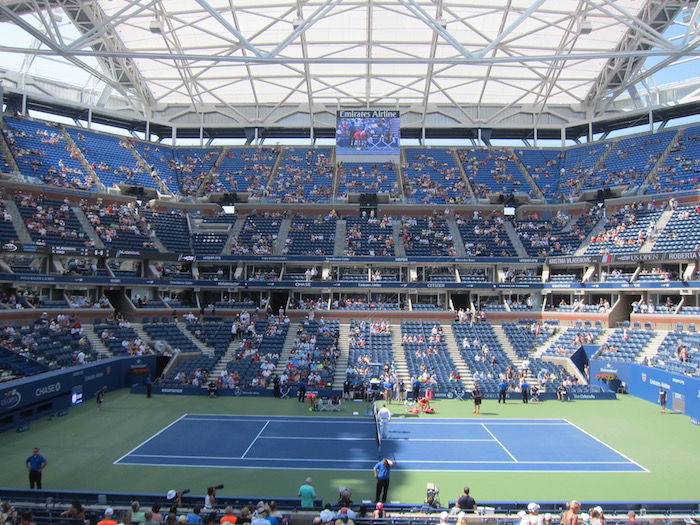 SPG Luxury Suite US Open view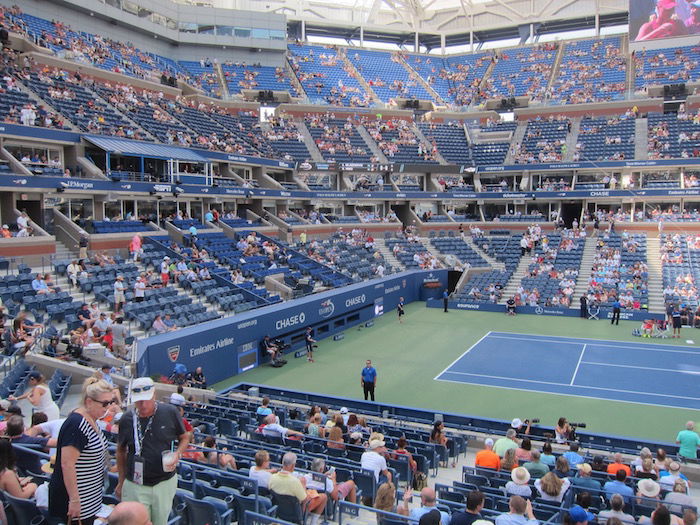 SPG Luxury Suite US Open view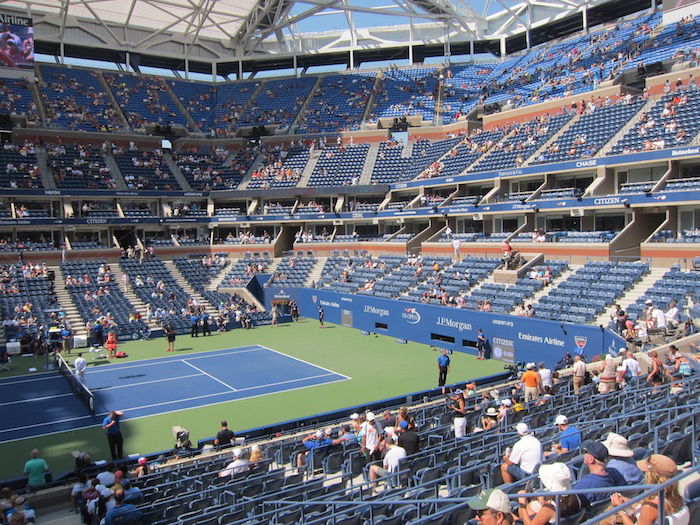 SPG Luxury Suite US Open view
My mom was content sitting outside most of the time watching tennis. In my case it was the middle of a weekday after a long weekend, so I had some work to catch up on. You can't beat Wi-Fi, air conditioning, and decent snacks/drinks to make that happen.
Inside there were all kinds of SPG goodies, including sunscreen, sunglasses, SPG branded tennis balls, etc.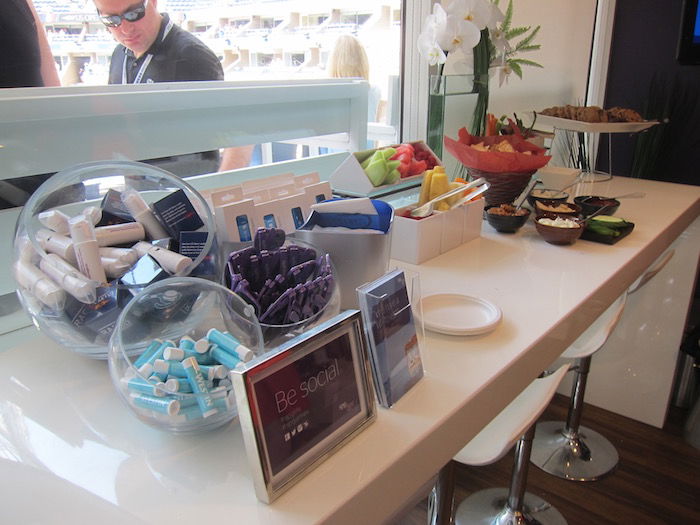 SPG Luxury Suite US Open goodies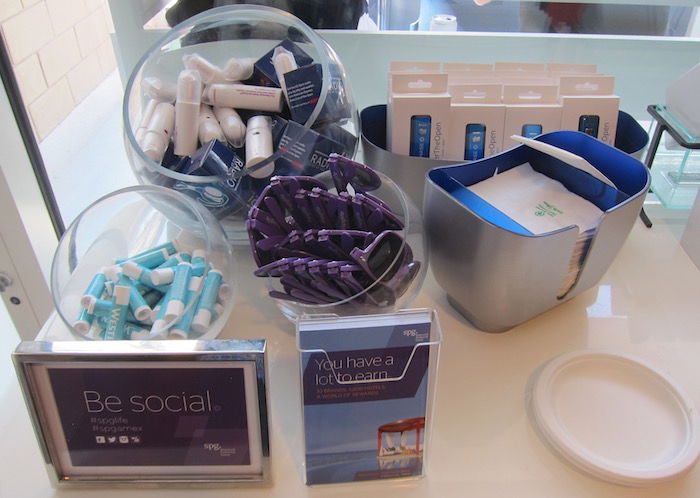 SPG Luxury Suite US Open goodies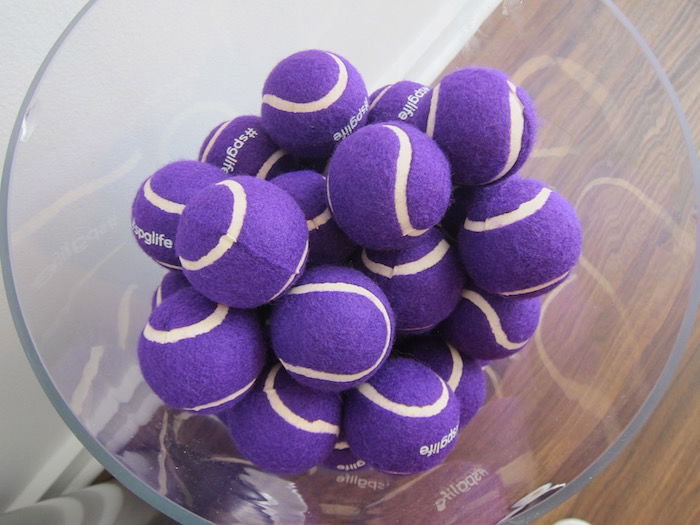 SPG Luxury Suite US Open goodies
Then on the bar nearest the outdoor seating was fresh fruit, veggies, pita chips, and the most sinfully delicious cookies and brownies I've ever had. Ugh, they were really good.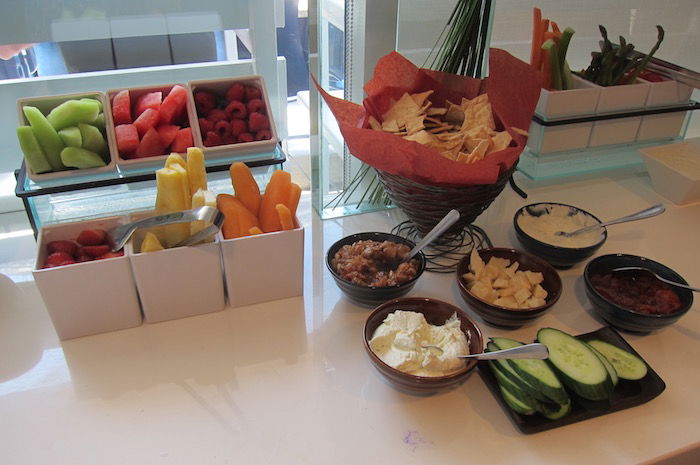 SPG Luxury Suite US Open snacks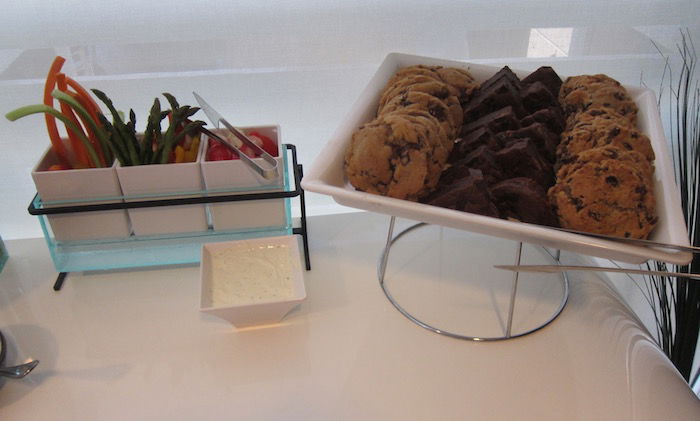 SPG Luxury Suite US Open snacks
Then on the table by the couch were several types of snack mix and chips.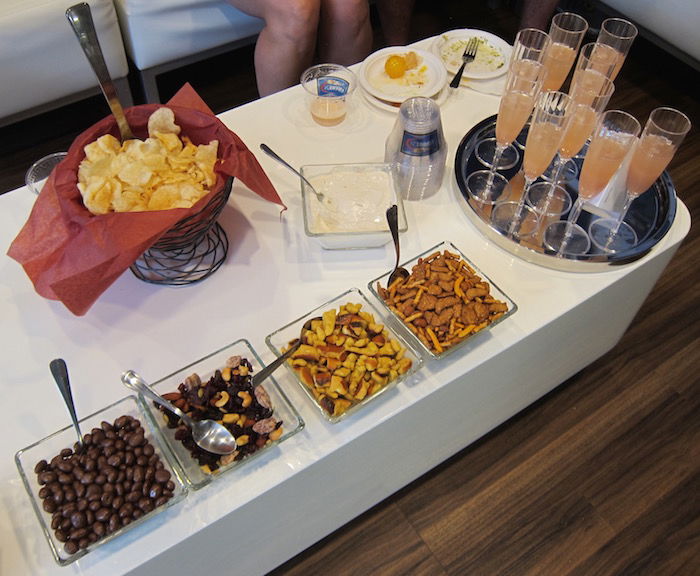 SPG Luxury Suite US Open snacks
Then there was more substantial food, including sandwiches, wraps, salad, etc.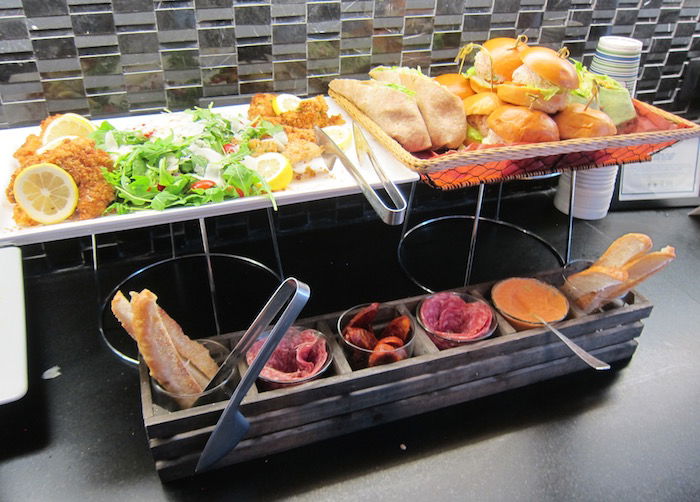 SPG Luxury Suite US Open snacks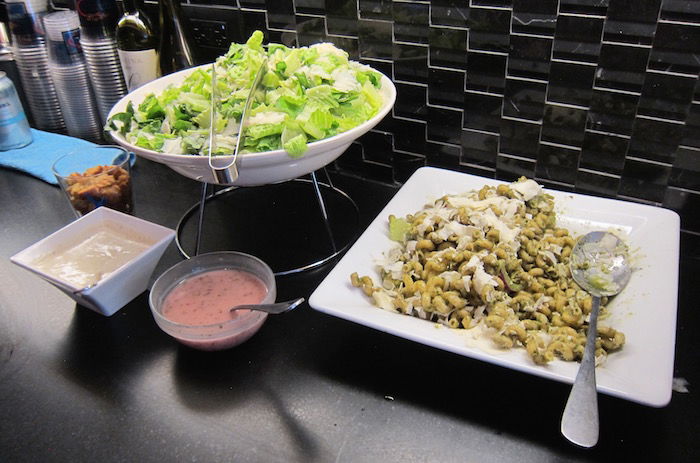 SPG Luxury Suite US Open snacks
Throughout our time in the suite, service were excellent. There were two top notch "hosts" who were constantly cleaning up and offering drink refills. There's an open bar with complimentary soft drinks, beer, wine, etc.
For our daytime tickets, we could stay in the SPG Suite from around 11AM until 5PM, which is quite a long time. I could never imagine watching tennis for that long while sitting outside (especially given how hot it was), but being able to switch between sitting inside and outside made the time fly by, and certainly made it more comfortable as well.
The suite accommodates a bit over a dozen guests at a time, so perhaps the most interesting part was interacting with the other guests. You of course had some road warriors, SPG Platinum members, etc., but I was pleasantly surprised to see how many people there were who aren't huge into travel.
But more than anything else what I noticed was how literally everyone loved the experience and felt like they were getting a great value. Because it really is a great value.
I'm keeping an eye on the SPG Moments website for future events, as I imagine this could be really fun for a concert as well. I guess I'll find out later in the month, given that we have the SPG Suite for a One Direction concert in London! 😉
Have you ever attended an SPG Moments event? If so, how was it?