Air Tahiti Nui has just announced that they'll be eliminating first class and instead installing new business class seats on all five of their longhaul Airbus A340 aircraft.
They plan to stop selling first class for travel as of April 1, with the first plane being reconfigured by mid-April, and three of the five planes being reconfigured by early June, which should initially operate on the Los Angeles and Paris routes.
Despite the fact that it's 2013 they'll be installing angled flat seats, which is pretty disappointing. Then again they're in the unique position of having very little competition, so I can't really blame them.
The real good news in this announcement is actually that the elimination of first class and new seats will result in an extra eight business class seats, meaning there will now be 32 business class seats. Hopefully this results into a bit more business class award space. I don't think this is a market where demand varies greatly based on the quality of product, given that Air Tahiti Nui only really competes with Air France on the Los Angeles to Tahiti route, and Air France really can't compete on frequency.
Interestingly they won't be offering any in-flight entertainment to passengers booked on one-way flights:
The highlight of the new cabin is the new Inflight Entertainment System featuring an "on demand" access to a selection of 25 movies and 24 television programs, as well as magazines, games and music on every roundtrip journey.
😉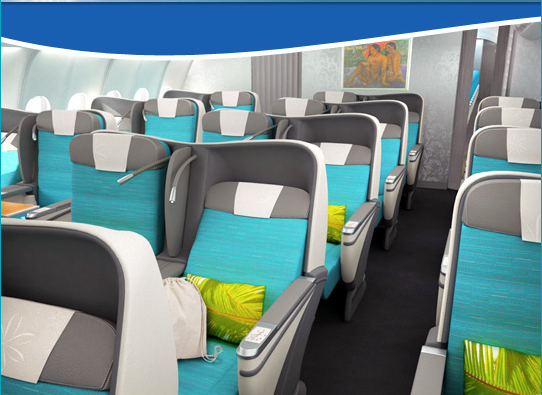 (Tip of the hat to Gary)