In the interest of full disclosure, OMAAT earns a referral bonus for anyone that's approved through some of the below links. Citi is an advertising partner of OMAAT. These are the best publicly available offers (terms apply) that we have found for each product or service. Opinions expressed here are the author's alone, not those of the bank, credit card issuer, airline, hotel chain, or product manufacturer/service provider, and have not been reviewed, approved or otherwise endorsed by any of these entities. Please check out our advertiser policy for further details about our partners, and thanks for your support!
---
Our flight to Honolulu was departing LAX at 7AM, so we got to the airport at around 5:30AM. Not only were we checking a bag (BYOB), but we needed to stop by the check-in counter to add our Korean Air SkyPass numbers to the reservation. Oddly Hawaiian's website only lets you add a HawaiianMiles frequent flyer number to a reservation, and not any of their partner frequent flyer numbers. Fortunately we were quickly helped at the first class counter.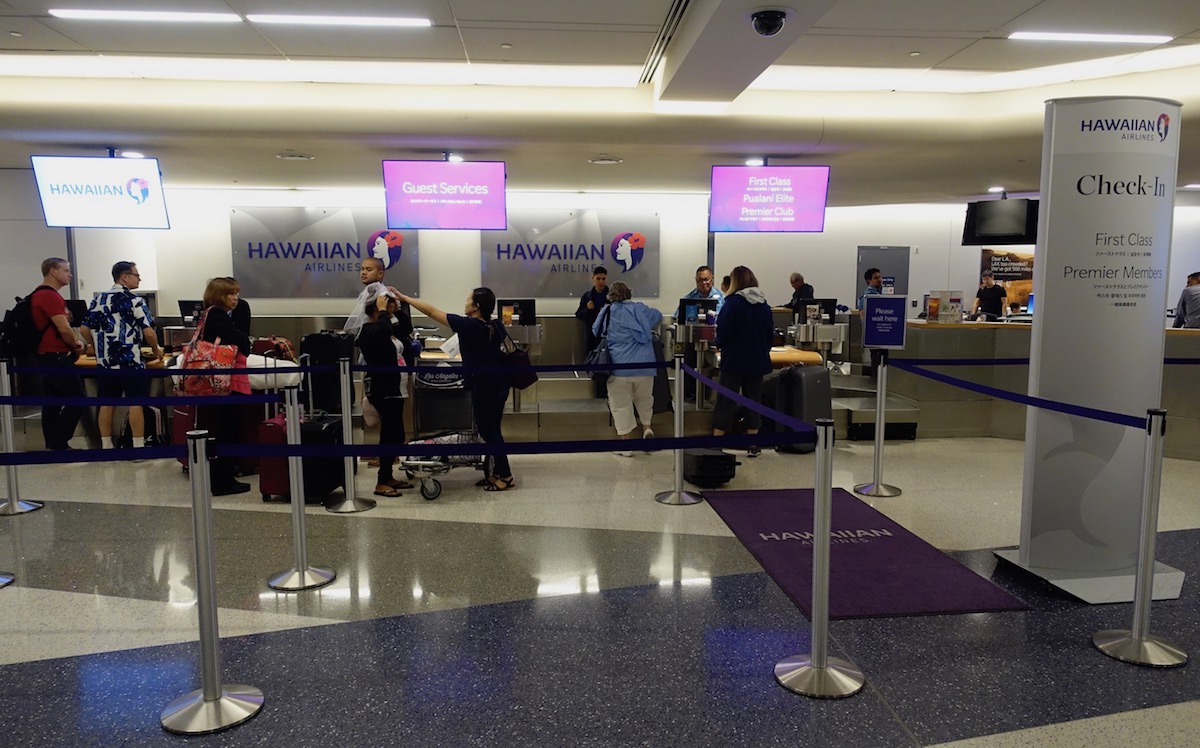 Hawaiian Airlines check-in counter LAX
Hawaiian now operates out of Terminal 5 at LAX, so were quickly through security thanks to CLEAR. Hawaiian doesn't offer lounge access to passengers traveling between the mainland and Hawaii, though there's an Admirals Club in the terminal, which we could use since I'm a member (I have a membership thanks to the Citi® / AAdvantage® Executive World Elite™ Mastercard®).

Terminal 5 LAX
Our Hawaiian flight was departing from gate 58, located at the end of the concourse. Boarding was scheduled for 6:15AM, though we headed there at around 6AM. A few minutes later our crew showed up, and then at 6:20AM boarding finally began.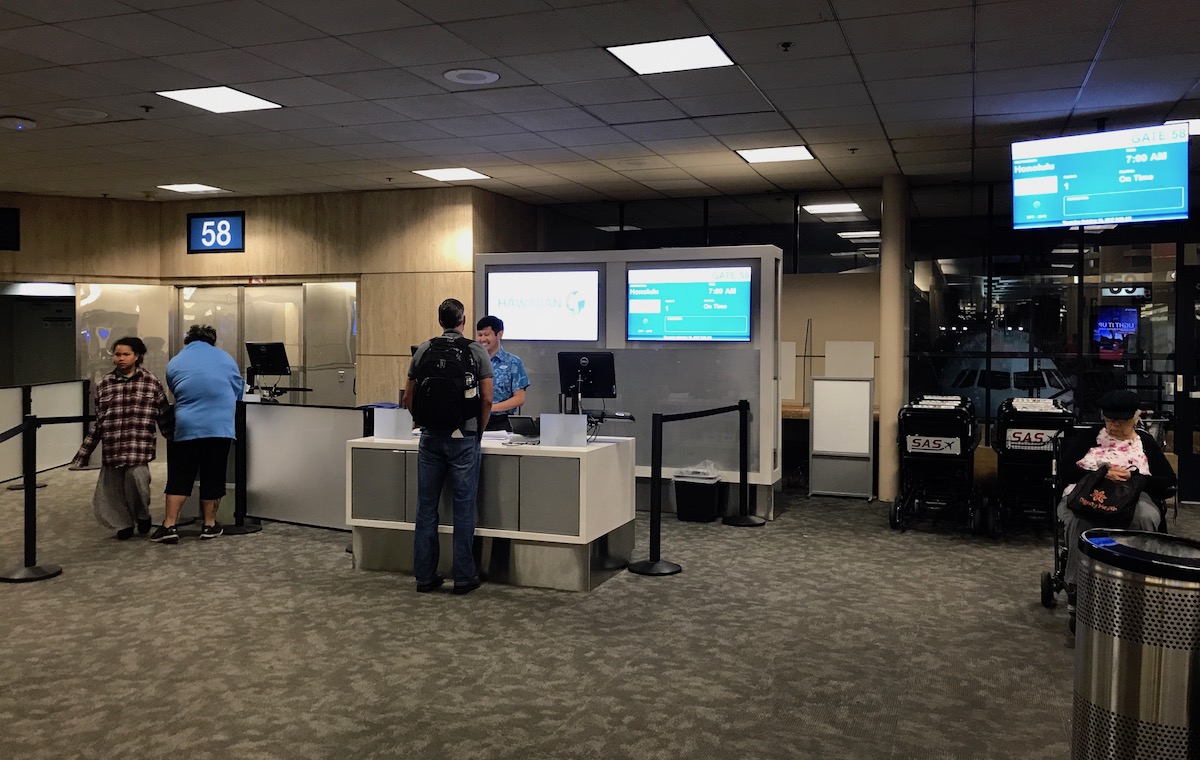 Hawaiian Airlines departure gate LAX
Boarding began with wheelchair passengers, and then passengers who needed extra time boarding, including families with small children. On a flight to Hawaii, that's about half of the plane. After that, Zone 1 boarding began, which includes first class. While most airlines have clear signage at gates nowadays, it's interesting to me that Hawaiian didn't have any sort of priority signage in the gate area, but rather everyone used the same boarding lane.
Hawaiian 1
Los Angeles (LAX) – Honolulu (HNL)
Thursday, October 12
Depart: 7:00AM
Arrive: 10:00AM
Duration: 6hr
Aircraft: Airbus A330
Seat: 3J (First Class)
We boarded through door L2, where we were greeted by the very friendly crew and pointed to the far aisle and then left towards first class. In front of the second set of doors was 1.5 rows of Economy Comfort (which is their extra legroom economy product), and then there was the first class cabin.
Hawaiian's new first class cabin has 18 seats, spread across three rows in a 2-2-2 configuration. My first thought, especially when seeing the cabin from behind, was that it was beautiful. It wasn't initially the most comfortable-looking cabin, but I thought the light blue and the "waves" on the back of the seats were perfect for an airline based in Hawaii.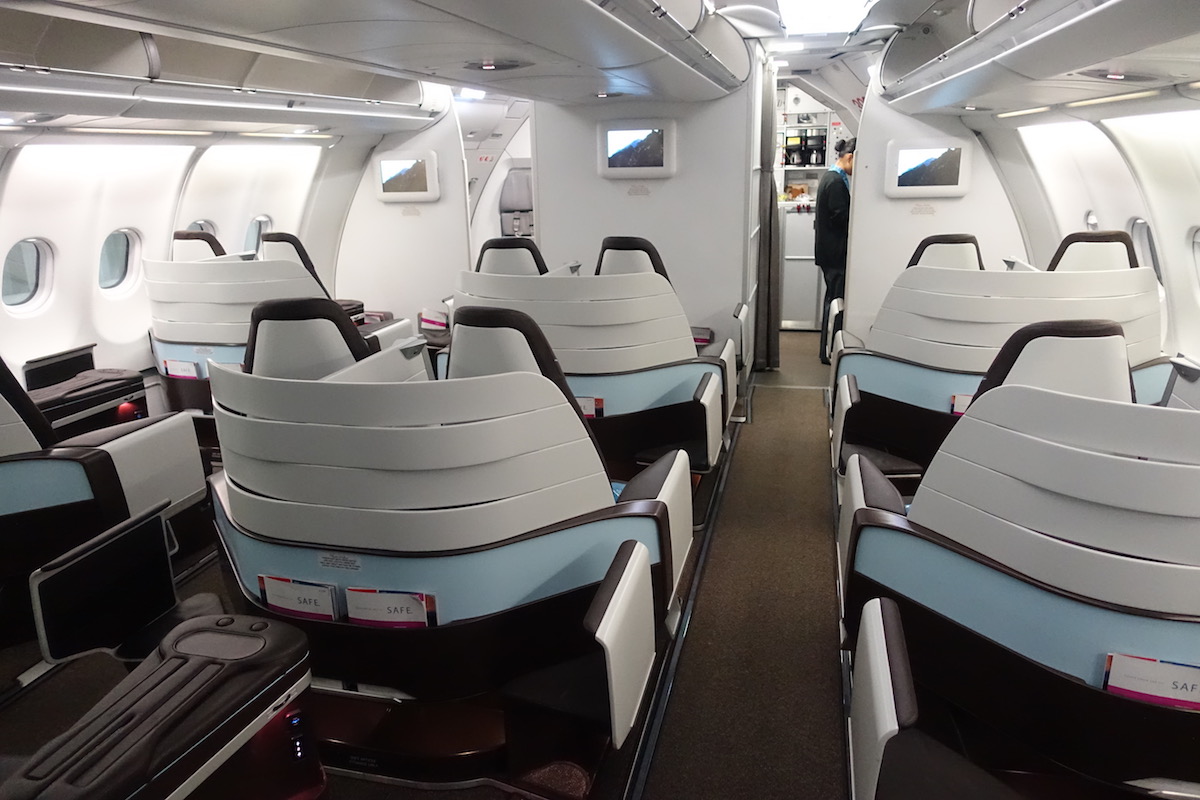 Hawaiian Airlines first class cabin A330
The other sides of the seats told a different story, though. I couldn't help but feel like the seats looked like ironing boards. They were so thin.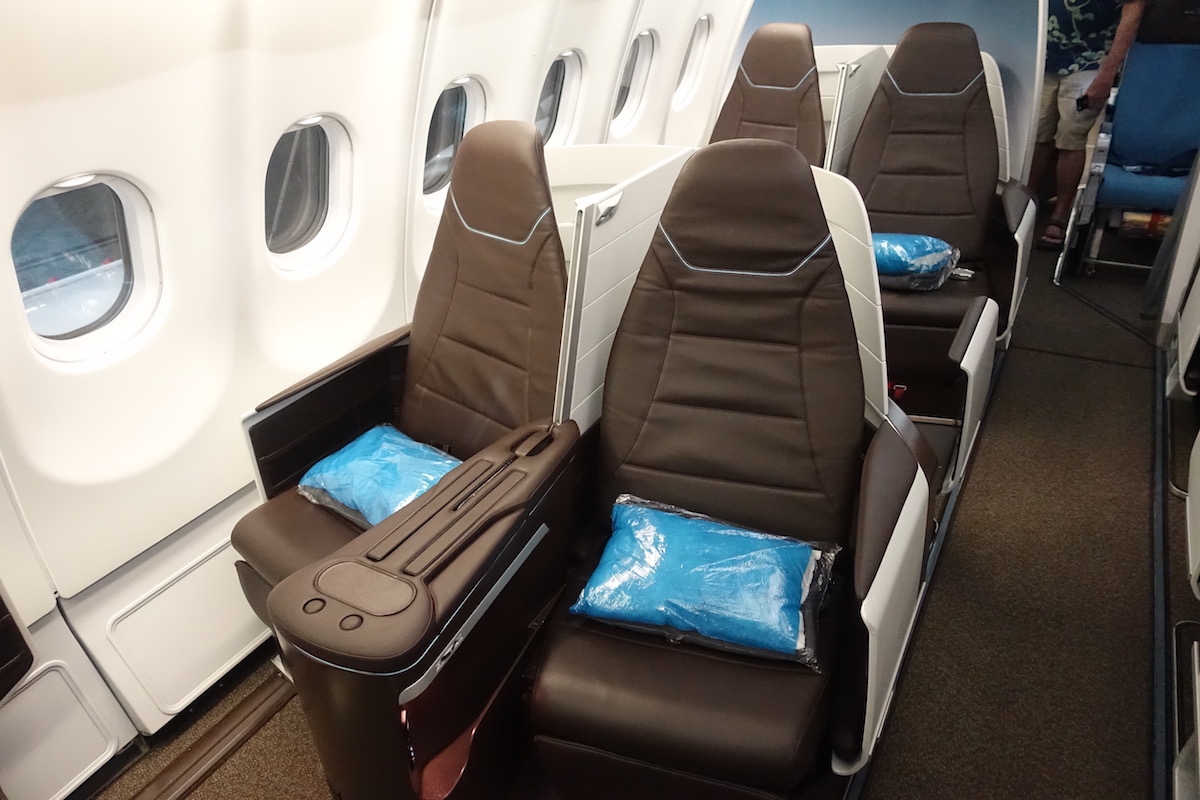 Hawaiian Airlines first class seats A330
We had assigned ourselves seats 3H & 3J, which are the aisle & window combination on the right side in the last row. The cabin felt pretty exposed overall, so I was happy being in the last row, since it meant we had the most privacy.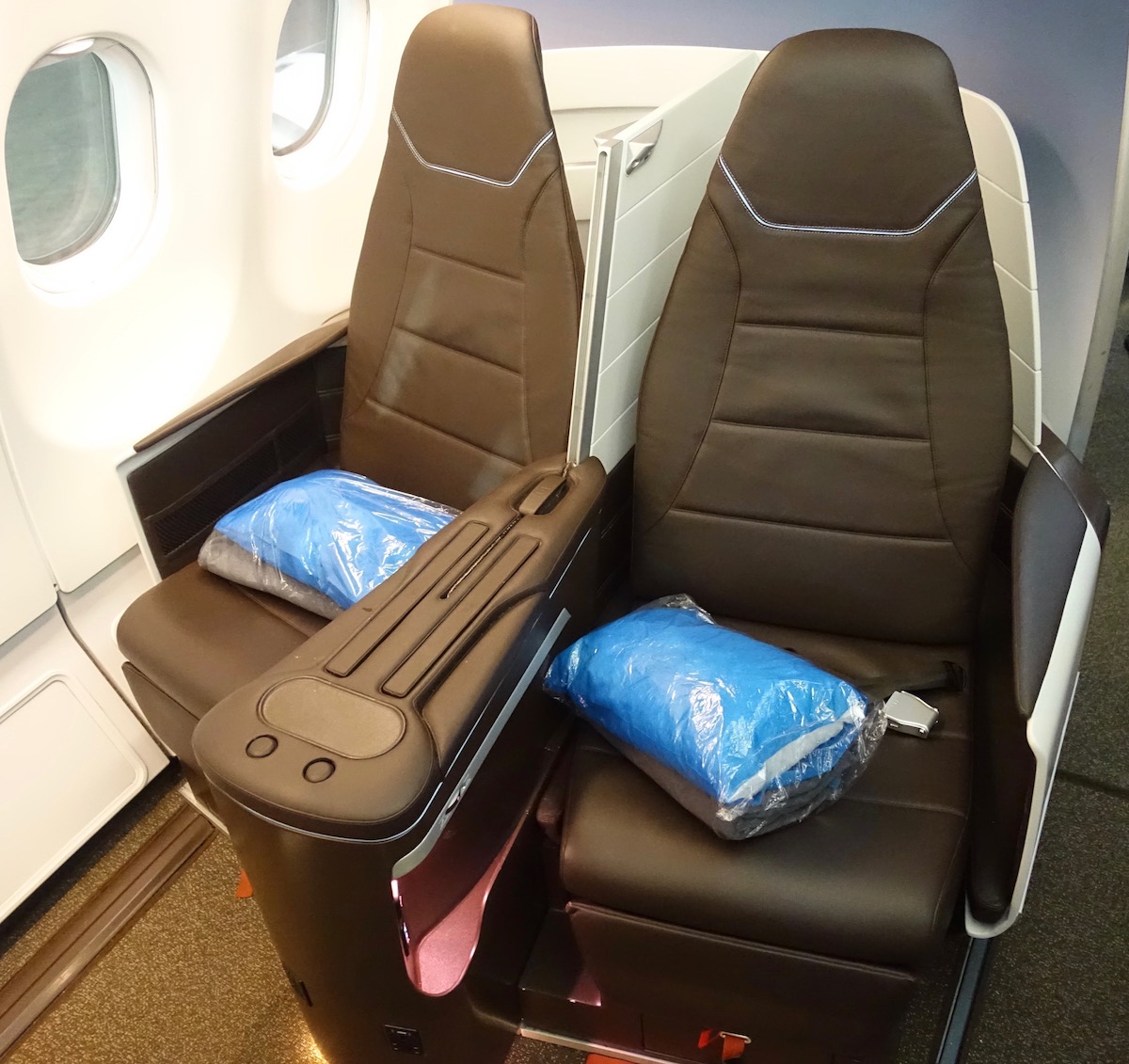 Hawaiian Airlines first class seats A330
While most airlines nowadays go for a generic type of seat common on other airlines, I had never before seen a layout like Hawaiian's. The seatbacks in front were curved, and there was a small ottoman at each seat.

Hawaiian Airlines first class legroom A330
I figured the ottoman would be rather uncomfortable given how small it was, but there's actually a lot of merit to it. It was close enough to the seat so I could rest my feet on it when the seat was in the fully upright position, which is a nice feature that isn't possible in many other business class products. The ottoman also had a flimsy vertical barrier on the side of it. I'm not sure exactly what purpose it served. I suspect the intent was that if the seat is fully reclined, you can place your feet against it so you're not constantly moving around.

Hawaiian Airlines first class legroom A330
There was a little storage area underneath the ottoman, but it wasn't really big enough to hold anything.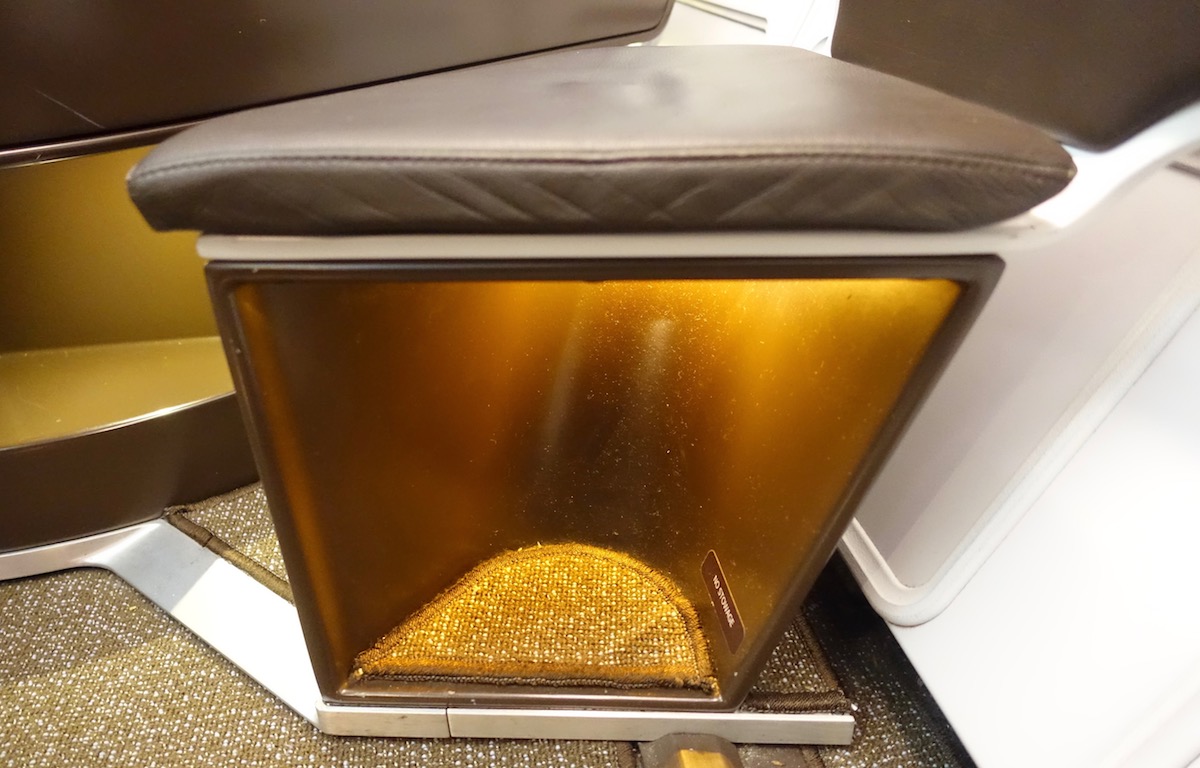 Hawaiian Airlines first class ottoman A330
Between the ottomans and in the center section were storage compartments large enough to hold shoes, laptops, etc.

Hawaiian Airlines first class seat storage A330
Underneath the center armrest was a USB outlet, the reading light and flight attendant call buttons, and a small area where you could store a phone or pair of glasses, though it was "exposed."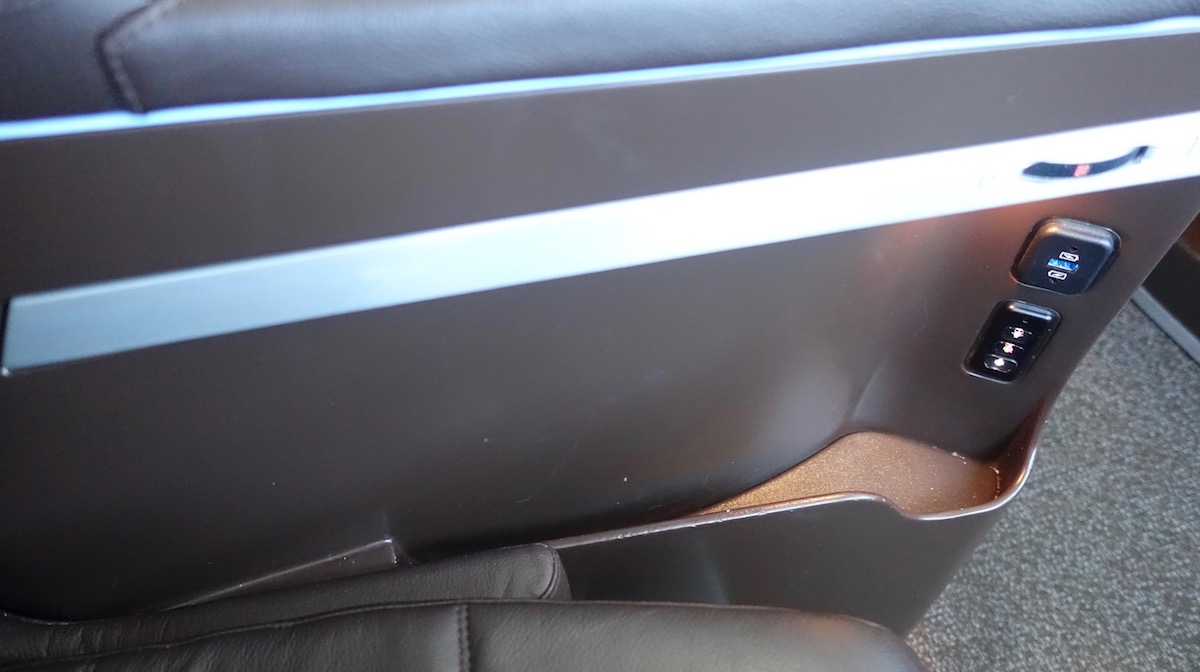 Hawaiian Airlines first class seat storage A330

Hawaiian Airlines first class USB outlet A330
Above that section was a circular knob that you could turn to either recline the seat or put it upright. Seat controls don't get much simpler than this, though it does also limit the customizability of the seat.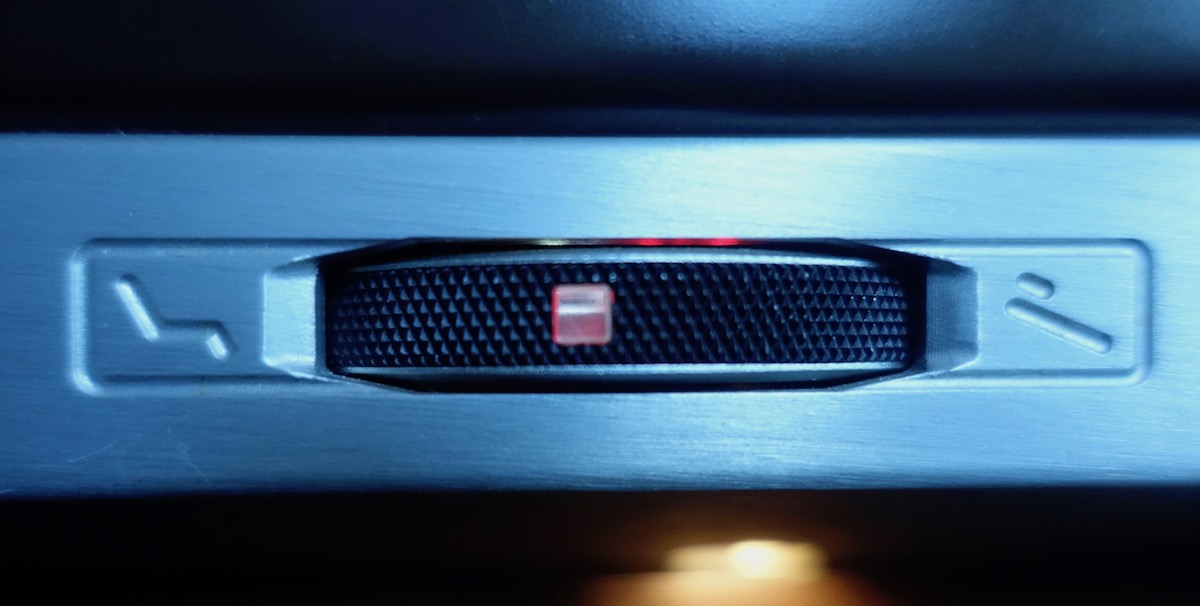 Hawaiian Airlines first class seat controls A330
Then in front of and underneath the center armrest were more outlets, including a 110v and USB outlet.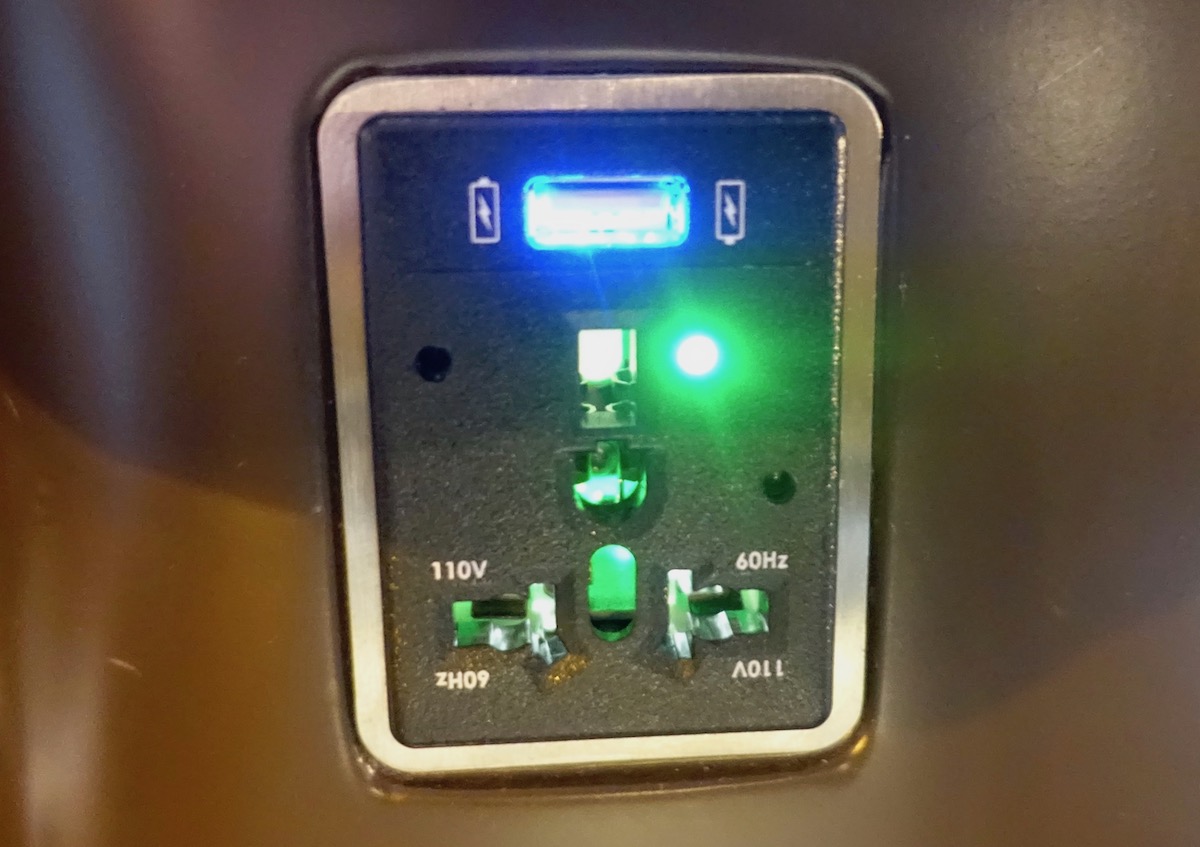 Hawaiian Airlines first class seat power outlet A330
The tray table folded out from the center section of the seat. This was a single big tray, the major downside being that it couldn't really be moved, so once it's down there's no way you're getting out of your seat.

Hawaiian Airlines first class tray table A330
At our seats were pillows and blankets. They were both okay, better than most airlines have domestically, though not as good as you'd find in international business class.

Hawaiian Airlines first class pillow & blanket
So all around I'd say the hard product was way better than you'd find on most other airlines, given that most US airlines fly domestically configured aircraft to Hawaii. These seats aren't ideal for business travelers, but I think for couples traveling together, these are great seats.
However, what really made Hawaiian awesome was the crew and local flair to the service.
Moments after settling in, our flight attendant, Jasmine, came by our seats to introduce herself and welcome us aboard. She also informed us that was Kim was working with her in the galley. She offered us pre-departure drinks, with the choice between pog, mai tais, and prosecco (or anything else we wanted).
Ford had a mai tai, while I had pog (passionfruit, orange, and guava juice). They were served in proper glassware.

Hawaiian Airlines first class pre-departure drinks
On most flights I find that first class passengers arrive throughout the boarding pass, while in this case all 18 seats were taken within minutes (likely given that this was a leisure crowd), and Jasmine took her time welcoming aboard each passenger and offering them drinks.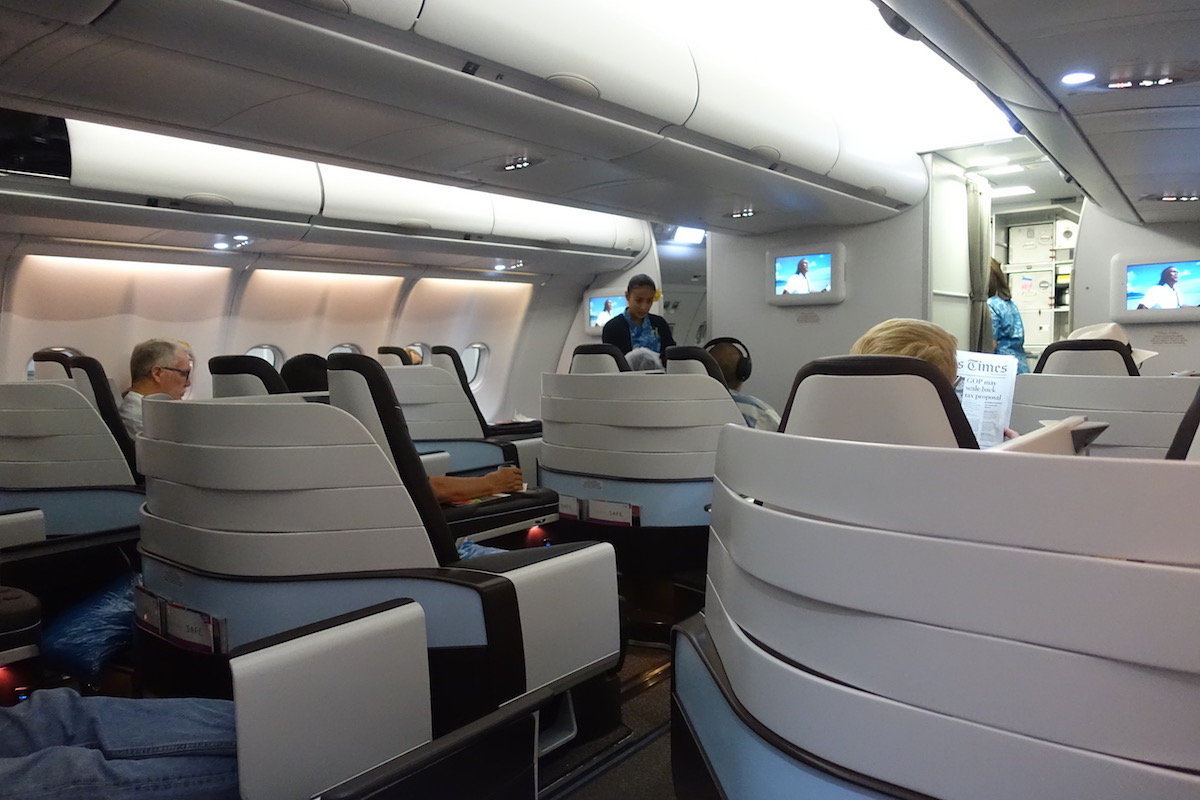 Hawaiian Airlines A330 first class cabin
Once that was complete, Jasmine came back through the cabin to present us with the menus for the flight. She explained that there wasn't a choice of options (or rather the way she described it was "you'll get everything that's listed"), and she'd come back shortly to check on us. Sure enough, a few minutes later she returned to see if we wanted to have breakfast, and to confirm if we wanted to be woken up in the event that we were sleeping.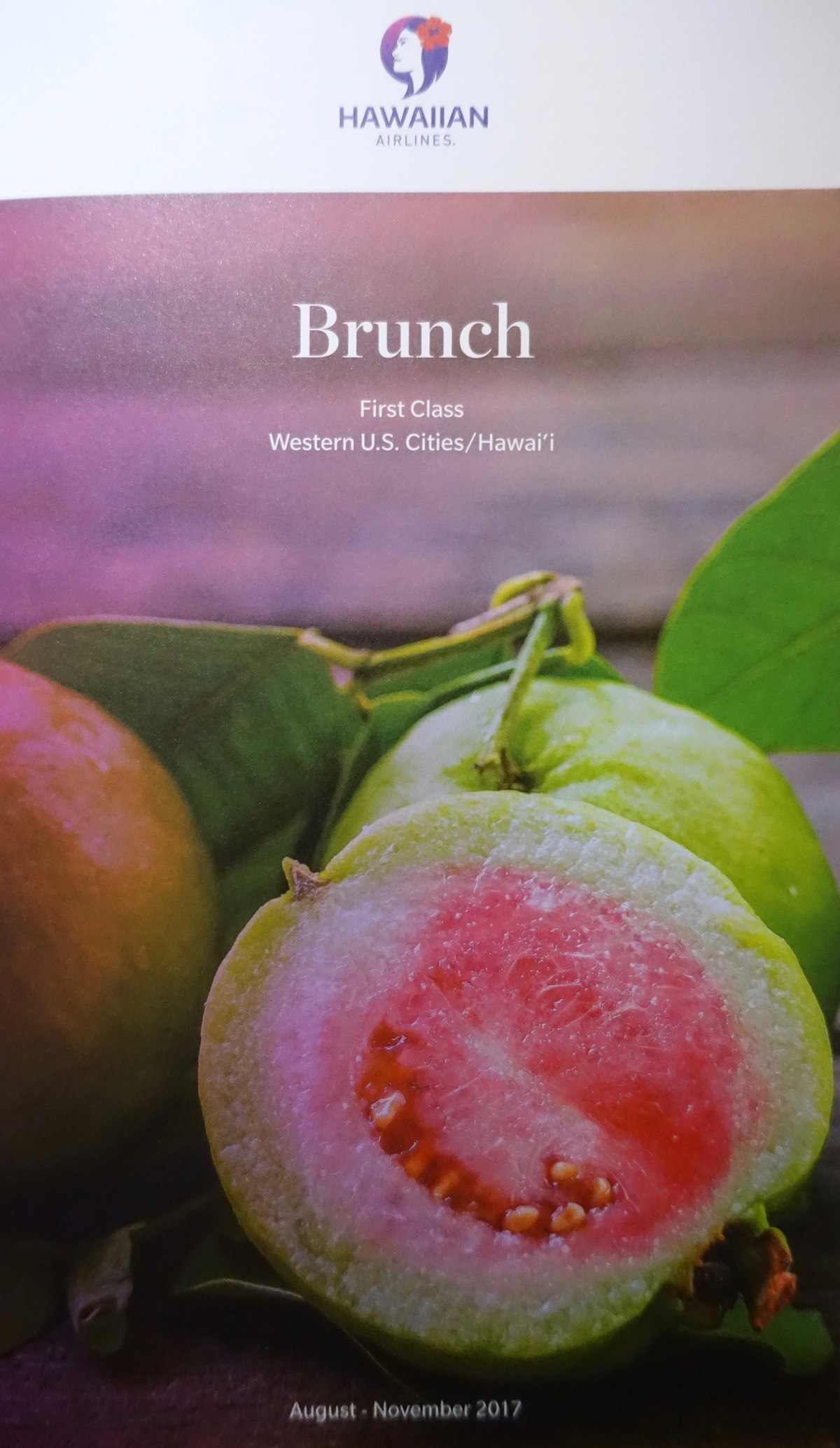 Hawaiian Airlines first class menu
Adding to the local flair, Hawaiian has some great Hawaiian boarding music, which I really liked.
At 7:10AM the door closed, at which point Captain Todd added his welcome aboard, and informed us of our flight time of 5hr47min. He apologized for the slight delay, and said we'd be waiting a few more minutes due to the amount of traffic in the alleyway.
After that Kim, the "first flight attendant," introduced herself over the PA and screened the safety video. Hawaiian refreshed their safety video a couple of years ago, it does a lot to showcase their home. Here's the video for those of you who haven't seen it:
In terms of traffic in the alleyway, we waited for an Alaska 737 in the Disneyland livery to taxi past us, and then a Spirit A321 to pull in next to us.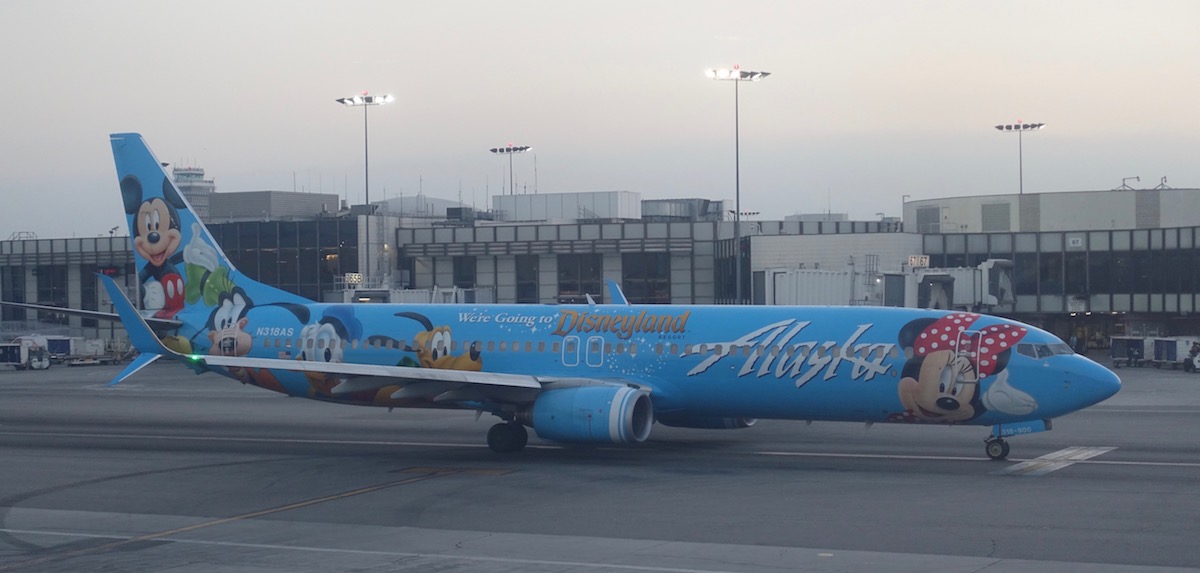 Alaska Airlines 737 LAX

Spirit Airlines A321 LAX
At 7:20AM it was our turn to push back, and a few minutes after that we began our taxi.

Taxiing LAX
We had a fairly long taxi, given that Terminal 5 is on the south side of the airport, but we were taking off from runway 24L, on the north side of the airport. So we taxied west, and then turned right to taxi past Tom Bradley International Terminal, where all the early morning Australia arrivals were parked.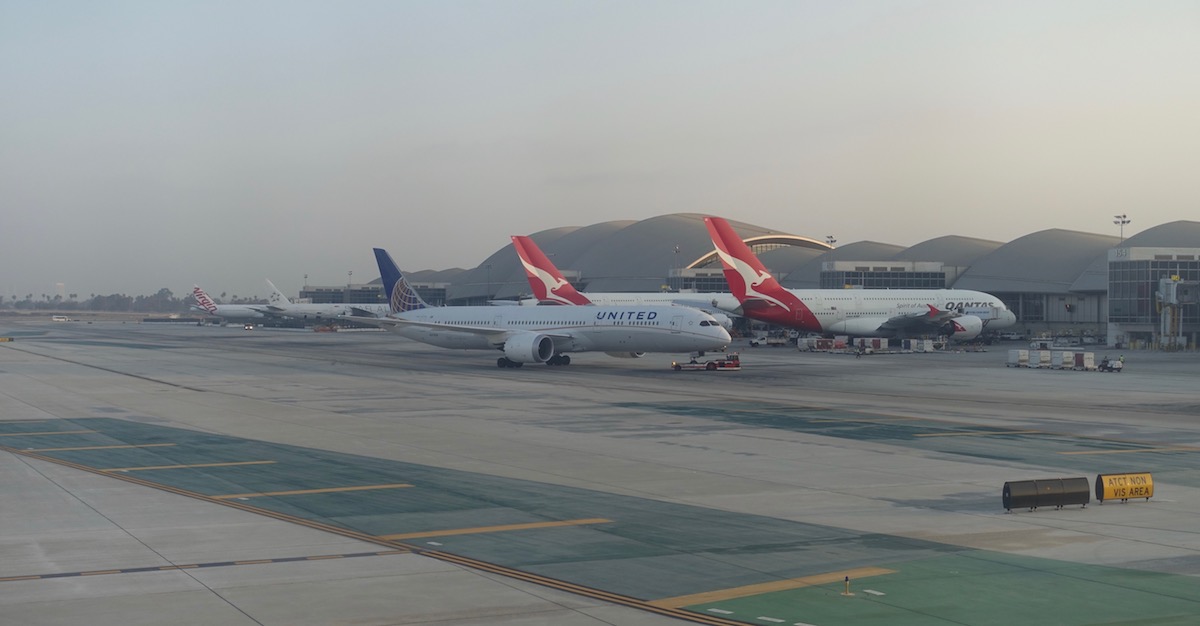 Taxiing LAX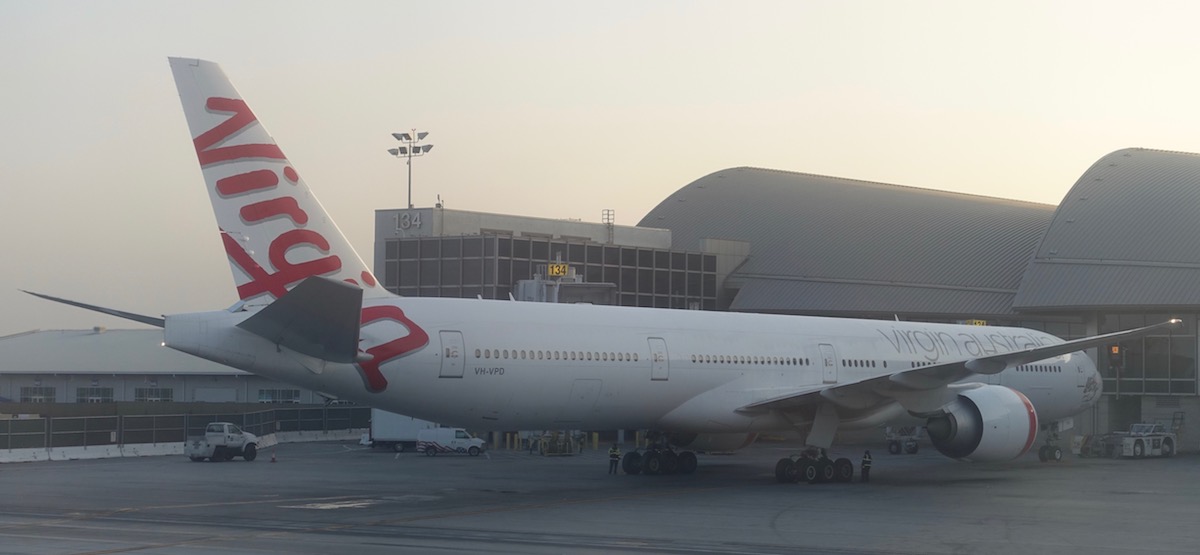 Virgin Australia 777 LAX
One thing that I found interesting was that during the security checks, flight attendants requested that passengers raise all window shades. I think this is a smart safety policy, though they're the first US airline I've been on to enforce this (it's common for foreign carriers to have this policy as well).
At 7:40AM we were cleared for takeoff, and had beautiful views of the California coastline on our climb out.

View after takeoff from LAX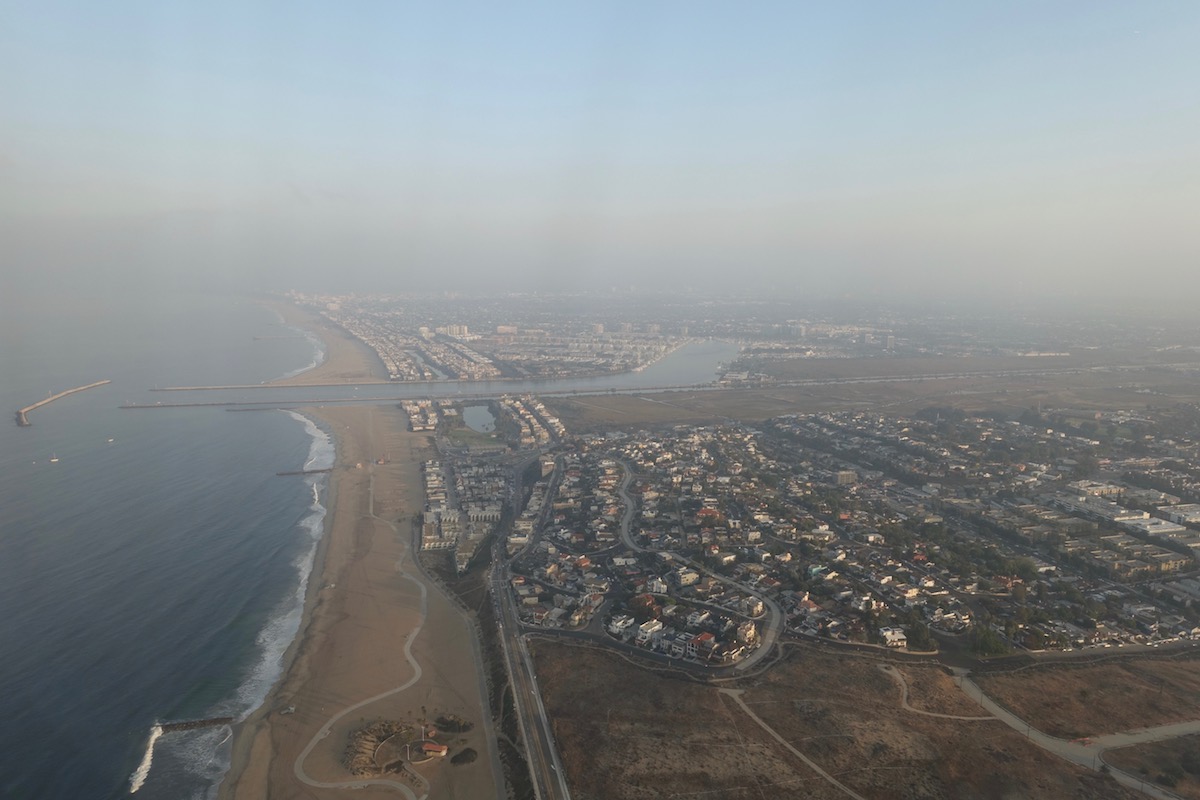 View after takeoff from LAX
We had a smooth climb out, though the seatbelt sign stayed on for 30 minutes. One thing I found a bit annoying is that the crew requested that all window shades be lowered after takeoff. Personally I don't like sitting in darkness for 5.5 hours, but I know others have different opinions on that.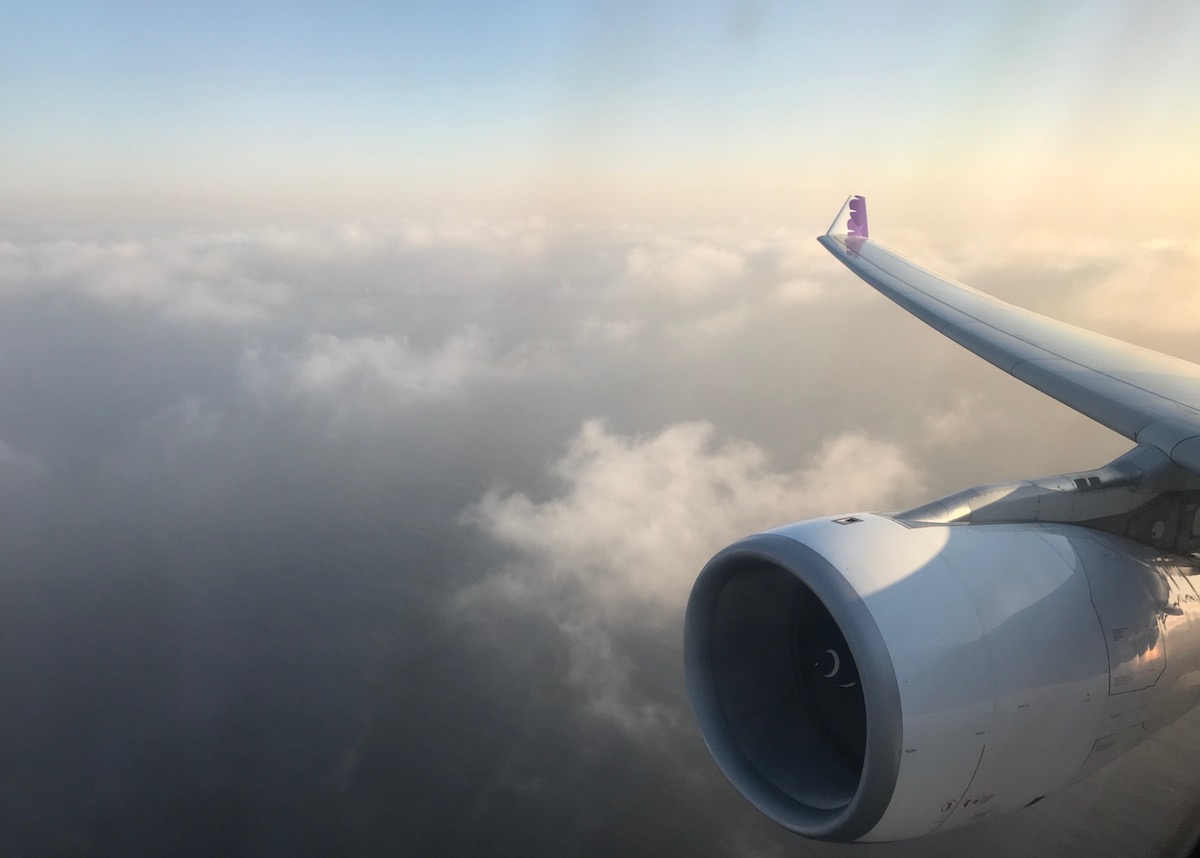 View after takeoff from LAX
About 20 minutes after takeoff the crew passed through the cabin distributing personal iPads. Hawaiian doesn't have built in IFE, so instead they have little IFE holders at the seats, and then they come around with the iPads.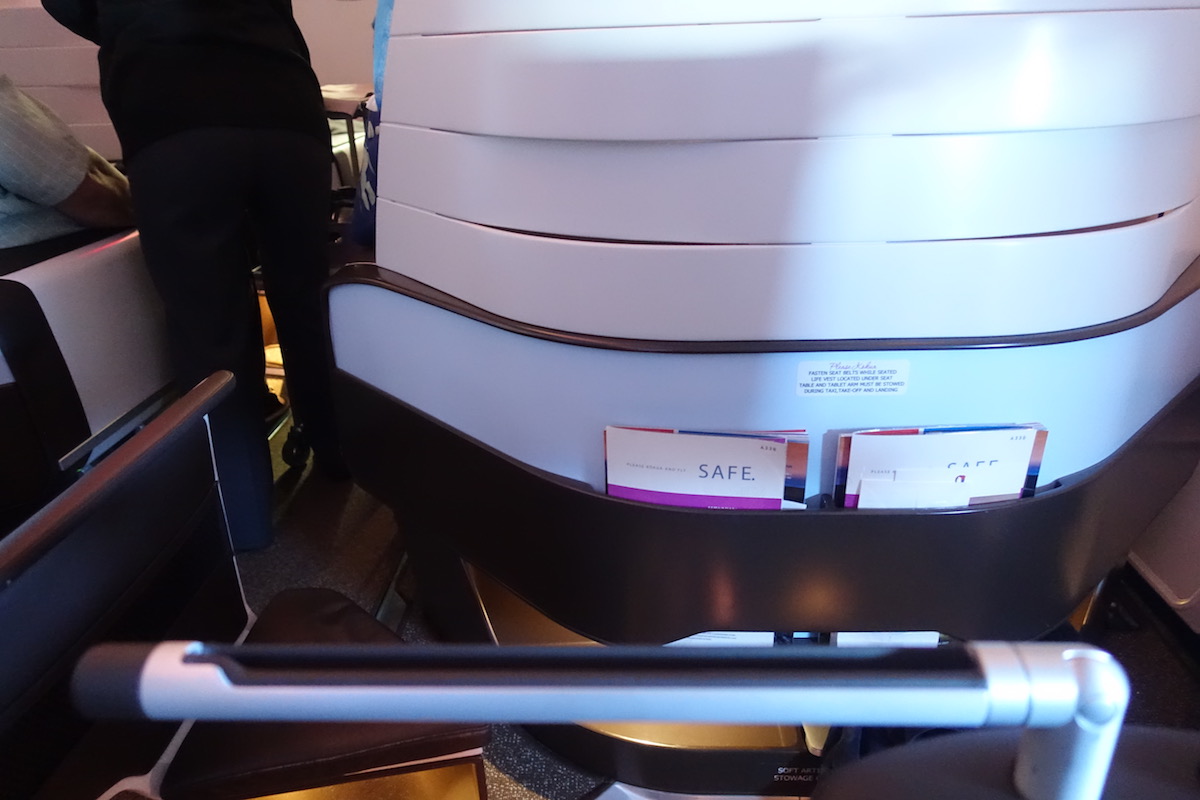 Hawaiian first class entertainment system
As far as airlines with portable IFE go, I found Hawaiian to be the best. The IFE was fully charged so there was no need for a charger, and it simply slipped right into the IFE holder. There was no latching, or anything, required.

Hawaiian first class iPad entertainment
The IFE selection was quite good. There were a few dozen movies, as well as a good number of popular sitcoms.

Hawaiian first class entertainment selection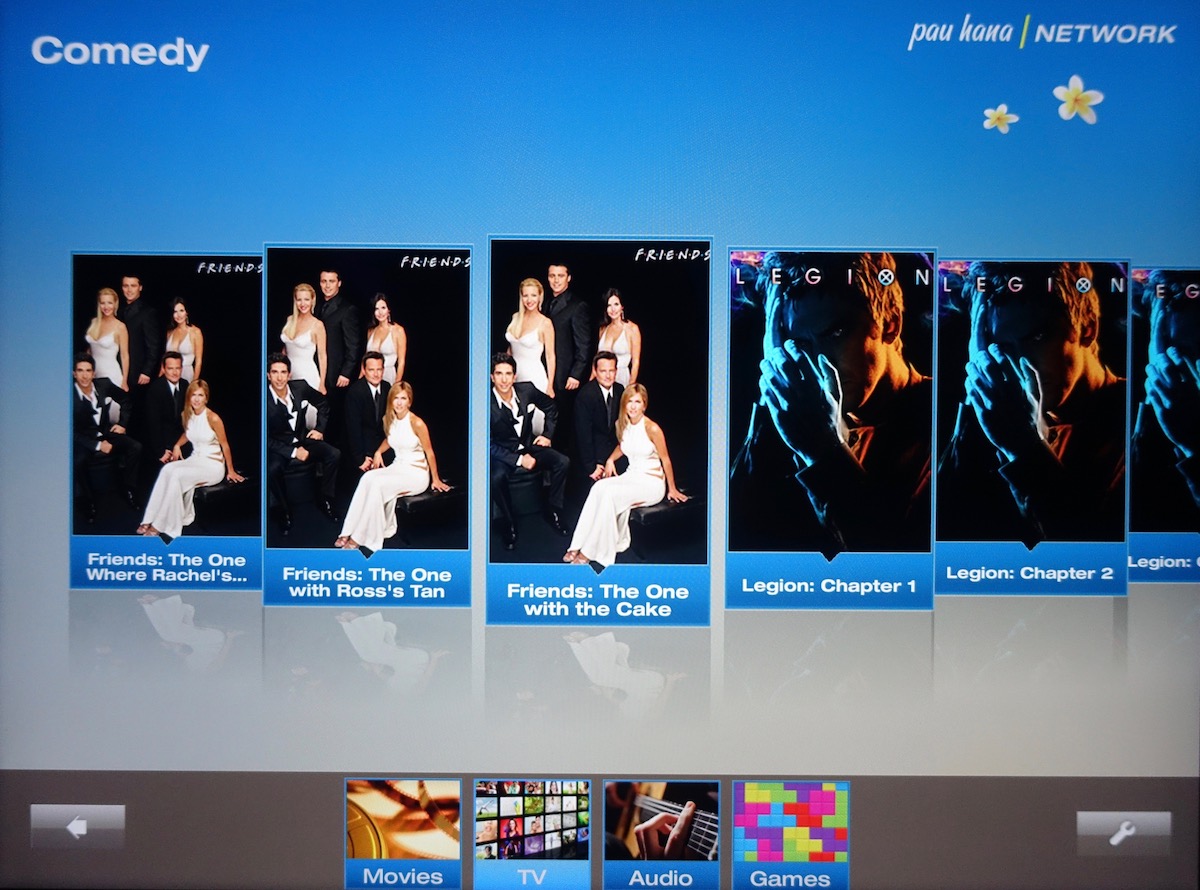 Hawaiian first class entertainment selection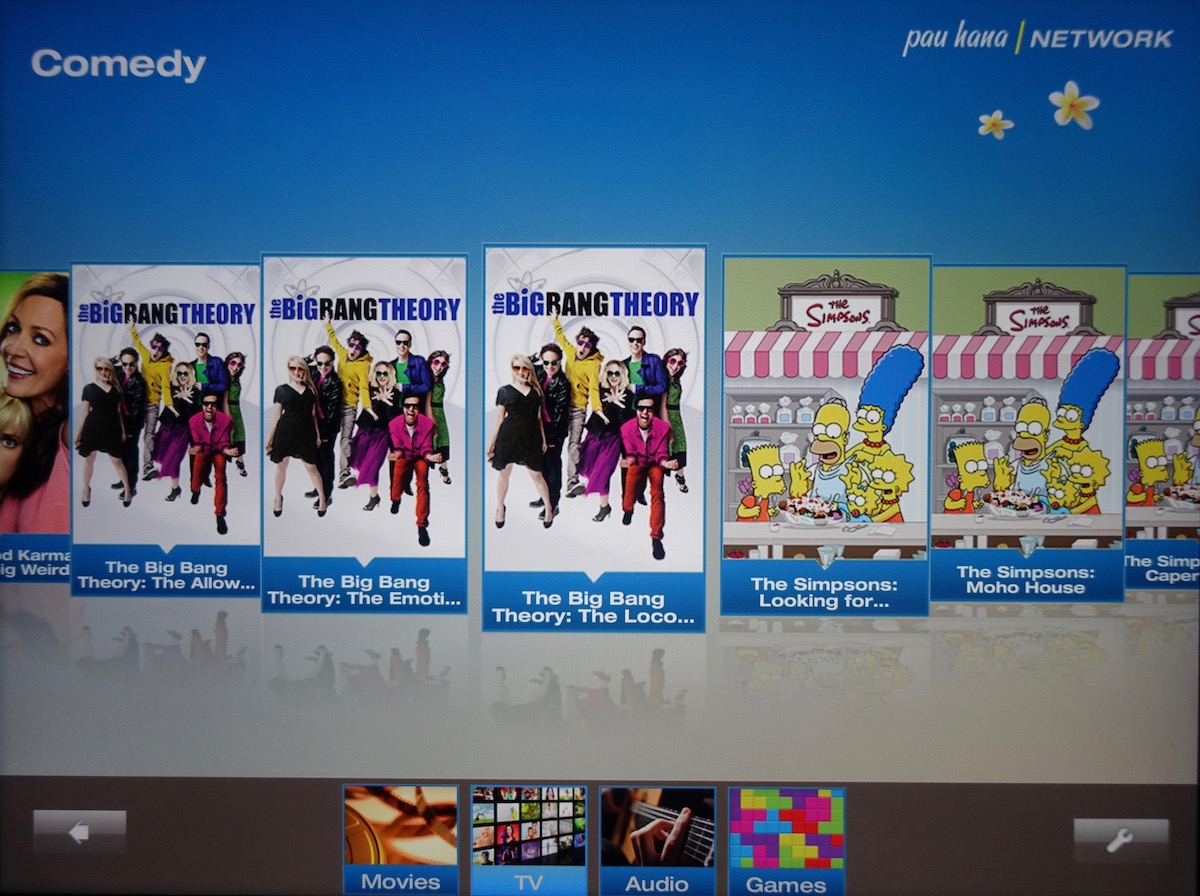 Hawaiian first class entertainment selection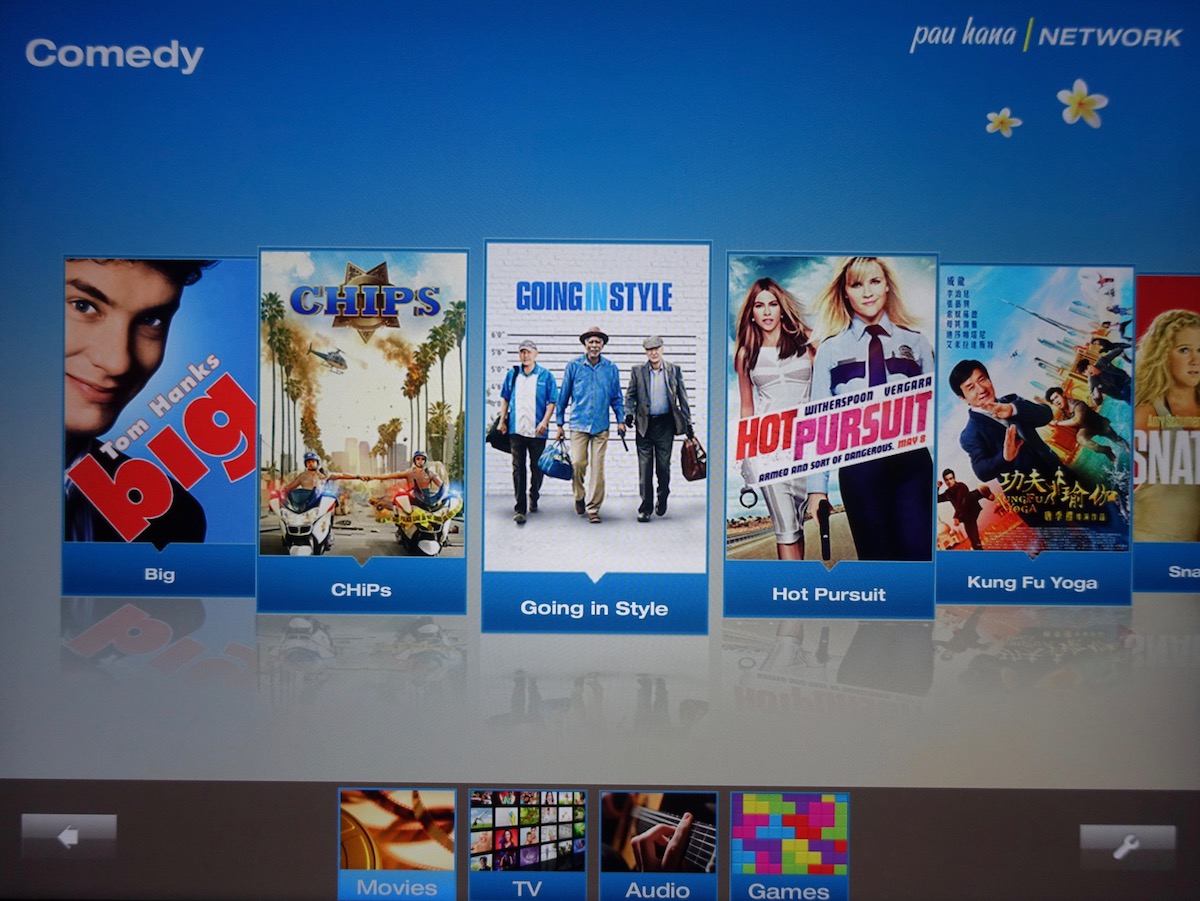 Hawaiian first class entertainment selection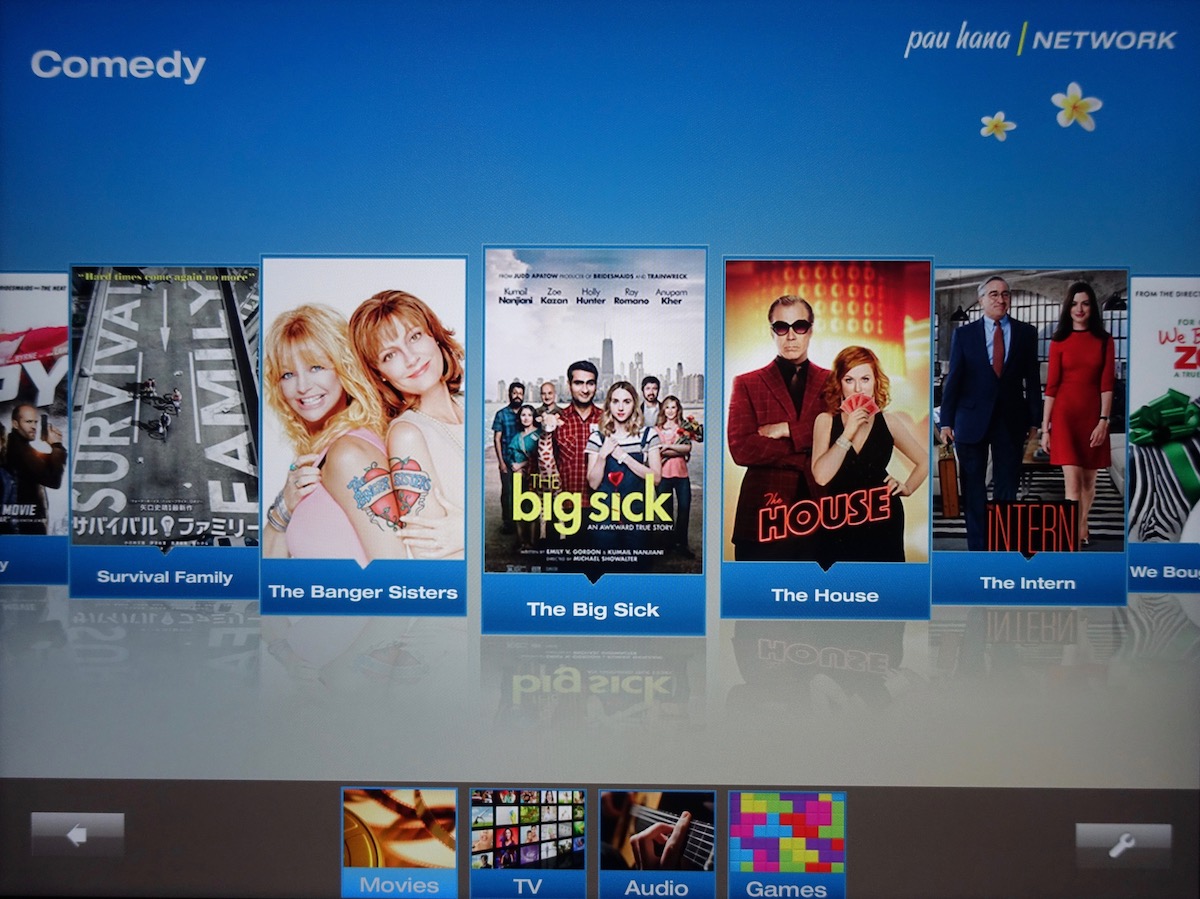 Hawaiian first class entertainment selection

Hawaiian first class entertainment selection
I decided to watch "Hot Pursuit," starring Reese Witherspoon and Sofia Vergara, which was… about as good as you'd expect a movie to be that's starring Reese Witherspoon and Sofia Vergara (as much as I love her in "Modern Family").

Hawaiian first class entertainment selection
Just under an hour after takeoff warm towels were distributed.

Hawaiian first class warm towel service
After that tablecloths were brought out and the meal service began. The menu read as follows: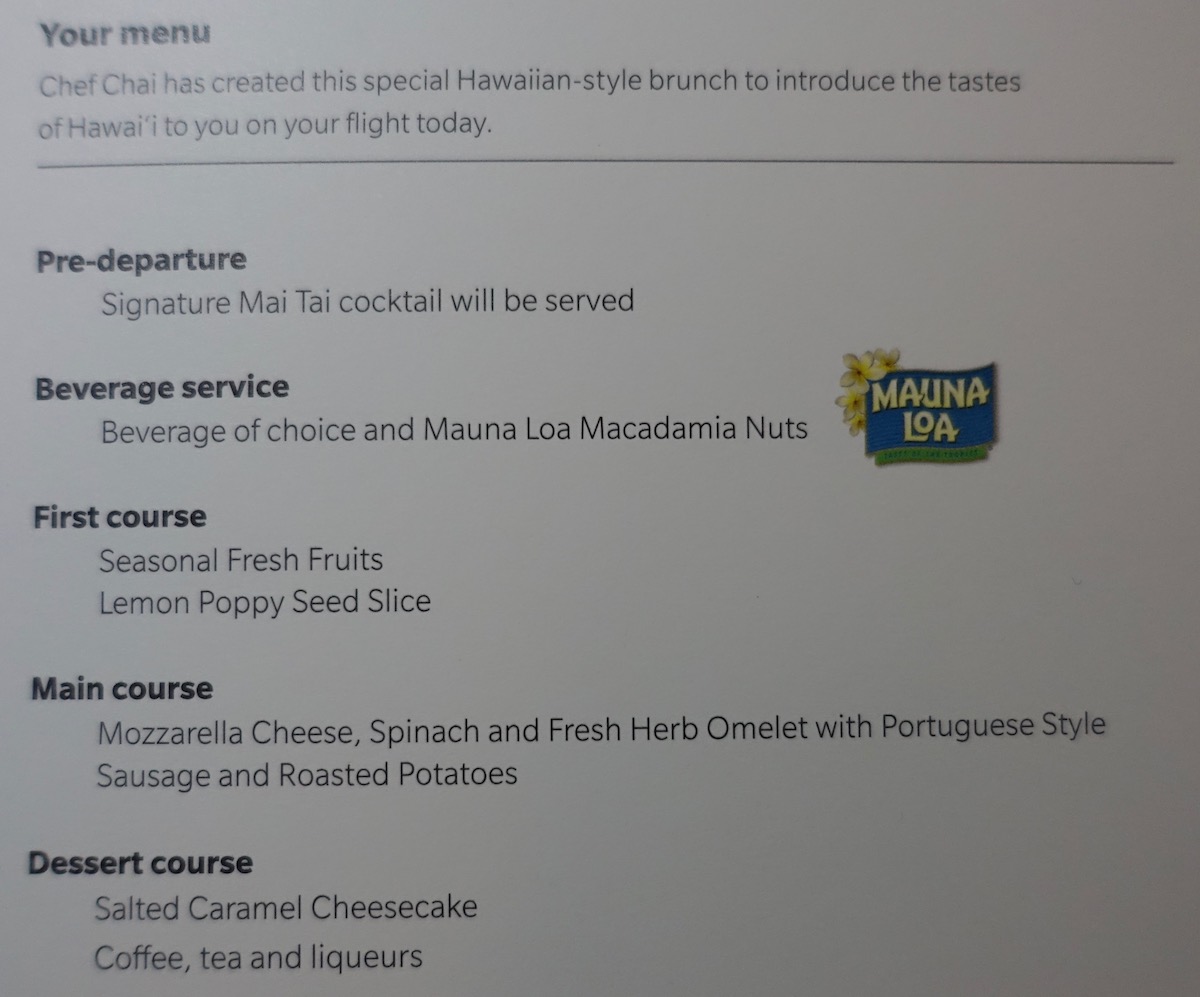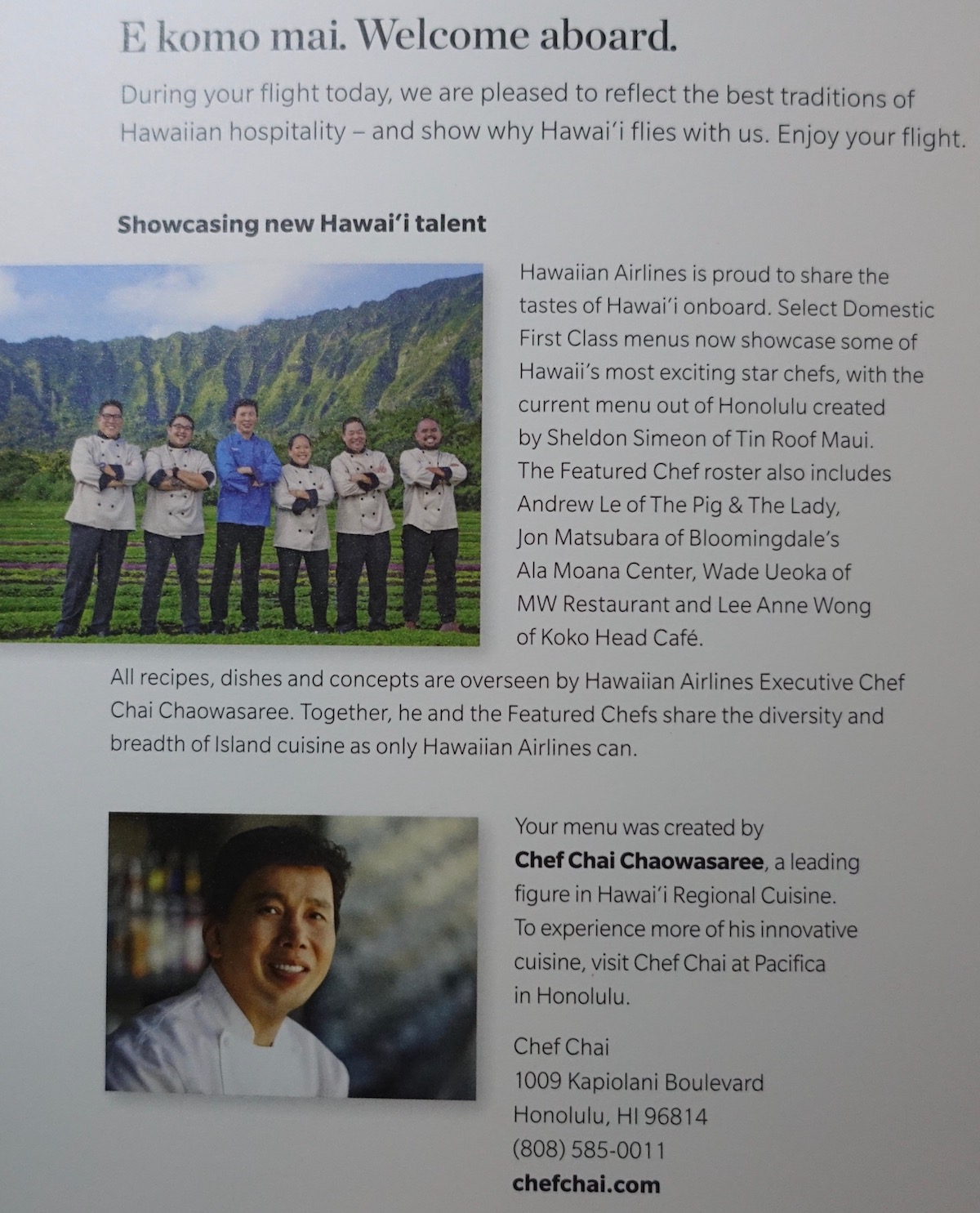 The beverage list read as follows: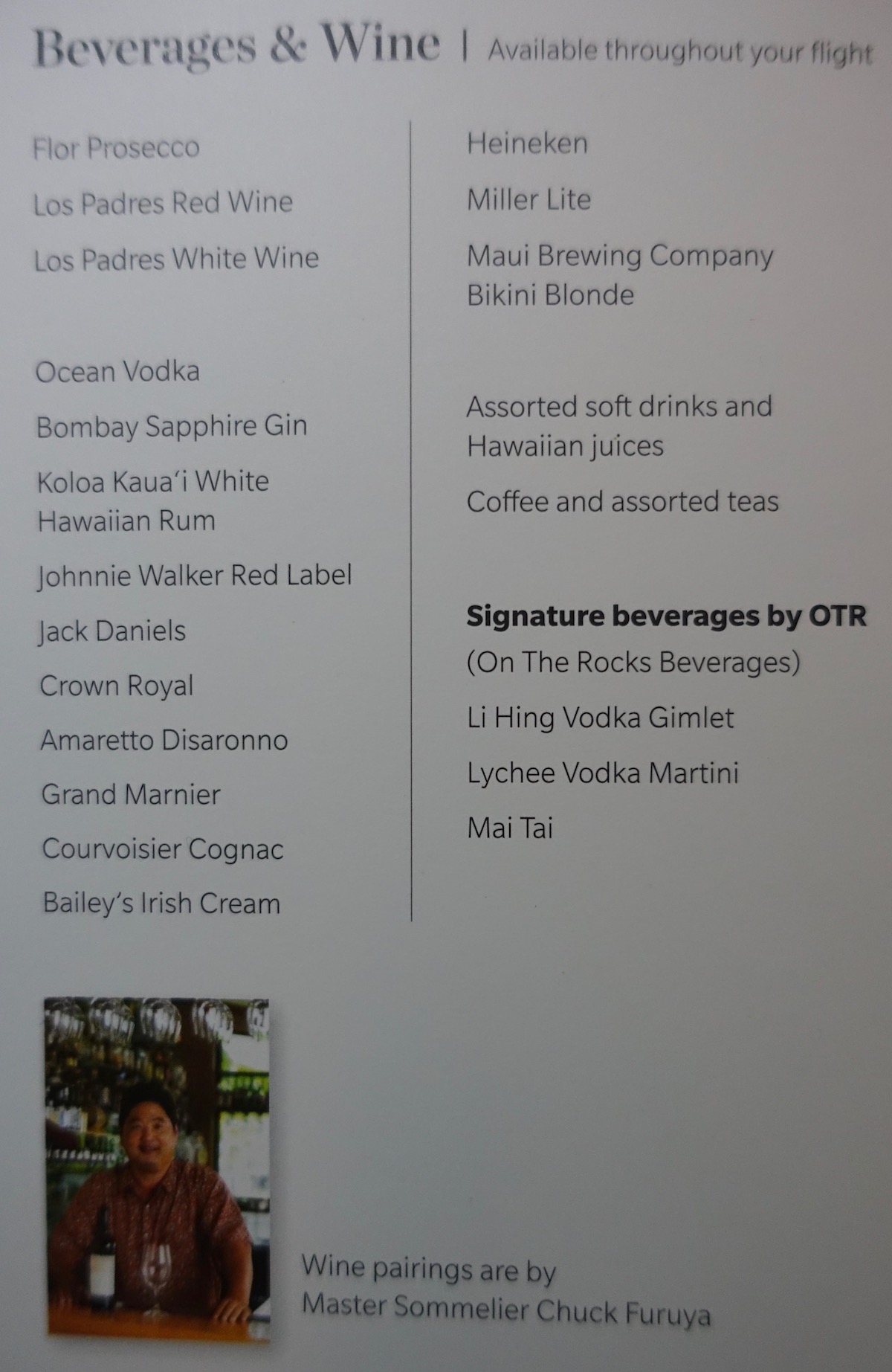 Service began with drinks and macadamia nuts. To drink I ordered a combination of mango juice and prosecco, which was surprisingly delightful.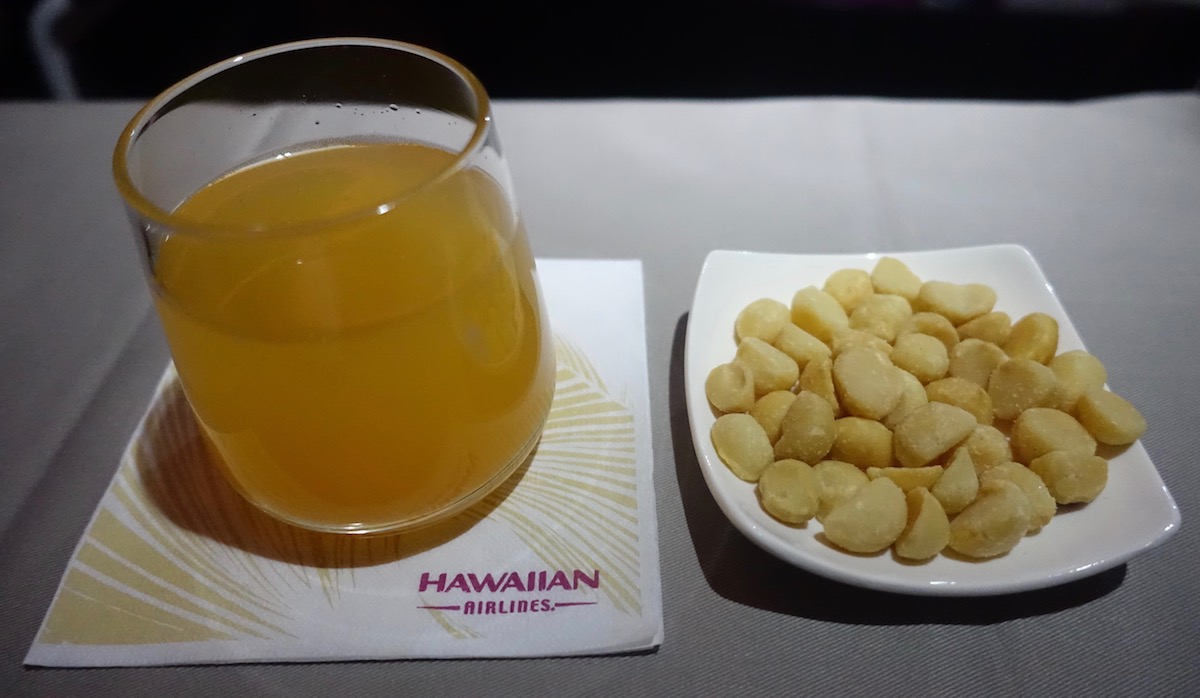 Hawaiian first class service — macadamia nuts and mango juice with prosecco
It seems that Hawaiian Airlines is really on island time. The crew was fantastic but they took their time with the service, which I guess is fair enough. The meal was finally served 1hr45min after takeoff.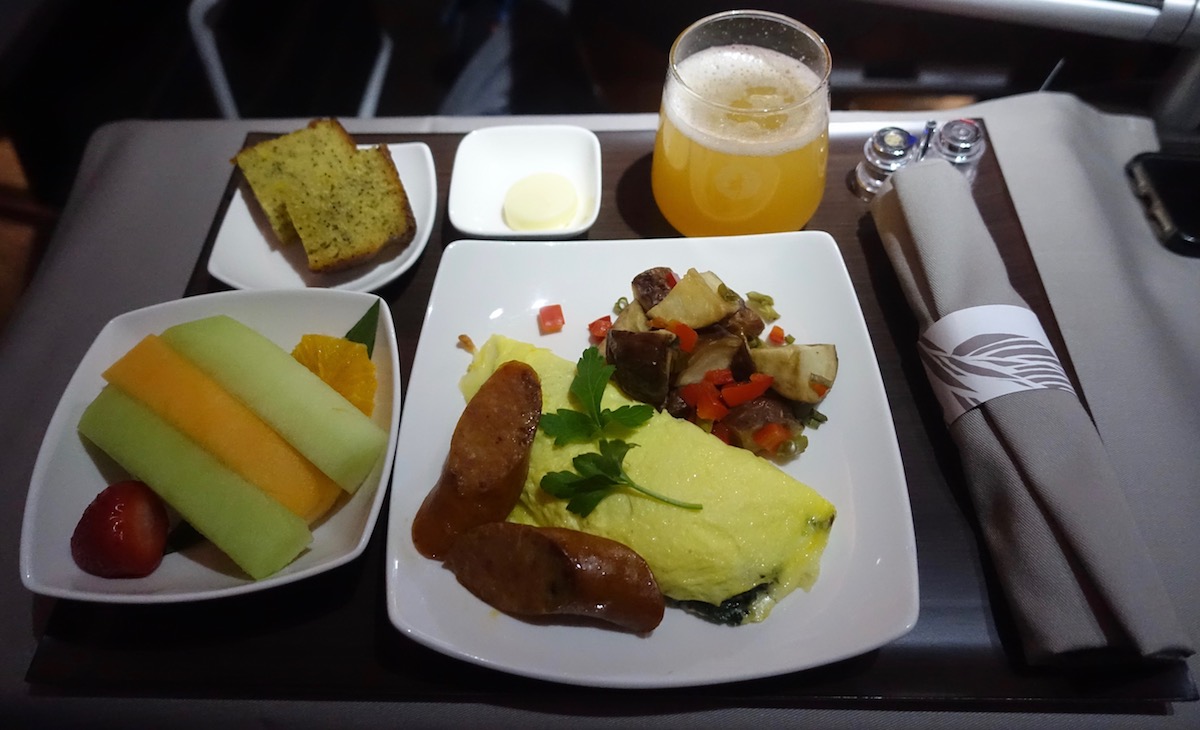 Hawaiian Airlines first class breakfast
The main course was a cheese, spinach, and fresh herb omelet with sausage and potatoes. It was one of the better airplane omelets I've had, and the presentation was good too.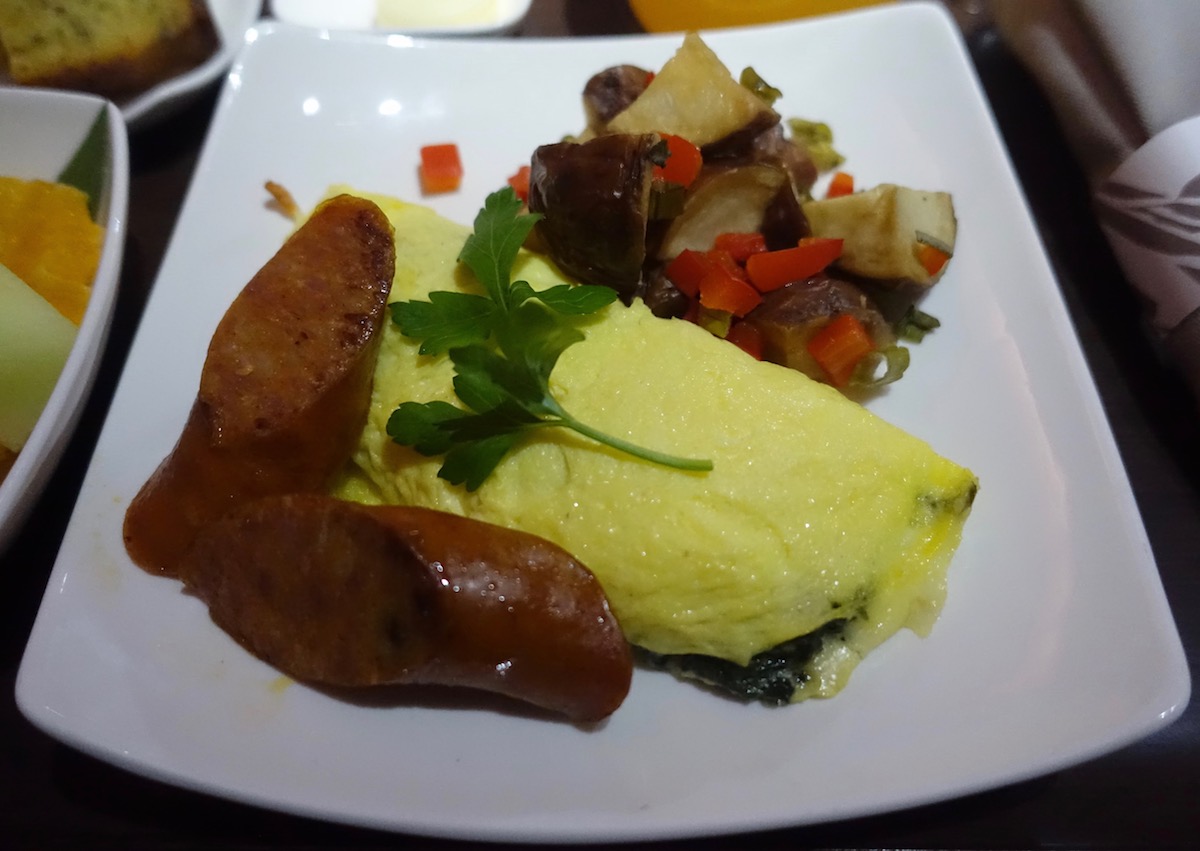 Hawaiian Airlines first class breakfast — cheese, spinach, and fresh herb omelet with sausage and potatoes
There was a side consisting of three pieces of melon and one strawberry.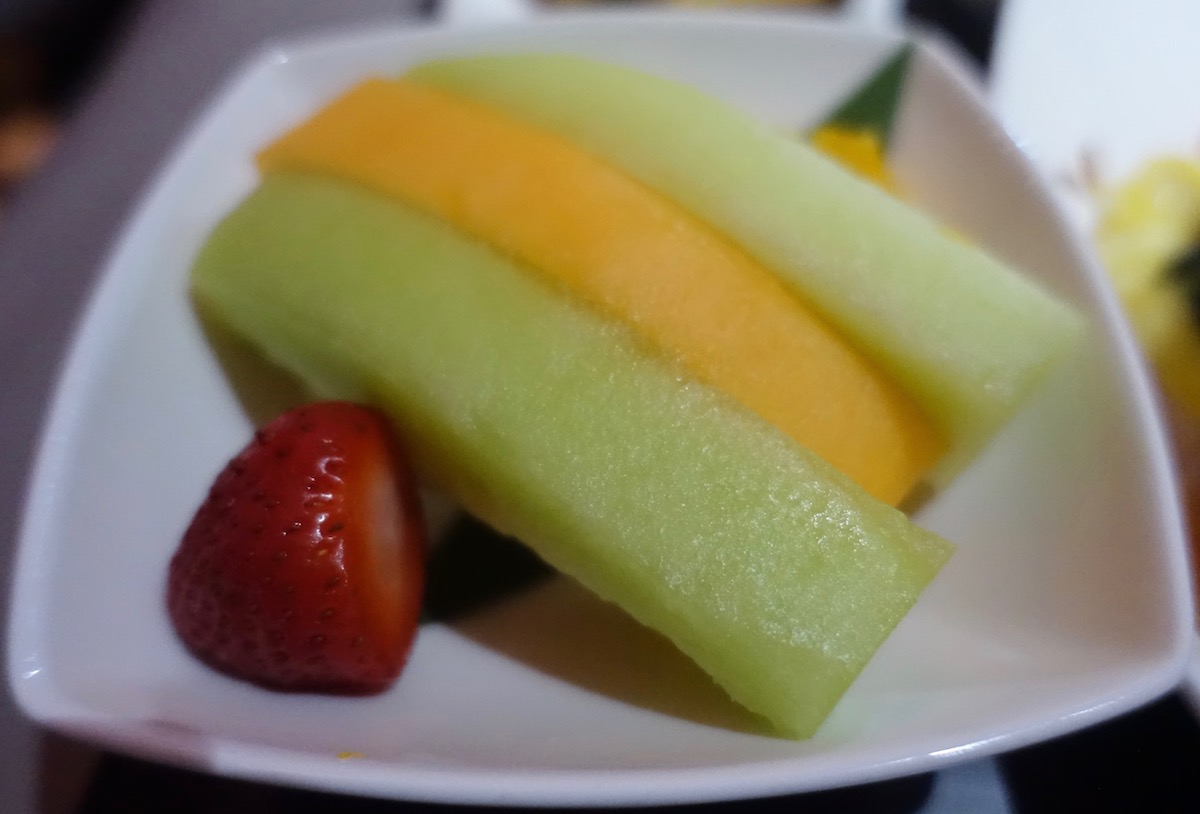 Hawaiian Airlines first class breakfast — seasonal fresh fruit
Then there was the lemon poppy slice.

Hawaiian Airlines first class breakfast — lemon poppy seed slice
While completely unnecessary for breakfast, there was also salted caramel cheesecake for dessert. This was served off a cart, and on that same cart the crew had coffee, tea, and spirits.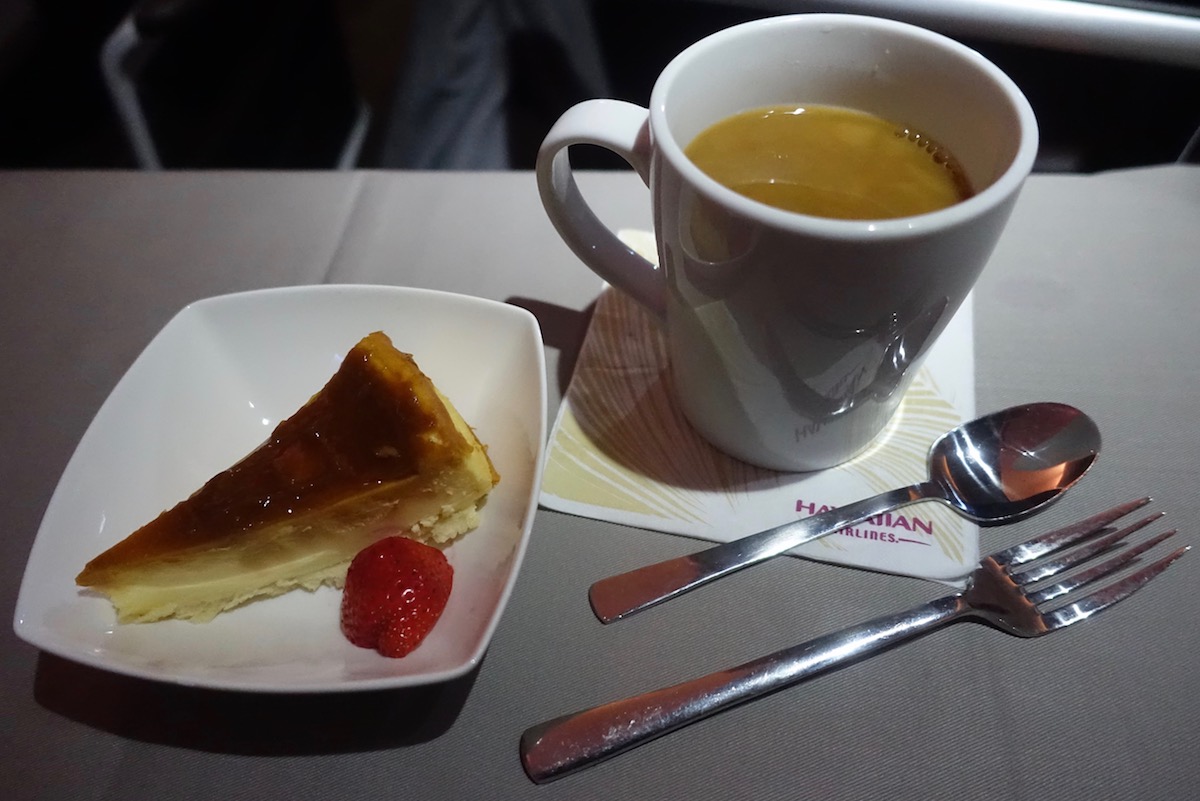 Hawaiian Airlines first class breakfast — salted caramel cheesecake
The meal was done about 2hr30min after takeoff. I would have preferred if the service were a bit quicker so that we could have gotten more use out of the flat bed, but I think this is how they train the crews. Like I said, the crew was fantastic, and we had the same experience on the way back in terms of meal timing.
After the meal I visited the lavatory, located at the front of the cabin. There's a single lavatory in first class for all 18 passengers, and the crew, including the pilots, so there was often a wait for it.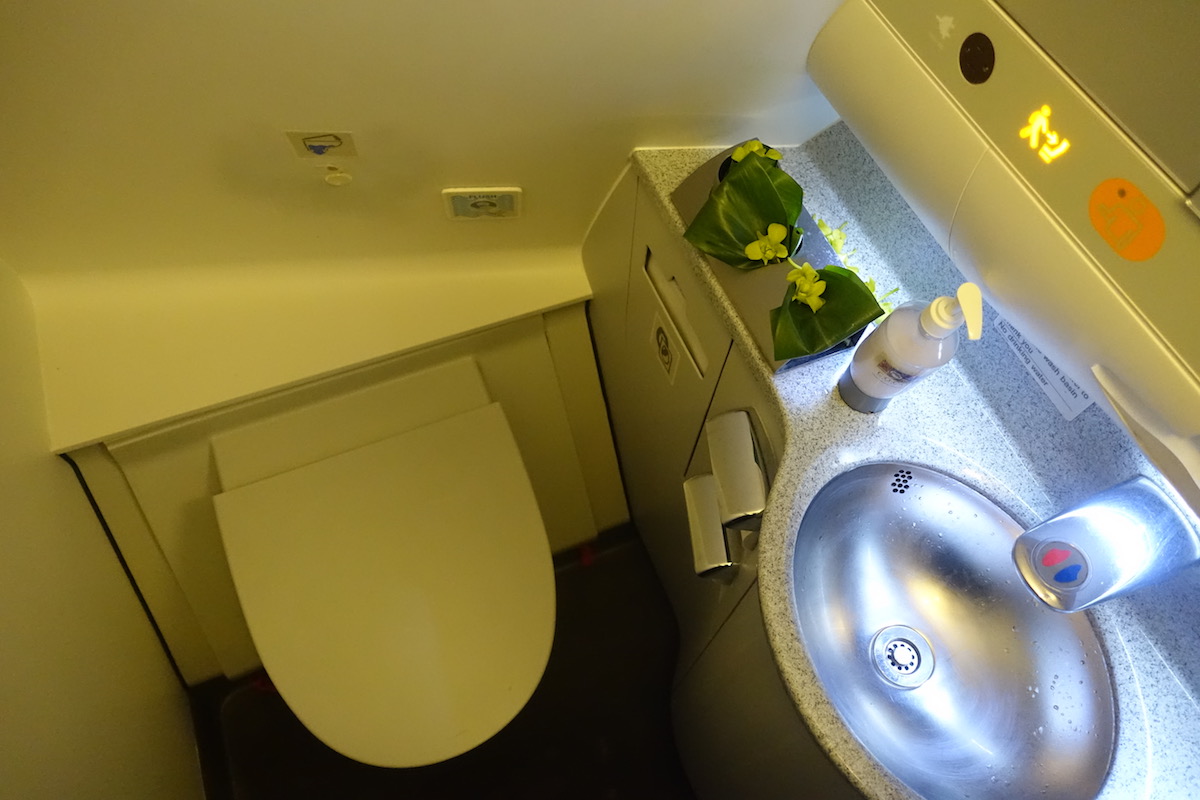 Hawaiian Airlines A330 first class lavatory
After finishing the movie I spent a while working. The crew constantly passed through the cabin to offer drinks.

Hawaiian Airlines first class water
During the flight I tested out the flat bed. I wasn't expecting it to be all that comfortable, but I was impressed. The seat was spacious and didn't feel confining at all. My only complaint was that it was a bit on the hard side.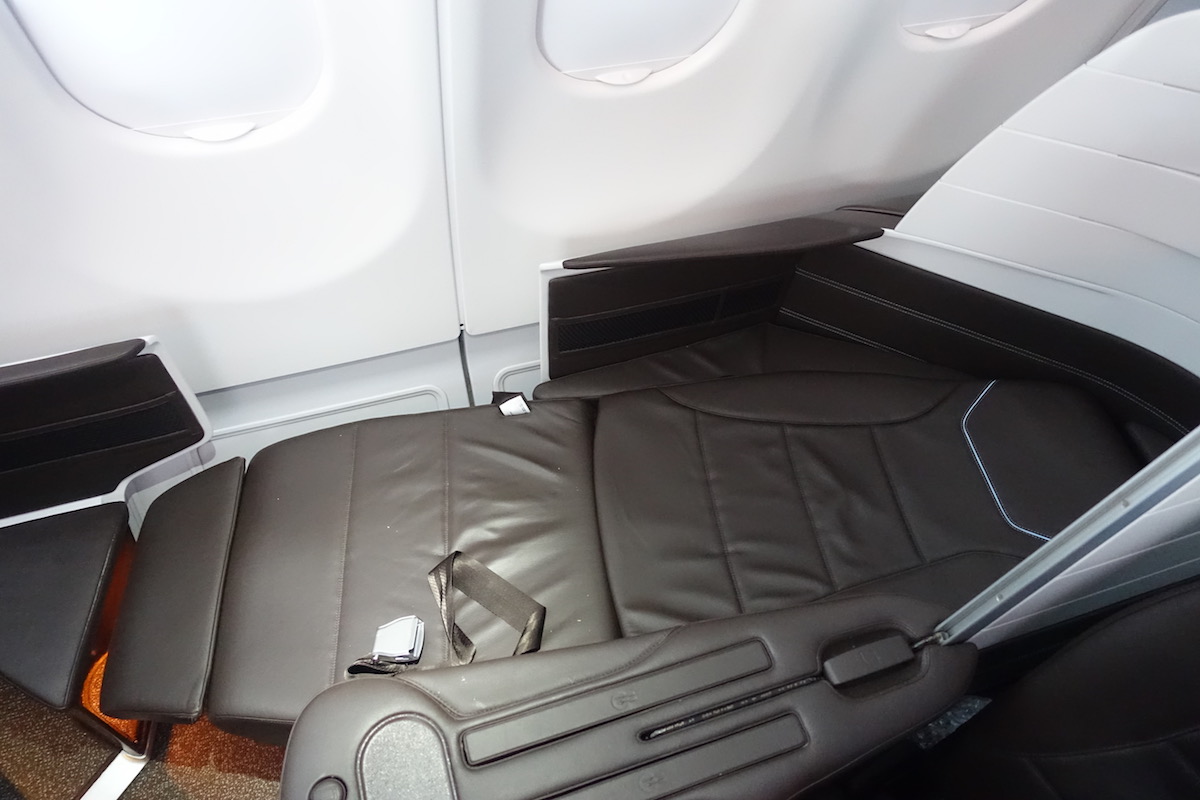 Hawaiian first class flat bed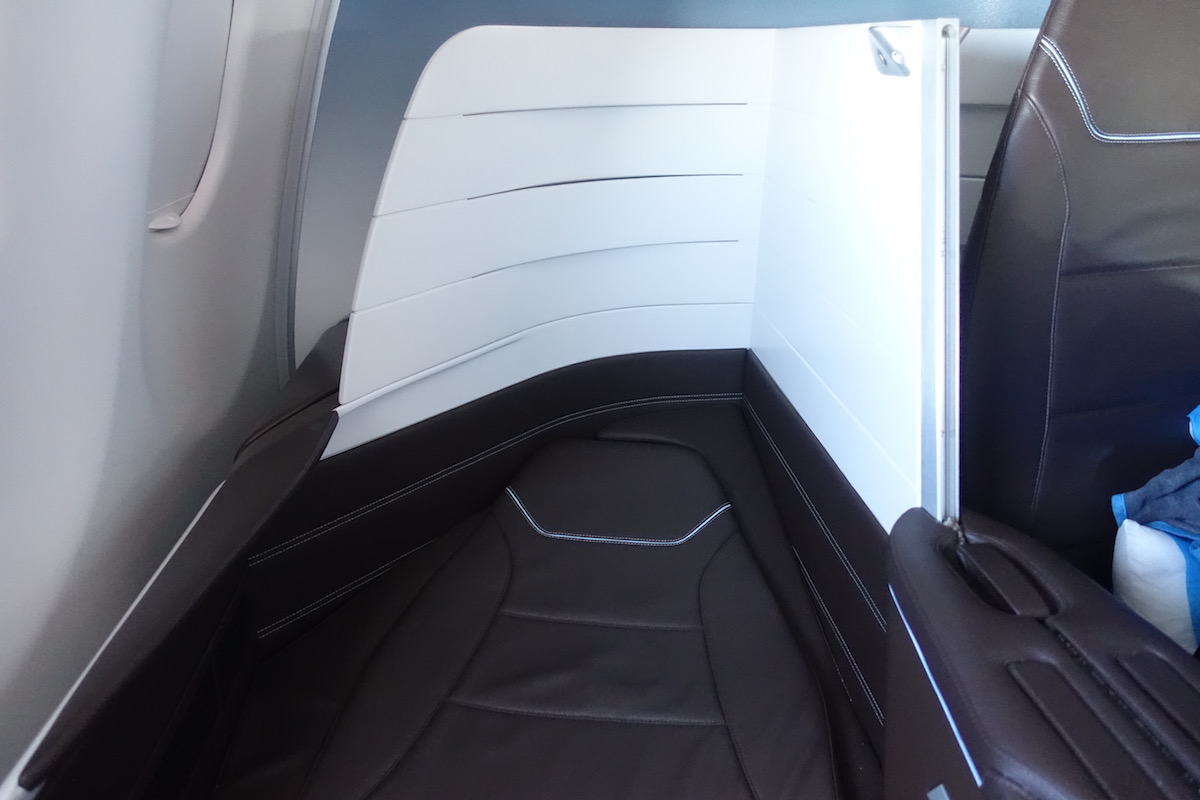 Hawaiian first class flat bed
About one hour out the crew came through the cabin with more of a "formal" drink service, which included the choice of rum punch, mai tais, water, etc. That was served with sweet maui onion chips.

Hawaiian Airlines first class pre-landing service
After that agriculture forms for Hawaii were passed out — it's a nice touch that the crew filled in the flight info. Then again, I've never really understood these forms, because they seem entirely voluntary — our forms were never collected.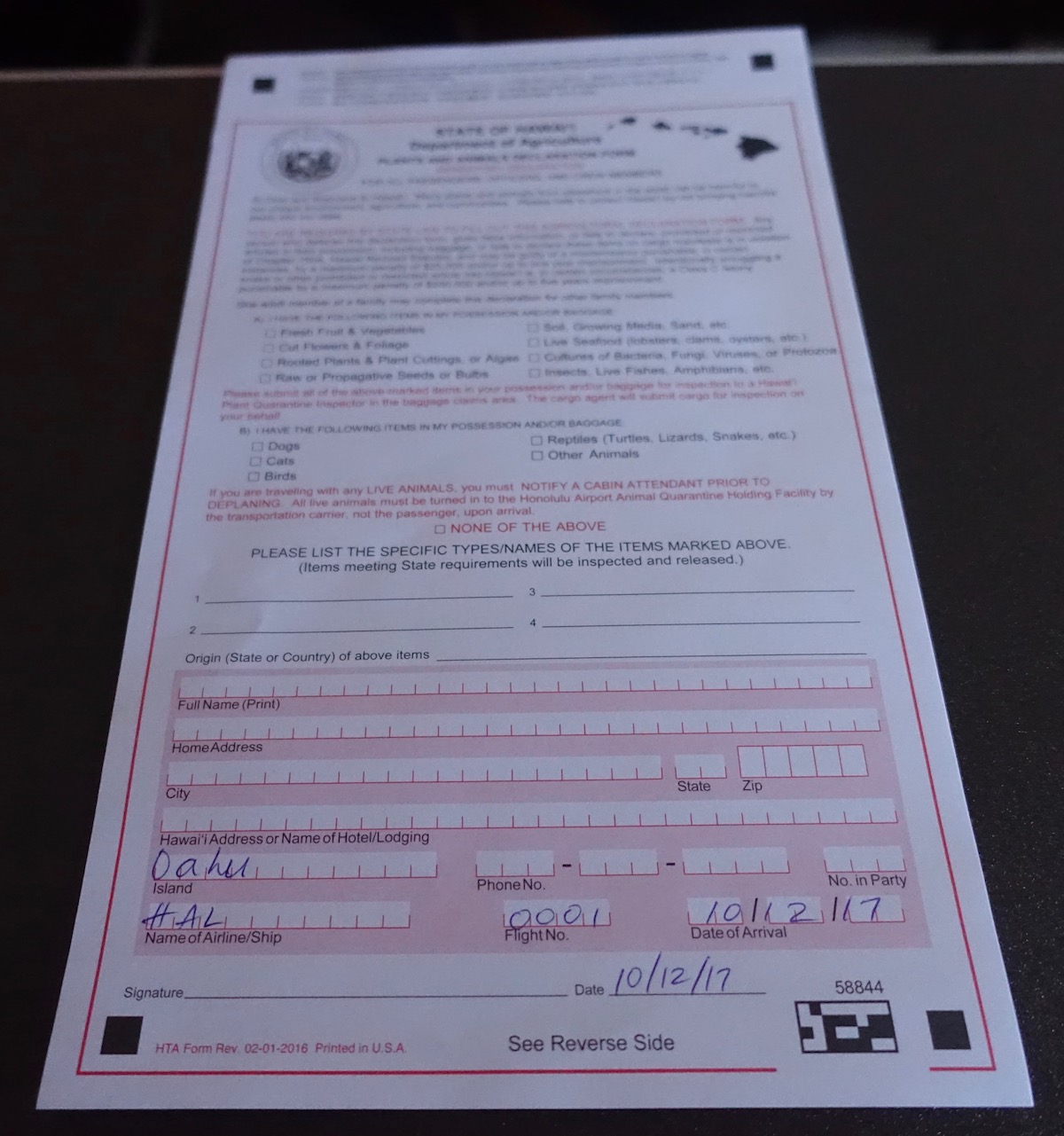 Hawaiian agriculture form
Shortly before beginning our descent the crew did their credit card pitch. Interestingly the crew pitched an offer for 50K miles, which is better than the offer publicly available online (you can get it online sometimes by doing a dummy booking on Hawaiian's website). Still, it's impressive that they actually have a better offer inflight than online.
At 10AM local time we began our descent, where we got our first views of Hawaii.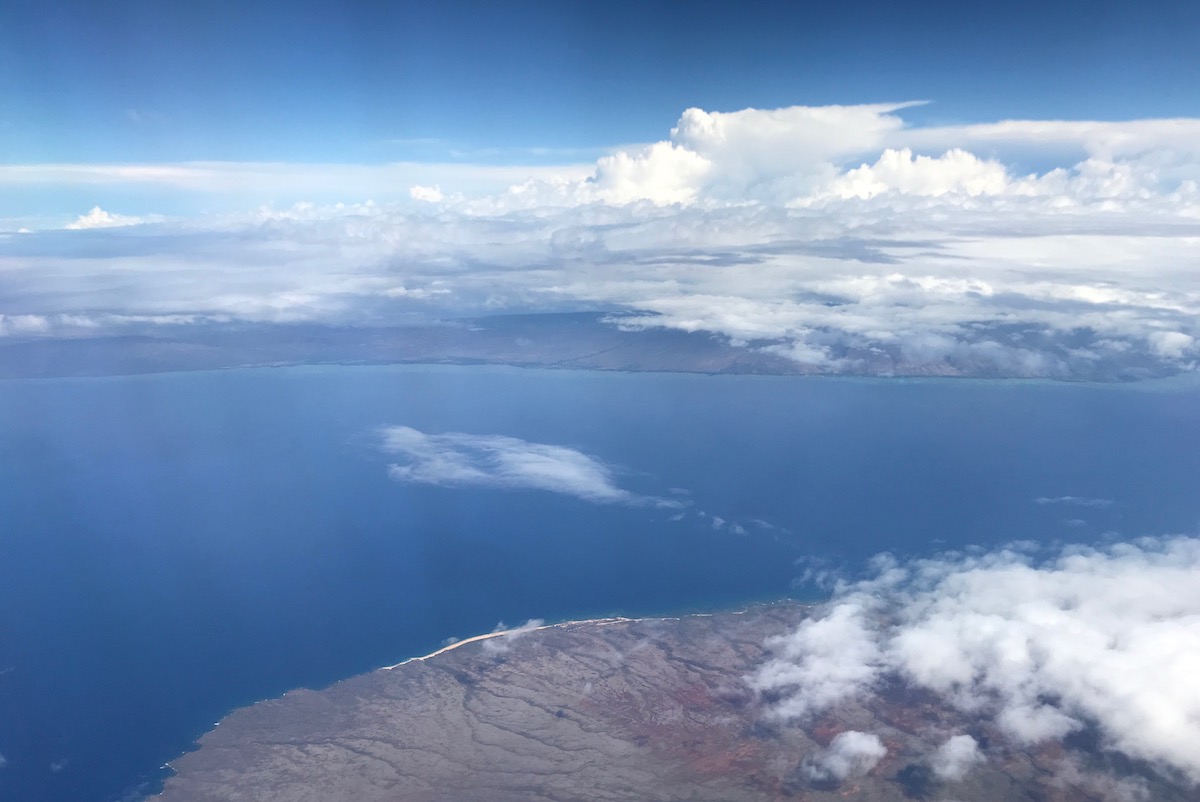 View approaching Hawaii
The seatbelt sign was turned on about 20 minutes before arrival.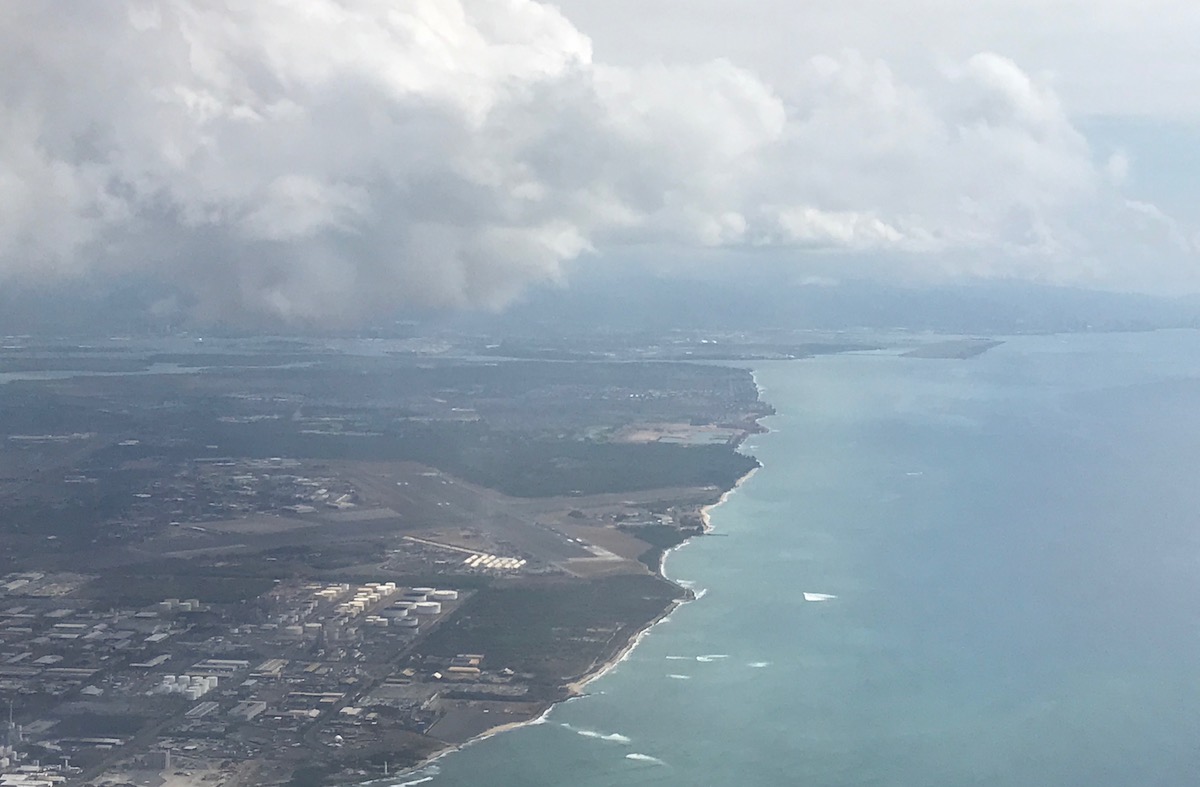 View approaching Honolulu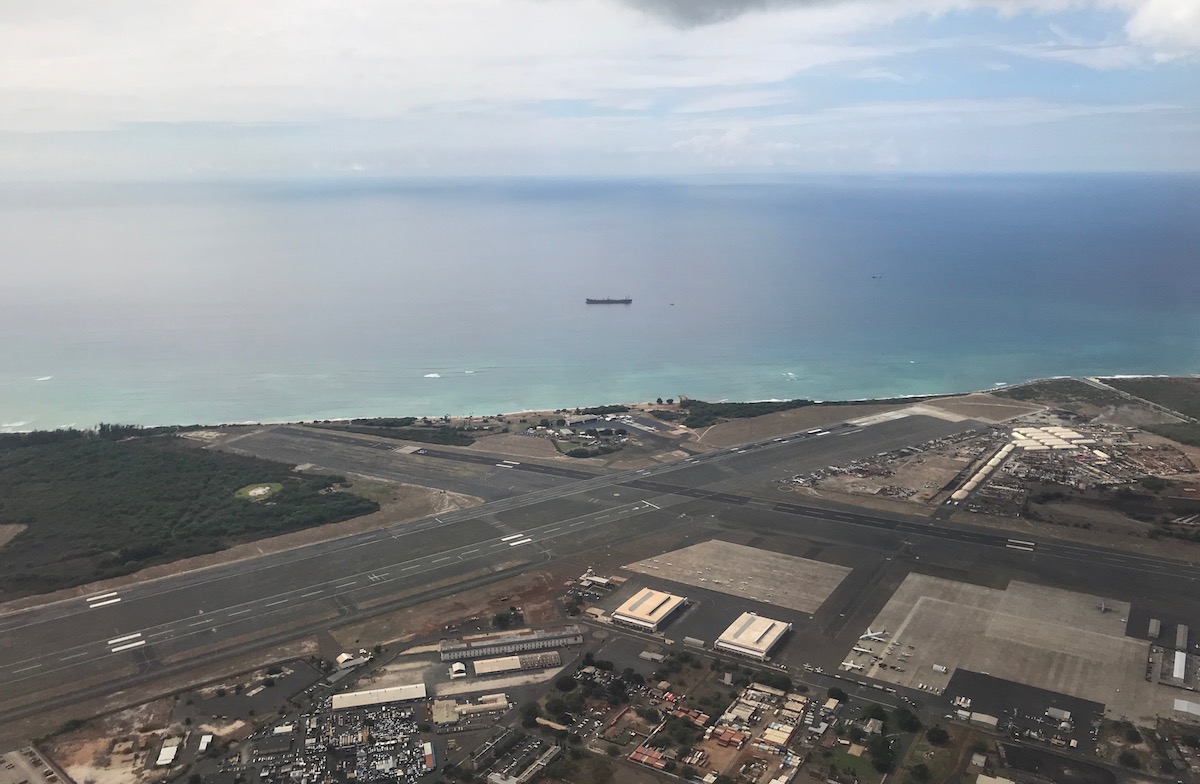 View approaching Honolulu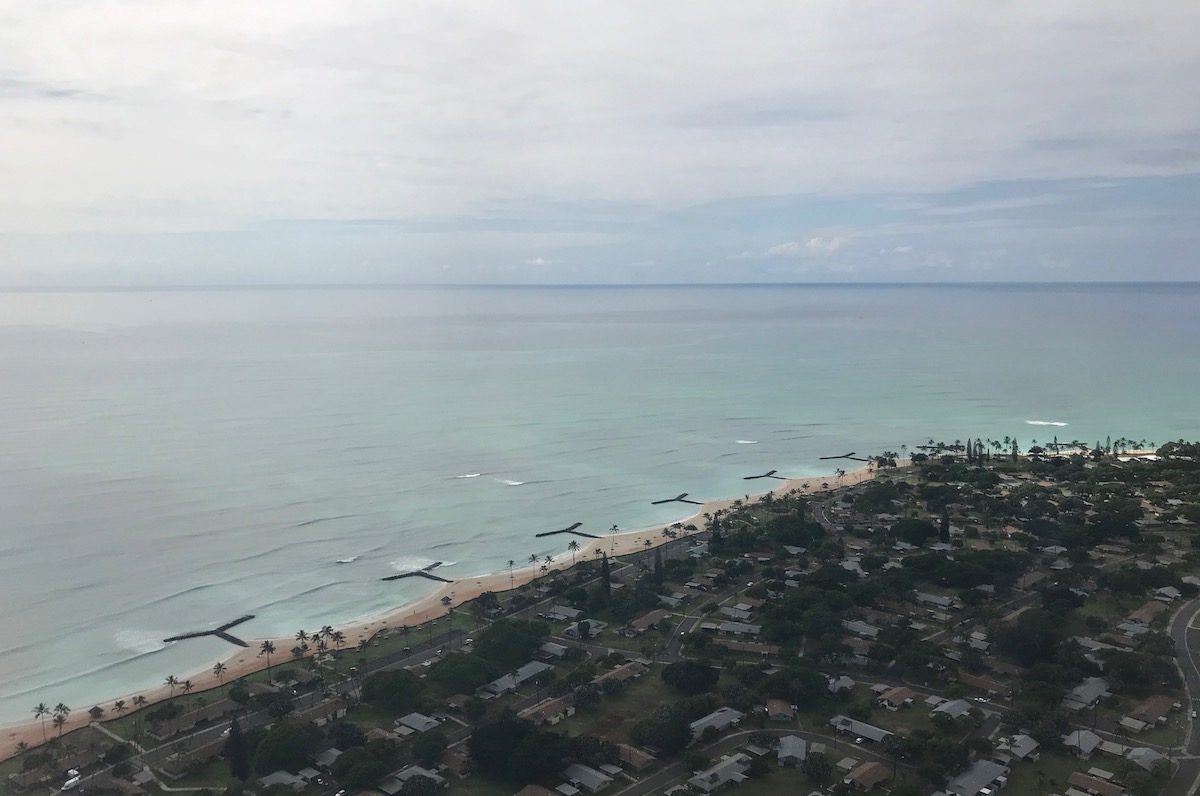 View approaching Honolulu
We touched down in Honolulu at 10:30AM, about 30 minutes behind schedule.

Taxiing Honolulu Airport
We had a very quick taxi from the runway to our arrival gate, as we basically just rolled off the runway and to our gate, as we passed a Jin Air 777 (I didn't realize they had 777s).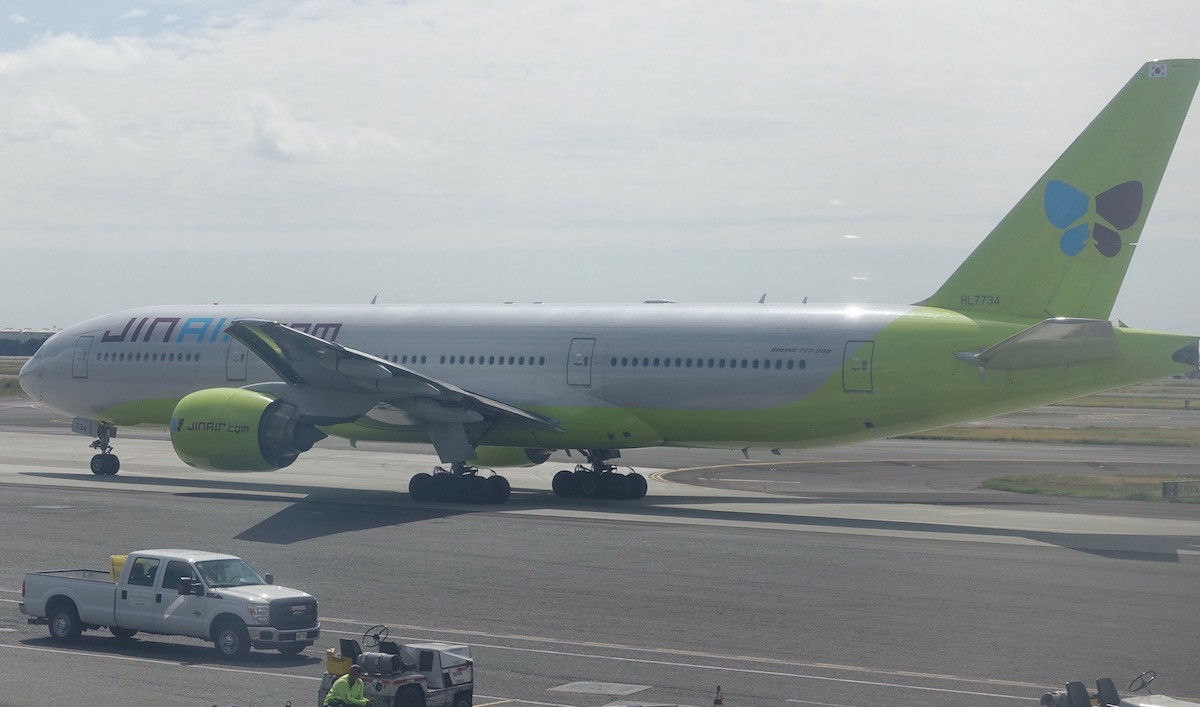 Jin Air 777 Honolulu Airport
We bid farewell to the crew, and were excited to be in Hawaii. From there we just had a short hop over to Lanai.
Hawaiian first class bottom line
Overall Hawaiian Airlines really impressed me. On the plus side, the crew was fabulous, the service had some flair to it, the food was excellent, and the seat was far superior to what you'd usually find between the mainland and Hawaii.
In terms of areas for improvement, I do wish the service were a bit faster. It would also be nice if they had built-in entertainment, because you can't easily store away your iPad when you're not using it. Lastly, it would have been nice if there were a choice of meals (on our return flight dinner was served, which had a choice of appetizers and a choice of main courses, so this solely seems to be a breakfast thing).
Still, all around Hawaiian exceeded my expectations. There's something that feels special about their service, and I really like that.