---
After spending a bit of the time at the Four Seasons lounge we headed towards gate 49, which was just a five minute walk away.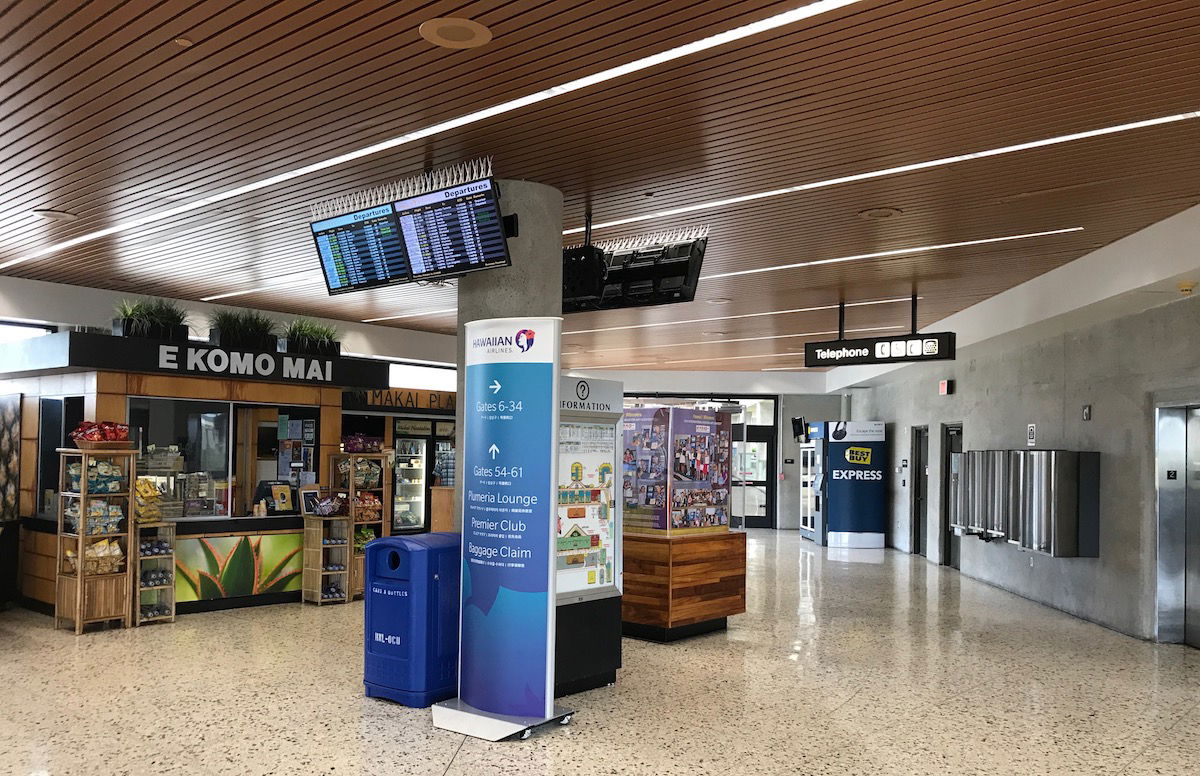 Honolulu Airport inter-island terminal
As we approached the gate we saw an ATR42 parked outside, which I initially assumed was our plane.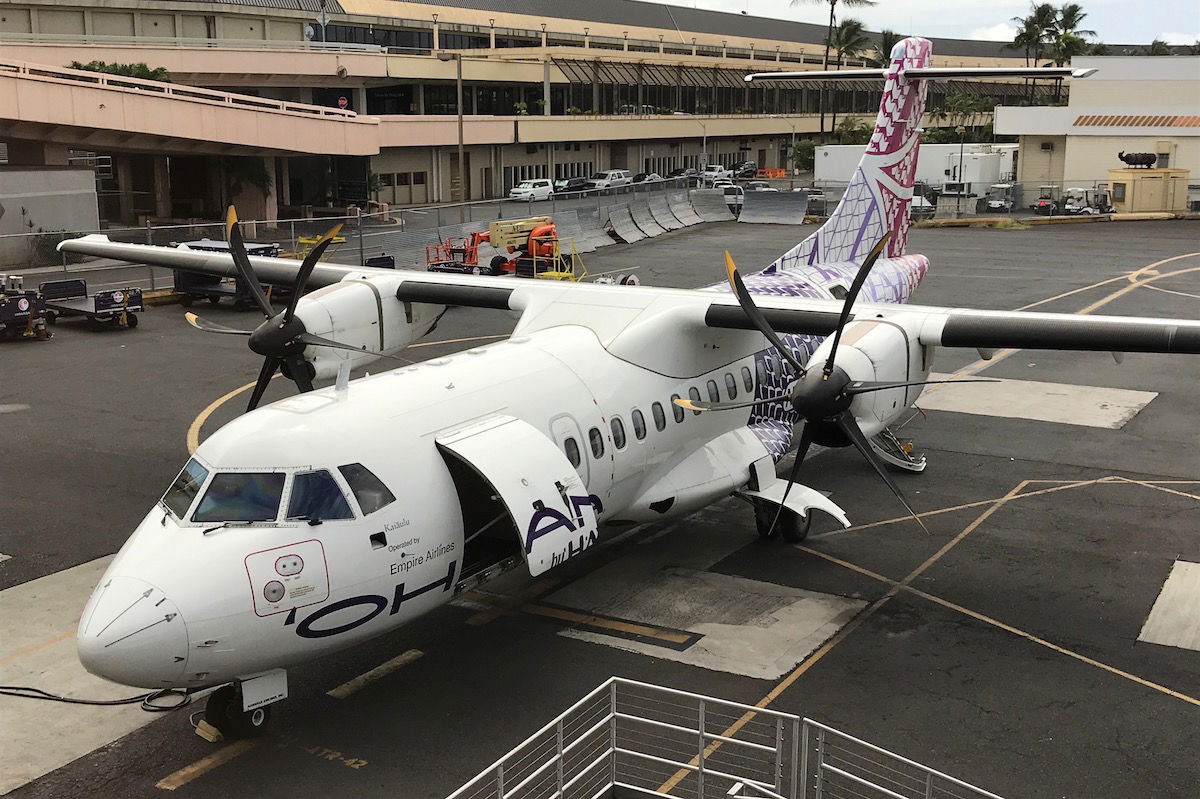 Ohana by Hawaiian ATR42 Honolulu Airport
It's clear that the boarding pass stating that boarding starts 40 minutes before departure is completely ridiculous, given that these planes board in about five minutes.
I didn't realize until people started exiting the jet bridge that our plane wasn't the one outside the window. Instead our inbound aircraft arrived at 11:40AM, and our flight began boarding at 11:50AM. I found the announcements they make for these flights interesting, as they're announced as "Empire Airlines flights by Ohana for Hawaiian." While I'm used to airlines using subsidiaries, I'm pretty sure that's the first time I've heard a triple name like that.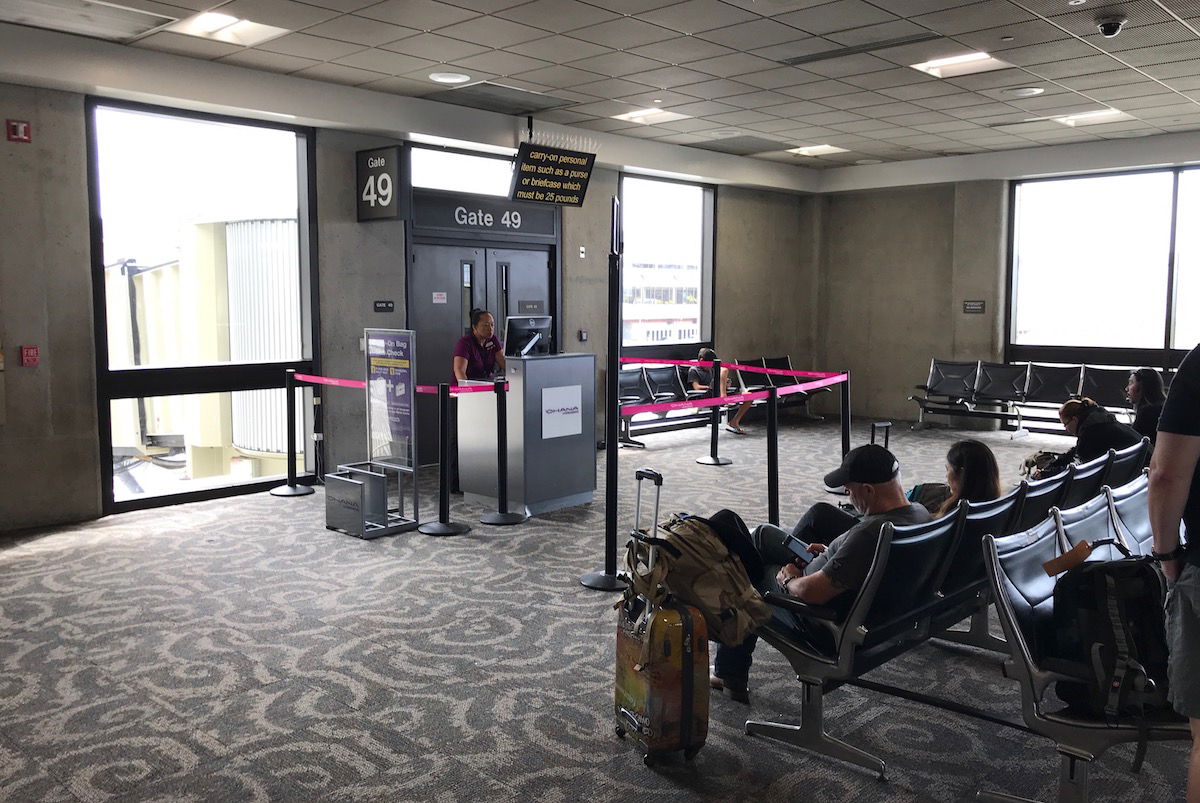 Ohana by Hawaiian departure gate
For a plane this small where you have to gate check bags, my goal is to be the last person on the plane. So we let everyone else board, and then within a few seconds we were paged by name with a "final boarding call." As we boarded, the gate agent suggested that we could take seats in the last row if we wanted, so we wouldn't have to walk to the front of the plane.
Hawaiian 676
Honolulu (HNL) – Lanai (LNY)
Thursday, October 12
Depart: 11:56AM
Arrive: 12:29PM
Duration: 33min
Aircraft: ATR42
Seat: 13B (Economy Class)
As you can see, they actually park the ATR42s one behind the other on the tarmac, and our plane was the one further back.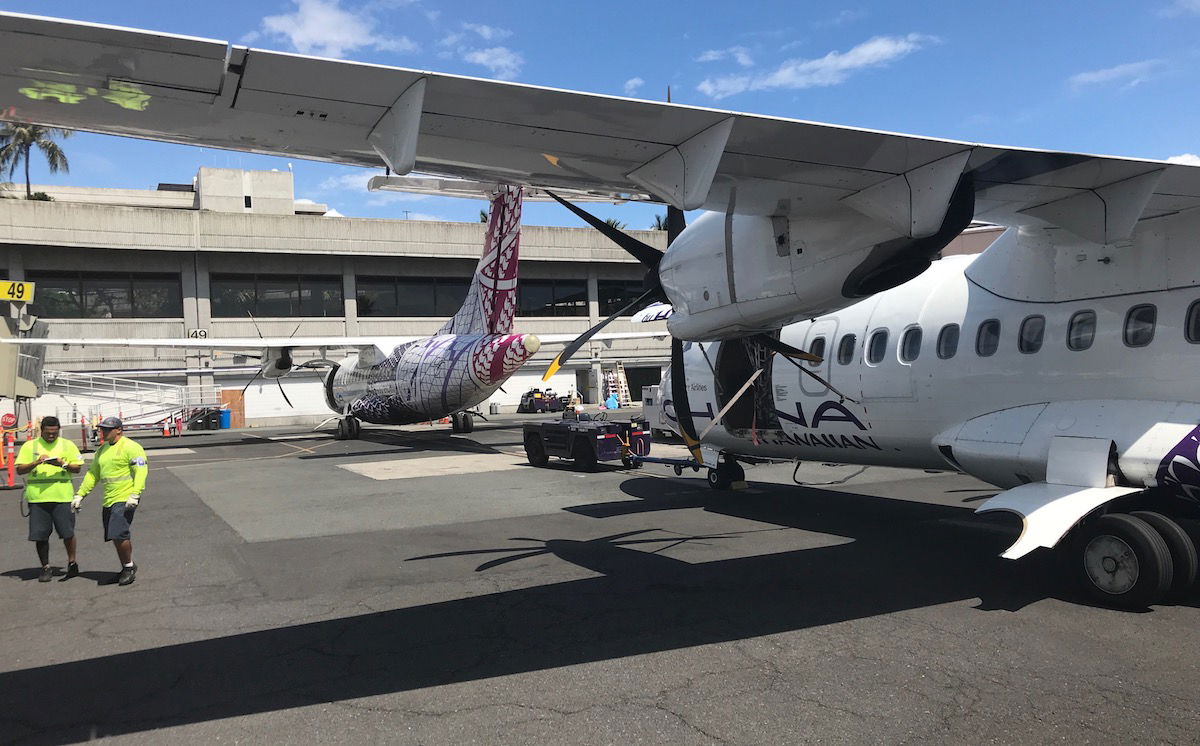 Hawaiian ATR42 Honolulu Airport
I had stupidly forgotten that they board these planes through the rear as the luggage is in the front, or else I wouldn't have selected seats in the second row.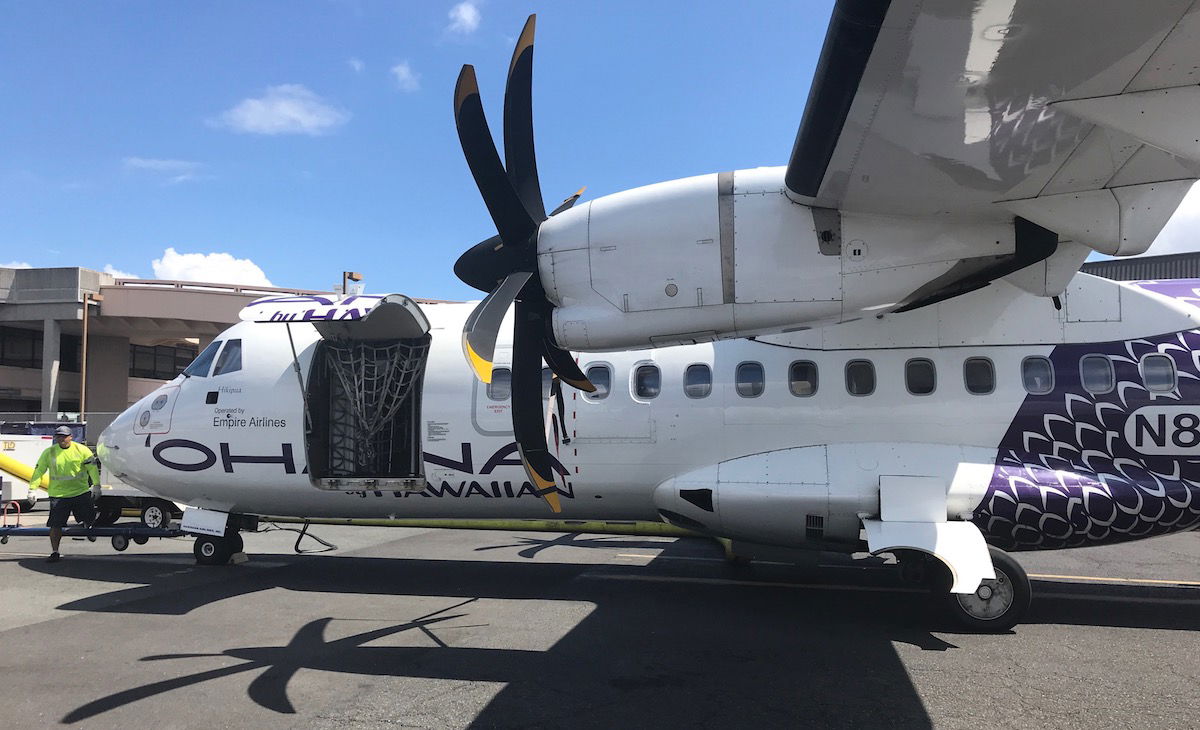 Hawaiian ATR42 Honolulu Airport
We left our carry-ons on a baggage cart, and then boarded through the rear.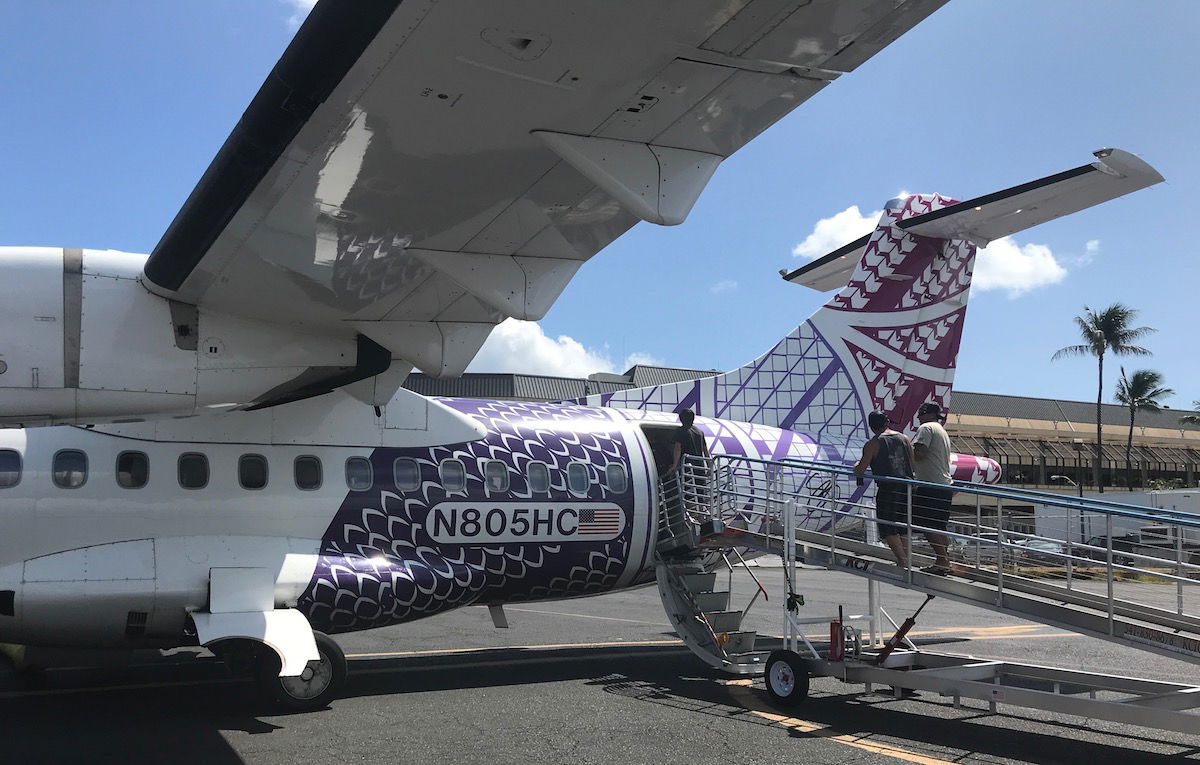 Hawaiian ATR42 Honolulu Airport
We took seats in the last row, though unfortunately found that the window was filthy. That's especially unfortunate, given how incredible the views were on this flight.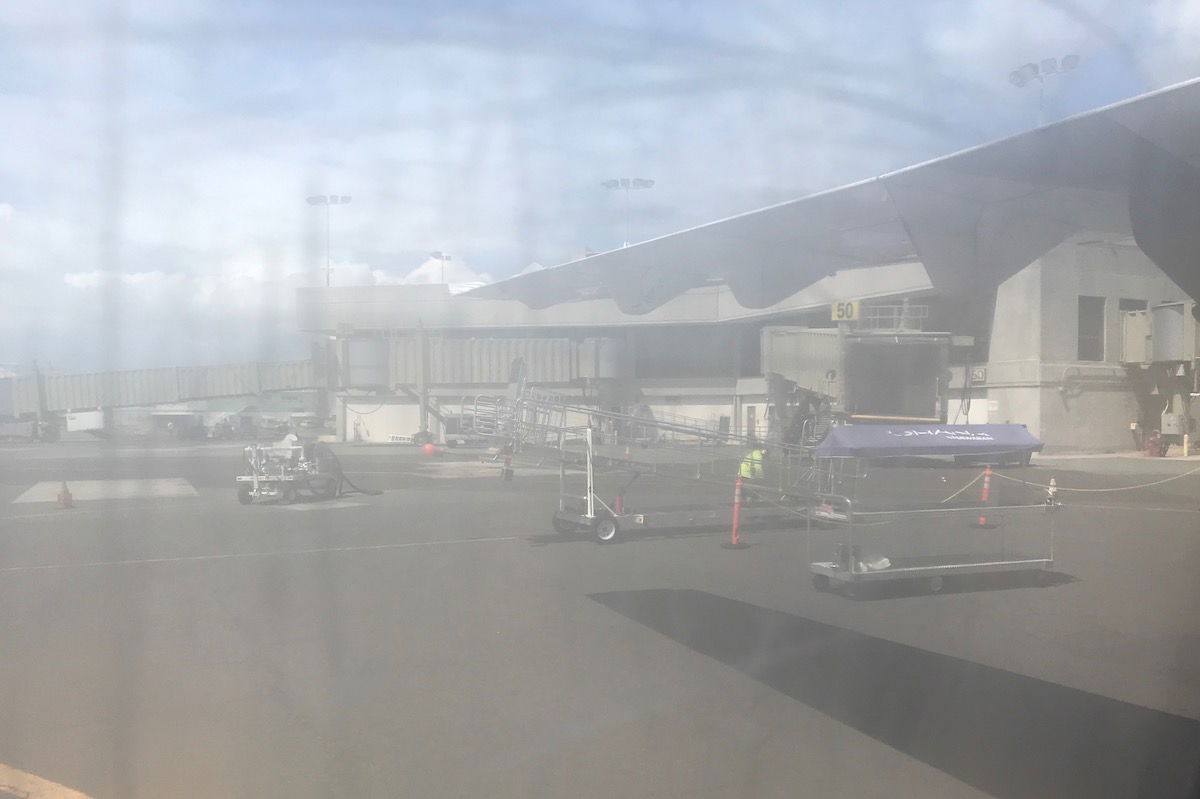 Dirty window on the ATR42
The ATR42 has 48 seats, and this flight had a handful of empty seats. There were maybe a dozen people headed to the resort who were on the plane, while the rest seemed to be locals.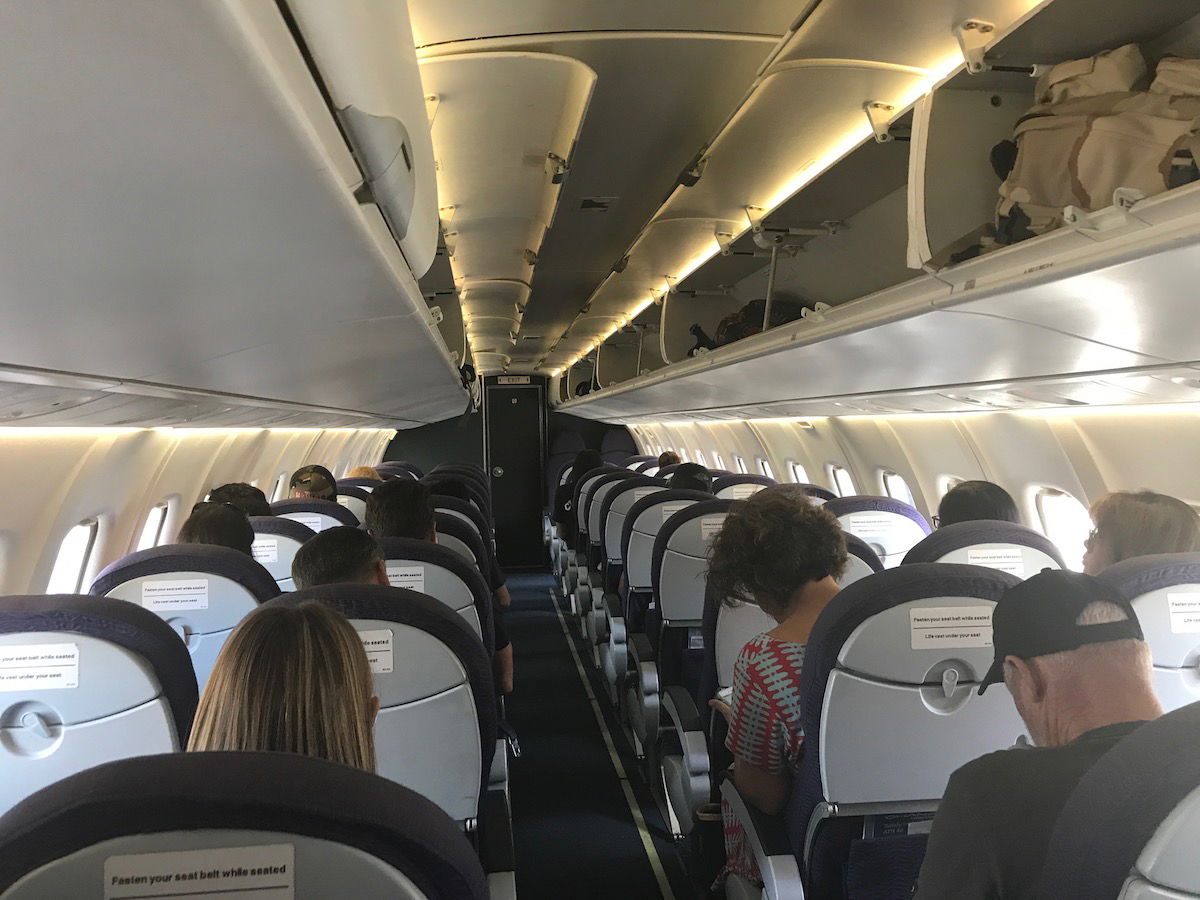 Hawaiian ATR42 cabin
The seats were surprisingly well padded, and the legroom was good enough, especially given that our flight time was only 20 minutes. Once boarding finished up, a lady switched from another row to take the seats in the last row across from us, presumably so she'd have an empty seat next to her.
She put her feet on the seat next to her, and as the flight attendant walked by he said "take your feet off the seat." Hah.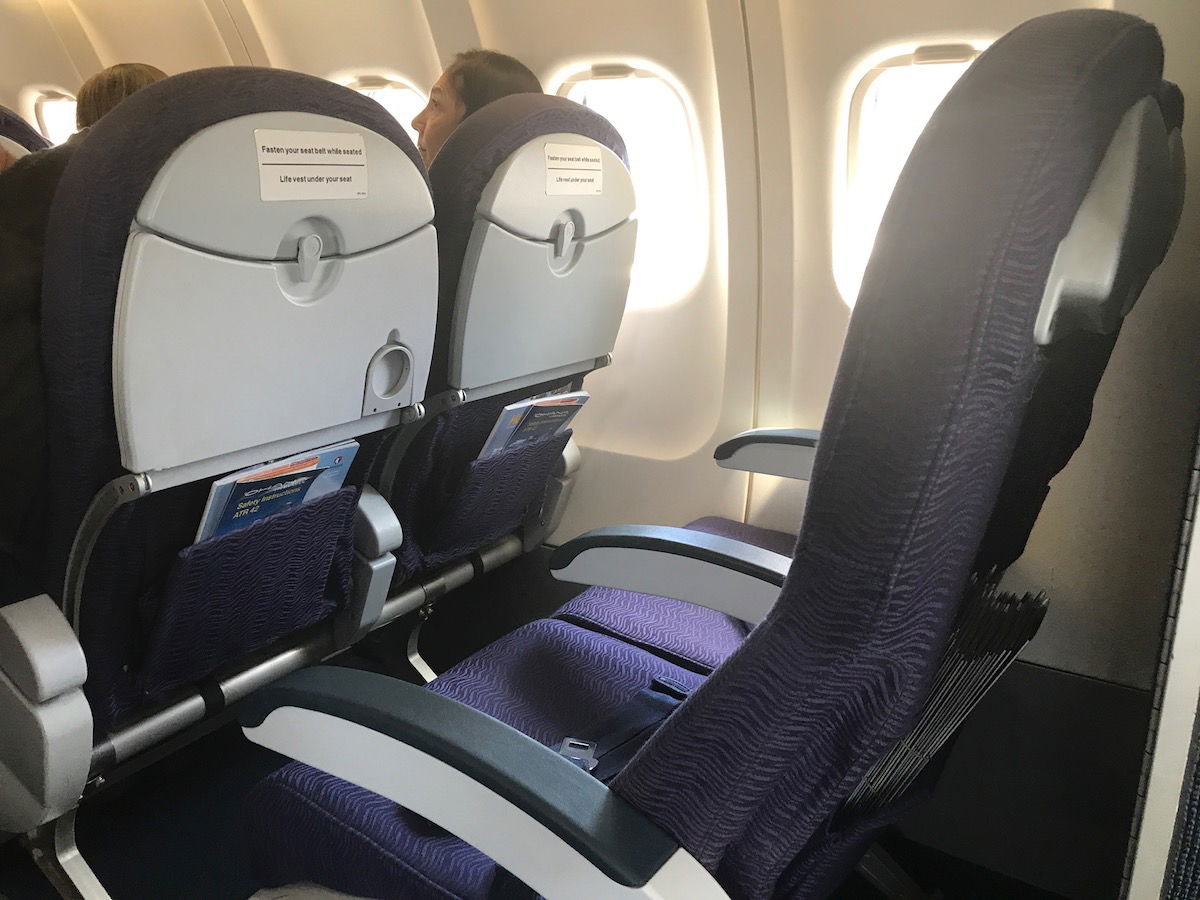 Hawaiian ATR42 legroom
By 12:20PM we took off, and climbed to our cruising altitude of 7,000 feet. Despite the flight time of just 20 minutes, there was a drink service, with the choice between plastic containers of water and guava juice. I had water.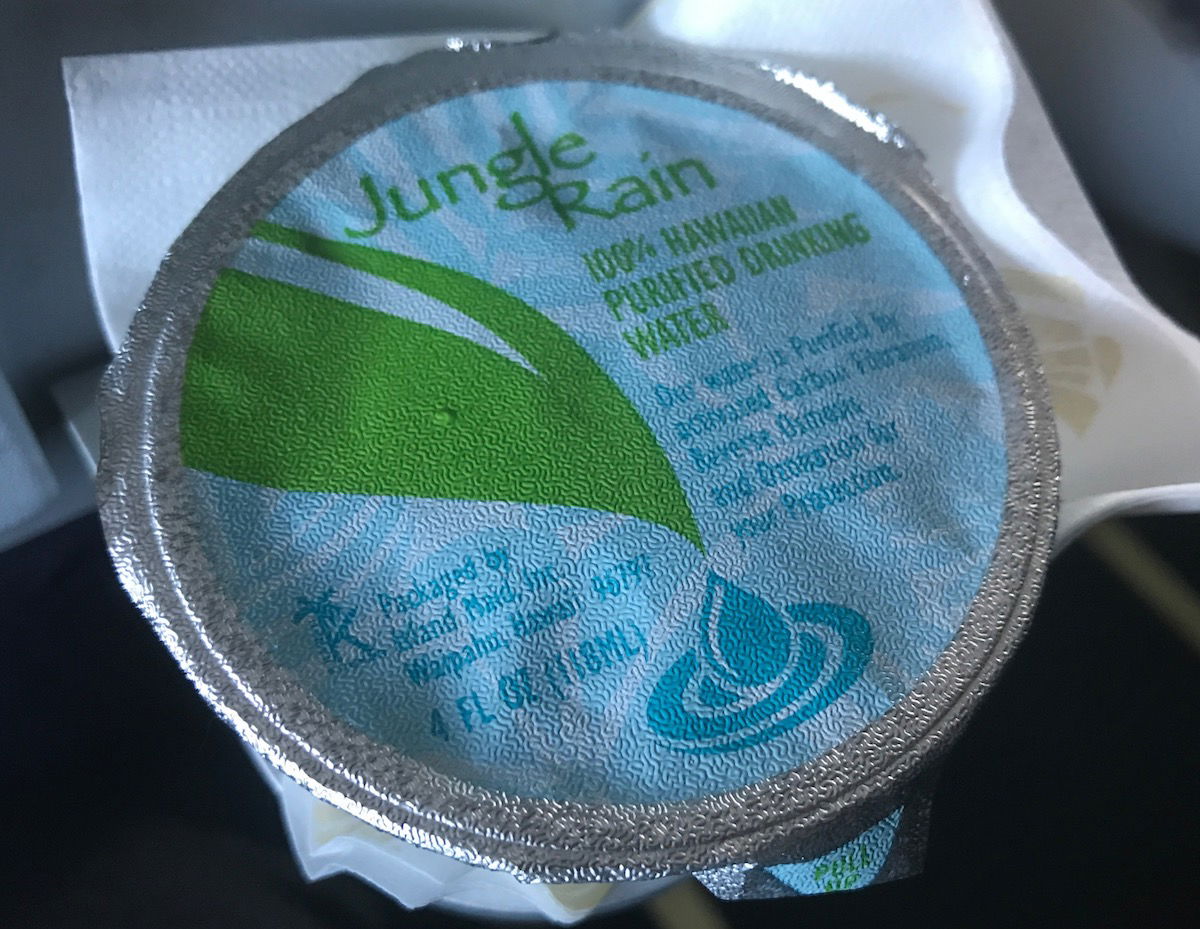 Hawaiian ATR42 drink service
We landed in Lanai at 12:40PM, and from there had a very short taxi to our arrival stand.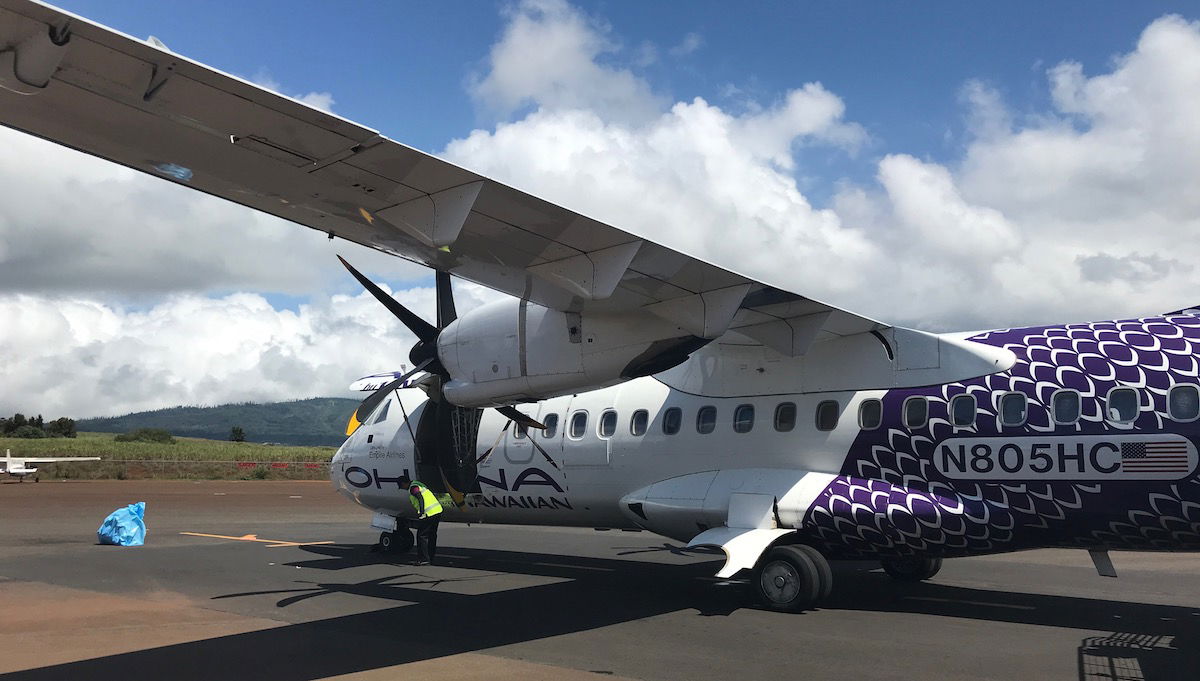 Arrival in Lanai
Lanai has one of the smallest and cutest commercial airports I've ever seen. Even the TSA checkpoint looked cute, which is saying a lot. 😉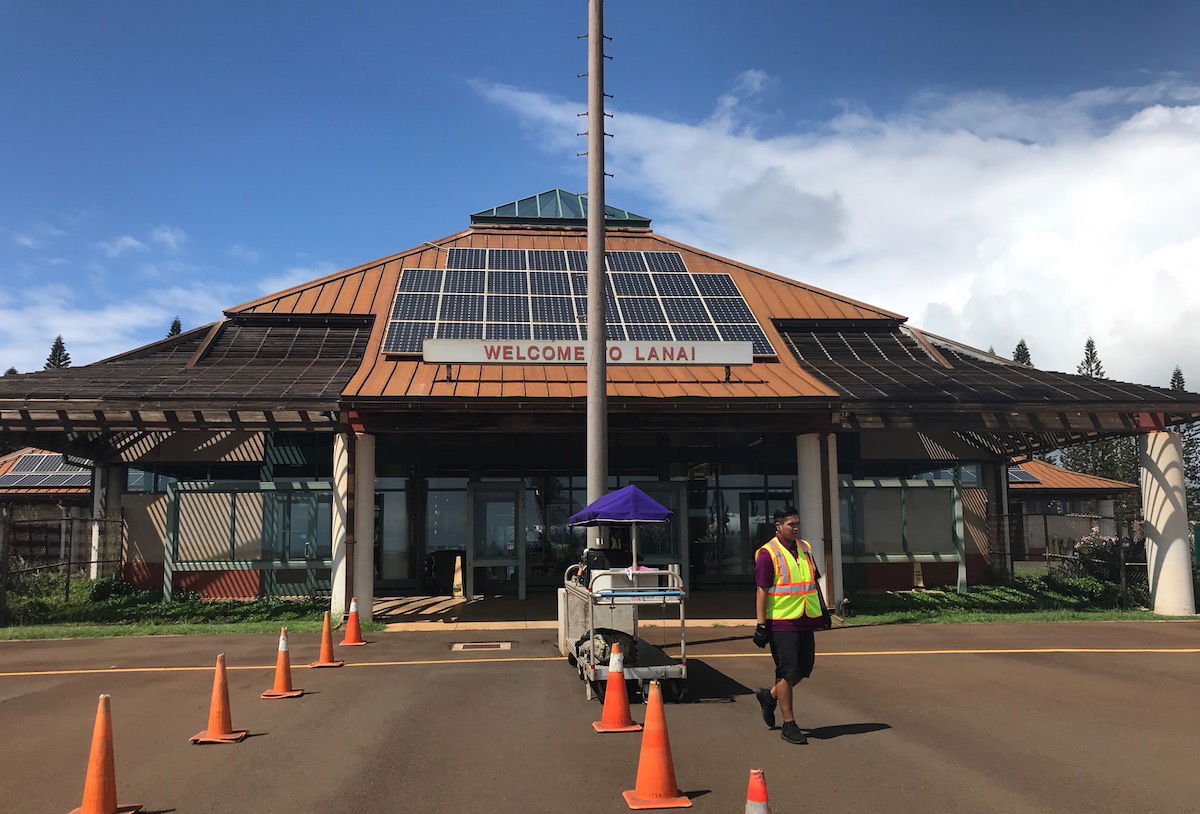 Lanai Airport
Baggage claim didn't have a belt, but rather was just an area at the far side of the terminal where they brought the luggage out directly.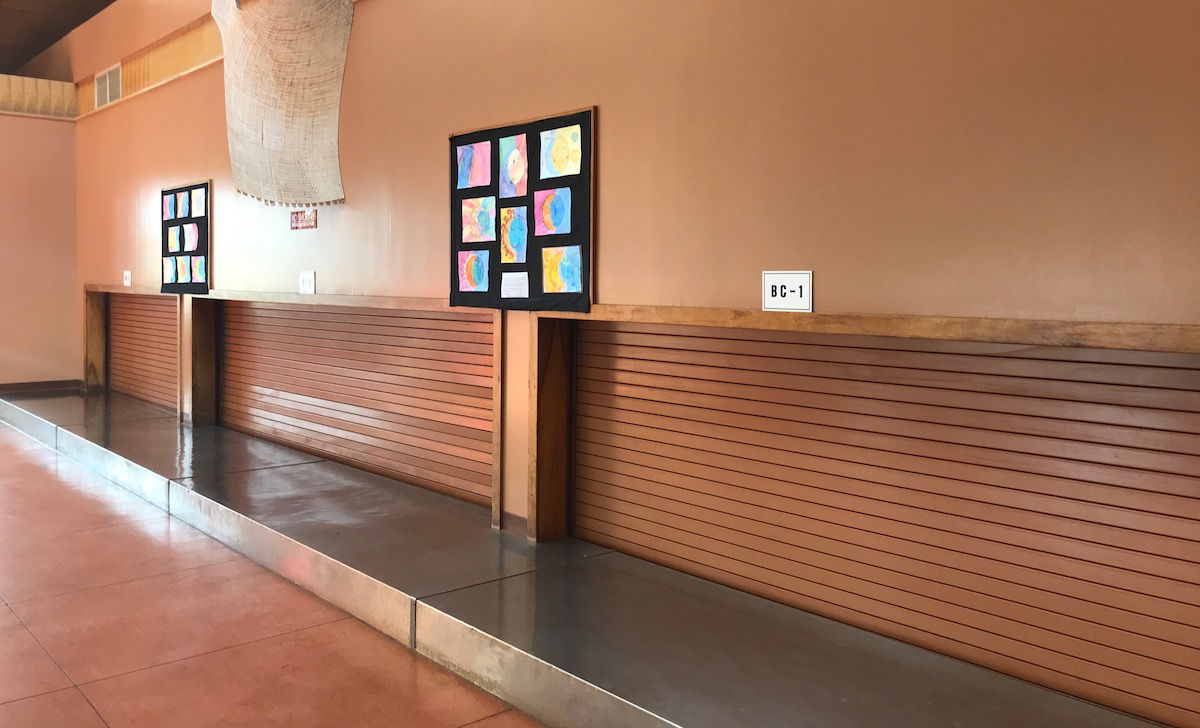 Lanai Airport baggage claim
We headed outside, where there were maybe a couple of dozen cars parked. We called to request a shuttle to Dollar Rent A Car, which is located in Lanai City. While the Four Seasons offers a complimentary airport transfer, we wanted to rent a car for our stay so we could explore the island independently.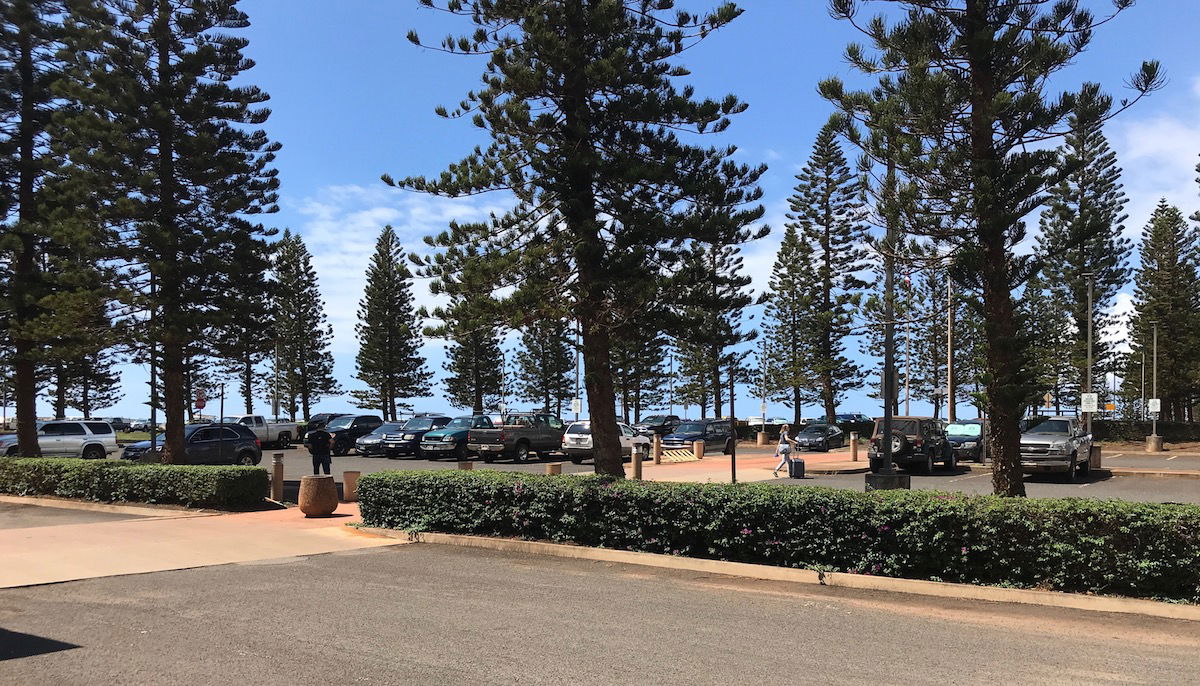 Lanai Airport parking
Ohana by Hawaiian ATR42 bottom line
Hawaii has breathtaking scenery, so flying between islands is quite fun. I just wish our window had been a bit cleaner so I could have gotten better pictures. I'm also impressed that they offer a drink on such a short flight. While a little plastic container isn't much, getting even that on a 20 minute flight is impressive by US standards.