---
What is Extra Comfort?
As I mentioned in the introductory post, we'd booked regular economy, but were offered the option to upgrade to Extra Comfort during the check-in process. We paid $50 per person, but looking at the Hawaiian website it seems the prices have either increased dramatically, or we got an extra-good deal.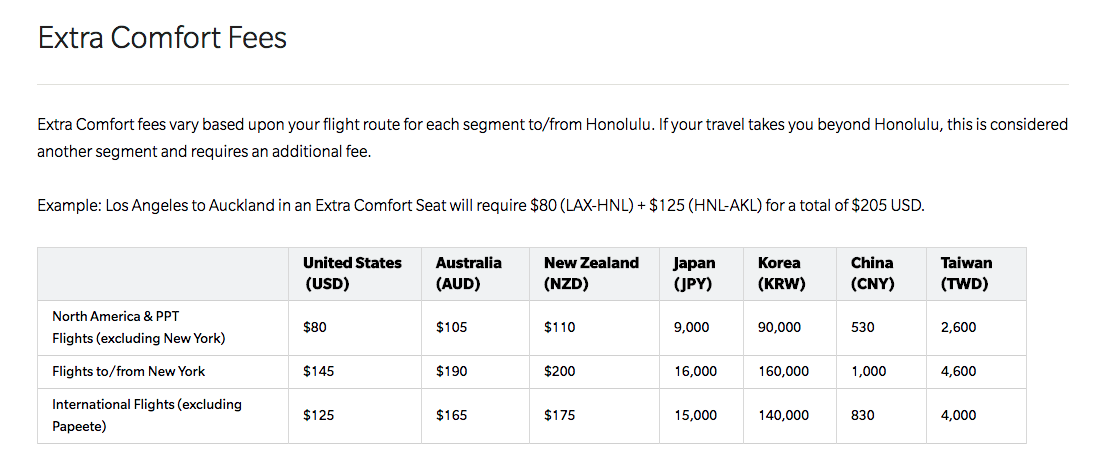 Hawaiian advertises a few different benefits of Extra Comfort, but many of them are route-specific. At a minimum, you'll get:
More legroom
Priority boarding
Personal electrical power outlet
On the A330, you'll also get a "Complimentary 'Unlimited TV & More' entertainment pack," but the North American routes don't include headphones, so you'll have to either bring your own or buy them on board. And on international flights to destinations other than Papeete, you'll get an amenity kit.
So Hawaiian is basically offering a hybrid premium economy product — some of the benefits are better, but it's the same seat as regular economy. It's clearly working well for them, as they've gone from 40 Extra Comfort seats on the old product, to 68 on the reconfigured planes.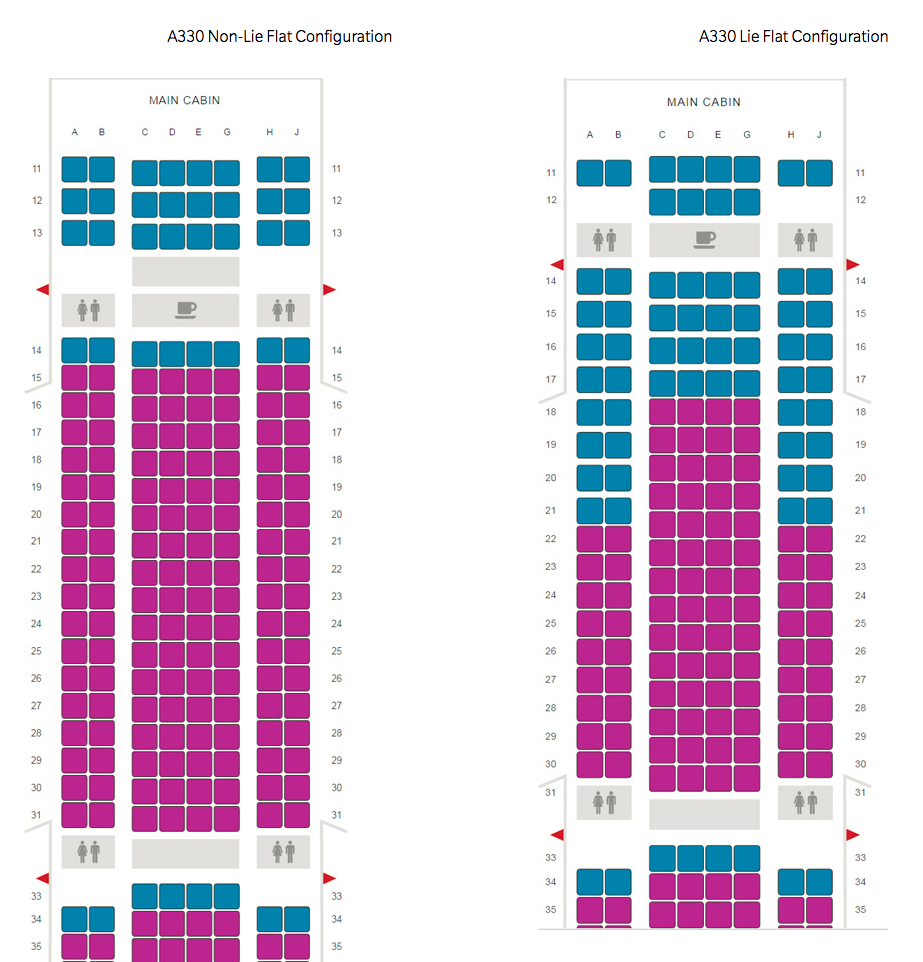 I will say that the mini-cabin looked much more tranquil, and if you can ensure seats in rows 11 or 12 it's probably worth the price premium. Otherwise I'm not convinced.
Hawaiian's Extra Comfort experience
After a fun morning of outrigger canoeing and sushi (the best, really), we headed to the airport. Even with PreCheck, the security queues in Maui can be outrageous, and it took about 20 minutes between arriving at the terminal and reaching our gate. We were still plenty early, as the crew hadn't even boarded yet. We were expecting to have the same plane as our outbound trip, but were surprised to have the same crew as well. They recognized us from the outbound trip, so we spent a fun few minutes chatting in the gate area.
Hawaiian 34
Kahului (OGG) – Los Angeles (LAX)
Depart: 1:25PM
Arrive: 9:40PM
Duration: 5hr15min
Aircraft: Airbus A330
Seat: 14A (Extra Comfort)
Boarding was much more organized than in Los Angeles, and we quickly found our seats. The bulkhead wouldn't have been our first choice, but that's what happens when you upgrade at check-in.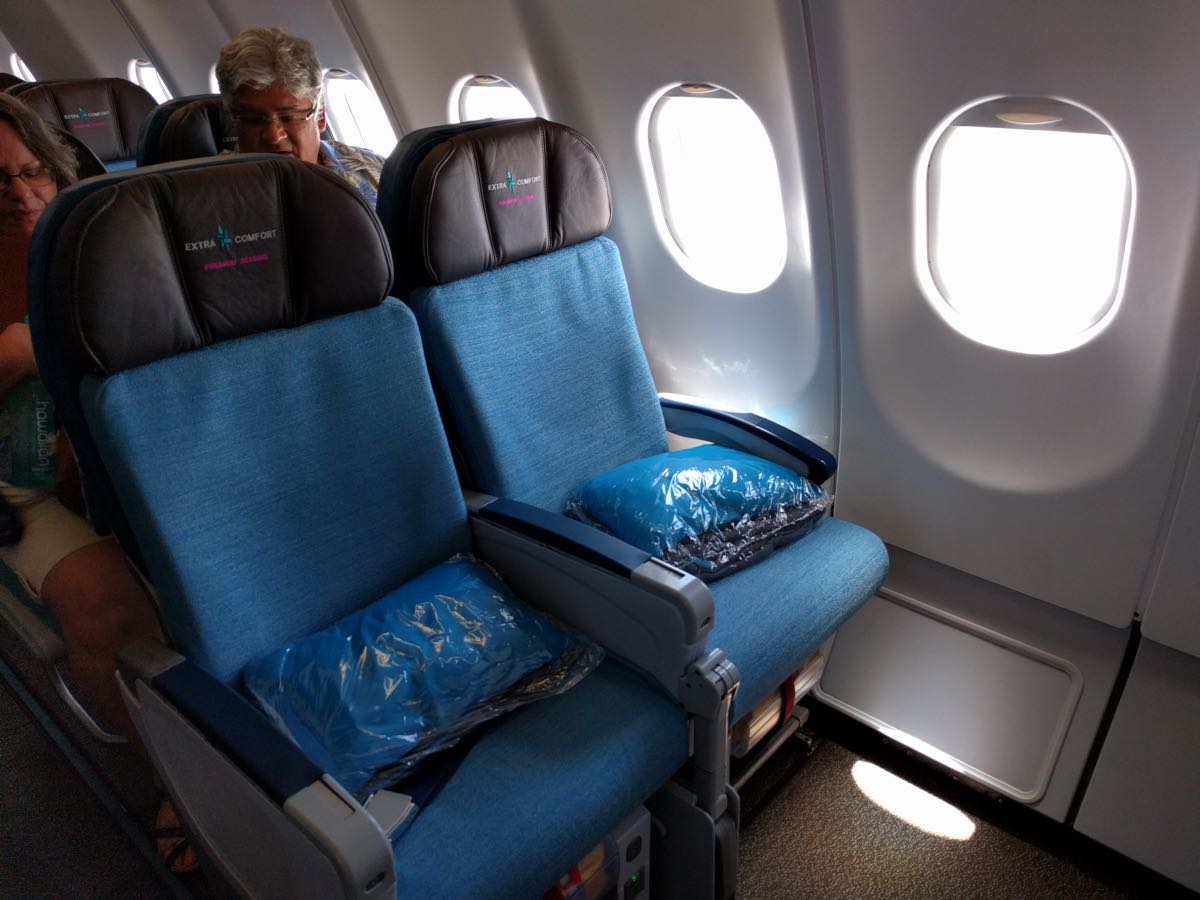 Waiting at our seats were a pillow and day blanket, which were a nice and unexpected touch.
Row 14 is also equipped with the option for a baby bassinet, and there was plenty of legroom.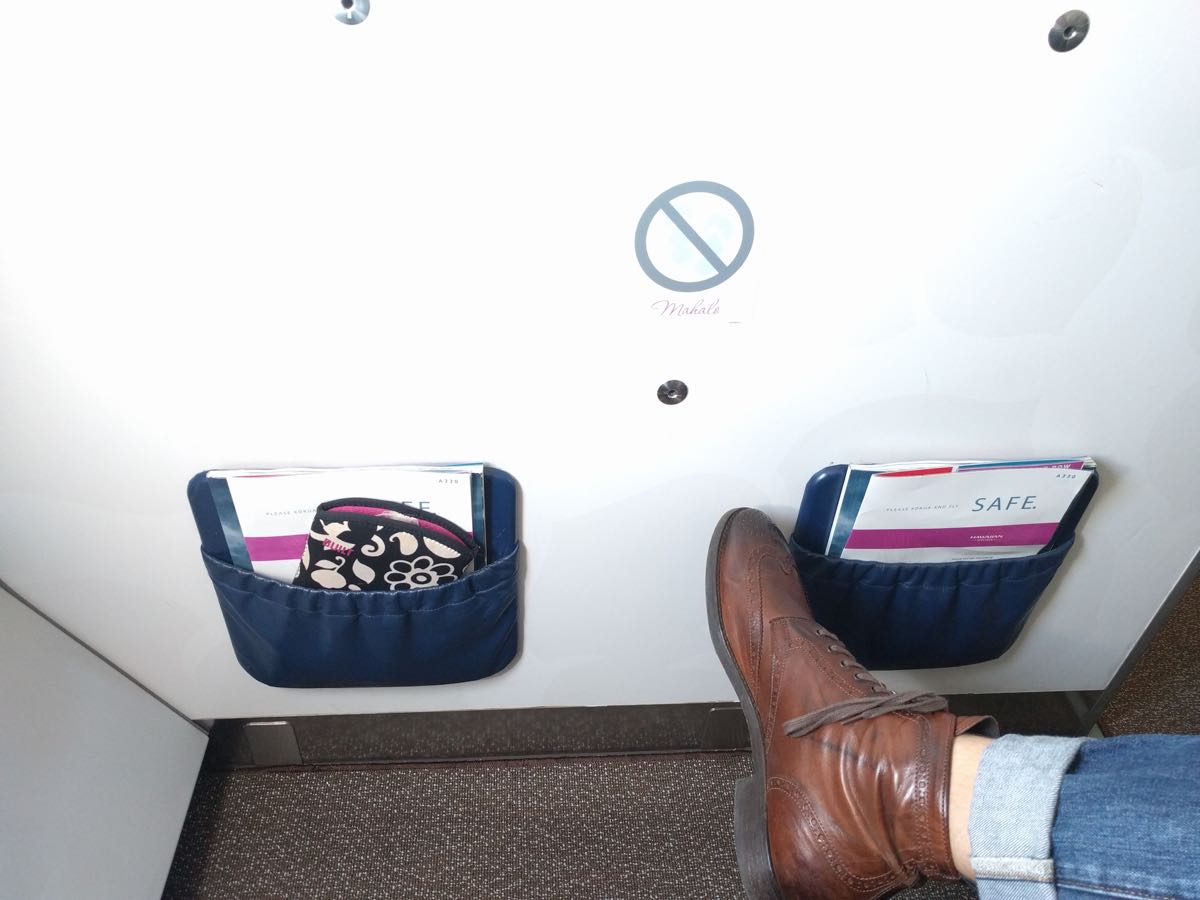 Individual IFE screens were embedded in the armrests, and has messaging reflecting Extra Comfort.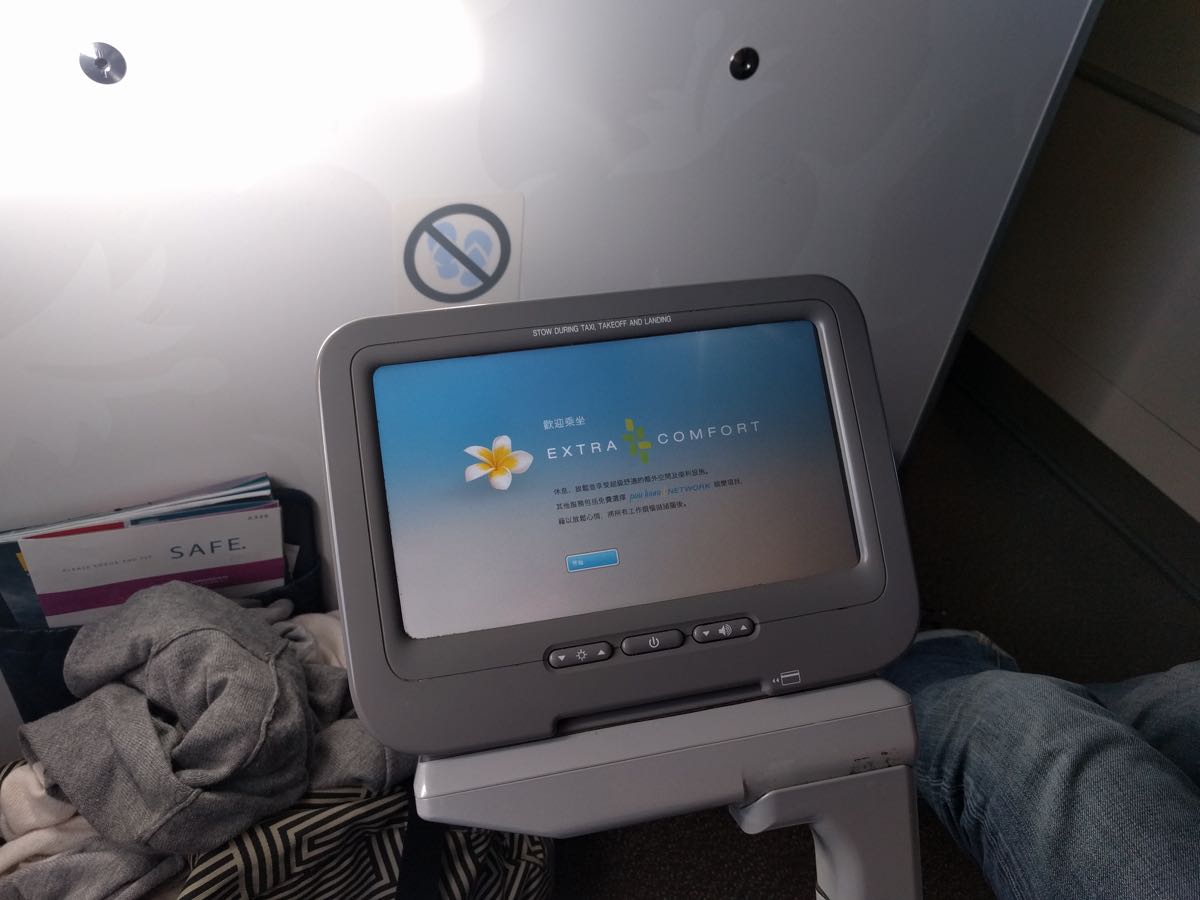 This designation matters, because only a portion of the entertainment selection is complimentary in regular economy.
Headphones, however, were not included. Josh, our business class flight attendant from the outbound, came back with headphones for us once the doors were shut. We thanked him and declined, but I thought that was a very kind gesture.
Mounted on the wall ahead of us was a screen displaying the airshow, which is the only IFE I need anyway. 😉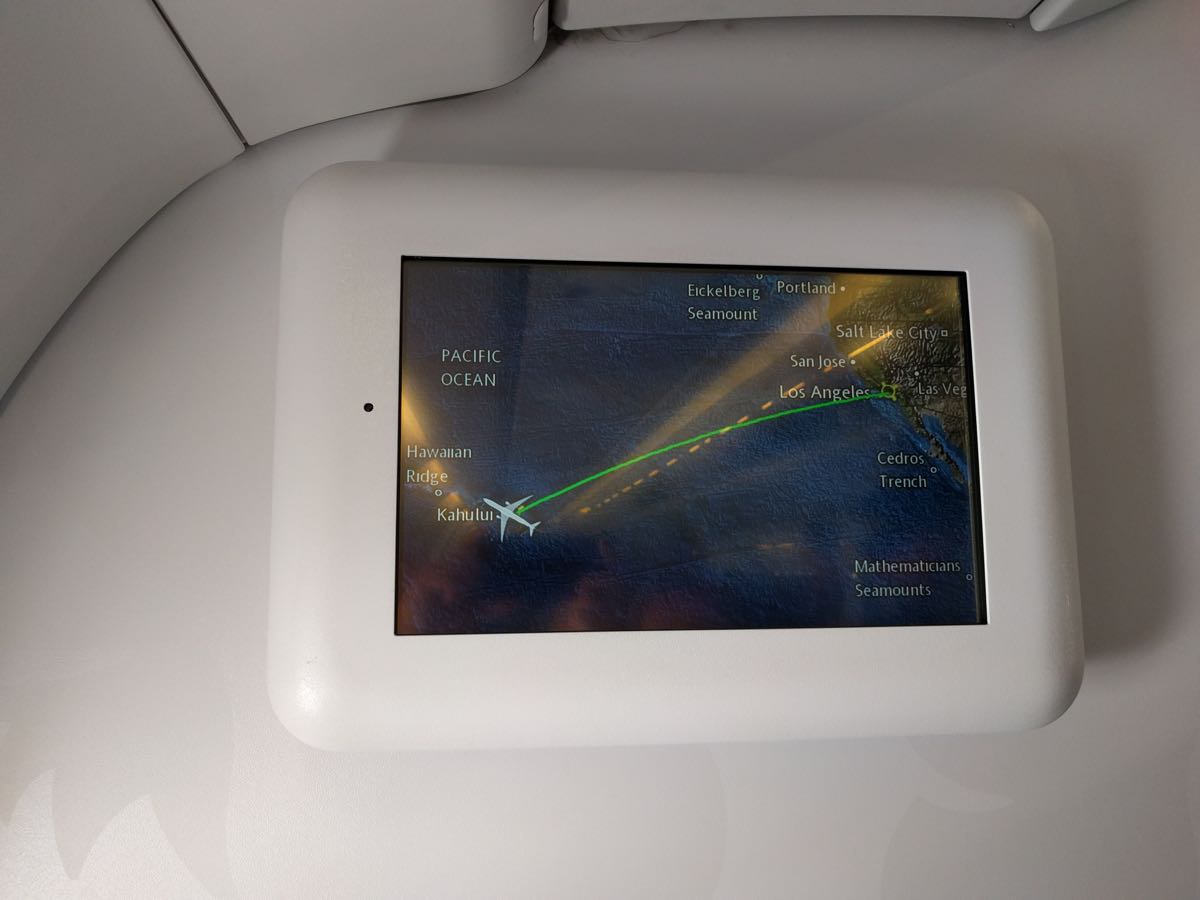 I will admit that I am thankfully out of practice with longhaul economy, which put me at a bit of a disadvantage, as the rest of the cabin had clearly flown Hawaiian economy before. As soon as we reached altitude, the flight attendants came through with the "Pau Hana" buy-on-board cart. And people went in! I've never seen a group of people so interested in procuring random packaged snack foods — we could have made a killing off of a pre-flight Costco trip.
So if you think you might want some Peanut M&Ms halfway through your flight, either bring your own, or be prepared to aggressively snatch them in the first trip of the cart. Goodness.
Shortly afterwards the crew came through with the drink cart. I asked for still water, and was left a full bottle of local water and a packet of snack mix.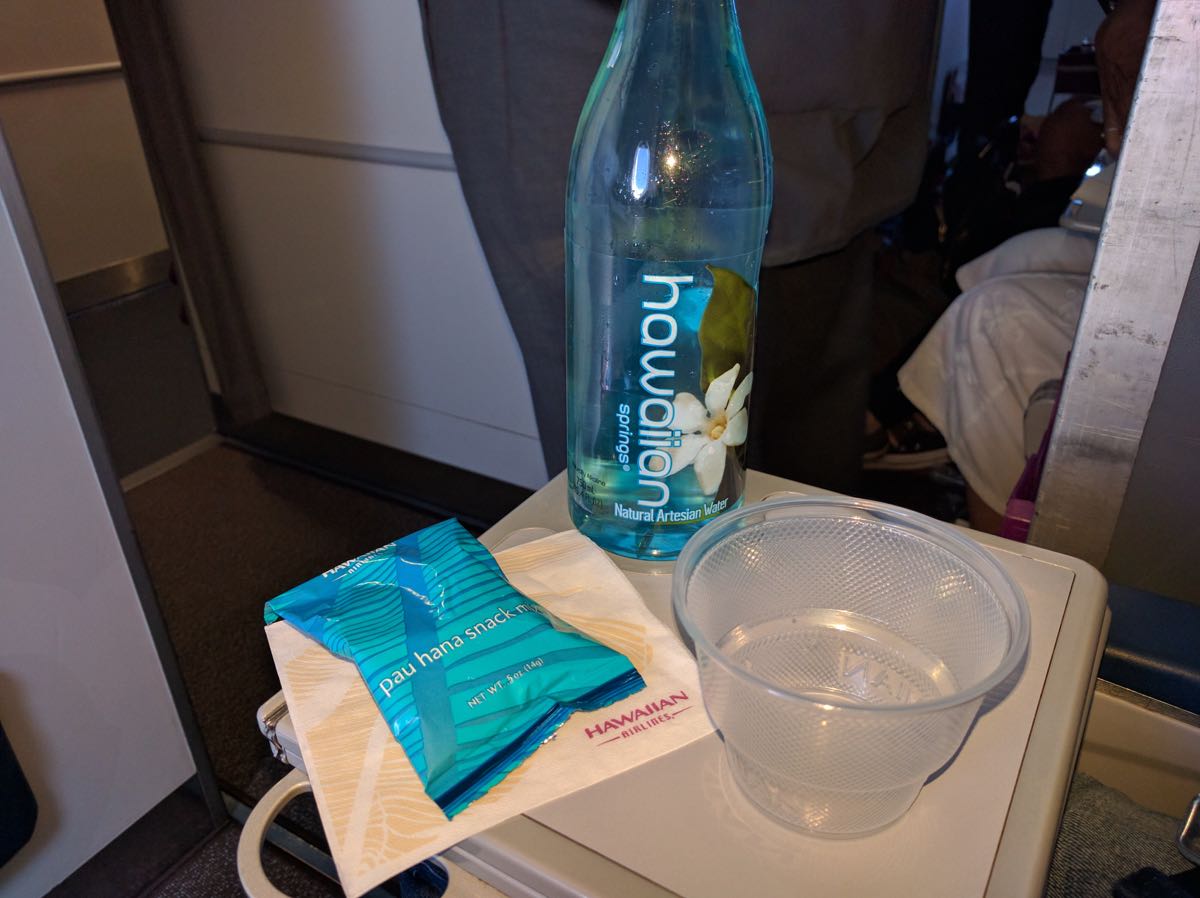 Meals were delivered shortly afterwards — there wasn't a choice of entree, but as many carriers don't offer meals in the main cabin on Hawaii flights you can't really complain about a lack of selection.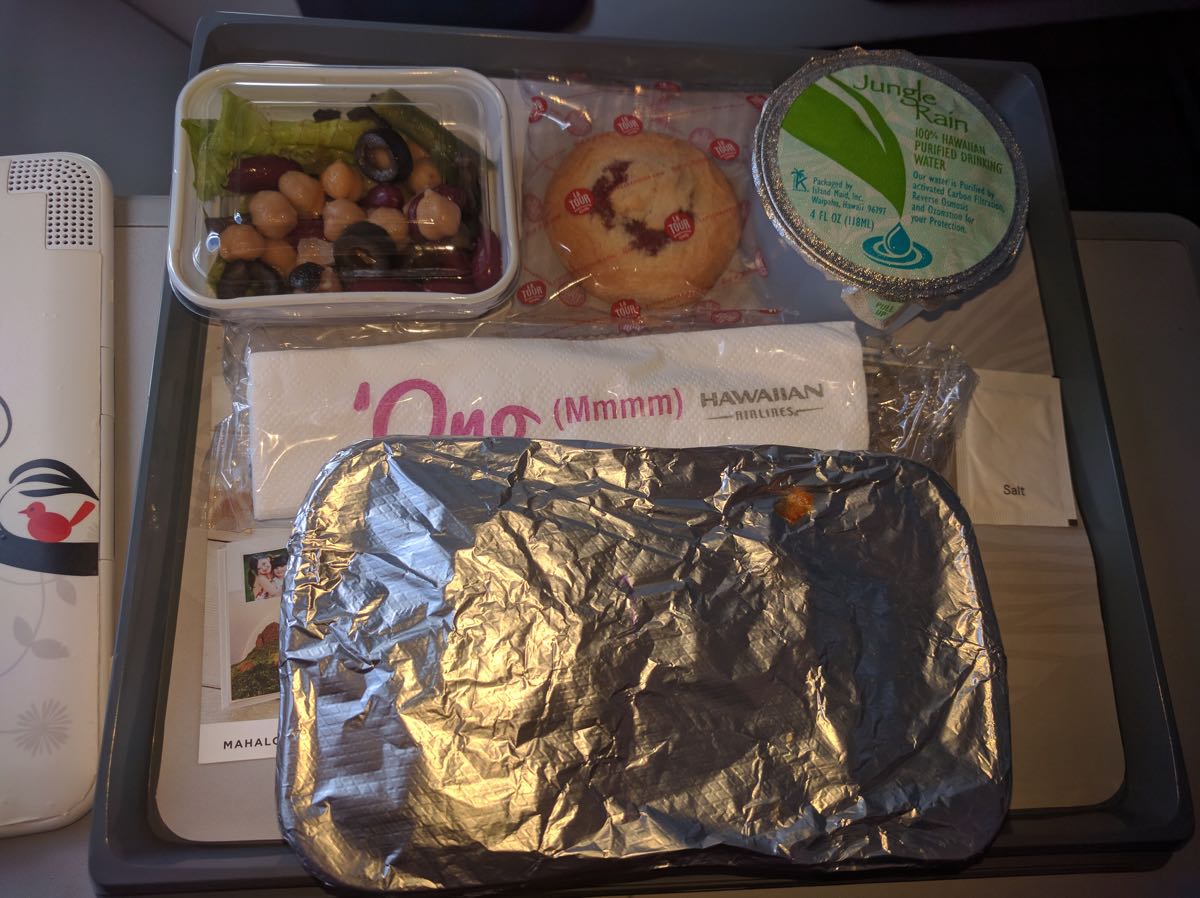 The meal consisted of a mixed-bean side salad, which was surprisingly good, and a shortbread-style cookie, accompanying a main dish of shoyu chicken with rice and veggies.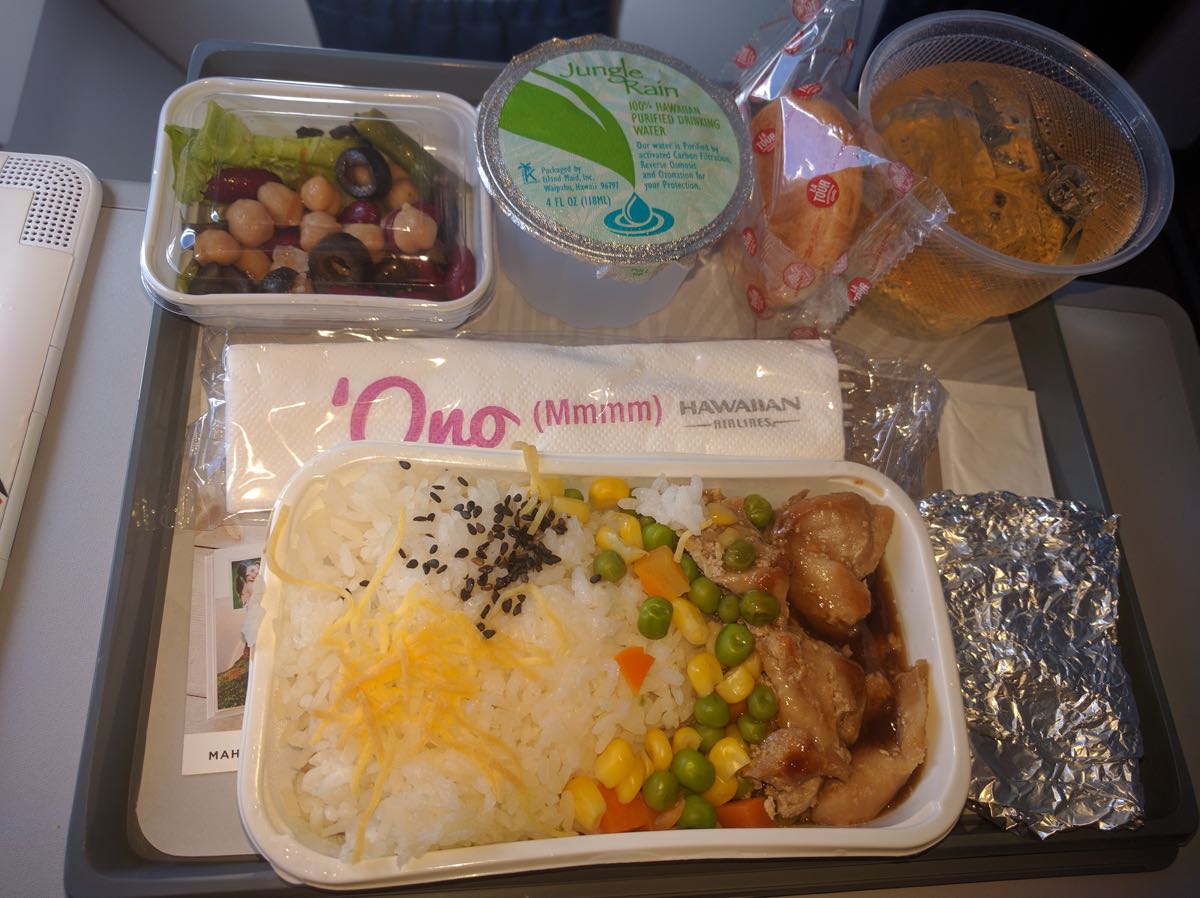 On balance the food was actually better than our first class meals on the outbound, even if the chicken dish was reminiscent of my elementary school lunches on Oahu.
Otherwise, it was a fairly uneventful flight. I had time to read a book (Molokai, for those interested in my poorly-organized traveler's book club), and get a bit of work done. Nothing too exciting to report, which is I guess ideal for an economy flight. 😉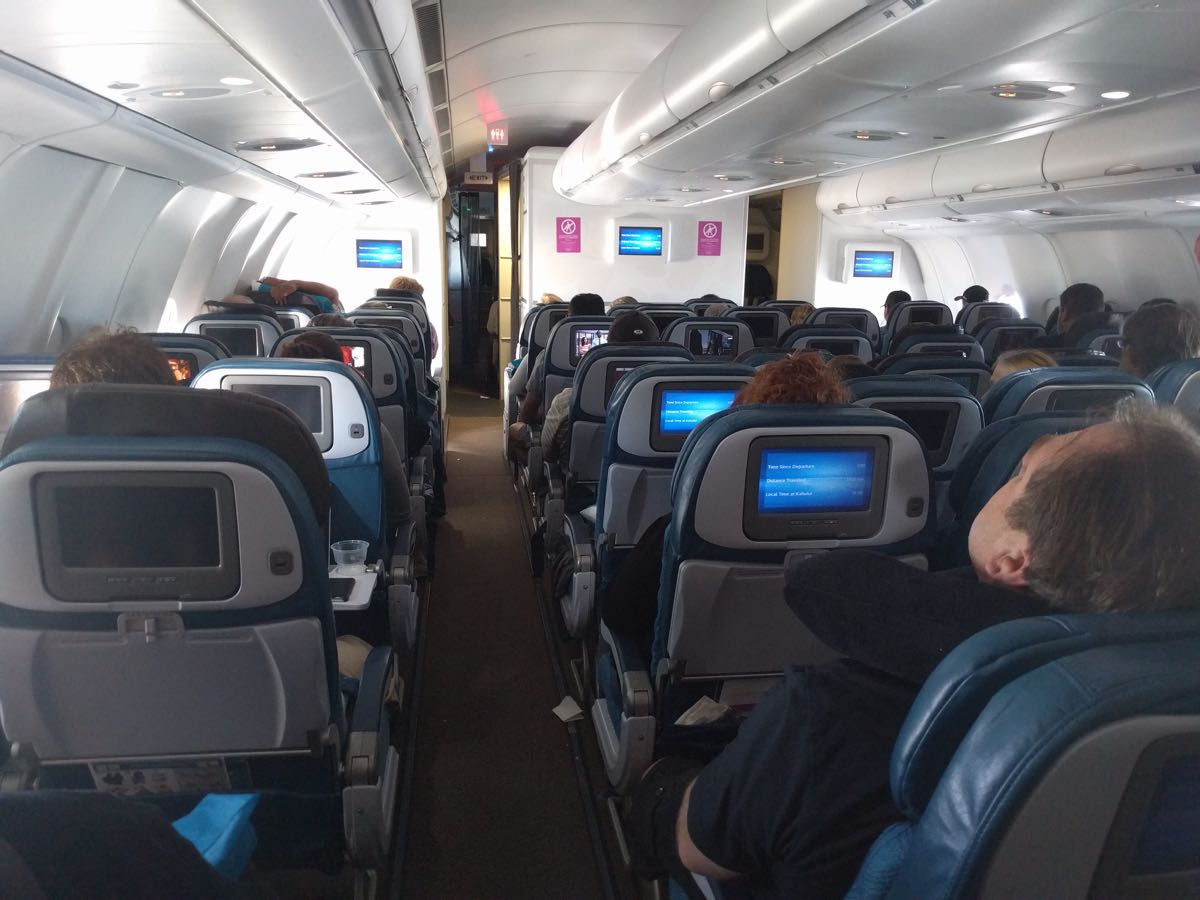 We landed in LA a bit early, but fortunately didn't have to wait for a gate, and were to the curb waiting for an Uber less than ten minutes after landing. Super easy.
Bottom line
Let's be honest — I am personally going to continue to try and structure my life such that a paid long-haul economy flight on a carrier where I can't earn meaningful miles or leverage elite status is a rarity. So I probably won't be experiencing Hawaiian's Extra Comfort cabin again anytime soon.
But there are some small touches — like the meals — that make Hawaiian a nicer experience than you might see otherwise. So if you also find yourself in a similar situation, I wouldn't hesitate to recommend Hawaiian, though I also wouldn't pay a premium for it over other carriers.
I'm also not convinced that Extra Comfort is worth the prices Hawaiian is charging, at least not for the relatively short flights between Hawaii and California, but everyone values space differently.
Have you flown Hawaiian economy? How does Extra Comfort compare?