The information and associated card details on this page for the Club Carlson, and Club Carlson Biz have been collected independently by OMAAT and has not been reviewed or provided by the card issuer.
Links:
Last week Club Carlson announced some changes to their program. Some of these changes were positive, like:
Award stays will count towards status
Points will be redeemable for premium rooms
Gold Points can be earned for food and beverage purchases on award stays
But the negative changes out-shadowed them, in that Club Carlson added a new Category 7 to their hotel portfolio, which will retail for 70,000 Gold Points per night. Previously Category 6 was the highest at 50,000 points per night, so this represents a 40% increase for select hotels. On the plus side, there are only nine hotels belonging to the new Category 7 initially, so it could have been much worse.
While this was no doubt a devaluation all things considered, it doesn't even begin to compare to the Hilton Honors devaluation we saw last year, for example.
As someone that's US-based, probably the single most tempting aspect of the Club Carlson program is their co-branded credit card, the Club Carlson Premier Rewards Visa Signature Card.
I've written about the card in the past, but just to recap the basics:
The card comes with a sign-up bonus of 50,000 points after the first purchase, and an additional 35,000 points after spending $2,500 on the card within 90 days
You get 40,000 points on your account anniversary each year, which more than justifies the $75 annual fee
You get Club Carlson Gold status for as long you have the card, which most notably offers free internet and room upgrades, along with some other perks
You earn five points per dollar spent on everyday purchases
The second night of every award redemption is free, basically meaning you get "buy one get one free" award redemptions, assuming you stay in two night increments
That last benefit is so generous that it really puts the card in a league of its own, assuming you have Club Carlson properties you're interested in staying at.
And while a 40% increase in the number of points required for top hotels sucks, on the plus side it's only nine properties.
Compare that to Hilton, where we saw nearly a 100% increase in the number of points required at far more hotels than that.
The card offers five points per dollar for everyday spend, so realistically for Club Carlson's top hotels you're looking at 50,000-70,000 points per night. If you're accruing those points at the rate of five points per dollar, that's $10,000-14,000 of spend per free night.
But when you factor in that every second night is free, that means you're basically earning a free night for every $5,000-7,000 of spend. Fortunately there are lots of other ways to accrue Club Carlson Gold Points as well, like through hotel promotions, the annual bonus, and the occasional promotion on the purchase of points.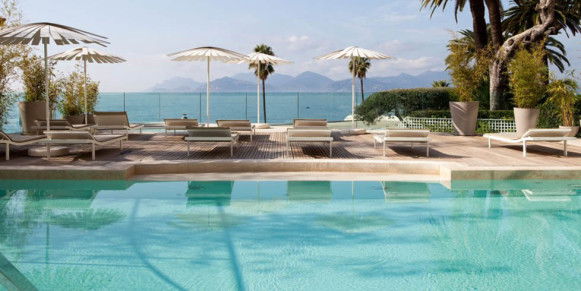 The Radisson Blu Cannes retails for over $450 per night in summer.
So while the devaluation is no doubt disappointing, it doesn't fundamentally change the value proposition of the card relative to other hotel cards, in my opinion. While there are other hotel cards that are plenty rewarding, I can't think of any others that get you a free night at a top tier hotel for $5,000-7,000 of non-bonused spend.
And really, the card is worth keeping for the sign-up bonus, anniversary bonus, and "buy one get one free" capability alone.