Last year when I decided I wanted to leave Tampa I pondered just moving into hotels full time. I ended up moving to Seattle, and just last week renewed my lease by another six months, so am now in Seattle till next April.
The thing is that I already spend more than half of my time away from home, so in a way it's really tough to justify an apartment. Not only do I have to pay rent, but I pay utilities, water, cable, internet, a car payment, and car insurance. That really adds up given that I spend an average of maybe 10 days a month at home.
So why haven't I moved into a hotel yet? Because the prospect of being "homeless" is kind of scary. At the end of the day where I live in Seattle isn't my "home," per se, in that it's not really where my heart is. Not that I don't love the area, but at the end of the day my parents are in Tampa, and I'll never feel "complete" living 3,000 miles away from them.
But really there's just something extremely comfortable about having a place to store things, having a door you can look that's your "space," and ultimately having somewhere to have your mail sent.
In an ideal world I'd be in a relationship and have a Goldendoodle, but neither seems to be an option right now, so the more I'm seriously toying with the idea of living in hotels full-time.
When I think of how much I'm paying on a per-day basis for my living expenses (for the average of 10 days that I'm at home), I could actually stay at a really nice hotel for that same amount. And that doesn't factor in the housekeeping, free breakfast, free internet/cable, free snacks (at Andaz properties, for example), etc. Other people have tried living in hotels, so it's not entirely unreasonable.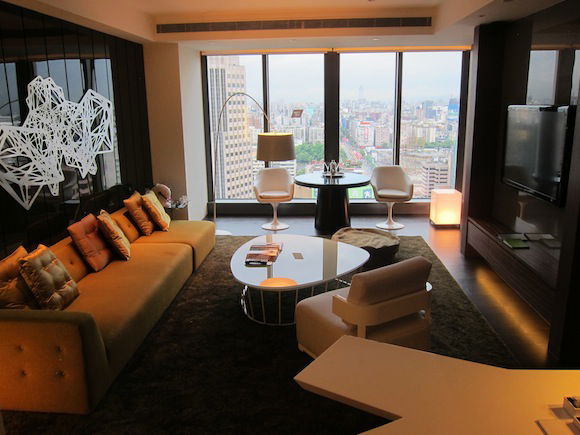 Would this be so bad?
I've also changed my thinking a bit, and am now more comfortable at the prospect of having a hotel as a home. When I first considered living in a hotel I was considering it entirely from a marginal value perspective. My thought process was "okay, I guess I'll have to switch hotels every night since that's the way to maximize points."
But I quickly realized that would drive me absolutely bonkers. No one can live 4PM check-out to 4PM check-out without going nuts at a certain point.
However, I really think I could make this work if I had a "home" hotel. In other words, a single property to spend maybe two weeks a month at, so I can check in for a while and not go crazy.
Not only is the math justified in comparison to what I'm spending for the 10 days I'm home now, I'm downright giddy about the prospect of earning all those hotel points. For example, as I posted about earlier, even without any promotions you're already looking at basically getting 17% of "value" on Hyatt stays, so those would add up very quickly.
Has anyone ever done this? If so, how has it worked out? Is the hotel willing to store some stuff for you (like maybe a big suitcase) while you're gone? How much of a lower rate could you get with a long-term arrangement? Any other pitfalls?
Anyway, at this point I'm really serious about this, and fairly certain it's what I'll do full-time starting in April. Now I just have to figure out the right hotel (ideally a Hyatt)…