Back in October I posed the question as to whether it could make sense to live in hotels full time. The premise was that I spend about two thirds of my time away from home anyway, and I'm paying the same for rent and driving (between leasing and insurance) as someone that were home "full time." At that point it's cheaper to just live in hotels full time, so why not give the nomadic lifestyle a shot?
Not surprisingly, responses were mixed, ranging from "that's a great idea" to "you're nuts and that sounds depressing." And I agree, in a way the prospect of being homeless does sound depressing. So I'll be honest, when I first threw out the idea it was somewhat of a flippant thought, and I didn't think it's something I would actually do.
However, after giving it some more thought I've decided it's something I plan on moving forward with starting in April when my current lease is up. I'm going to approach this differently than I had originally intended, though.
So why am I doing this and what will I do to make sure I don't go crazy?
I love Seattle, but I'd like a change of scenery for now. I'd prefer not to stay in Seattle for the time being, and I think being a bit nomadic will be a nice change of pace. Since I'm young and single I still have the opportunity to do that, so I figure I might as well take advantage of it while I can.
Rather than having a "home" hotel, I'd like to spend extended periods of time around the world. When I first came up with the idea to live in hotels, my intent was to have a "home" hotel I'd use as a "base," so really the only difference in my life would be that instead of going to my apartment when I return from trips I'd instead go to the same hotel every time. After listening to lots of feedback from y'all and giving it some more thought, I've decided the beauty in this opportunity is really in being able to spend extended amounts of time around the world. So my plan is to live all around the world for a few weeks at a time. Maybe two weeks in specific cities in Germany, New Zealand, India, etc. Because I had to fit my travel in around my school schedule for so many years I've been in the habit of "quick" trips, and while there is something incredible about the idea of going to Hong Kong for the weekend, I'm excited to slow down a bit and explore some cities in more depth.
I'm fairly introverted and love observing people. The most vocal concern people have had, and perhaps the biggest reason not to do this would be because it seems really depressing to be "alone." The truth is that the few people I consider to be "close" friends aren't people I really see much in person in Seattle anyway, and if anything I'd likely see them more with this approach. Besides, I get really happy just observing people, and I think nothing would be more fascinating than being able to do that for weeks at a time all over the world.
I'm only doing this for a year, and then I'll reevaluate. I don't want to live in hotels forever. Hell, if I had a choice I'd get married and have a goldendoodle tomorrow, but clearly that ain't in the books. But in order to avoid becoming complacent and having this be a permanent arrangement I'm setting a "hard" date in advance so I won't do this for more than a year. If I happen to love the lifestyle and am super happy with it, then I might continue, but this isn't an indefinite chapter of my life I'm opening.
What do I ultimately have to lose? I live life with a very simply philosophy — you'll regret more what you don't do than what you do in life, and I tend to think that if you have an idea you should go with it unless you have a compelling reason not to. Don't get me wrong, I doubt this will be the happiest decision of my life or anything, but if nothing else I think it'll make good blog content, and hopefully I'll continue to have you guys keeping me company, so I can share my experiences.
One of the things that has kind of changed my perception of having a "home" hotel is what a great value some hotels abroad are. I looked at negotiating some long-term domestic rates, and there are certainly some values there, but for the most part the best "deals" to be found were at fairly mediocre properties. Gary's recent trip to India where he stayed at the Park Hyatt Chennai is inspiring, as the hotel looks stunning and has rates of about $100USD per night. I absolutely loved my trip to India a few years back and would totally love to spend an extended amount of time there.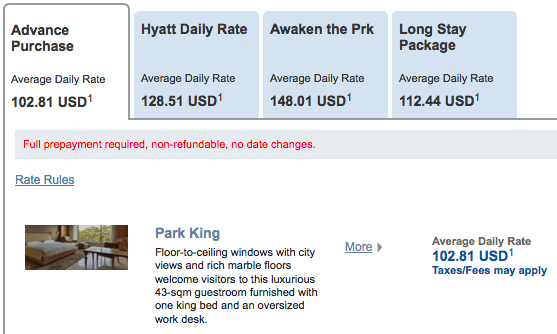 So with rates of ~$100USD per night, why not spend a few weeks there? Between all of the Diamond benefits you get (free internet, breakfast, etc.) and points you earn through promotions, it seems like it could be a lot of fun. Heck, even looking at the cost of food at the hotel, it's cheaper than what I'd pay in the US.
Don't get me wrong, I'm not suggesting I'd live here permanently, but if you're strategic about the hotels you stay at there's a ton of value to be had.
The Park Hyatt Hyderabad is only a bit more expensive, at ~$120USD per night.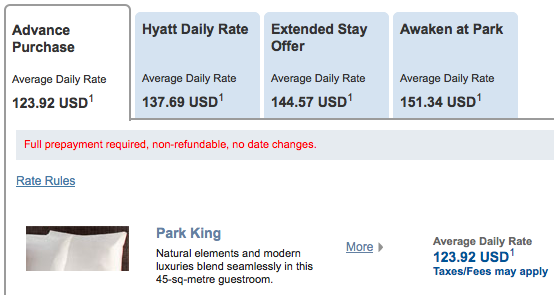 Again, not that I'd live at either of those places permanently, but being able to explore cities in depth for a couple of weeks at a time seems like a pretty great opportunity, and given that I'm already spending an average of 200 nights a year in hotels isn't that much of a stretch.
How to diversify loyalty?
At this point the biggest question I have is how to diversify loyalty. If you're doing 300+ hotel nights per year you can conceivably go for top tier status with all of the major hotel chains, though that seems like a bit of a chore. I also really love Hyatt and Starwood. The issue with Hyatt is that they don't offer any marginal benefits above 50 nights, other than qualifying for Courtesy Card, their invitation-only status level. But at the same time does it make sense to credit 200+ more nights than needed to Hyatt for the chance of an invitation to Courtesy Card? If I understand it correctly, Courtesy Card nominations are made by individual hotels, so it's easiest to get a nomination by being loyal to a specific hotel as opposed to the chain as a whole, though I could be wrong.
Meanwhile with Starwood at least there are some marginal benefits up to 100 nights, since that's when Platinum Ambassador status kicks in, which in theory gets you a few extra benefits.
So at that point does it make sense to do 100+ nights with Starwood and 200+ nights with Hyatt? I can see value with InterContinental since PointBreaks rewards could be a great value if living in hotels, but at the same time I'm not sure I'd want to make 60+ revenue stays per year with them, and they also don't technically honor elite benefits on award stays.
Bottom line
I'm very excited about this next "chapter," and appreciate all the emails and comments I've gotten from folks asking for a follow up on the idea. I'll certainly post again when I further finalize the details.