Gary and I were both asked by Flightfox to rank the quality of first class products. Gary followed the rankings up with an explanation of some of his rankings, while I followed that up with my thoughts on the differences in some of our rankings.
I love Gary, and generally we have very similar thought processes. So it's genuinely exciting to me when we can disagree on something, even if it's as #firstworld as the minute differences between various first class products.
Now Gary has turned this into the "Airline First Class Thunderdome: Two Blogs Enter, One Blog Leaves."
All I can say to Gary is… BRING IT!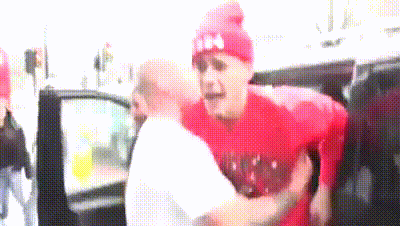 Gary, I'm pretty sure the Biebs isn't the only thing from 1994 — so are the seats in your beloved Thai Airways first class. 😉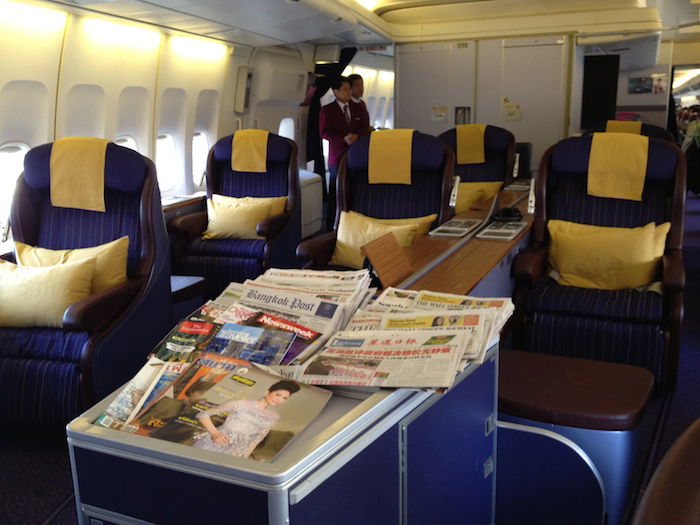 Thai Airways 747-400 first class
Lets go at this backwards, starting with Gary's "public challenge" to me:
Lucky, here's a public challenge. Let's get past your view that British Airways first class is better than Thai. Care to explain how American's first class is better than Air China's?
Well that's easy. I'm not in a position to praise either product, though for me it comes down to Wi-Fi. That's an amenity I value immensely, and something all of American's 777-300ERs have (and when I was asked to do my rankings, it was based specifically on the first class product on the 777-300ER). Air China's hard product is probably marginally better, but neither airline has food or service which is competitive with top carriers. So in my case I'd rather have Wi-Fi and a marginally less impressive hard product than being bored without a decent meal or service on an ultra-longhaul flight.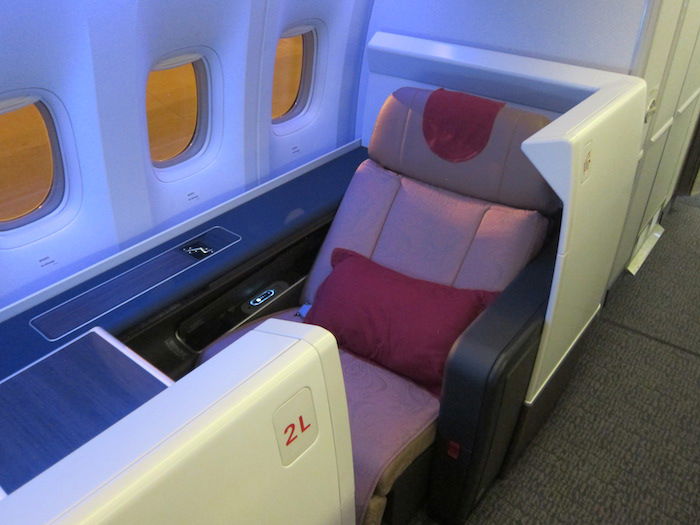 Air China 777-300ER first class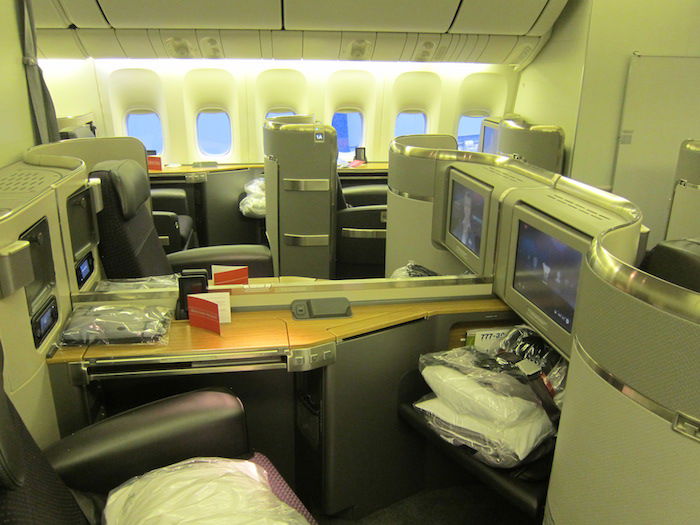 American 777-300ER first class
Gary calls me out on the following, which I'll mostly agree with him on:
Although there are a few of his ranking that just make no sense. Looking at his rankings I do not buy British Airways as better than Malaysia and Thai Airways.
I did add the following disclaimer to my original post:
Take my rankings with a grain of salt. Between certain carriers I literally had to flip a coin and close my eyes in order to decide how to rank them.
And that was indeed the case between British Airways, Malaysia Airlines, and Thai Airways. They're in the bottom quarter of the first class carriers we had to rank as far as I'm concerned, so I don't think British Airways is better than the other two. I had to flip a coin and that was that.
I will say that I'd probably take a British Airways A380 with a good mixed fleet crew over a Malaysia Airlines A380 or a Thai Airways 747. British Airways' cabin is just so much more stylish and soothing to be in. Yes, Malaysia Airlines first class food is better than British Airways food, though it's still almost identical to what they serve in business class.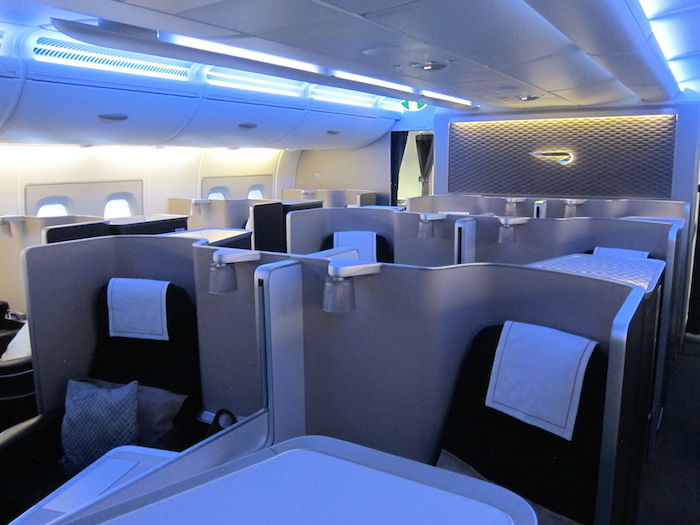 British Airways A380 first class
But I won't argue that point, because as far as I'm concerned they're all in the same range. One carrier isn't significantly better than another.
Gary says the following about my rankings:
Lucky has more of a European bias than I do. He over-rates Lufthansa, Swiss, British Airways, and Air France.
It's kind of funny that Gary says I overrate British Airways first class, because he said exactly the opposite in June, when he was advocating for British Airways first class and I was asking if I was generally too harsh on them. Gary said (in part):
I've pushed back on Lucky when he's called BA first class a good business product, although in fairness I think he first said it after flying BA's 747 which I do find to be less good than what they offer in other aircraft. The forward pair of two seats is actually completely open to the cabin and I can hardly call it first class.
So I certainly don't think you can argue I'm the one overrating British Airways first class. 😉
But lets talk for a second about Air France, Lufthansa, and Swiss. For me ground services are a huge component of the first class experience. There's only so much airlines can do to differentiate themselves in the air, while having a seamless ground experience can make a huge difference, in my opinion.
Take Malaysia Airlines, for example. They have a decent first class product onboard, but absolutely non-existent ground experiences. There's no escort for first class passengers. Their first class lounge in Kuala Lumpur is okay… certainly nothing more. But that's all a bit of a moot point, since Kuala Lumpur Airport is a pretty easy airport to transit to begin with.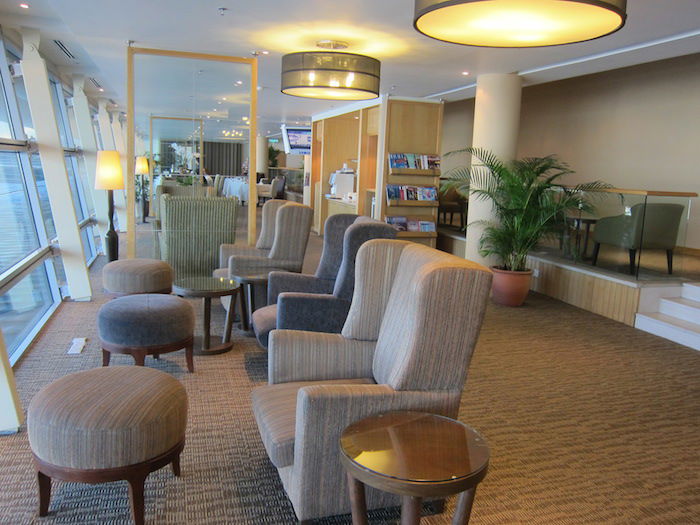 Malaysia Airlines Lounge Kuala Lumpur
But lets compare that to Air France. Charles de Gaulle Airport is one of the worst major airports in the world, in my opinion. Yet Air France manages to make the ground experience in Paris absolutely perfect.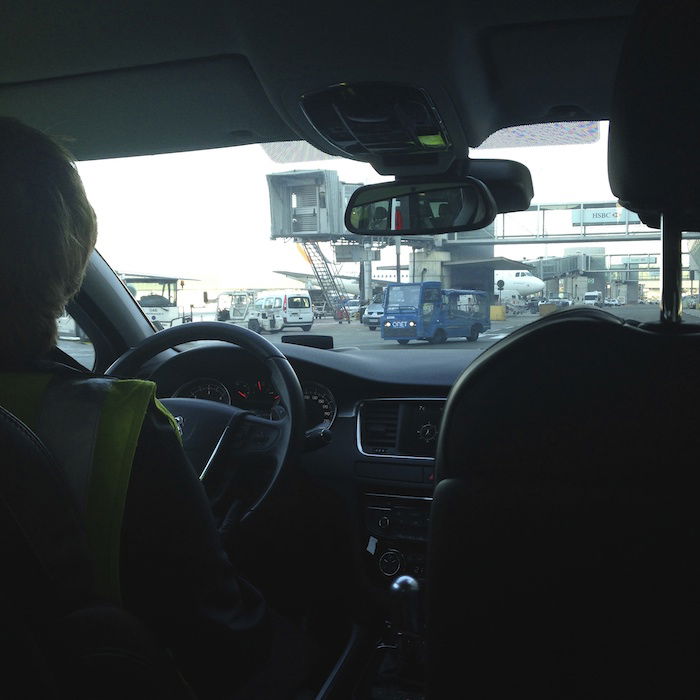 Air France First Class Transfer Paris
I've experienced all of the world's best first class ground services — the Air France First Class Lounge in Paris, Emirates A380 First Class Lounge in Dubai, Lufthansa First Class Terminal in Frankfurt, and Thai Airways First Class Lounge & Spa in Bangkok. — and I still think Air France's first class ground experience in Paris was my favorite. And I actually think if Gary experienced it as well he would agree with me. When I flew Air France first class I didn't want to like them. I really didn't want to. I mean, I'm German, there's pride at stake. 😉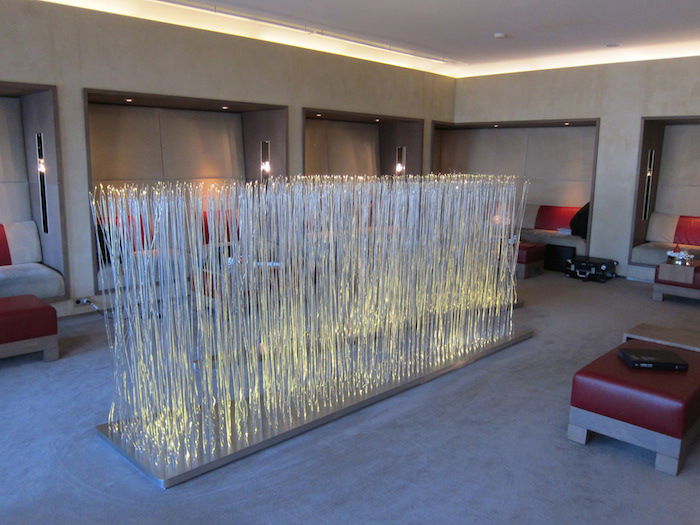 Air France First Class Lounge Paris
But the ground experience was just flawless, from the transfers to/from the plane, to the level of attentiveness in the lounge, to the quality of the food and spa treatments. Add that to Air France's solid — though not amazing — onboard product, and I think it's a winner. Not the best in the world, but on the upper end of the middle of the bunch. Certainly not worse than Air China's first class product, as Gary ranks it.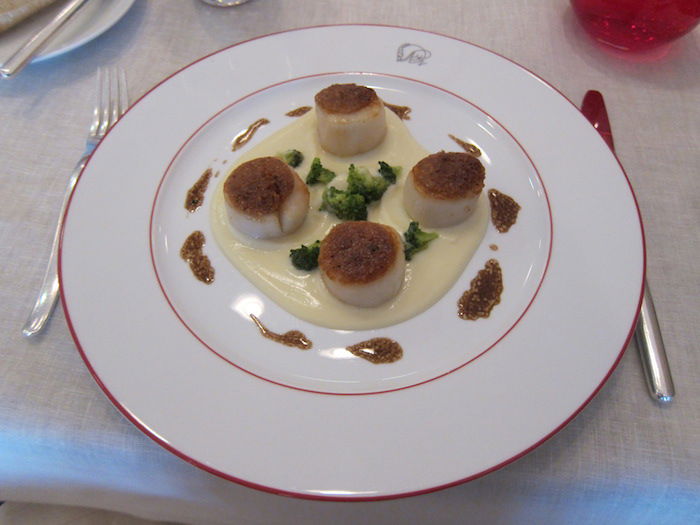 Air France First Class Lounge Paris
I'm not sure if I can reason with Gary on Lufthansa and Swiss first class. I'm not sure if Gary has flown Lufthansa's new first class, as I could certainly see why he'd give Lufthansa not-so-great marks based on their old product.
But the new hard product is simply great. The 747-400 features one of the most innovative first class products out there, with both a seat and a separate bed.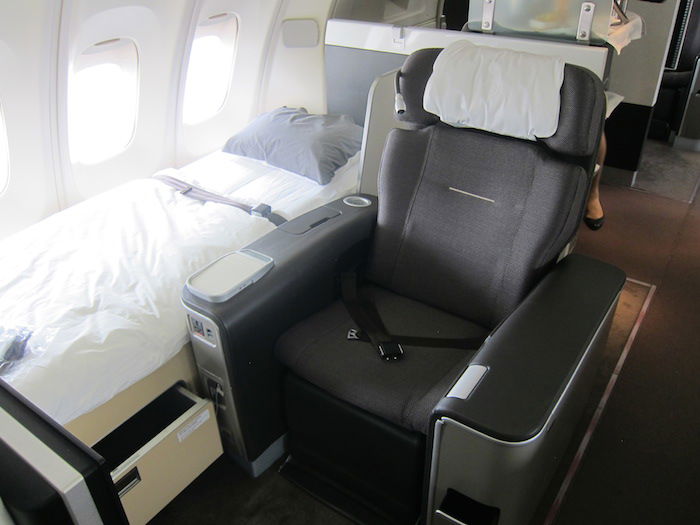 Lufthansa 747-400 first class
And the other cabins feature really comfortable seats as well. They're not fully enclosed suites, but I actually appreciate that. They don't feel claustrophobic, and at the same time have sufficient privacy thanks to the "shield" you can lift.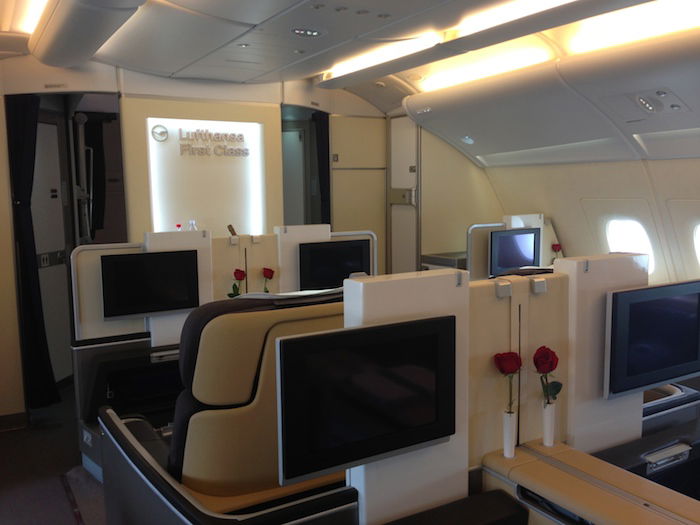 Lufthansa A380 first class
I'm not sure if Gary and I can reconcile our differences on the quality of the onboard service. I find flight attendants to consistently strike the perfect balance between being professional, attentive, and personable.
But more than anything else lets talk about the ground experience. If you're originating in their largest hub, I don't think Gary will disagree that it's the most seamless ground experience in the world. It's just so simple to never even have to enter the terminal.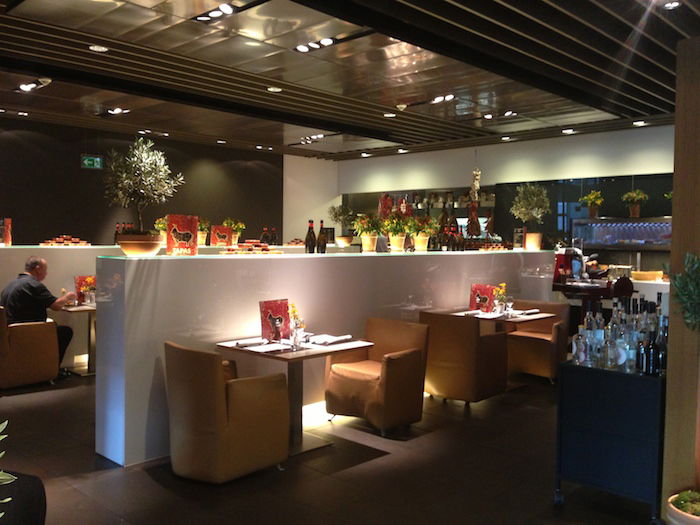 Lufthansa First Class Terminal Frankfurt
Yes, it's not always as smooth if connecting. If you arrive at a remote stand you're picked up in a car and driven to the First Class Lounge, which is a great service. If you don't arrive at a remote stand, you're not quite as lucky.
I guess to simplify our differences into a single argument, I think Lufthansa first class is better than Malaysia first class in almost every way. The ground experience is heaps better, the onboard product is marginally better at worst, and the service is more polished.
Bottom line
It seems like my disagreement with Gary comes down to ground experiences. That's something I value immensely, since it's where I think airlines can do the most to differentiate themselves.
I've conceded from the beginning that my rankings aren't scientific and that within certain ranges I had to flip a coin. But I will make this absolute claim, from my perspective — Lufthansa's new first class is better than Malaysia Airlines' first class.
I guess my question to Gary is this — do you not value first class ground services as much as I do, or are you just not as impressed by the ones offered by Air France and Lufthansa, for example?
I'd love for other people to chime in with their thoughts as well!