ExpertFlyer is a subscription based service which I find valuable. A subscription costs $99 per year, and there is quite a bit of value you can get out of it:
You can see fare class inventory and fare rules for a vast majority of airlines
You can search award availability on select airlines
You can look at seatmaps for specific flights on a vast majority of airlines
Most useful of all is that you can set alerts, so that you'll be emailed when a specific seat opens up, specific fare class opens up, award seat opens up, etc. (though for award seats it only works on select airlines)
If you're a frequent flyer, I think having an ExpertFlyer subscription is well worth it.
One of the challenges for Delta flyers has been that since mid-2014, ExpertFlyer hasn't been allowed to show any information pertaining to Delta flights. This was because Delta prevented them from doing so.
While unfortunate, Delta's logic was essentially that they wanted you to check everything related to your flights directly on their site, because they have a better chance of selling you things this way. Furthermore, they didn't want ExpertFlyer to display upgrade inventory, which they thought made it easier for people to "game" the system and seek out flights with upgrades.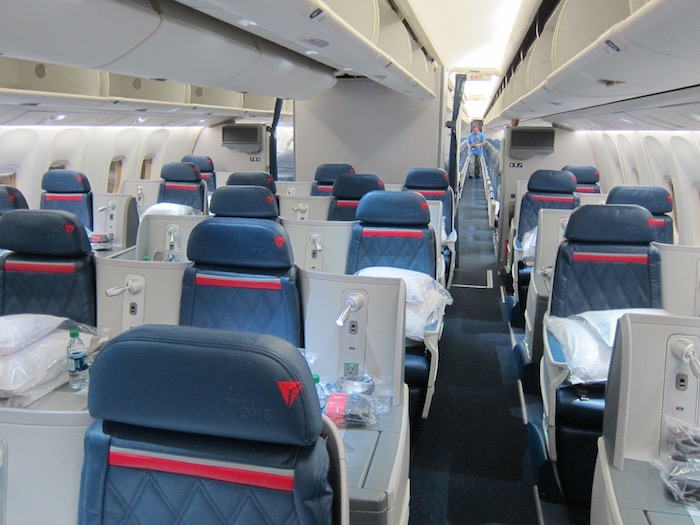 Delta didn't want to make it easy to search for upgrade inventory
Well, there's finally some good news in this regard — ExpertFlyer is once again displaying information pertaining to Delta flights, with the exception of upgrade availability.
Per a notice ExpertFlyer Voice posted on FlyerTalk:
We're happy to announce that as of today the previously missing DL data has been restored to ExpertFlyer. The only exception is DL Upgrade class inventory that requires GDS access, which Delta is still not allowing us to use.

However regular fare class inventory/availability/alerting and all the other searches (including Seat Maps/Alerts) are available again for DL. Please note, DL flights will only show when DL is the only airline specified in the Flight Availability search.
This is great news. While it would of course be ideal if upgrade inventory were displayed as well, this already represents a huge improvement. You can now look at Delta seatmaps, revenue inventory, fare rules, etc., on ExpertFlyer. Furthermore, you can set alerts for specific Delta seats and Delta revenue fares.
I'm curious if Delta somehow had a change of heart, or if ExpertFlyer is simply now pulling inventory in a way which Delta can't reasonably object to. Regardless, this represents a very nice improvement to ExpertFlyer.
(Tip of the hat to View from the Wing)