I'm already a huge fan of ExpertFlyer and find it to be well worth the $99.99 annual fee, though they just added some huge new functionality that makes it even more valuable.
ExpertFlyer now displays award space on all Star Alliance airlines, while they previously only displayed space for a few Star Alliance airlines.
If you go to the "Awards & Upgrades" toolbar you'll notice a bunch of new airlines listed, which is because of the 20+ Star Alliance airlines that have been added.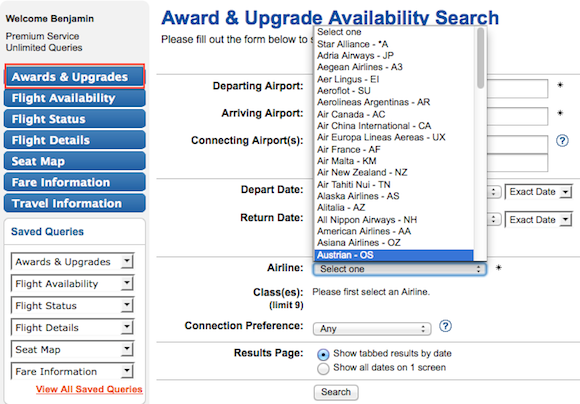 What's interesting, though, is how they display space. On many airlines they'll let you request the class of service, route, and date you want, and it will show you how many seats are available. Availability on Star Alliance carriers is a bit different in that you have to specify the number of seats you want and which cabins you want availability for while searching, and based on that it will give you a "Yes" or "No" answer on availability. In other words it doesn't display how many seats are available, but rather only whether the number of seats you requested is available.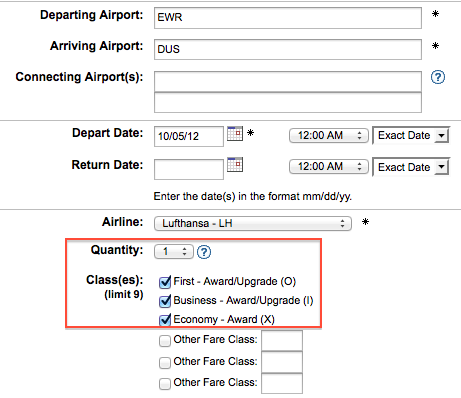 As you can see, the search results page will tell you whether there's space based on your parameters.

The other unique thing is that instead of having to search space on a specific carrier, you can search space for the Star Alliance as a whole, and it will automatically search connections for you.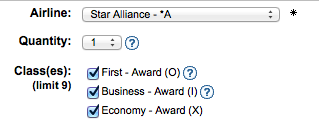 Here's an example of the search results: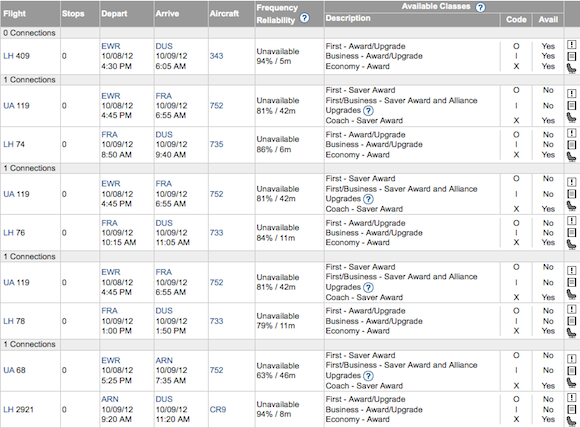 All that good stuff out of the way, on the surface this isn't life changing. The ANA, Aeroplan, and United websites also display Star Alliance award space, so we're not getting access to anything we didn't have before.
My typical strategy when searching for Star Alliance award space is to first go to the United website and search the origin and destination. They have a useful calendar, automatically pull up all logical connections, and the availability is easy to read (as opposed to just dealing with "No" or "Yes" with ExpertFlyer. I then use the ANA tool to search individual segments. They let you search for space on a given route for seven days at a time, which is very useful if you're searching for space on a particular route. I also use the ANA tool for searching Lufthansa first class award space, since the United website consistently shows "phantom" award space.
But here's the huge, huge, HUGE value add of ExpertFlyer — they let you set up availability alerts! So if a flight isn't available now, you can set up an alert for when space does open up on your desired flight in your desired cabin, and you'll receive an email as soon as it does. This is infinitely valuable for someone like me, especially for Lufthansa, as they release first class award space to Star Alliance partner airlines at most 14 days out.
Simply search award space on a flight as you usually would. For example, here's New York to Frankfurt on the 18th:

As you can see there's no first class award space. That being said, if you click the little box with the exclamation point at the top right, you can set up an availability alert. A box will then pop up, where you can enter the number of seats you want, the class of service you want, and choose a name for the alert.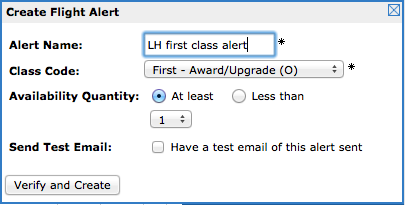 This is huge. The only thing I should mention is that the Swiss award availability displayed on ExpertFlyer is what's available directly to Miles & More members, so it won't be accurate if you're booking through another Star Alliance carrier. Other than that, this should be accurate as far as Starnet availability goes.
Kudos, ExpertFlyer!