While this isn't breaking news, it is interesting to note that Emirates is going to two extremes on their A380s.
Emirates has my favorite A380s
I've flown first class on every airline operating the A380, and the one offered by Emirates is hands down my favorite. While the seats themselves aren't the most spacious, they have onboard showers, an onboard bar, wifi, and the most extensive entertainment selection in the sky. There's simply not another airline where I can stay as entertained for the entire flight as on Emirates.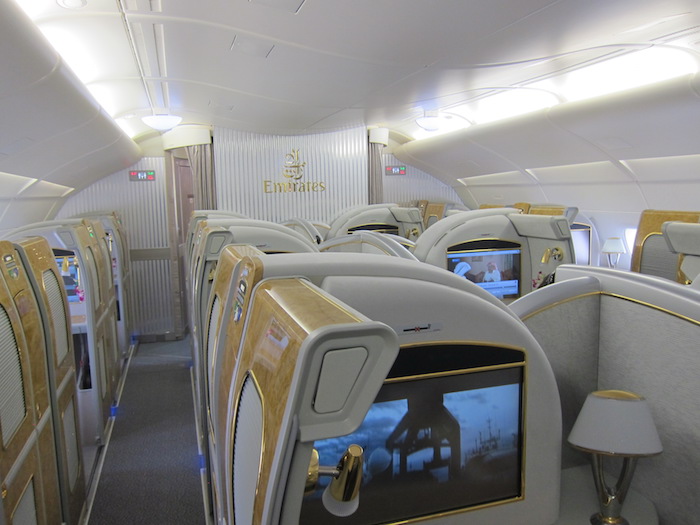 Emirates A380 first class

Emirates A380 first class shower
They're the largest operator of A380s in the world, and it's kind of nice how consistent the product is as of now, since their entire A380 fleet is in a similar configuration.
Emirates will take delivery of some A380s without first class
As it stands, Emirates has taken delivery of nearly half of the 120 A380s they have on order. That's kind of amazing, given how many A380 routes they already have.
Starting in 2015 they'll be mixing up things a bit, as Emirates will take delivery of some A380s without a first class cabin. The A380s will be in a two class configuration, with just business class and economy class. Business class should be identical to the current product, and there should still be an onboard bar.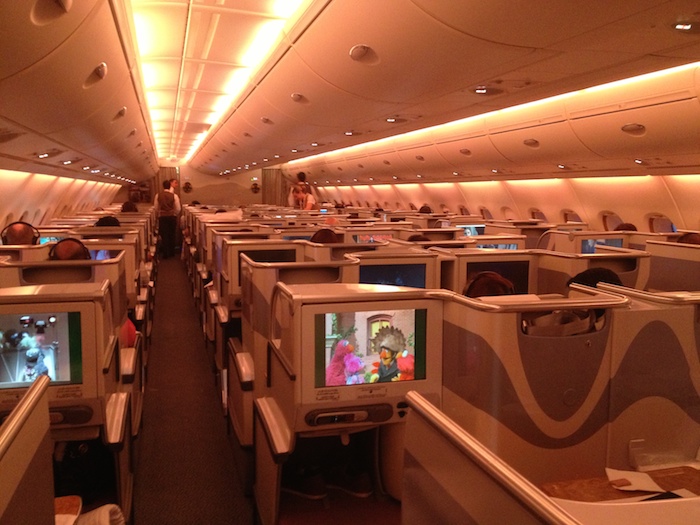 Emirates A380 business class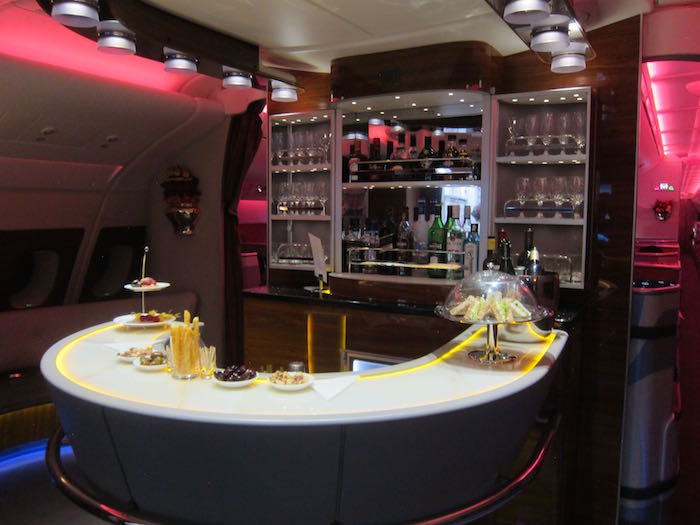 Emirates A380 business class bar
But these will be the first A380s in the sky without a first class product, and they'll be the densest, with over 600 seats.
Via Gulf News:
"There are some routes that don't require first class," said Shaikh Majid Al Mualla, Divisional Senior Vice President, Commercial Operations — Centre at Emirates, in an interview this week.
The confirmation of a two-class A380 comes despite demand for first-class seats on their superjumbos outshining their two other cabins in 2013, according to reported comments made by Chief Commercial Officer Thierry Antinori earlier this year.
I think it's safe to assume these A380s will operate flights to Southeast Asia, India, etc.
On one hand this does make sense, though frankly I'm kind of surprised they're doing this given that there are also benefits to having a common fleet type.
While I'm not one of those people that believes Emirates flies for prestige and not for profits, I don't think anyone can argue that they're laser focused on yields and capacity. After all, this is the airline that started operating an A380 to Dallas largely to piss off the two other Middle Eastern airlines starting service there around the same time.
Emirates will introduce a bedroom concept
Earlier in the year, Etihad revolutionized commercial air travel with their introduction of The Residence, the first private three-room suite with butler service available on a commercial plane. That first A380 will go into service in the next couple of weeks, and I look forward to being on the inaugural in a First Apartment.

Etihad's The Residence
It's no surprise that Emirates didn't want to be outdone, so they quickly announced that they would introduce a similar bedroom concept soon.
While it's still a work in progress, it is interesting to get an update on this. Via Gulf News:
Emirates is still finalising the planning for its bedroom concept and is yet to commit on the seating layout.
But Al Mualla said its bedroom concept could mean a cut in the number of economy seats available on the three-class A380s.

Etihad Airways is expected to unveil its first A380 next week, which features The Residence, a three-bedroom suite that comes with a dedicated butler. Tickets for The Residence from Abu Dhabi to London are $20,000 and the first sets of flights are booked out, according to Etihad President and Chief Executive James Hogan.
Emirates' new bedrooms will not include a butler service, Al Mualla said.
There are two things that are especially interesting here.
First of all, Emirates won't offer butler service. Given how hyper-competitive the Middle Eastern airlines are, that's kind of surprising. Now, I do think Etihad's butler service is sort of style over substance. They're not actual butlers, but rather onboard chefs that take a Savoy Hotel course for three weeks.
But even more interesting is that it sounds like Emirates might install the bedroom suite on the first floor, which is presently exclusively occupied by economy seats. If that's the case, that means that they'd have to remove quite a few economy seats.
What makes Etihad's The Residence so brilliant is that it has a really low opportunity cost. The bedroom and shower are in the forward part of the upper deck which couldn't have seats either way, so the marginal cost of operating it is very low.
If you have to remove a dozen or so economy seats in order to add a bedroom, though, the opportunity cost goes way up. And that's especially true because it's tough to sufficiently meet demand with exactly one suite per flight. If no one buys it then the revenue loss potential is huge, while if the demand is much higher, it'll lead to a high level of frustration among passengers.
Bottom line
I've been a fan of how streamlined Emirates' A380 fleet is. I'm curious to see how they execute their deviations from the norm here — both for the high density A380, and for the more premium version with suites.
Okay, and if I'm being totally honest I don't want to be a second class citizen when I'm redeeming my Alaska miles for travel on Emirates. 😉