Emirates is known for its bling and swag. As part of that, the airline has today revealed its new amenity kit collection, which will be available for the fall and winter (and is already available on some flights now… which seems kind of early!). As has long been the case, these kits are created in partnership with Bulgari.
In total, there are eight different collectible bags across first and business class. Not only have the kits changed, but the contents have as well, and there's a special treat for those in first class. Let's take a look at all the details.
New Emirates first class amenity kits
Emirates is rolling out four new collectible amenity kit bags in first class, with two in black vegan leather with lilac accents, and two in a black fabric, some with tan vegan leather accents.
In the black and lilac kits (primarily targeted at women), you'll find a new engraved gold Bulgari mirror, which is a keepsake exclusively crafted for Emirates, alongside a 30ml bottle of Bulgari Le Gemme Desiria Eau de Parfum. The fragrance is complemented by a matching face and body emulsion, along with a dental kit, cleansing towel, deodorant, tissues, and a hairbrush.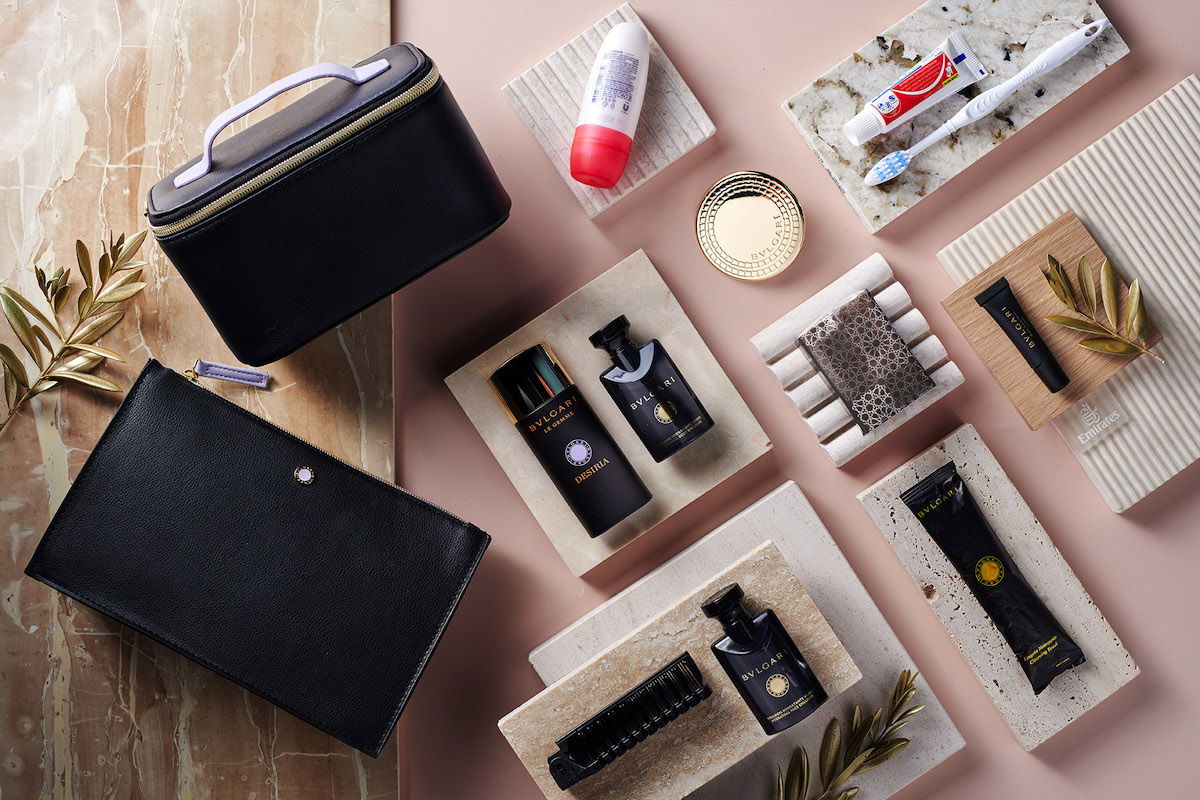 In the black and tan kits (primarily targeted at men), you'll find a 30ml bottle of Bulgari Le Gemme Gyan Eau de Parfum. The kit also features a Bulgari Le Gemme Gyan after shave balm with matching body emulsion, plus a cleansing towel, Gillette razor, shaving foam, dental kit, deodorant, tissues, and a hairbrush.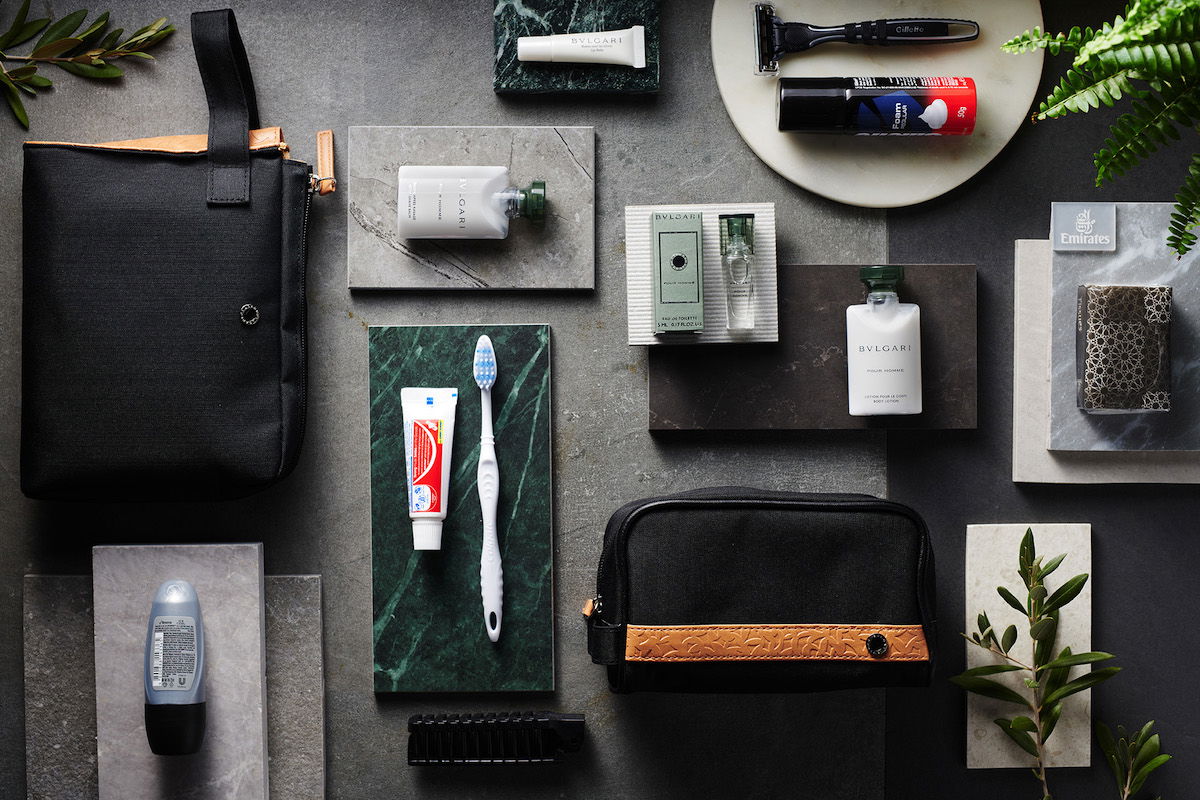 What's perhaps most noteworthy about these new kits is the fragrances they contain. In each case, a 100ml bottle of the Bulgari Le Gemme fragrances typically retails for close to $400 per bottle. To get a 30ml bottle in your amenity kit is pretty cool, and it's definitely something you'll want to take home with you (either for yourself, or as a gift for someone else).
On the Airbus A380, these amenities of course complement the Emirates tote that first class passengers receive, plus the range of toiletries in the shower spa from Voya, plus the skincare set next to the mirror from Byredo.
New Emirates business class amenity kits
Emirates is also rolling out new amenity kits in business class, made from vegan leather. They'll be silver, and will have two shapes — one will be a pouch, and one will be a classic toiletry bag silhouette. There will be two types of finishes on each.
Each amenity kit features several Bulgari products, including the fragrance Bulgari Omnia Amethyste Eau de Toilette. This will be complemented by an Omnia Amethyste face emulsion and body emulsion, as well as a Bulgari lip balm. There will then be other comfort essentials, including a dental kit, double mirror, deodorant, tissues, and a hairbrush.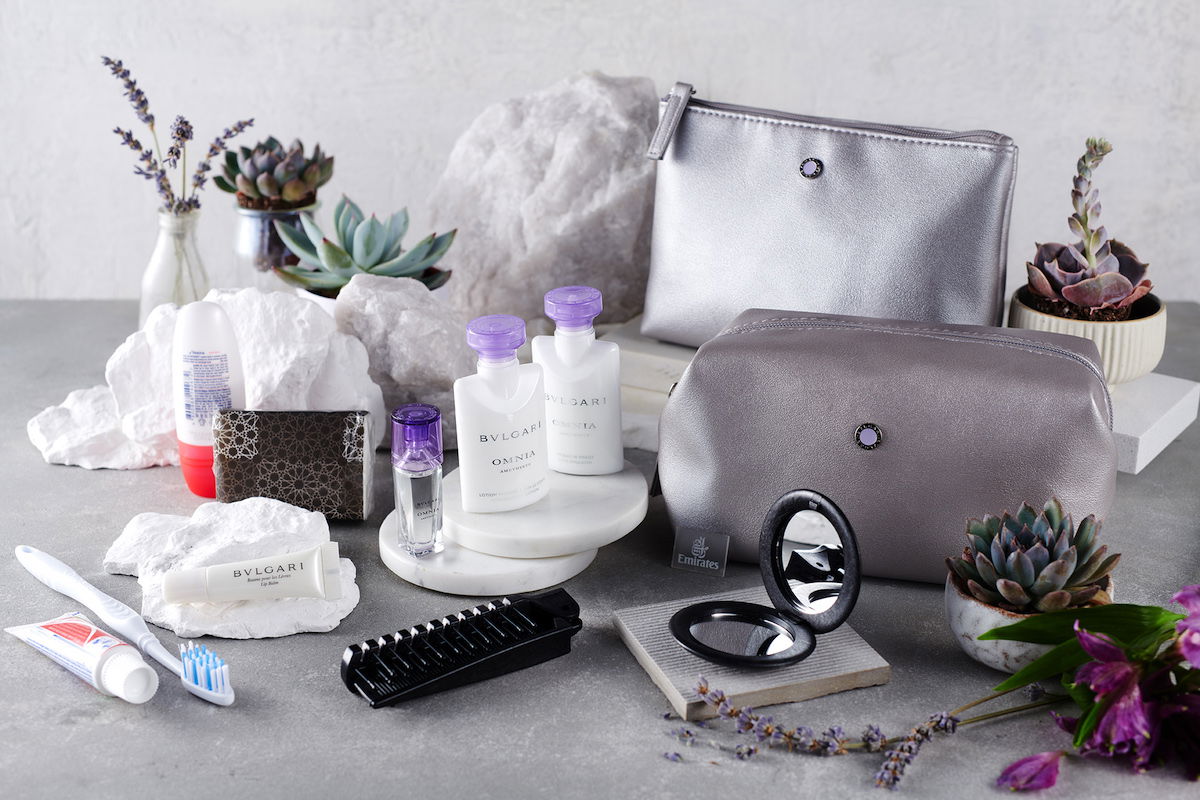 Bottom line
Emirates is rolling out some pretty awesome new amenity kits in first and business class. We're seeing some slight changes to the kits as such, but beyond that, we're seeing new products.
Perhaps most noteworthy is that in first class, passengers will receive 30ml bottles of some very high end Bulgari Le Gemme fragrances. Definitely don't discard those if you're flying with Emirates. At a minimum, they make a great gift.
What do you make of Emirates' new amenity kits?