---
After getting off the bus from the remote stand I followed the signage for international transit. Even though I already had a boarding pass, I was told I needed to go to the transit desk and get my boarding pass reprinted.
After that it was time for transit security. The line didn't look that bad — there were maybe three dozen people in it. The last time I transited Delhi it was a great experience, but that's probably because I was flying Air India first class, and they assigned me an entourage to whisk me through security in a matter of seconds.
This time around I had to wait in line. I don't think I've ever in my life seen such a slow moving line. My frustration wasn't even that I had to wait for an hour, but rather just how damn inefficient the process was. I wish I had a blindfold so I didn't have to watch. They had separate lines for men and women, and while the line for women was fast, I couldn't believe the pace at which they processed men. They took one person at a time, and then they'd put things on the belt, get a full body pat-down, etc.
It was just so, so, so inefficient. On top of that, just about everyone had to have their bags screened more than once. When it was my turn, they literally screened my bag five times. FIVE TIMES. It went through the x-ray, they took it off, put it back in, and did the same thing over and over and over again.
At some point wouldn't it make more sense to just search the bag? After the fifth attempt I said "is there something wrong with the bag?"
"No, you can take it now."
Boarding was scheduled for 12PM, and by the time I was through security it was a couple of minutes after that time. So I basically sprinted to gate #4, since I wasn't sure how far away it was.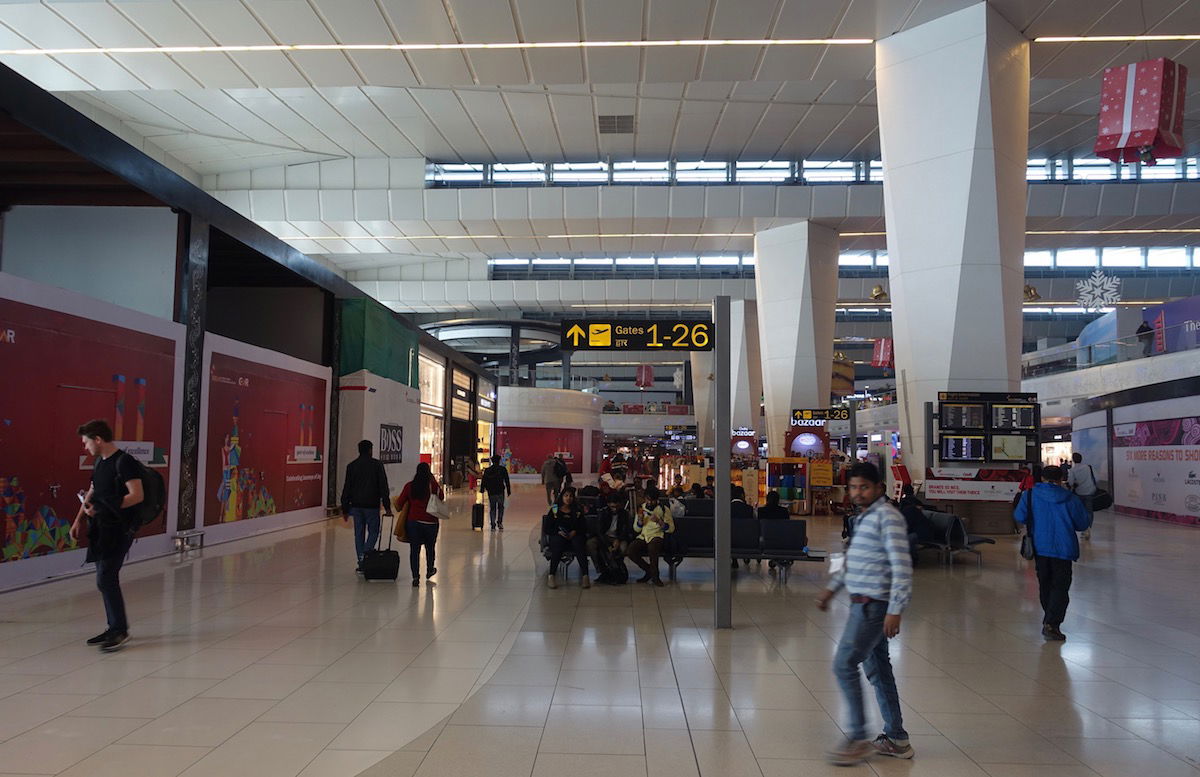 Delhi Airport terminal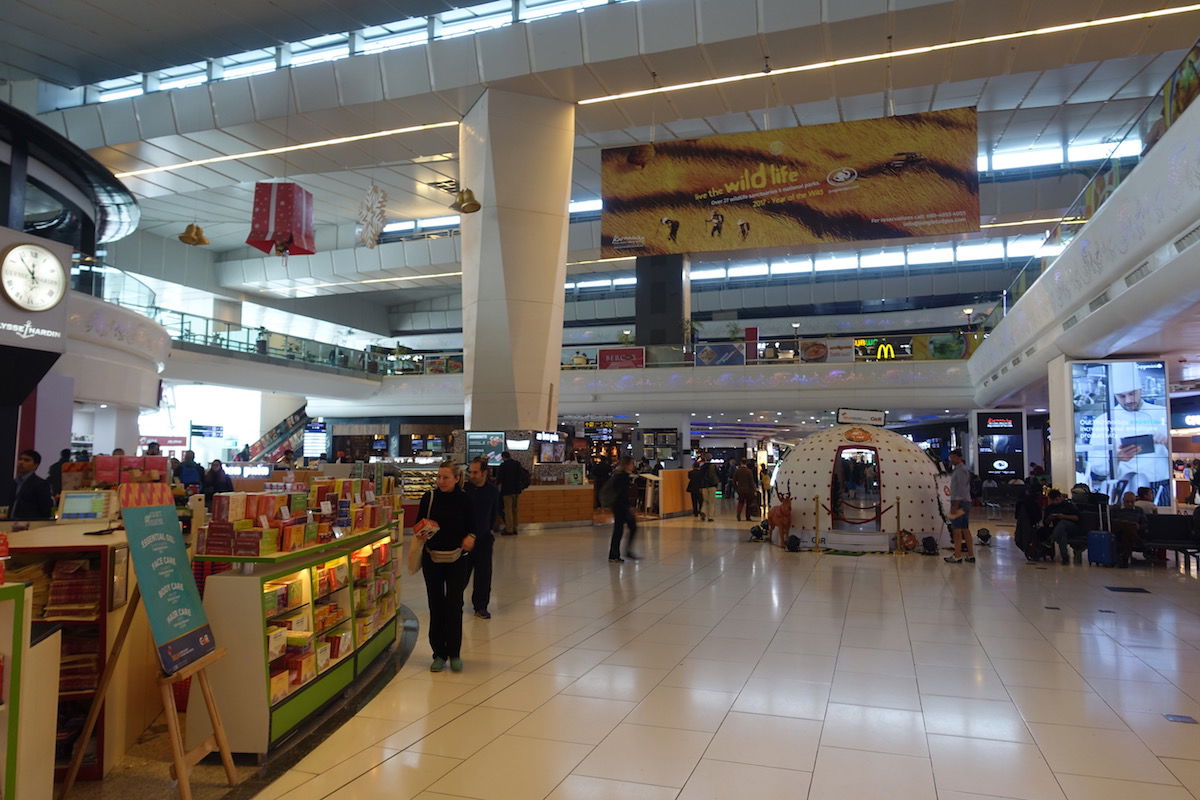 Delhi Airport terminal
At a fast pace it took only about five minutes to get to the gate. The gate was one level down from the main concourse, as my flight was unfortunately leaving from a remote stand.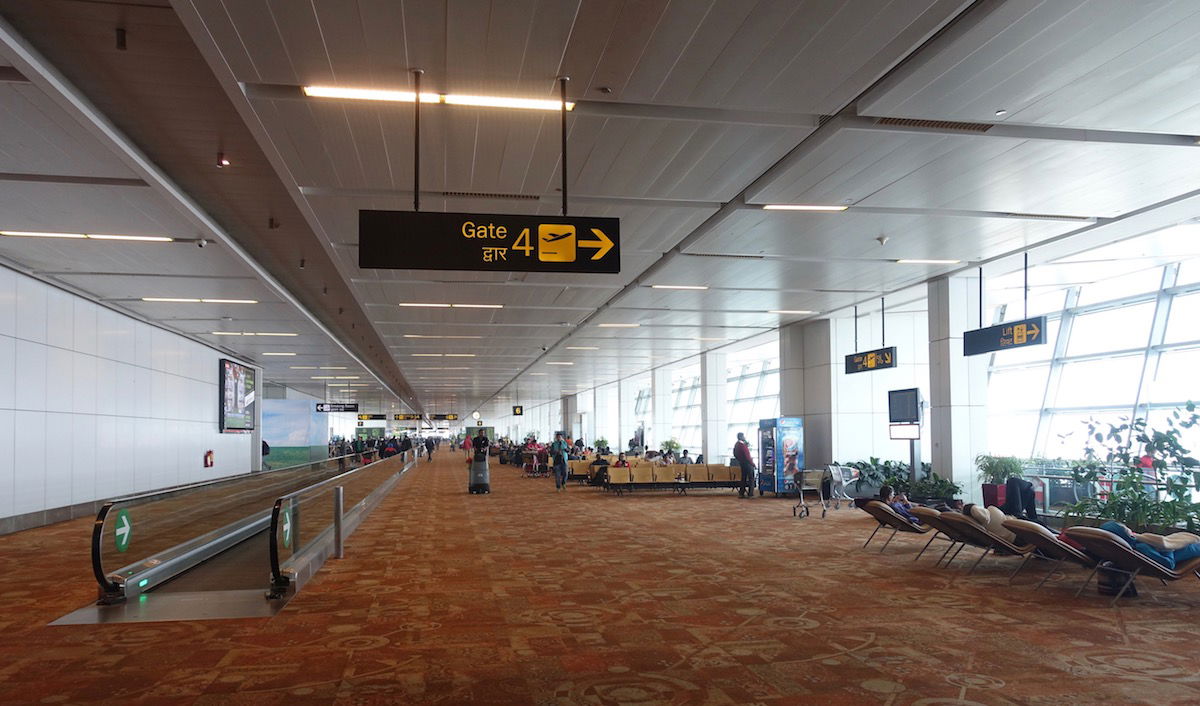 Delhi Airport terminal
As I arrived at the gate boarding was underway. There was a separate premium line, so I didn't have to wait, and i just barely made the first bus to the plane.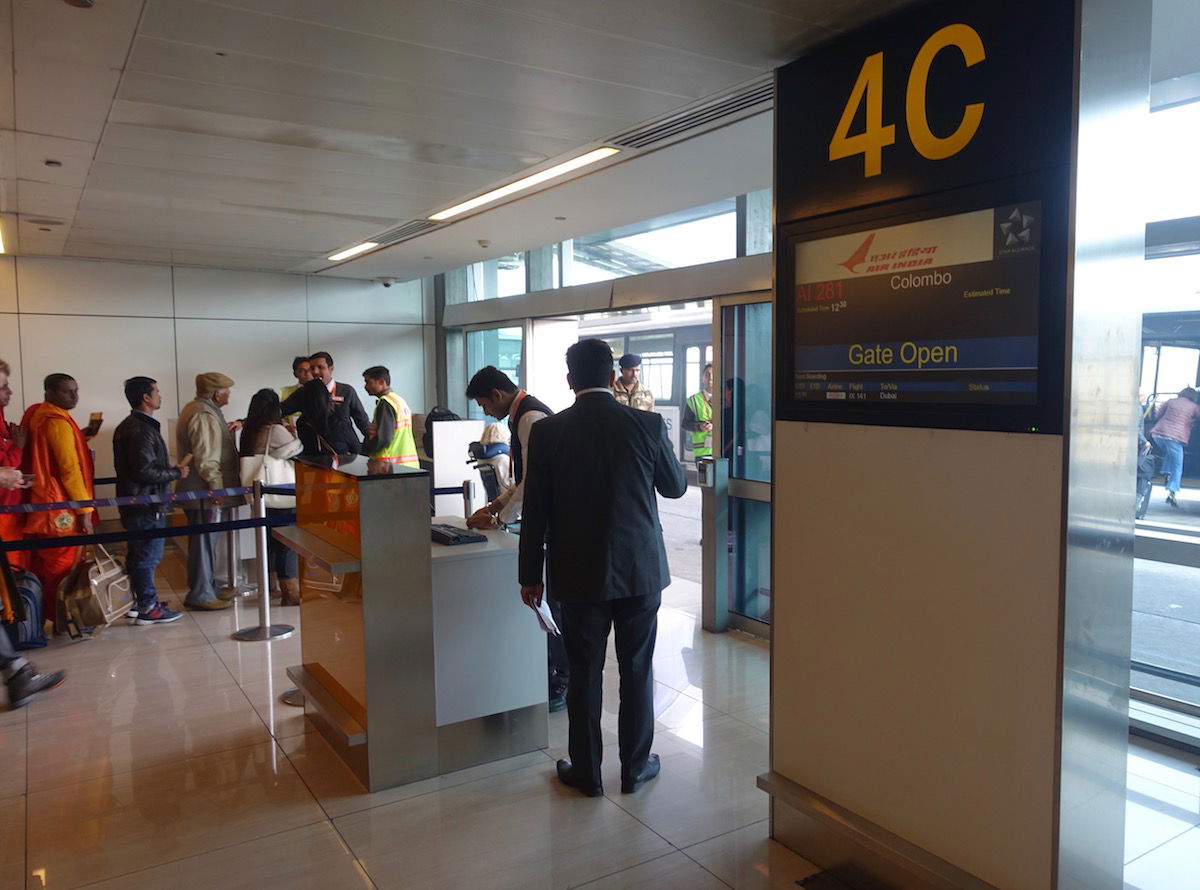 Delhi Airport departure gate
It was quite a long ride to the plane, and the driver didn't seem to take much consideration when making turns for the fact that we were packed in there like sardines.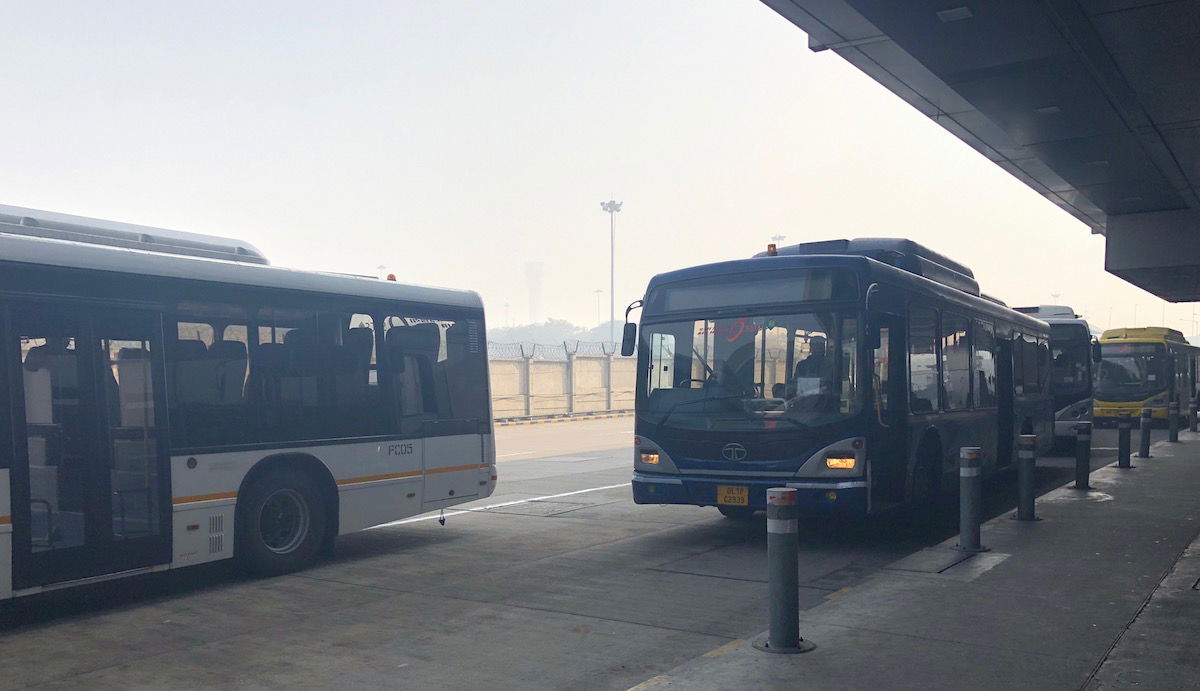 Delhi Airport bus to remote stand
Air India 281
Delhi (DEL) – Colombo (CMB)
Saturday, January 6
Depart: 12:30PM
Arrive: 4:05PM
Duration: 3hr35min
Aircraft: Airbus A321
Seat: 3A (Business Class)
At around 12:20PM we arrived at our remote stand. Air India has one of the most recognizable liveries out there, especially with how they paint the perimeter of their windows. On one hand I don't love the livery, on the other hand there's something about it that I appreciate. You'll never mix up an Air India plane with another airline.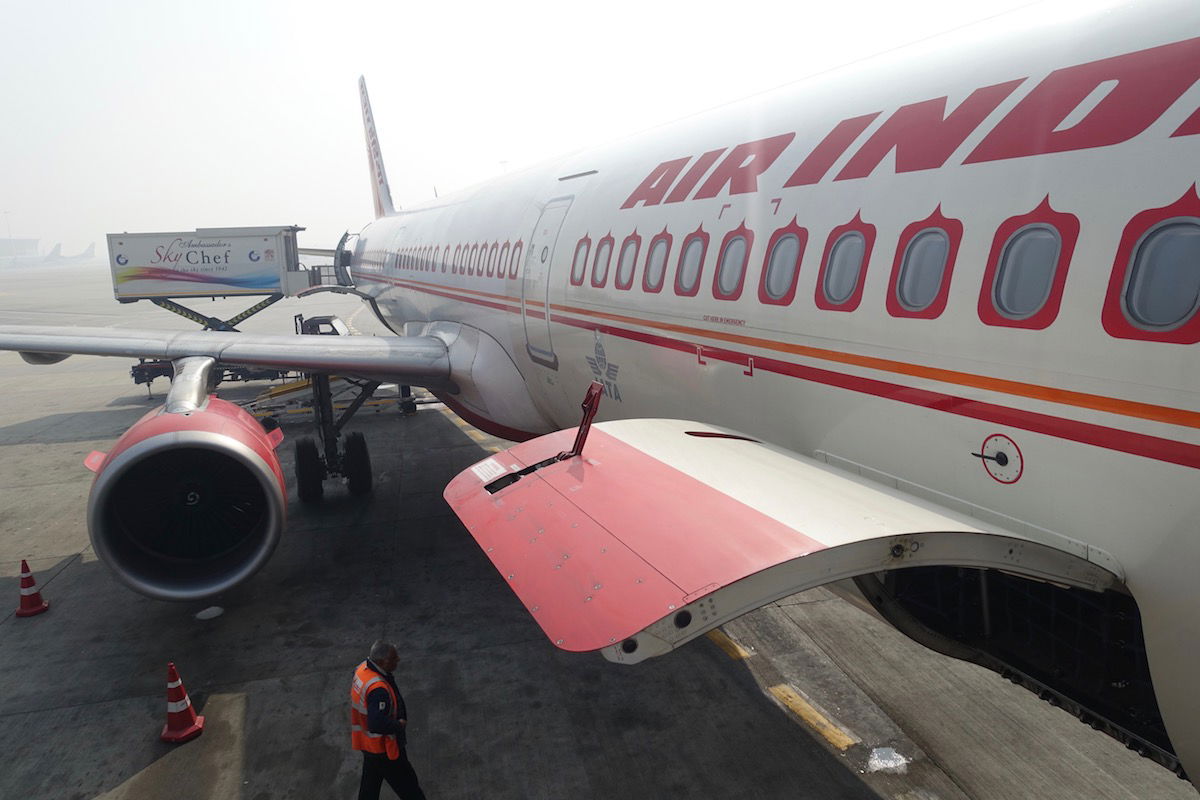 Air India A321 Delhi Airport
While the 787 was modern and (mostly) beautiful, this A321 felt ancient. Oh my gosh, it was in awful condition. The business class cabin consisted of a total of 12 seats, spread across three rows in a 2-2 configuration.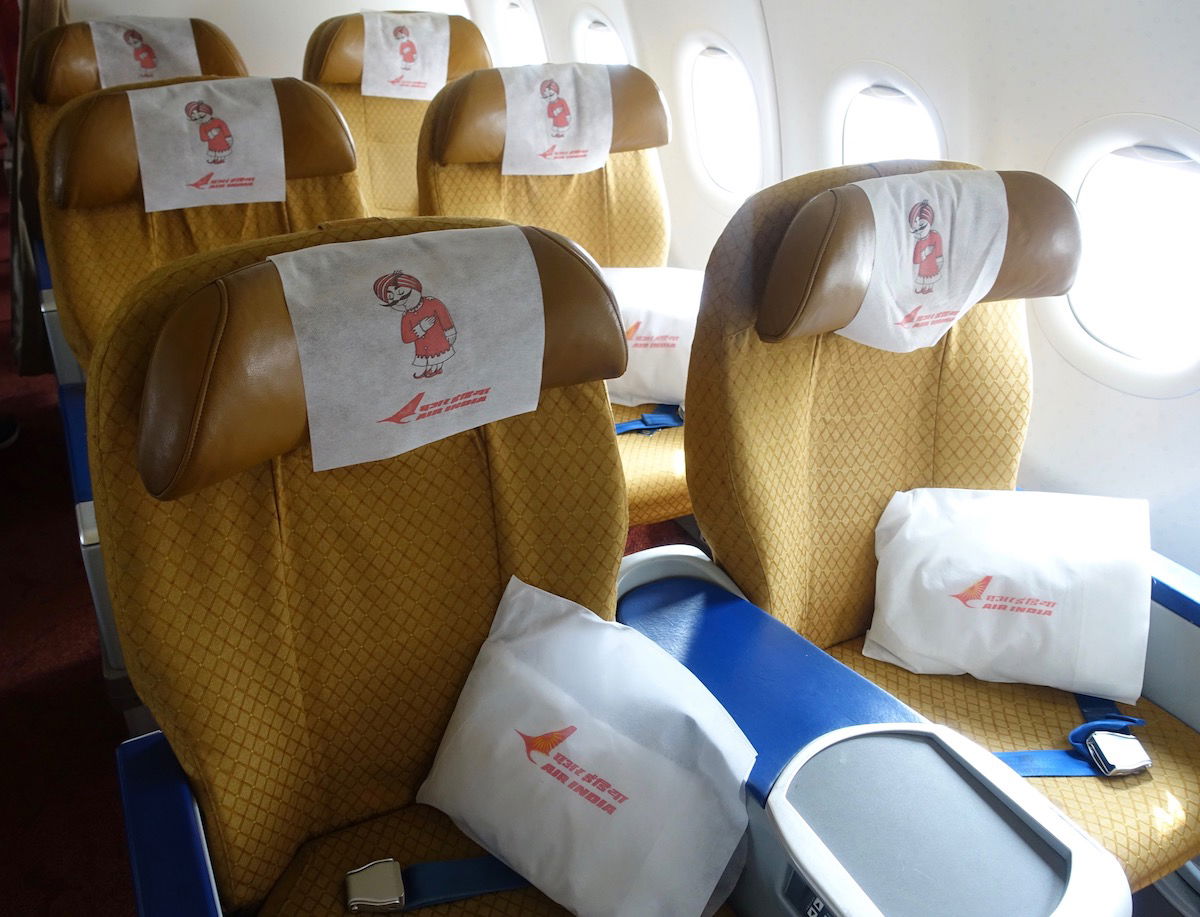 Air India business class cabin A321
I had assigned myself seat 3A, the window seat on the left side in the third row.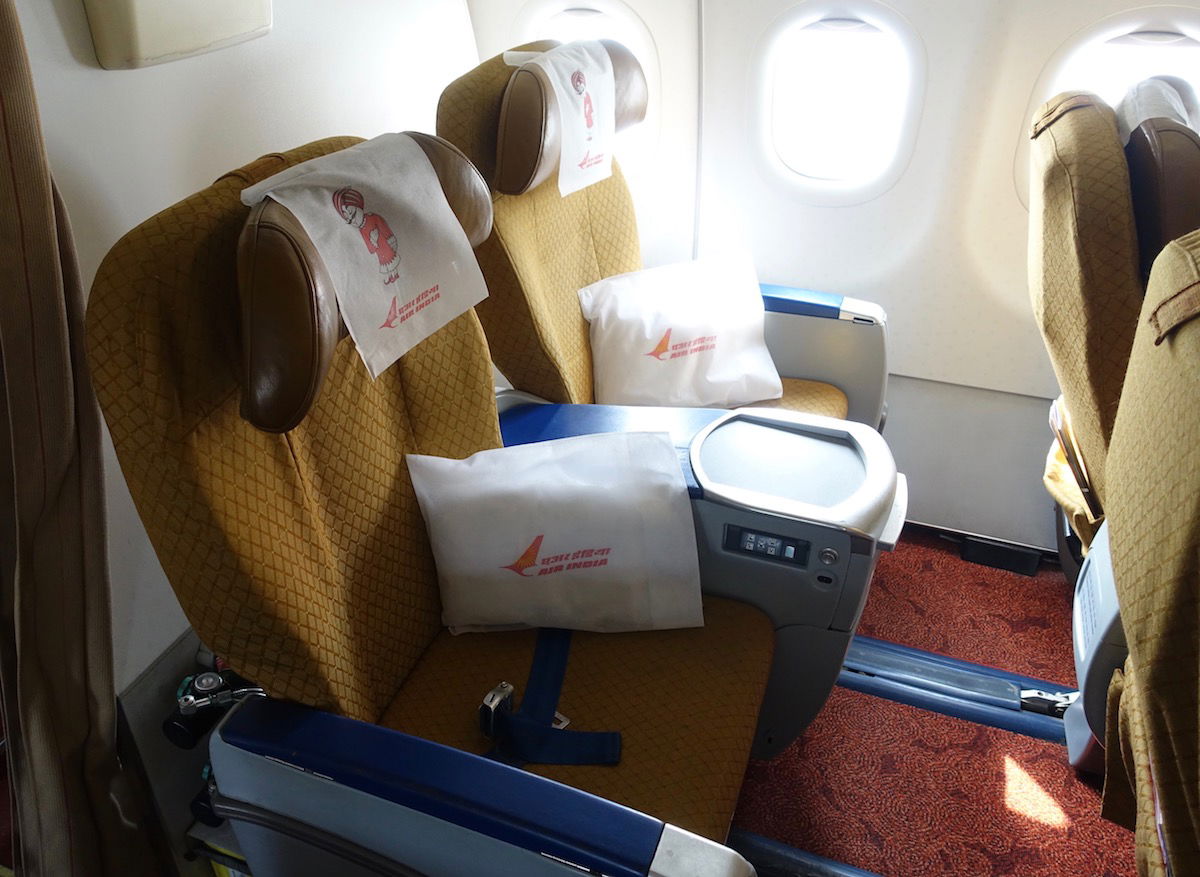 Air India A321 business class seats
The legroom was reasonably good, marginally better than what you'd find in first class domestically on a US airline.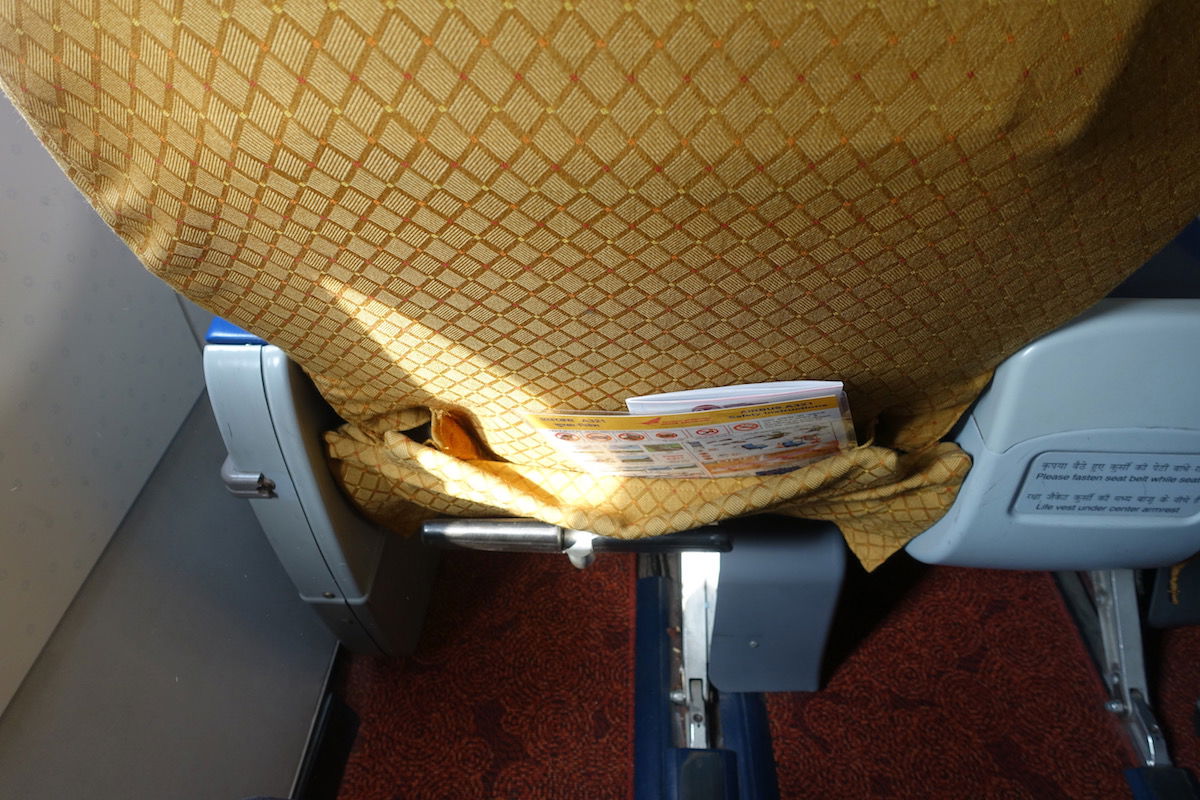 Air India A321 business class legroom
Each seat had a footrest, though mine wouldn't stay up.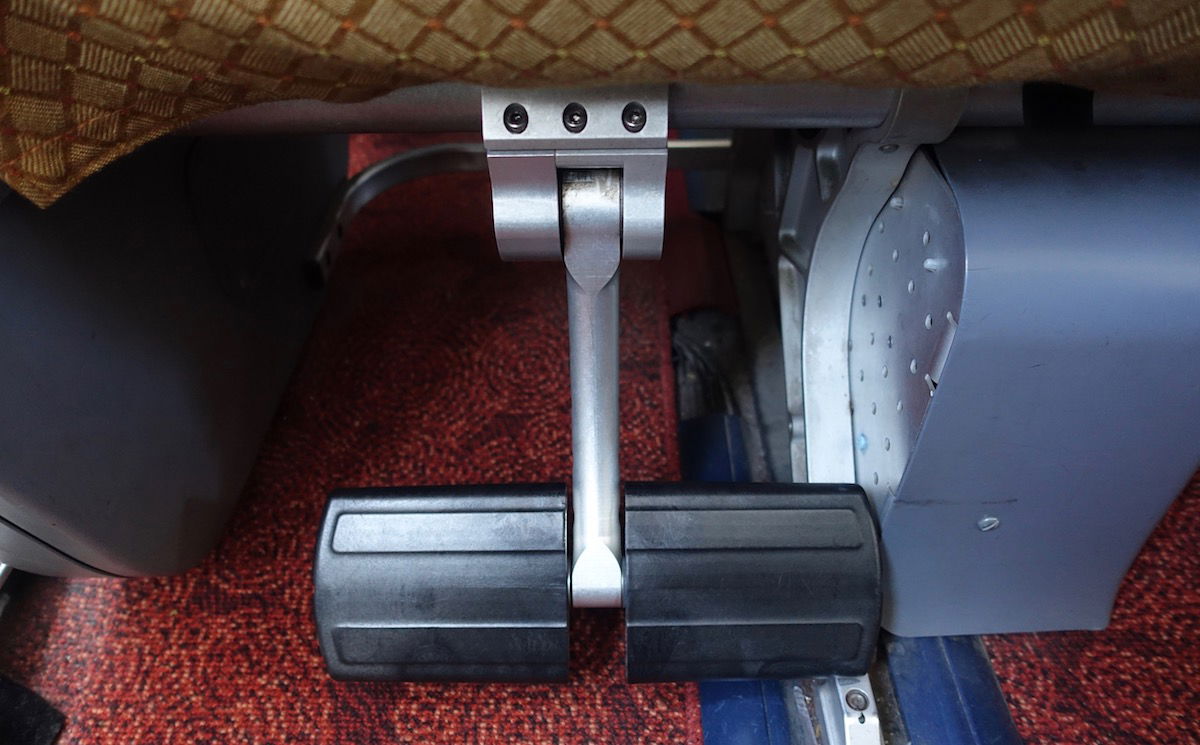 Air India business class footrest
There was a manual seat recline button on the center armrest, as well as an audio control panel, though I don't think it was actually connected to anything, as there was no inflight entertainment.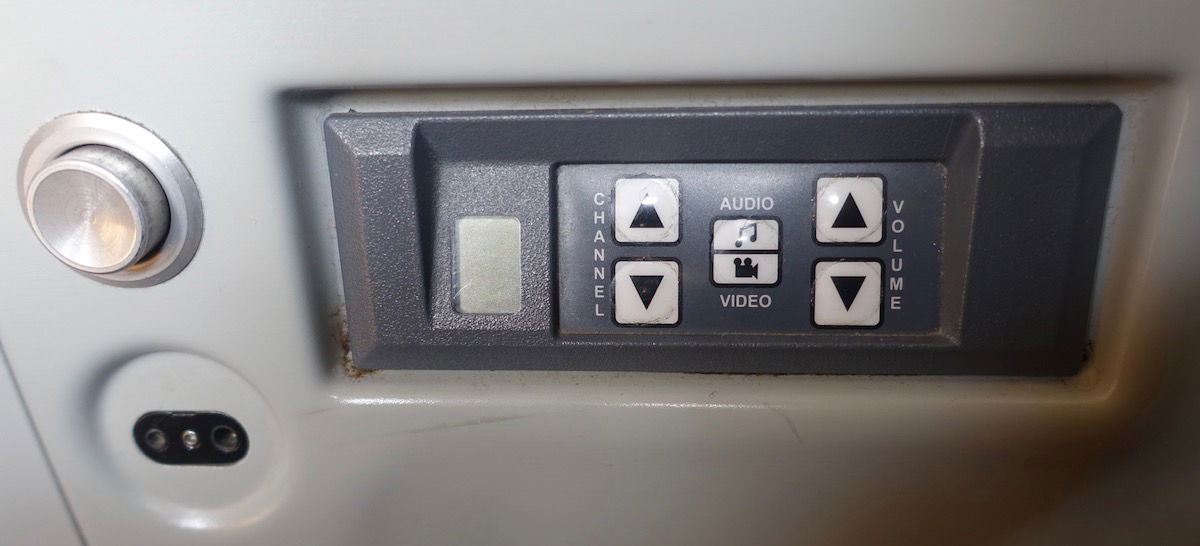 Air India business class seat controls
Speaking of inflight entertainment, the bulkheads in both business and economy had little things that looked like personal televisions, but really they were just little signs that said "welcome aboard." They even had volume controls. Hah. My guess is that Air India used to have screens on their A321s and then eliminated them, but didn't want to pay to completely remove those consoles.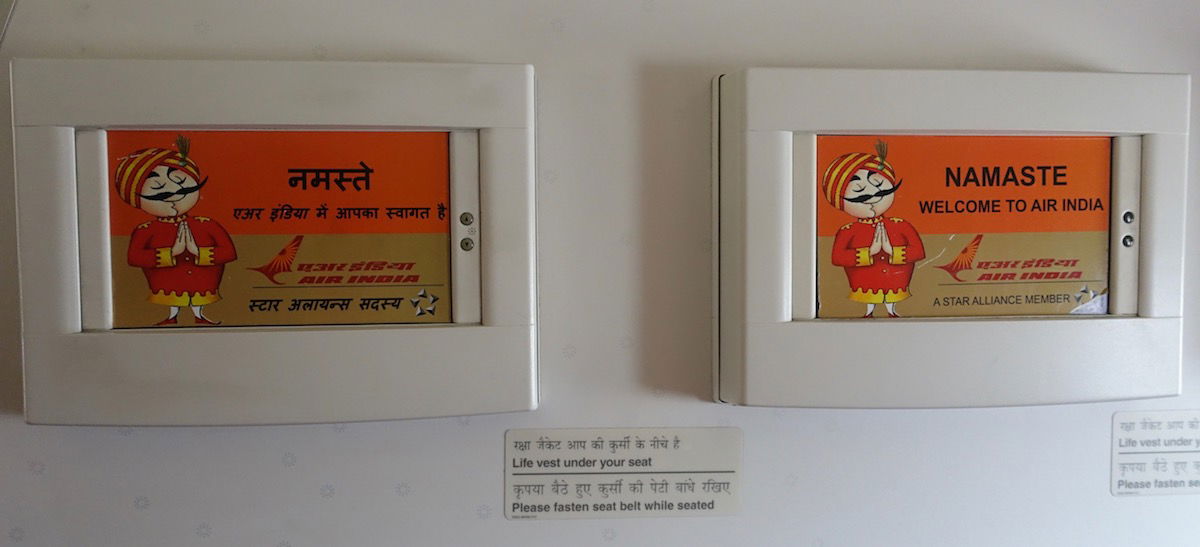 Air India A321 bulkhead
The tray table folded out from the side armrest, and was a single tray, so there was no way to fold it in half.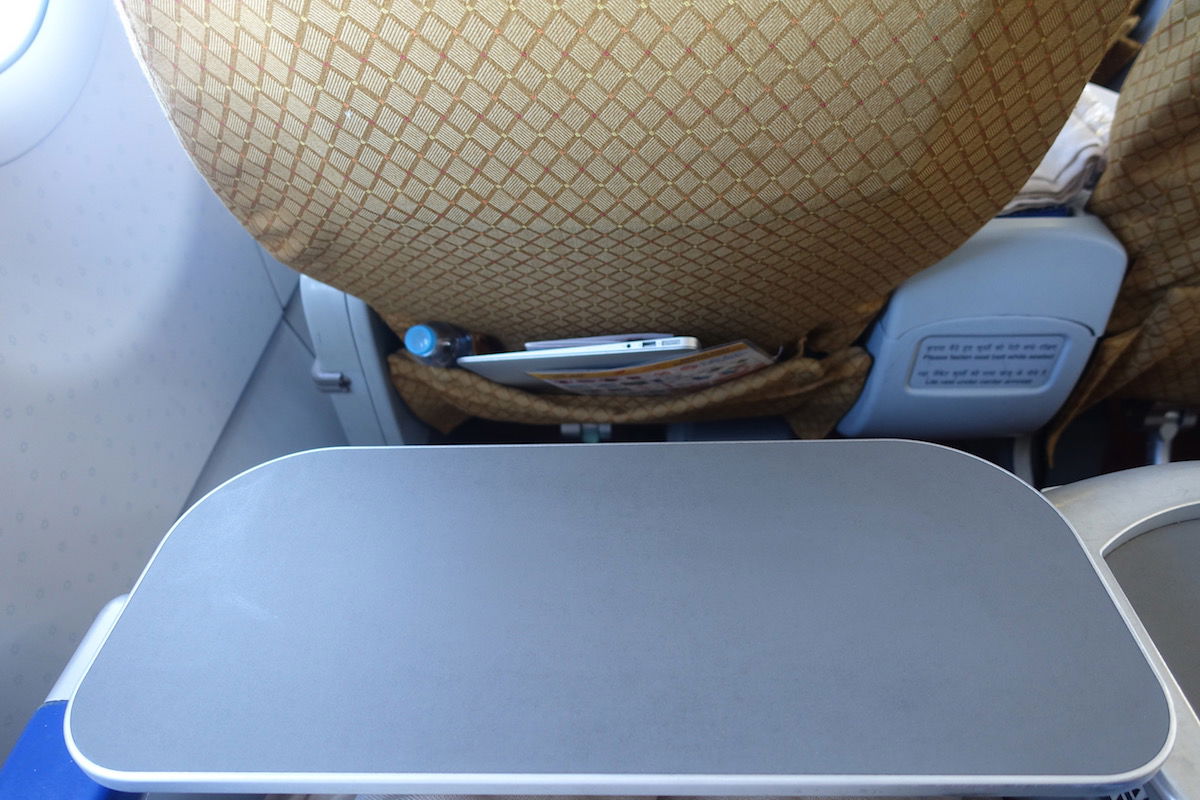 Air India business class tray table
On the center armrest was a small table that could be extended for drinks.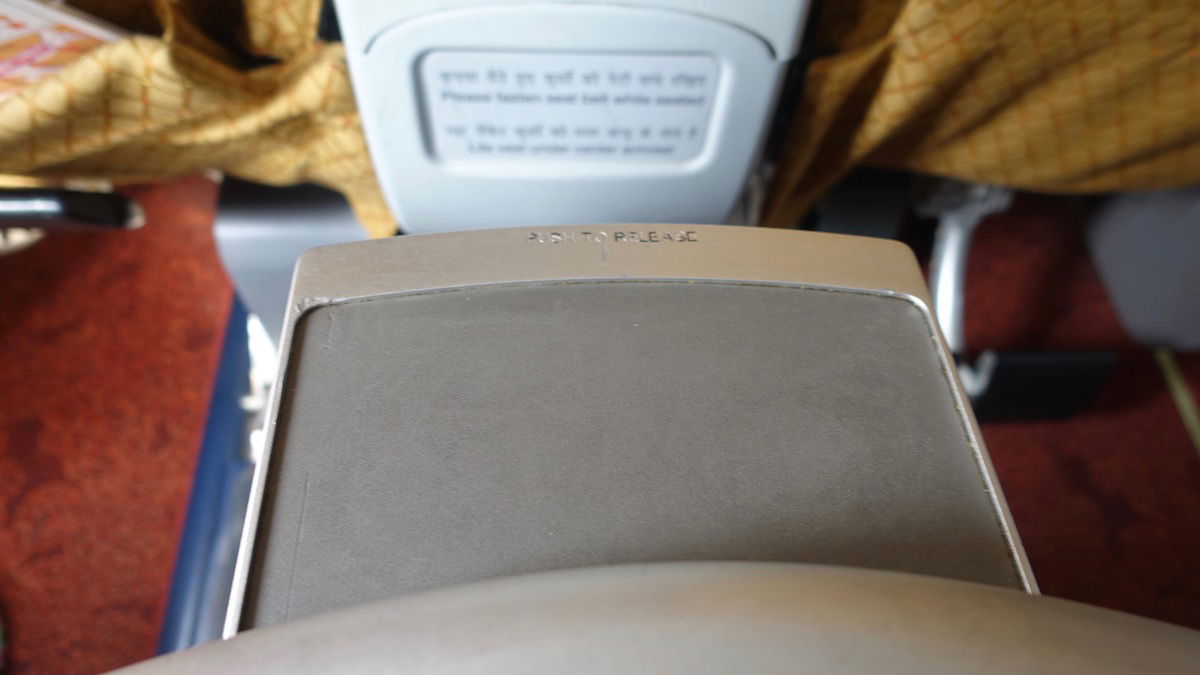 Air India business class tray
Just about the only impressive feature of the A321 was that they had individual air nozzles. Yay.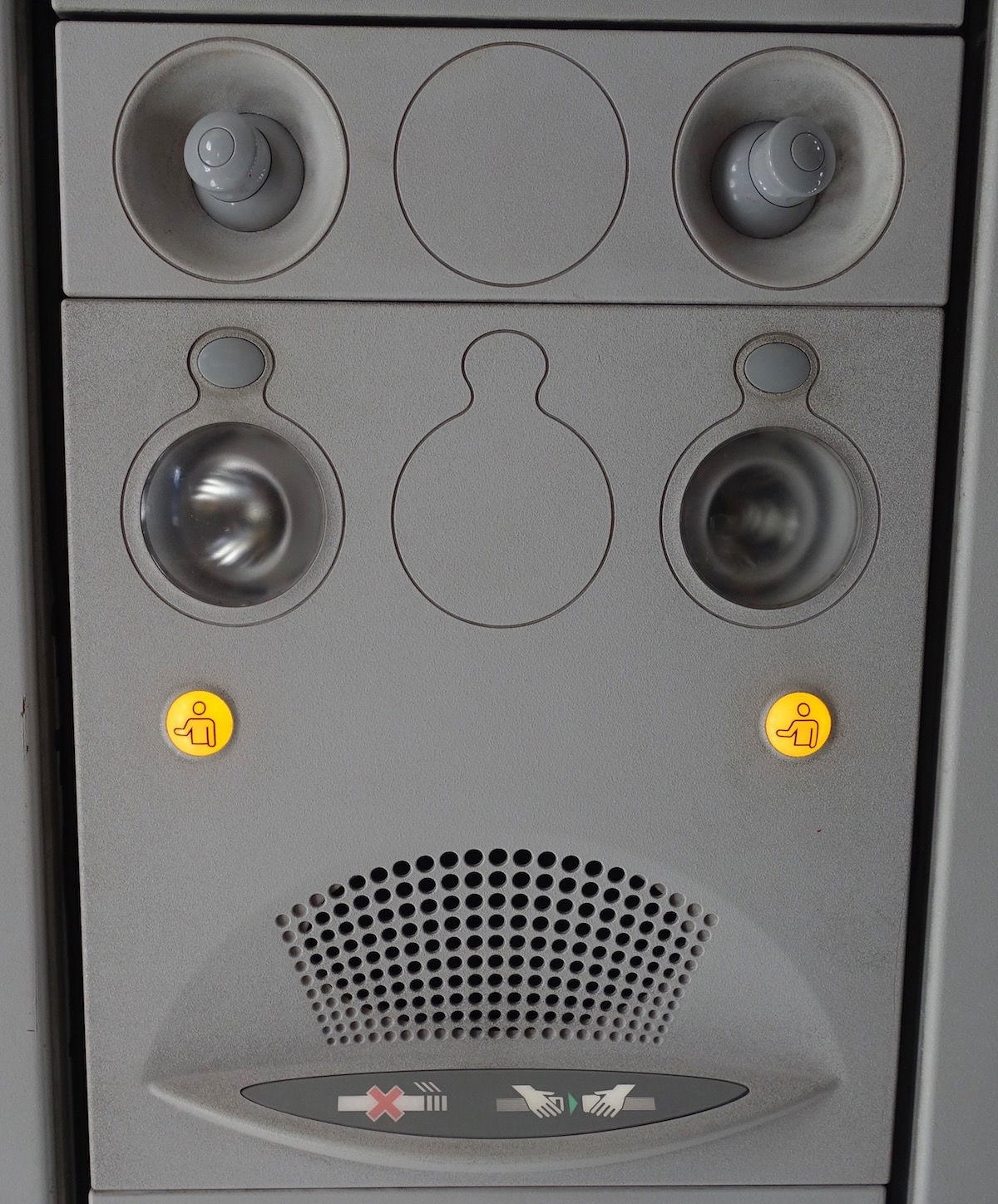 Air India business class air nozzles
One other thing I have to note is how worn the seats themselves were. The padding was just awful, and I could feel the metal inside the seat on my rear, as there was basically no cushioning left.
Also at my seat was a pillow and blanket. While basic, they at least smelled pretty good and seemed to be mostly clean.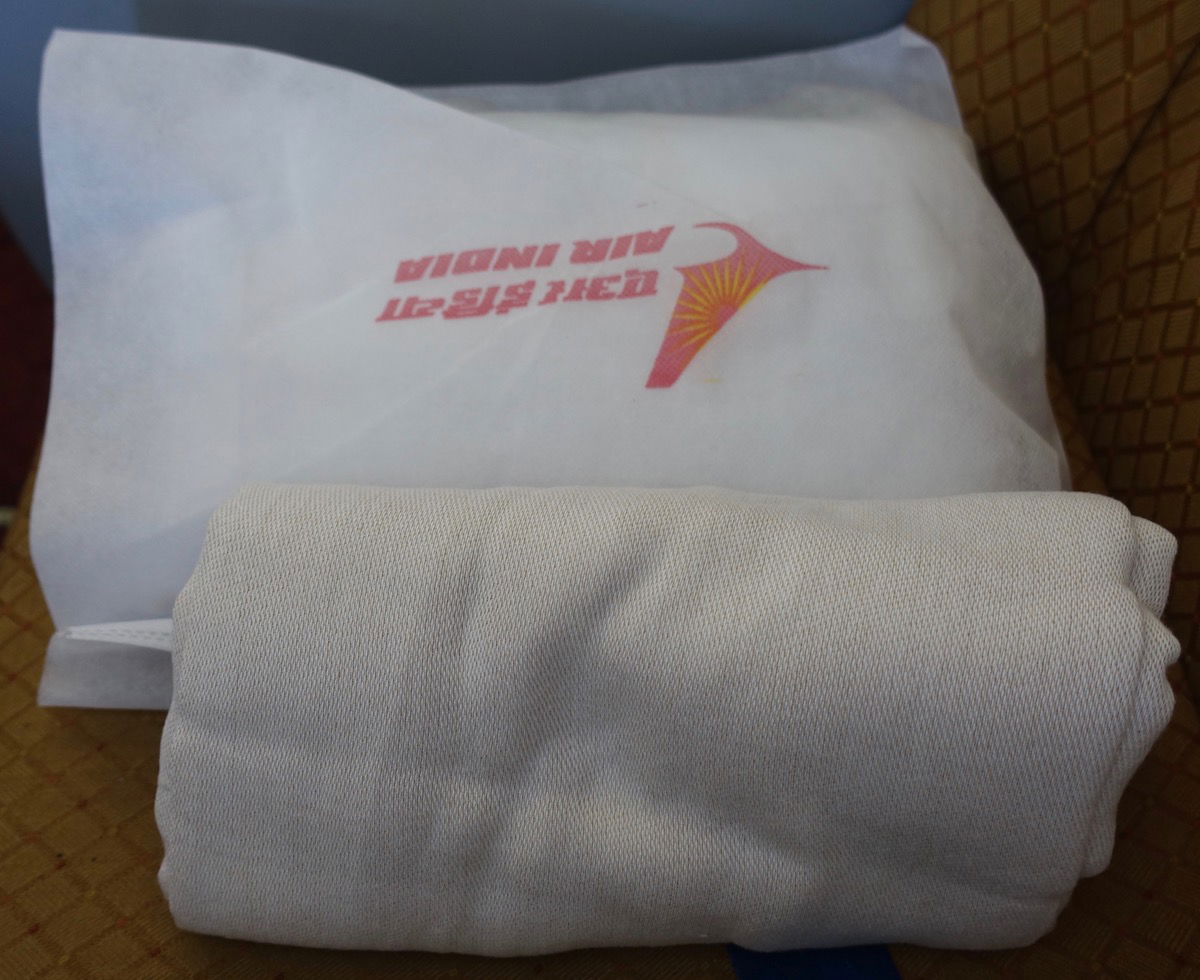 Air India business class pillow & blanket
About 15 minutes after settling in, Sabitha, the cabin supervisor, came around to offer pre-departure drinks. The choice was between orange juice and coconut water, and I was also offered a (very small) bottle of water.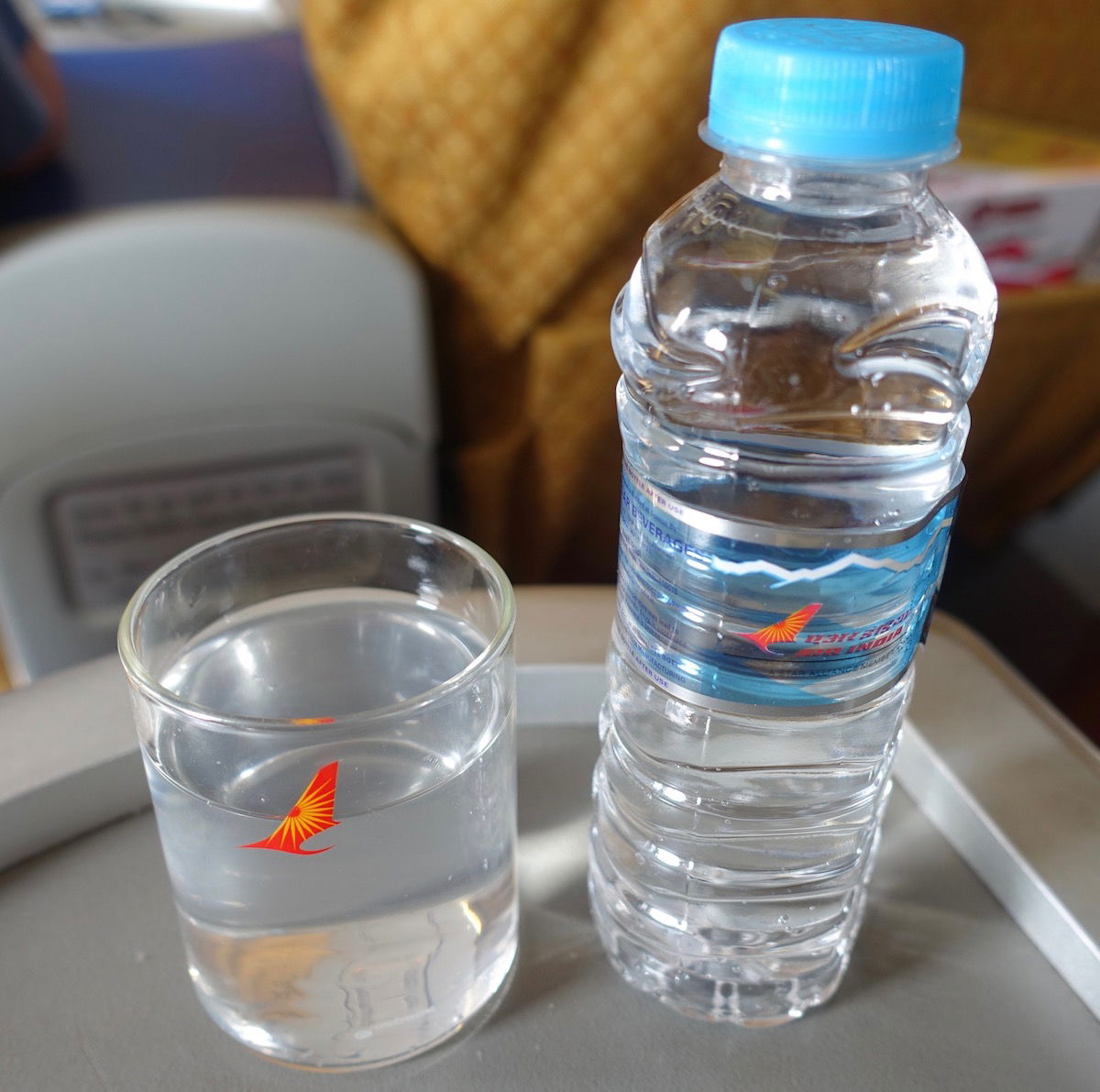 Air India business class pre-departure drink and bottled water
A couple more buses showed up over the next 20 minutes, and at 12:45PM the main cabin door closed. At that point seven of the 12 business class seats were occupied. Fortunately the seat next to me was empty, as the other groups were just parties of two traveling together.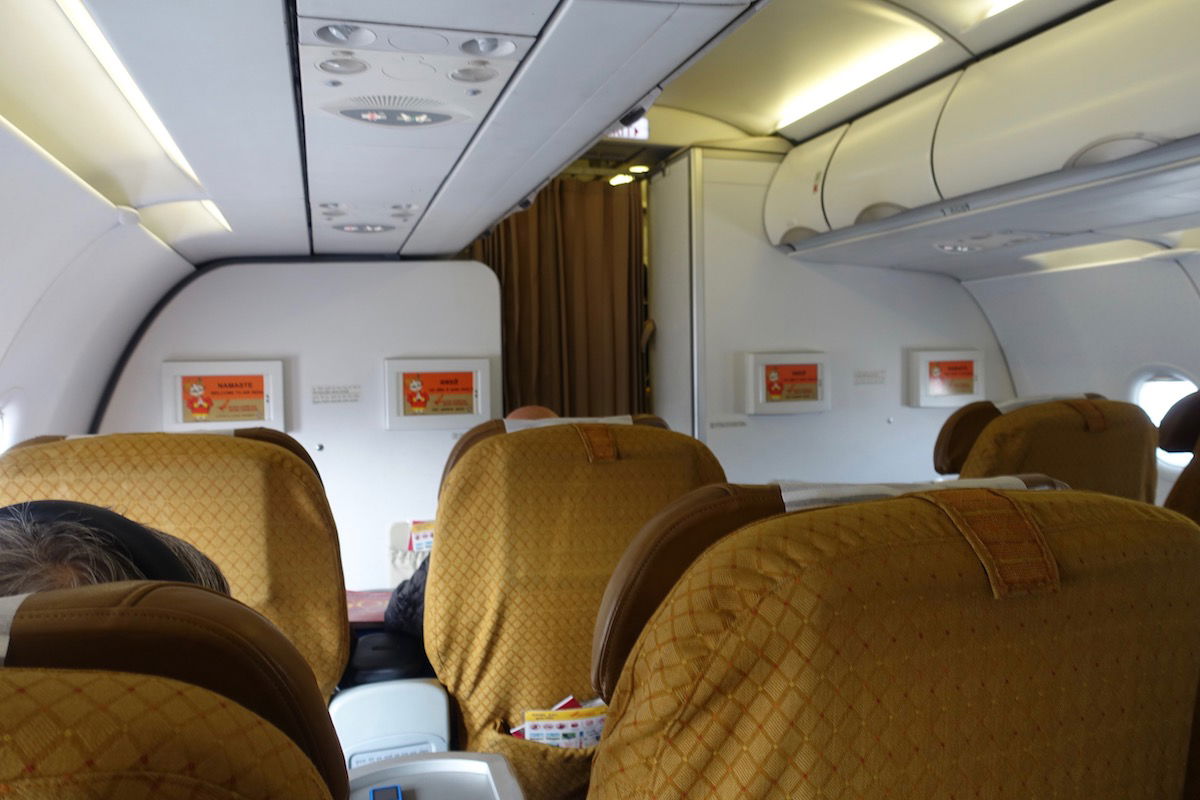 Air India A321 business class cabin
Shortly after the door closed, Sabitha announced our flight time of 3hr45min (which seemed awfully long to me for a 1,483 mile journey), and commenced the manual safety demonstration.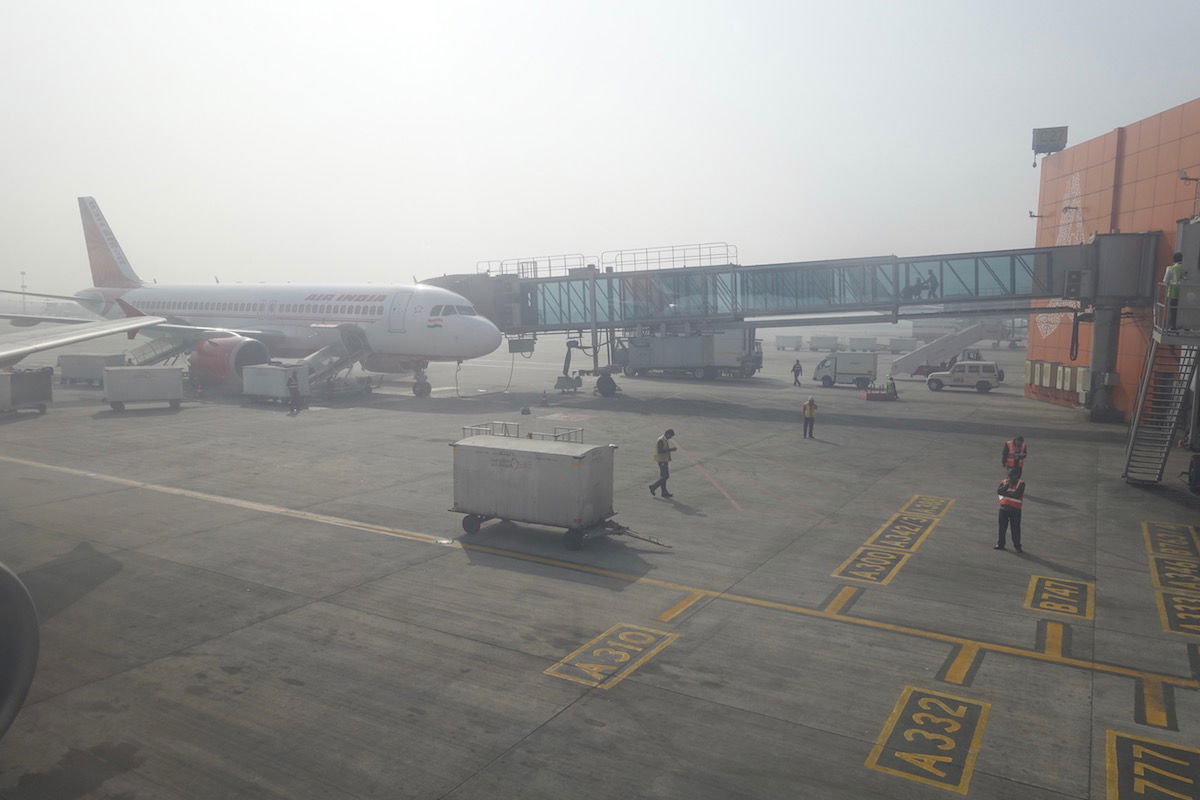 View prior to pushback Delhi Airport
Then at 12:55PM the captain announced that we were ready for departure, but that there was lots of congestion at the holding points due to poor visibility, so air traffic control had given us a 15 minute delay.
Just 10 minutes later we began our pushback.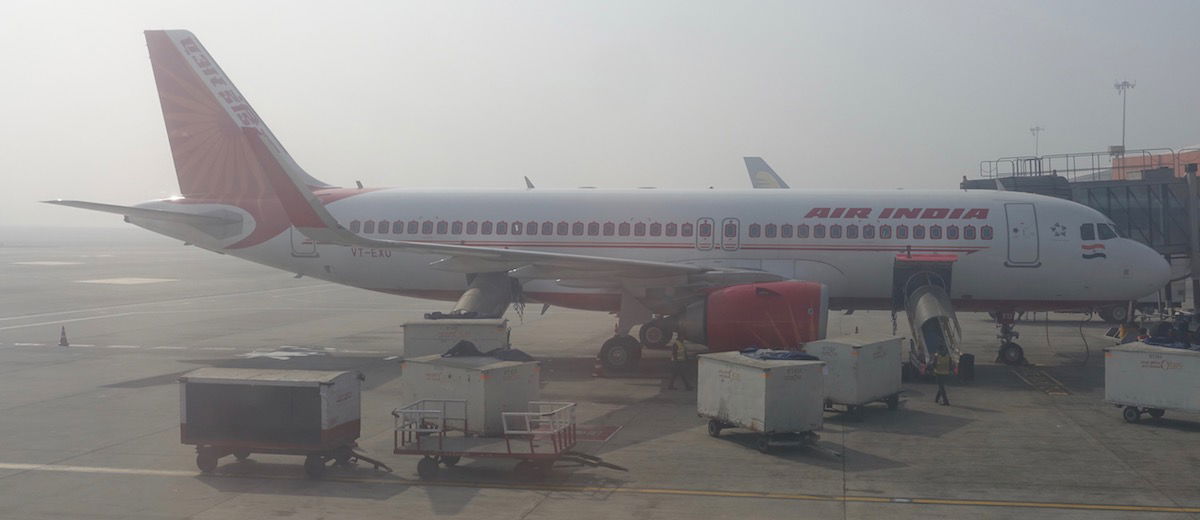 Air India A320 Delhi Airport
Our taxi to the runway was pretty quick.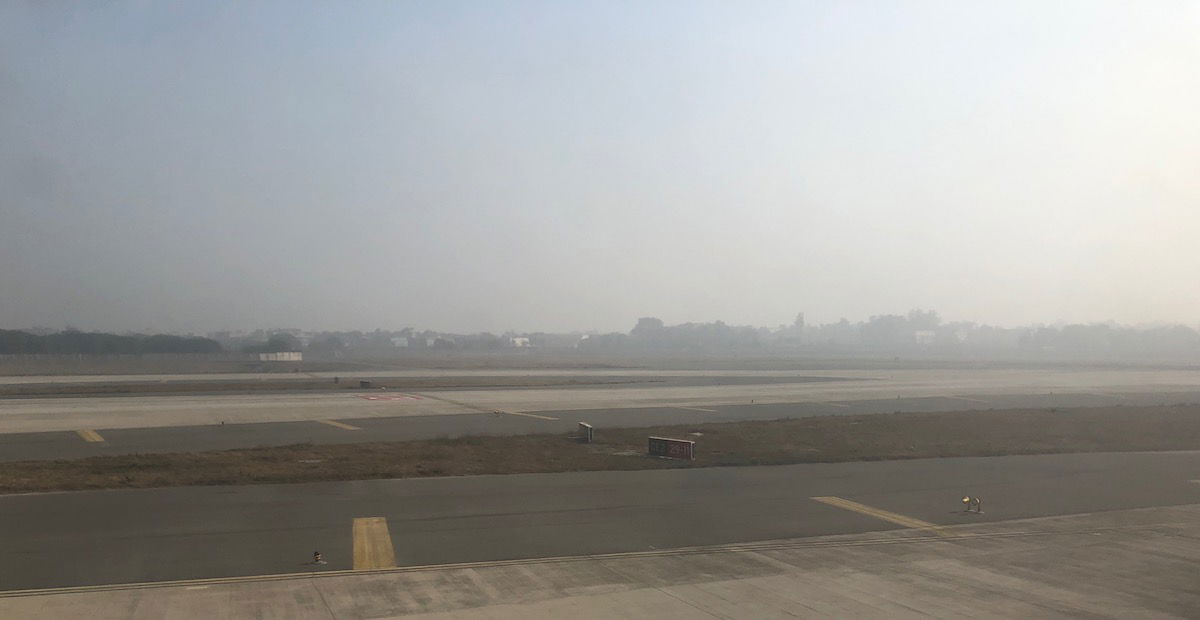 Taxiing Delhi Airport
By 1:20PM we were cleared for takeoff on runway 29.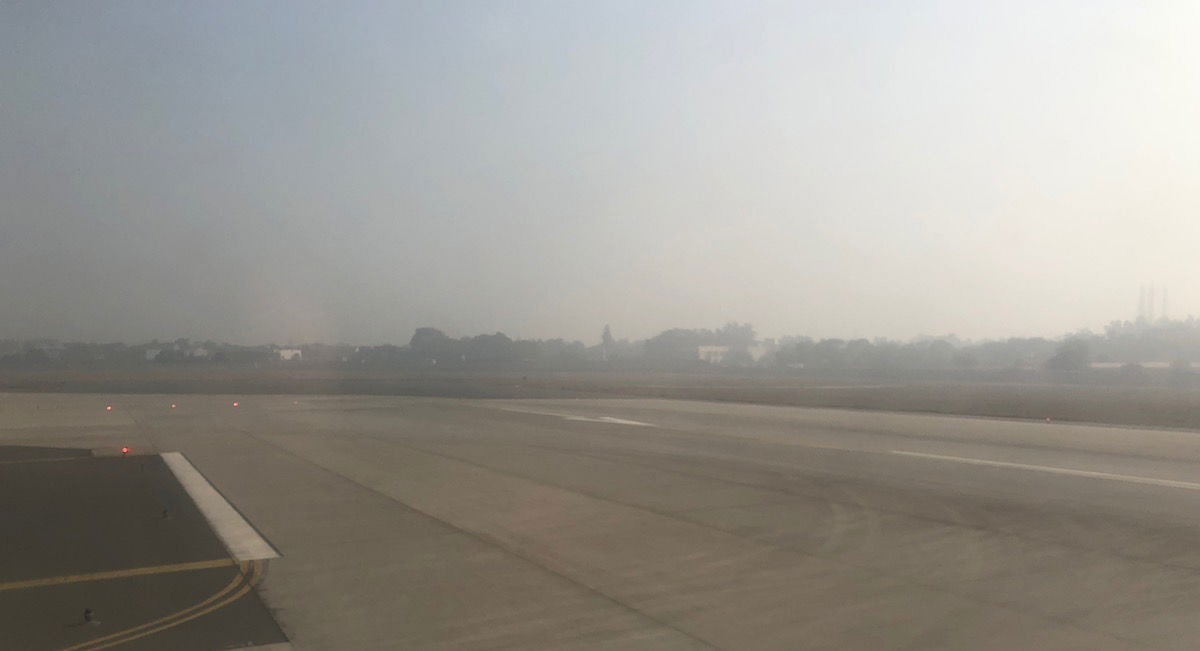 Taking off Delhi Airport
Despite our climb out being smooth, the seatbelt sign stayed on for about 20 minutes.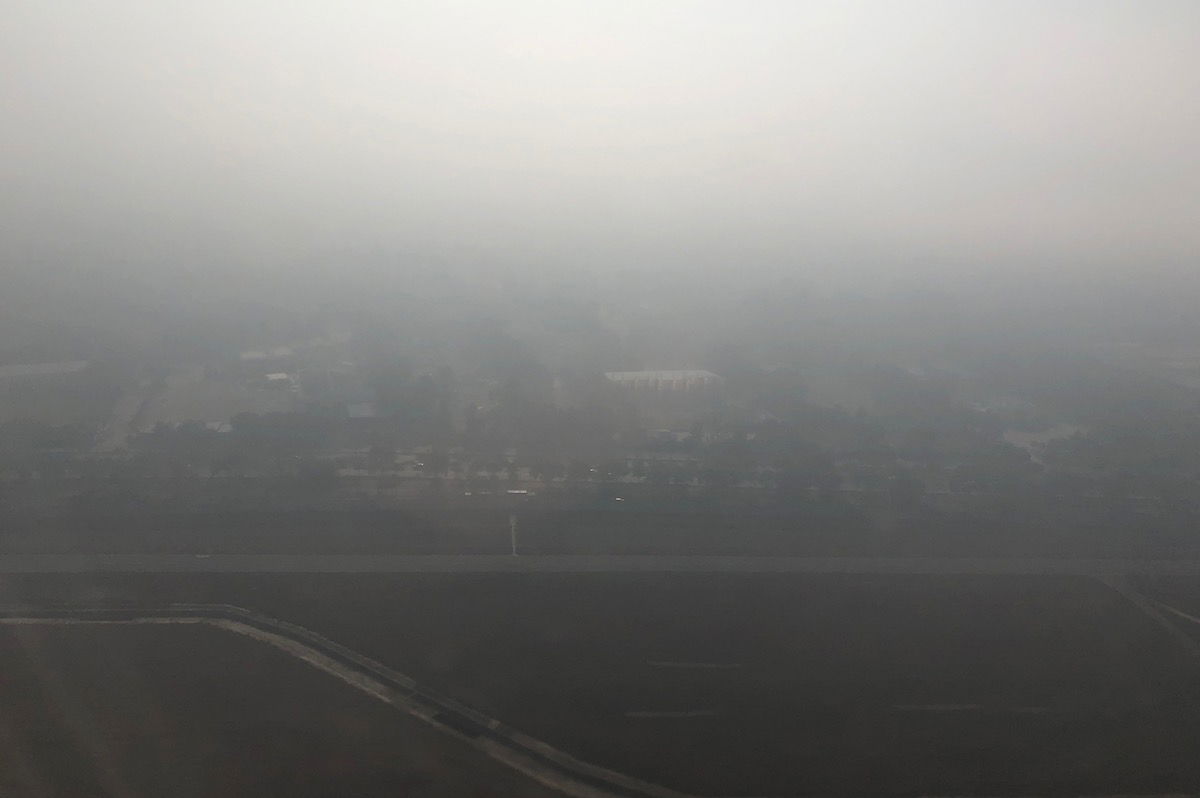 View after takeoff from Delhi
Once it was off I visited the lavatory, located at the front of the cabin. It was clean but very basic, with no special amenities. The crew did an excellent job making sure no economy passengers used the forward bathroom. They were super aggressive in enforcing their policies.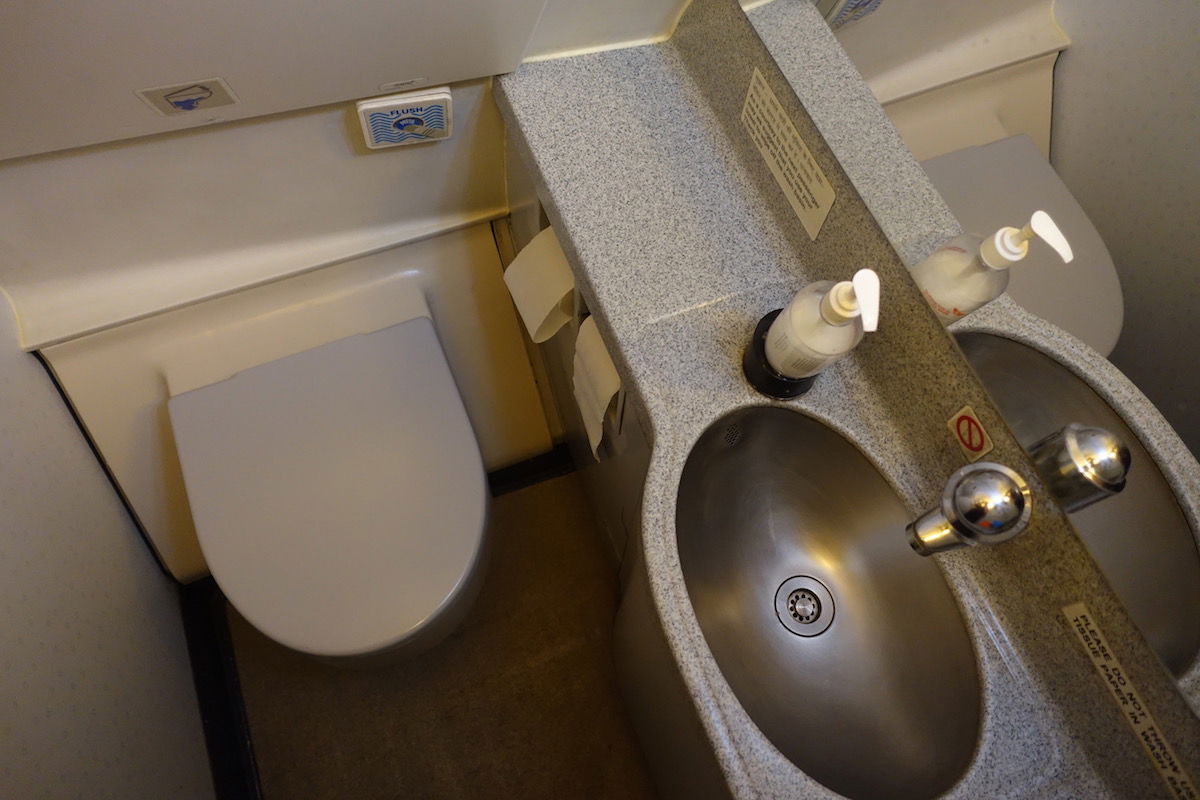 Air India business class lavatory
30 minutes after takeoff the male flight attendant came around with tablecloths and said "we are opening the bar, would you like anything?" I asked what kind of white wine they had, and he said "I'll just show it to you." A moment later he returned with the bottle, and I said I'd have that.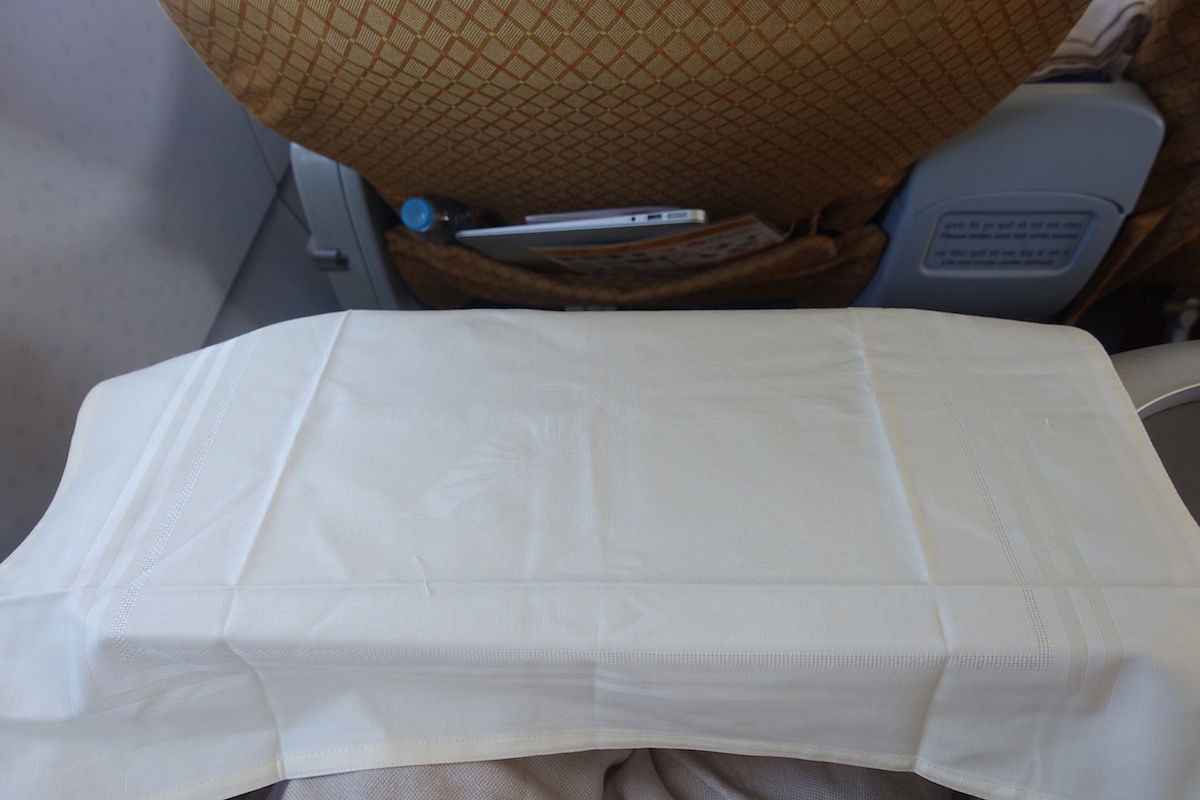 Air India business class table setting
The wine was served on a cute tray — I was given a glass, the mini-bottle, and two packages of roasted peanuts. To my surprise, the wine, in spite of being Air India branded, was quite drinkable. Maybe it's partly that I was just really bored on this flight, but I decided to have a couple of bottles, and it tasted better with every sip. 😉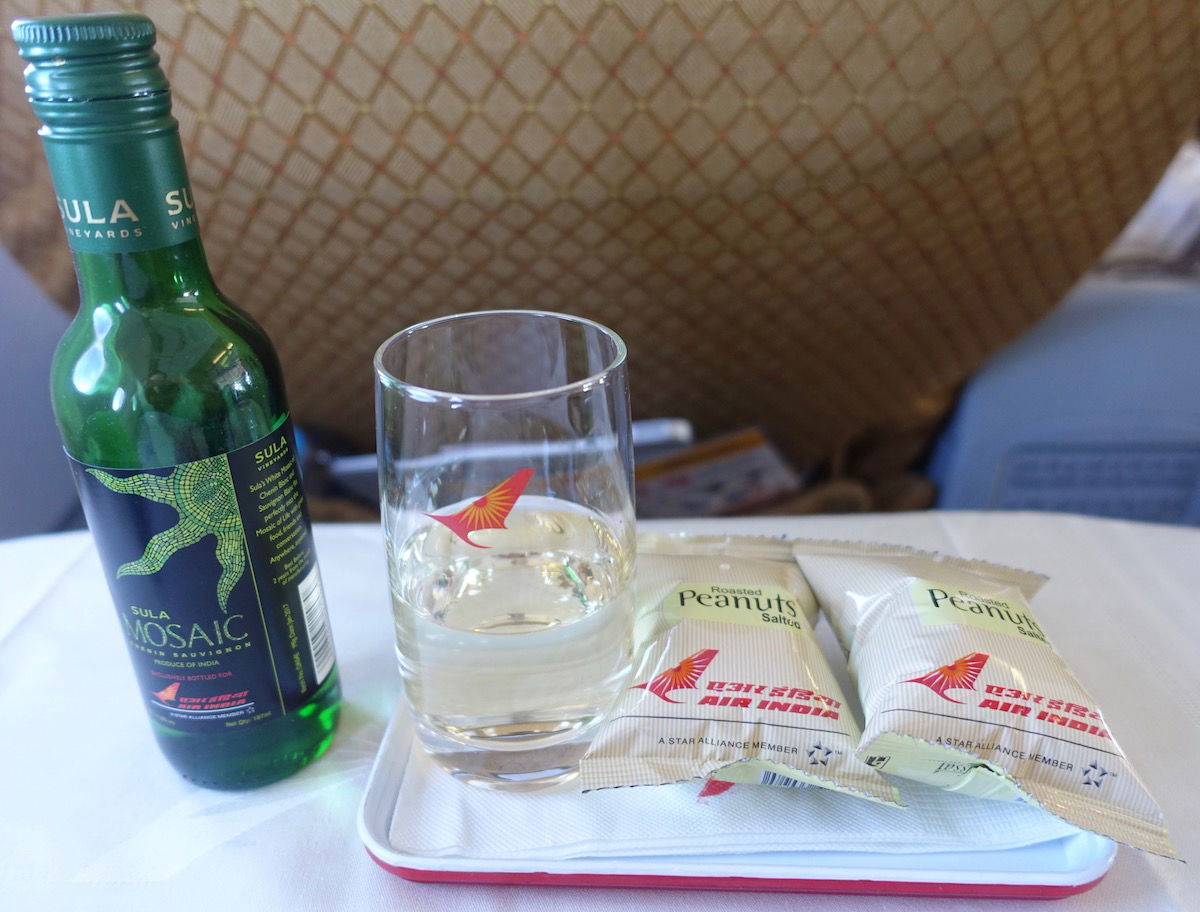 Air India business class wine & nuts
A few minutes later I was asked if I wanted something to eat. There were no menus, and when I indicated that I did, I was asked whether I wanted veg or non-veg. I said veg, and then they gave me the option between "lasagna" and "Indian food," as it was described to me. I chose the latter. A few minutes later I was brought a tray with the food. With the exception of the main, everything else was still packaged. I'm not sure if this is just laziness on the part of the crew or if it's to show that everything was handled in a "clean" way.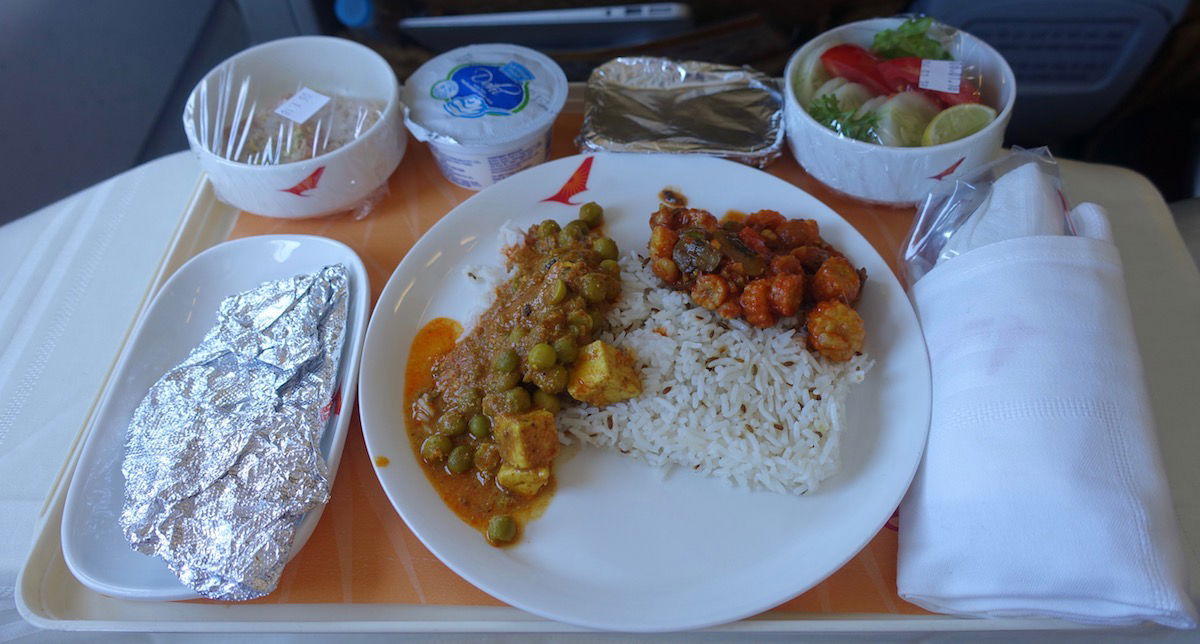 Air India business class lunch
Here's what it looked like with the packaging removed.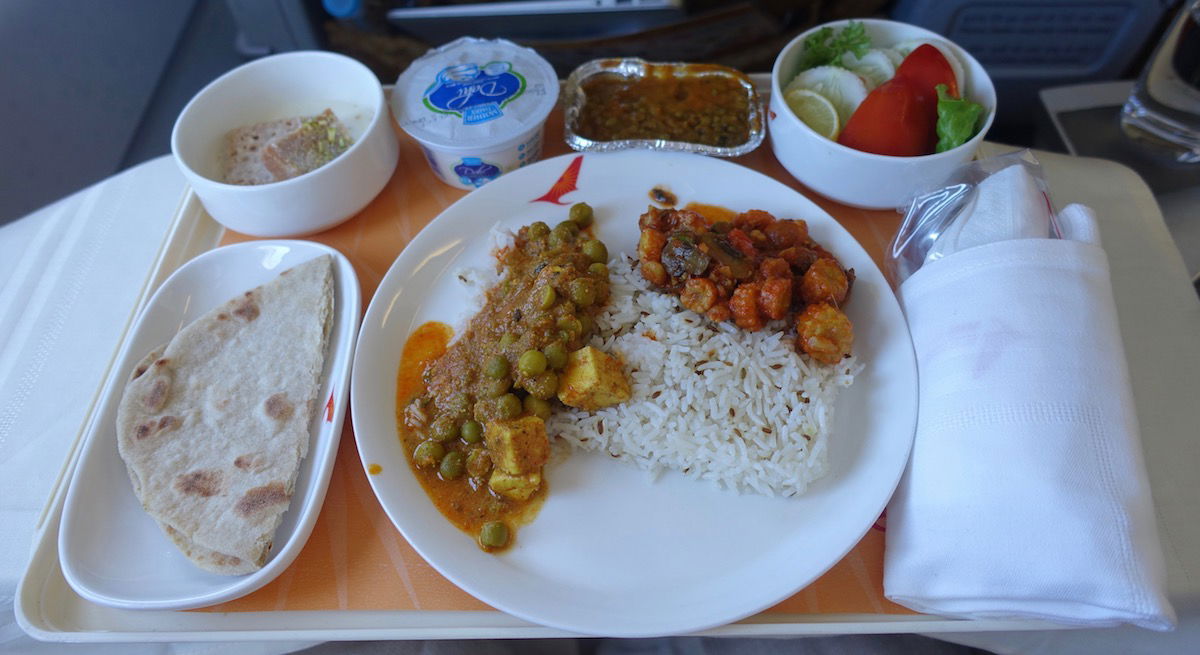 Air India business class lunch
The main course was good, though I was surprised that it was actually less spicy than what was catered out of Frankfurt.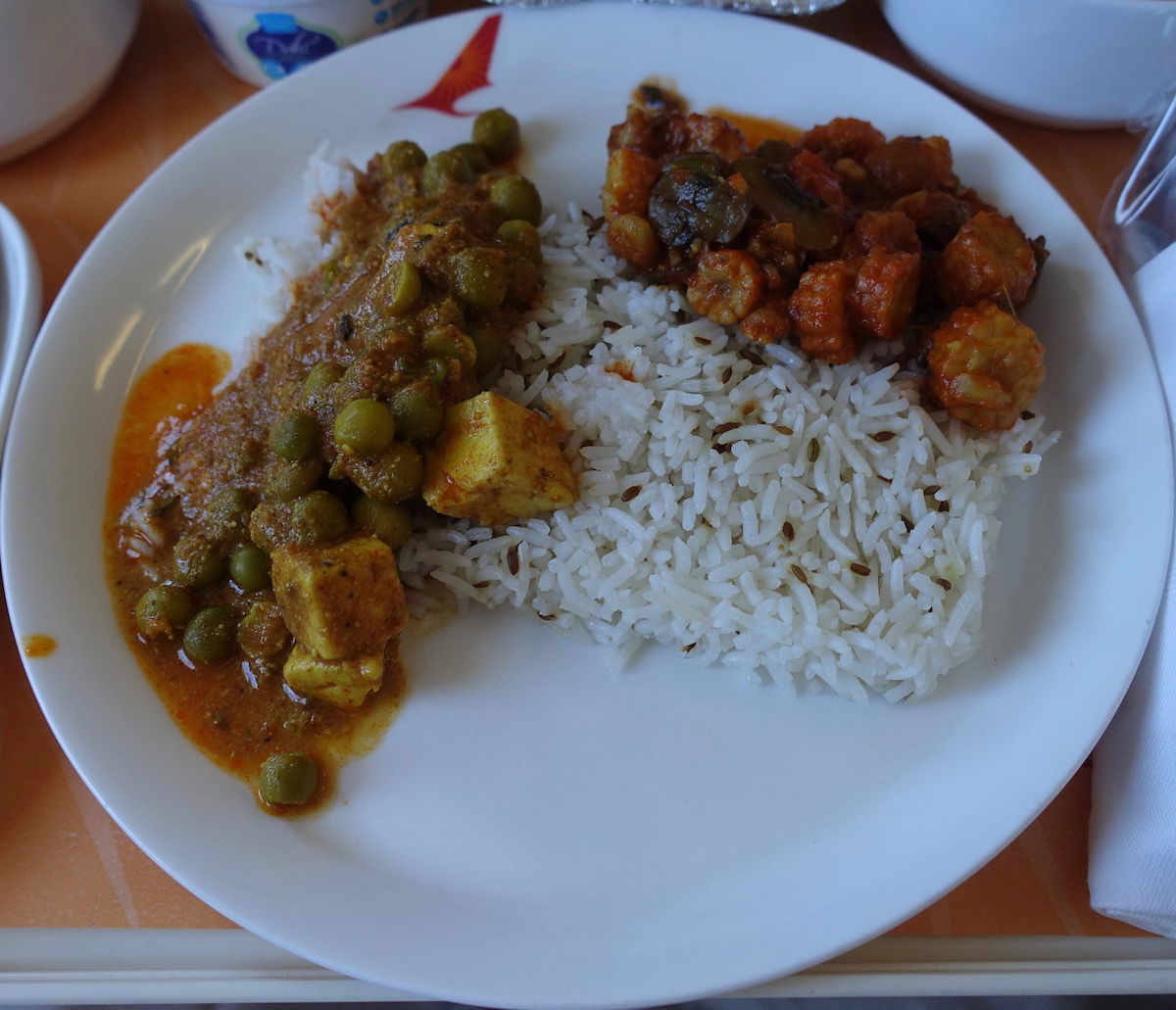 Air India business class lunch — main course
Then there was a side salad with tomatoes and cucumbers.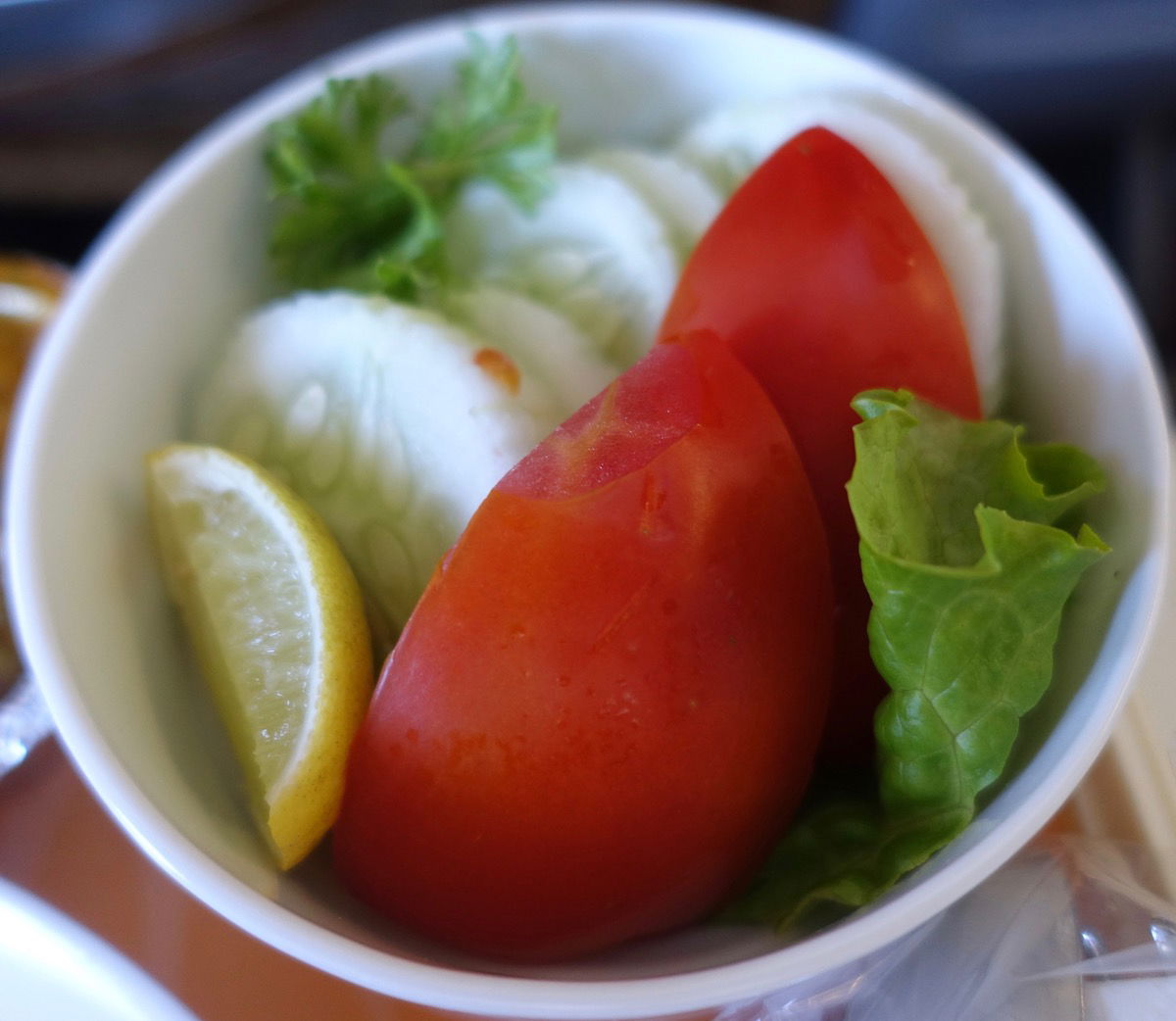 Air India business class lunch — salad
And then this side, in a little aluminum pan.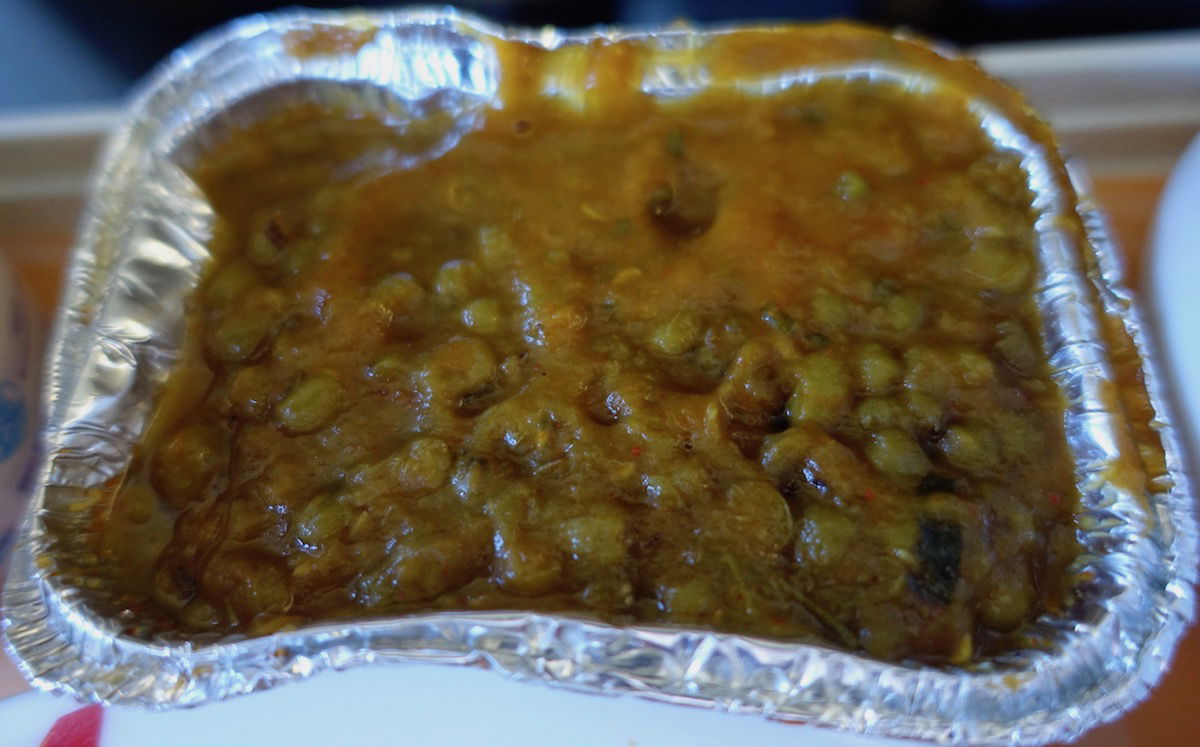 Air India business class lunch
The dessert was excellent.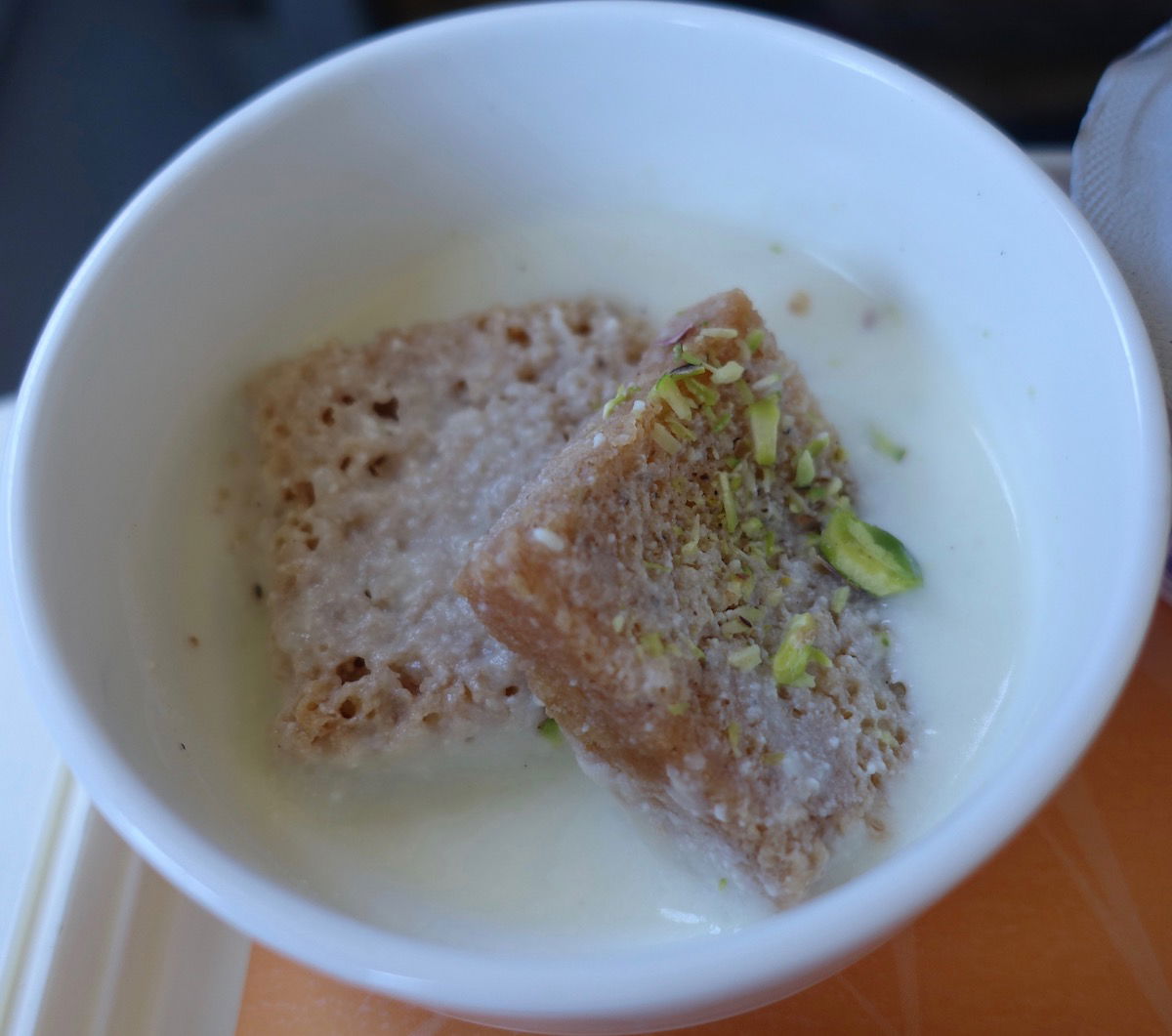 Air India business class lunch — dessert
The crew was friendly, and for the rest of the flight they passed through the cabin frequently to see if anyone wanted anything to drink. At this point I was bored out of my mind. There was no entertainment, my laptop was almost dead (and there were no power ports), etc. So I checked out the inflight shopping magazine, which was at least entertaining.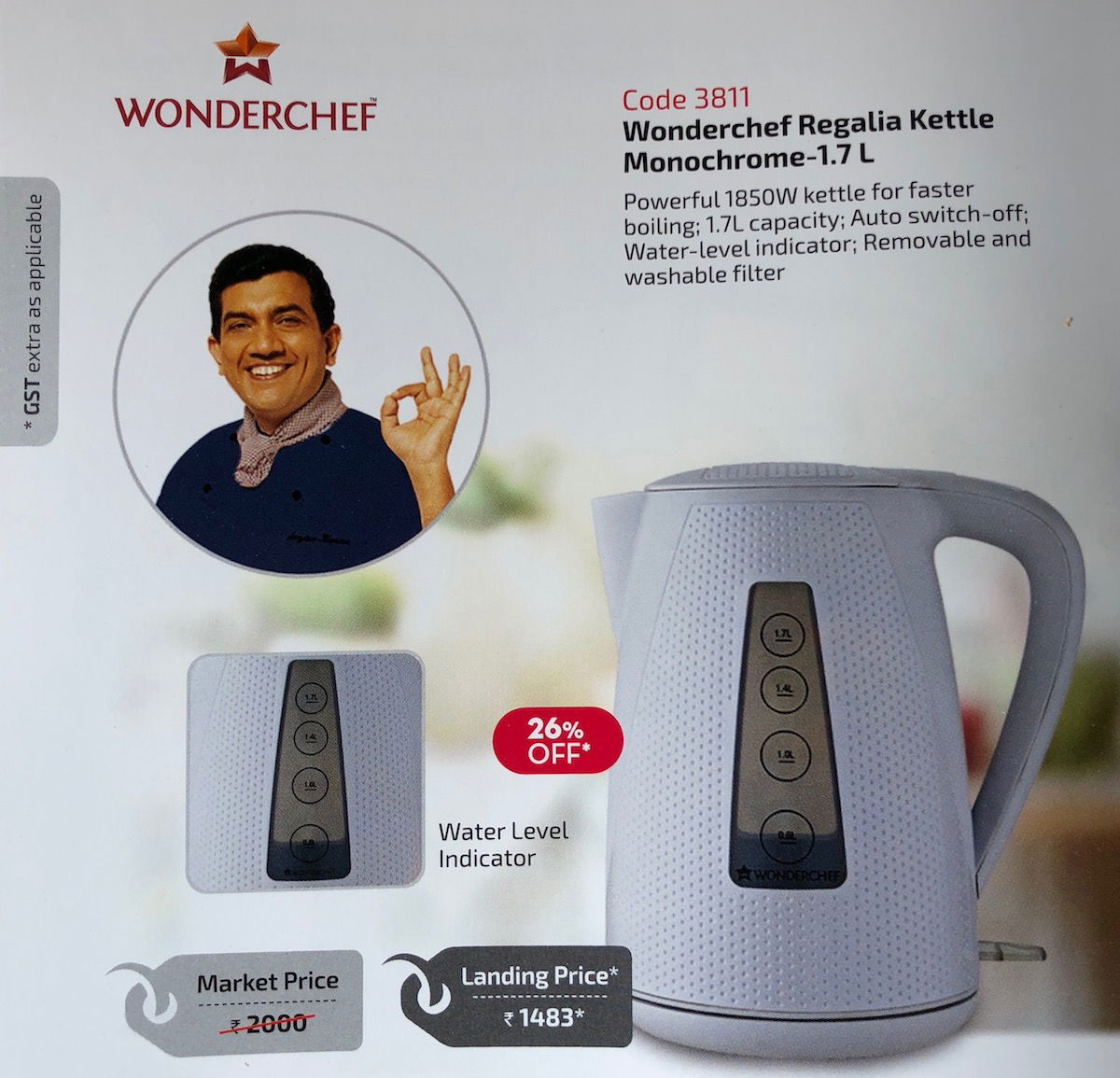 Air India in-flight shopping
To my surprise I managed to doze off a bit, and by the time I woke up we were initiating our descent, and on the center console were the landing cards for Sri Lanka.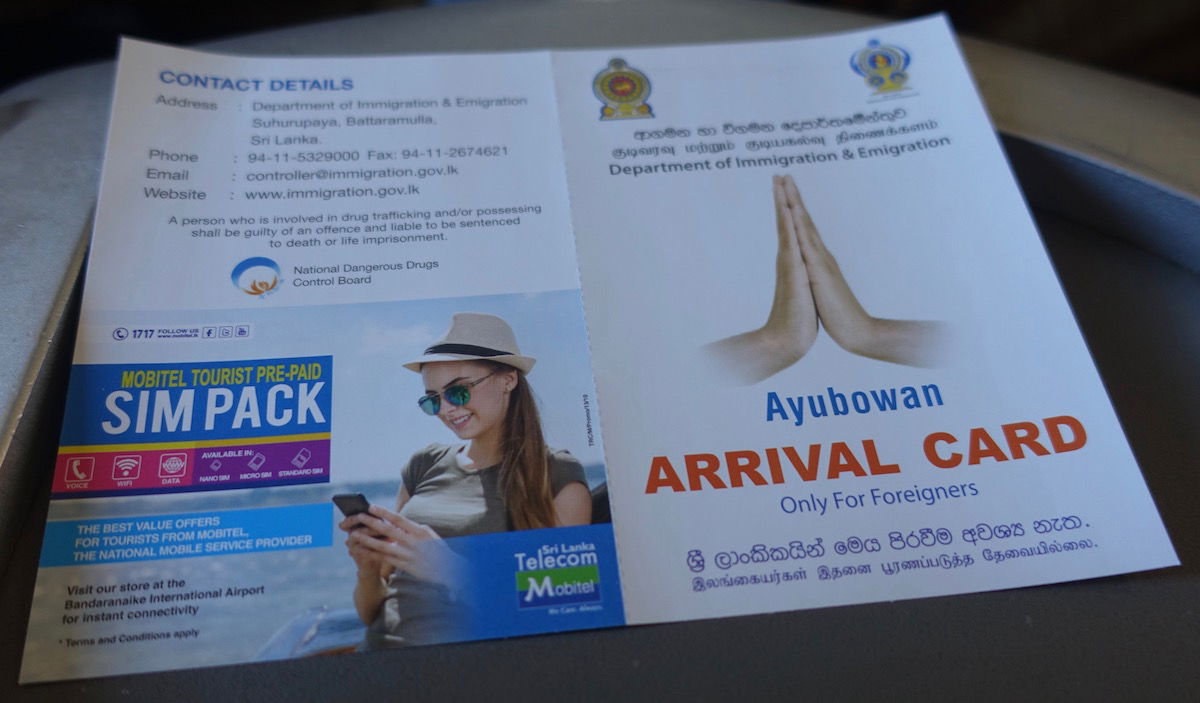 Landing form for Sri Lanka
I spent the rest of the flight looking out the window. Not only was it filthy, but it had scratches on it that made it tough to take pictures.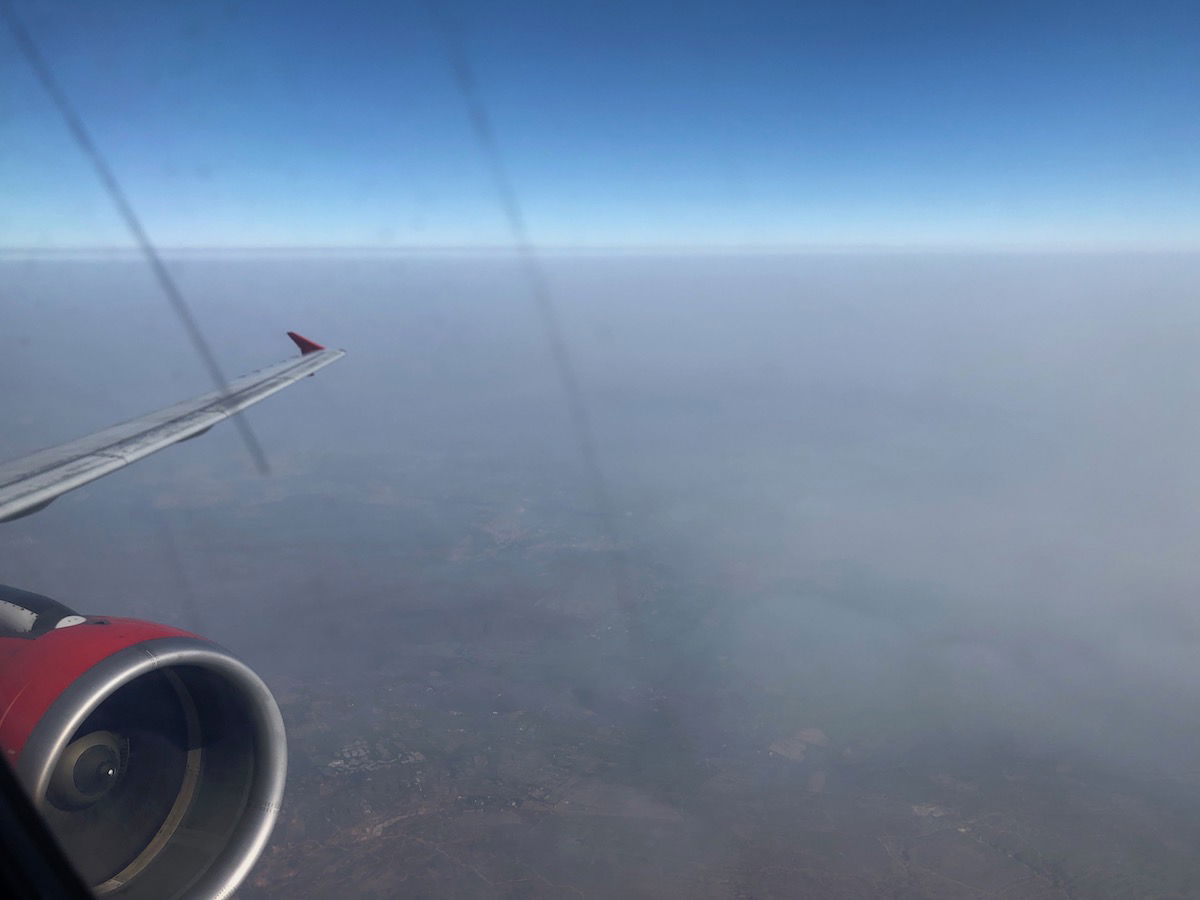 View enroute to Sri Lanka
The seatbelt sign was turned on about 15 minutes before landing.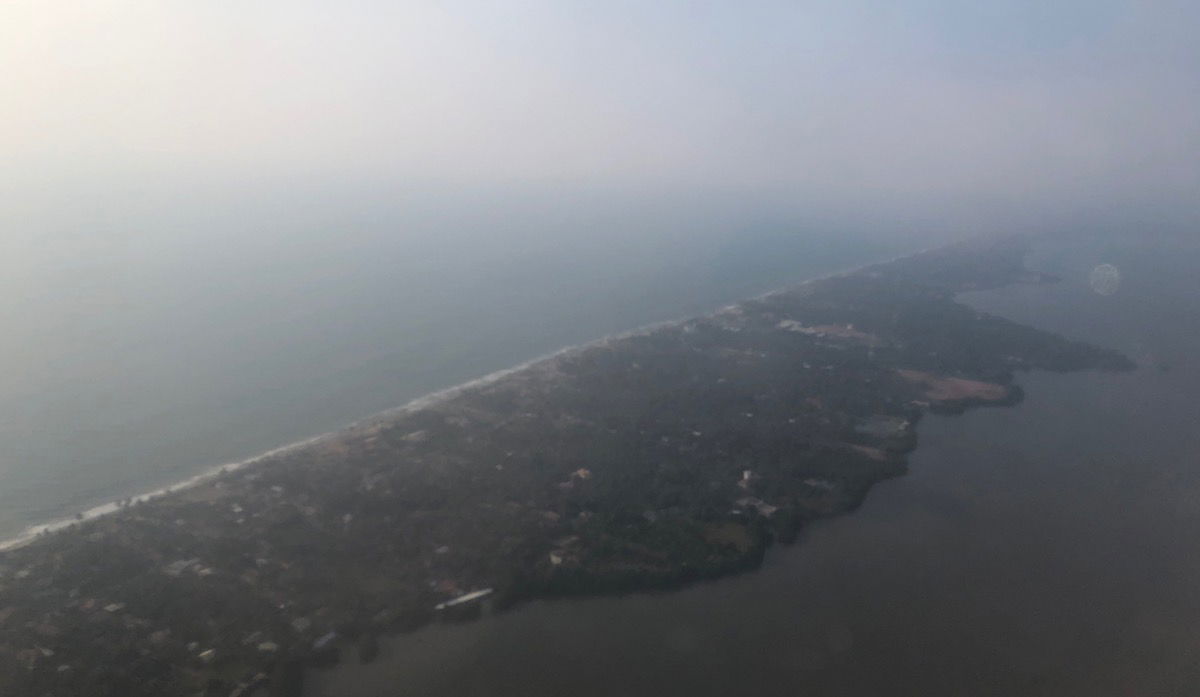 View approaching Colombo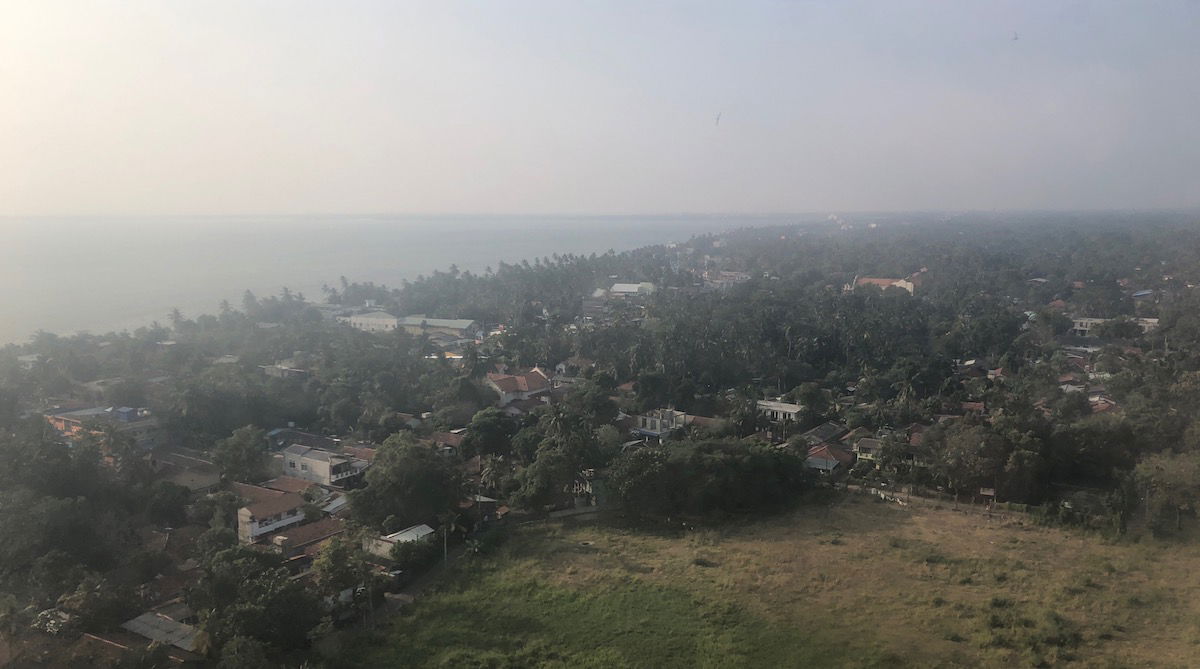 View approaching Colombo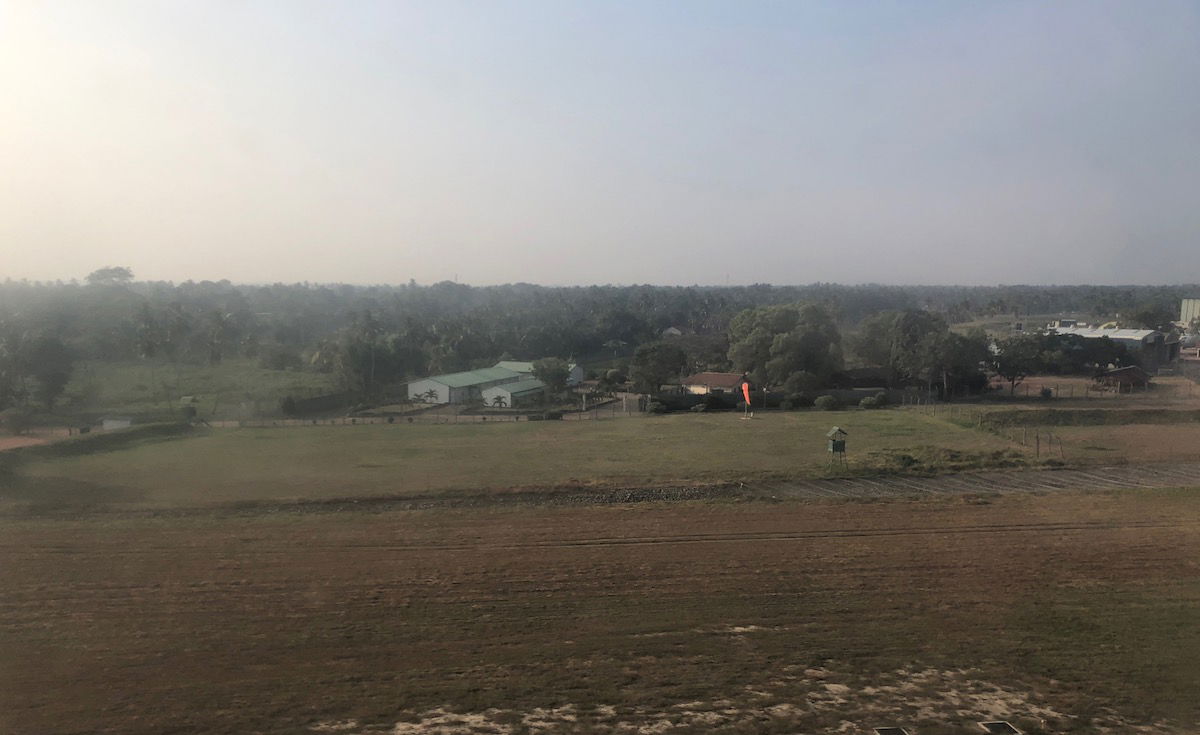 View approaching Colombo
We touched down in Colombo at 4:25PM, and from there had just a five minute taxi to our arrival gate.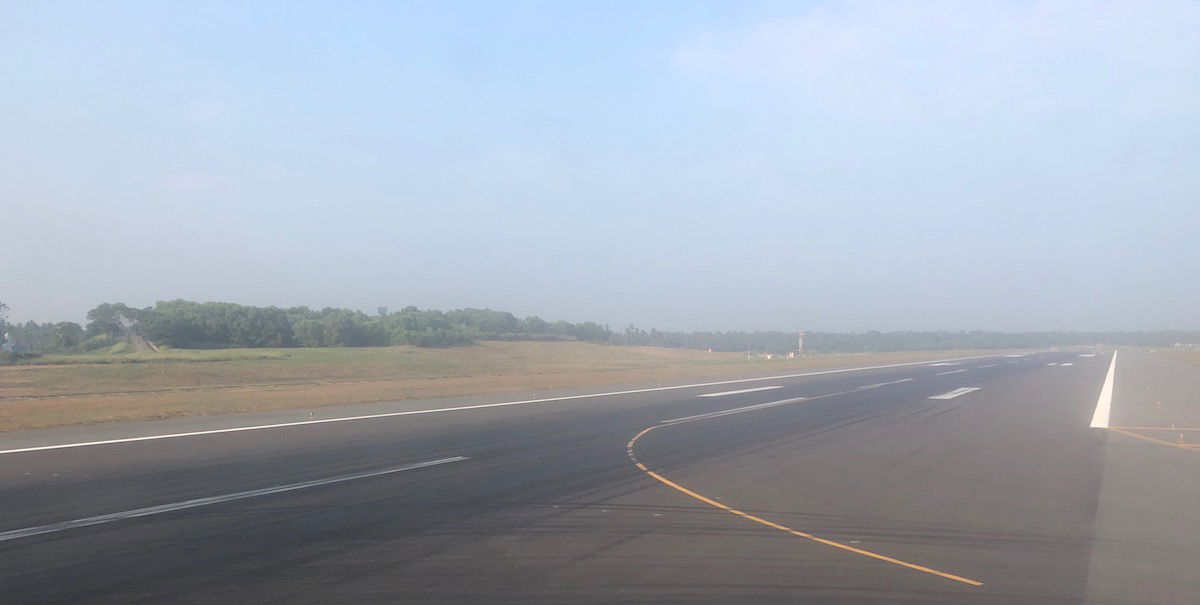 Taxiing Colombo Airport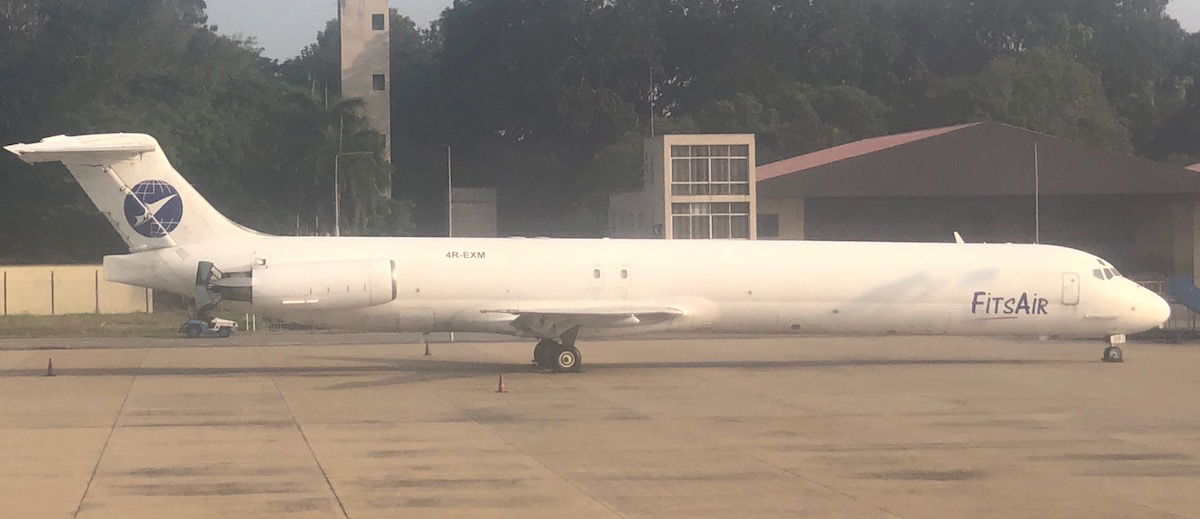 Colombo Airport plane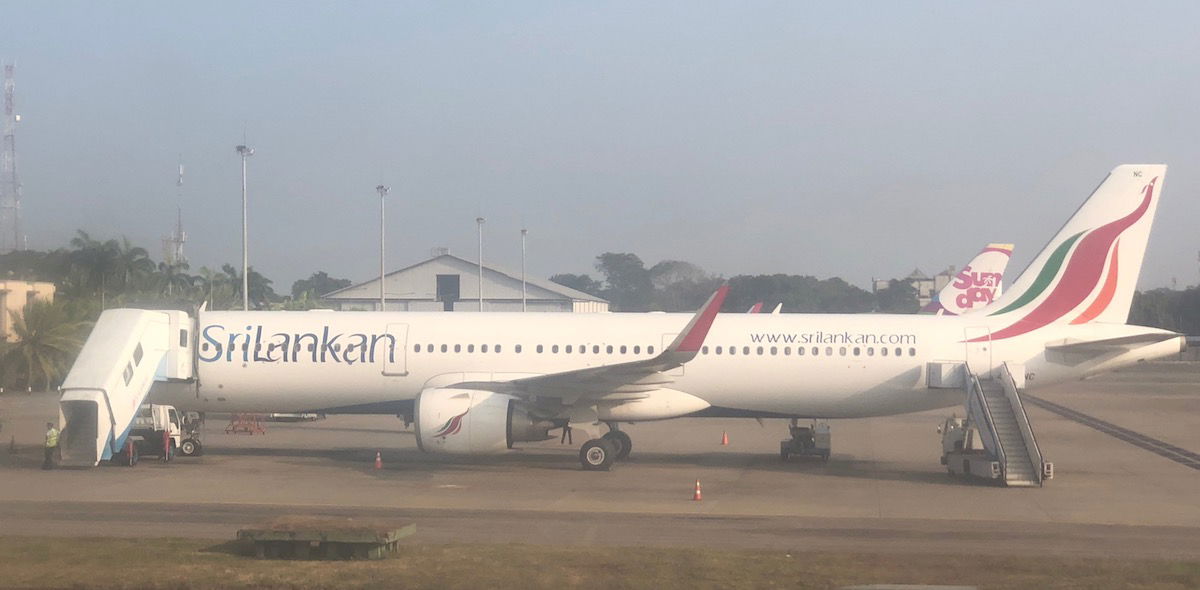 SriLankan A321 Colombo Airport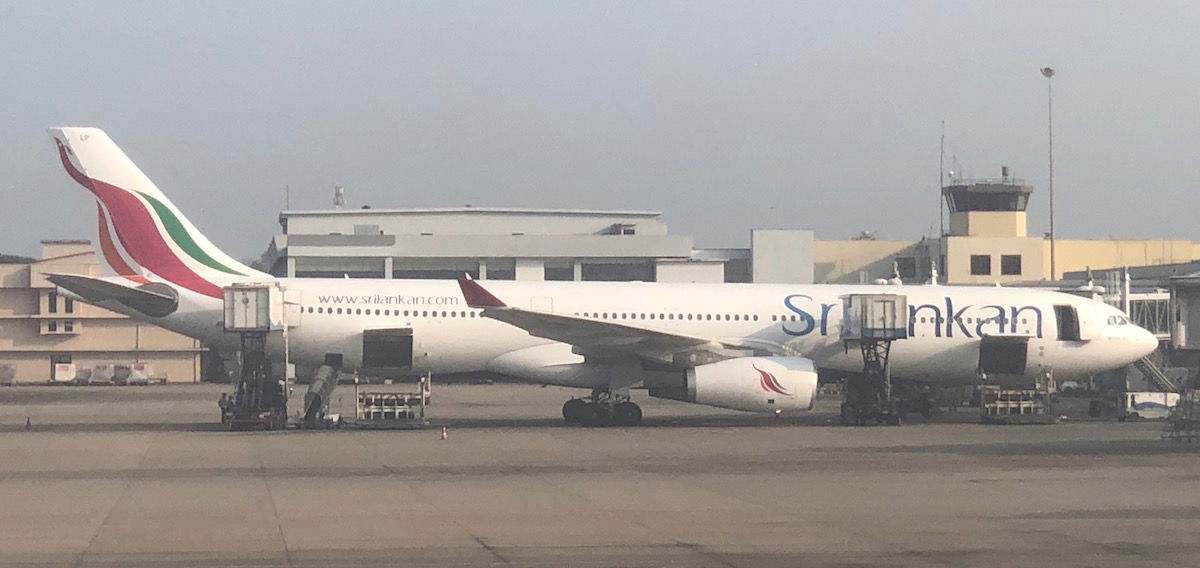 SriLankan A330 Colombo Airport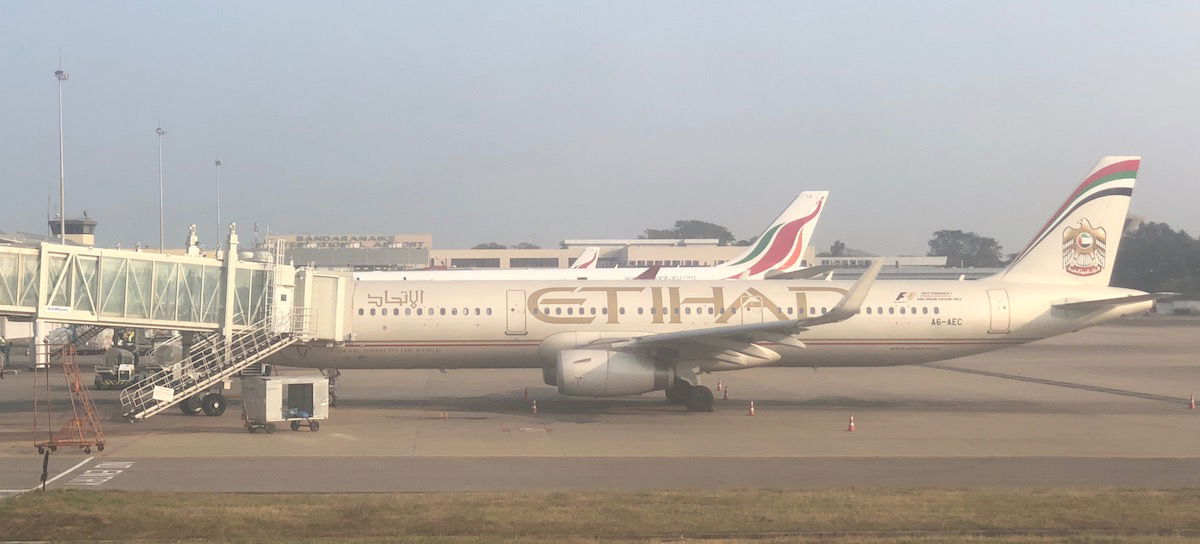 Etihad A321 Colombo Airport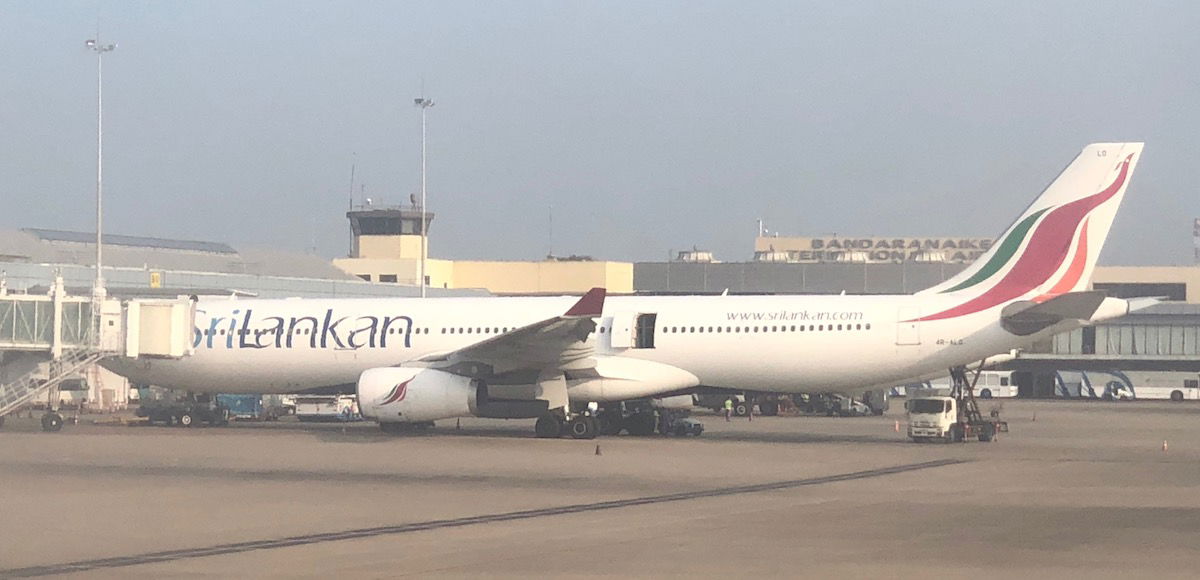 SriLankan A330 Colombo Airport
We ended up parking at a gate right next to an Etihad A321.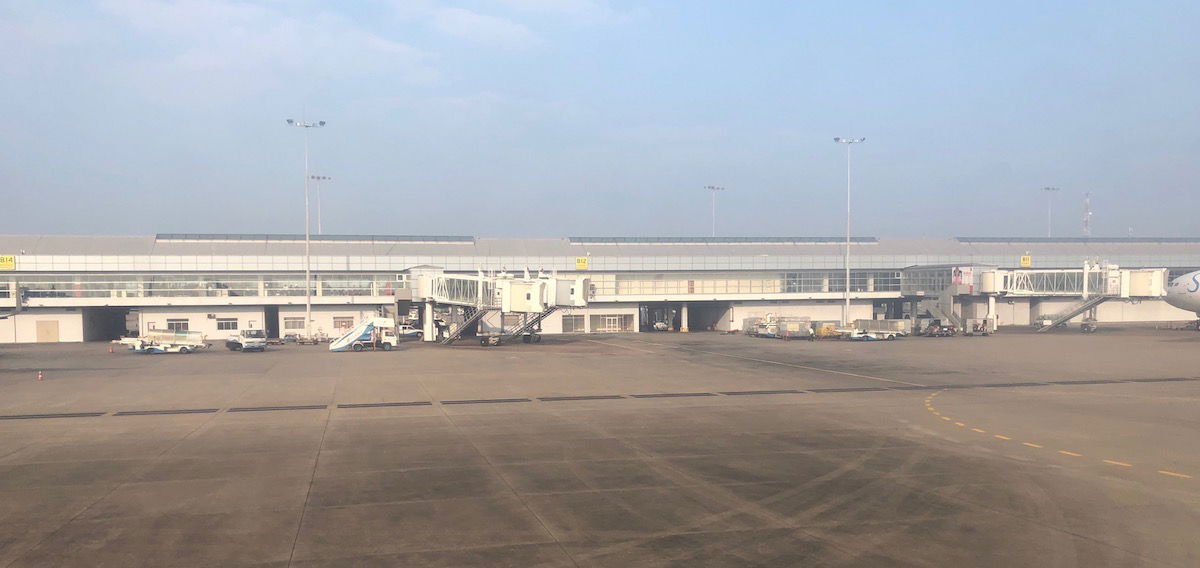 Arrival gate Colombo Airport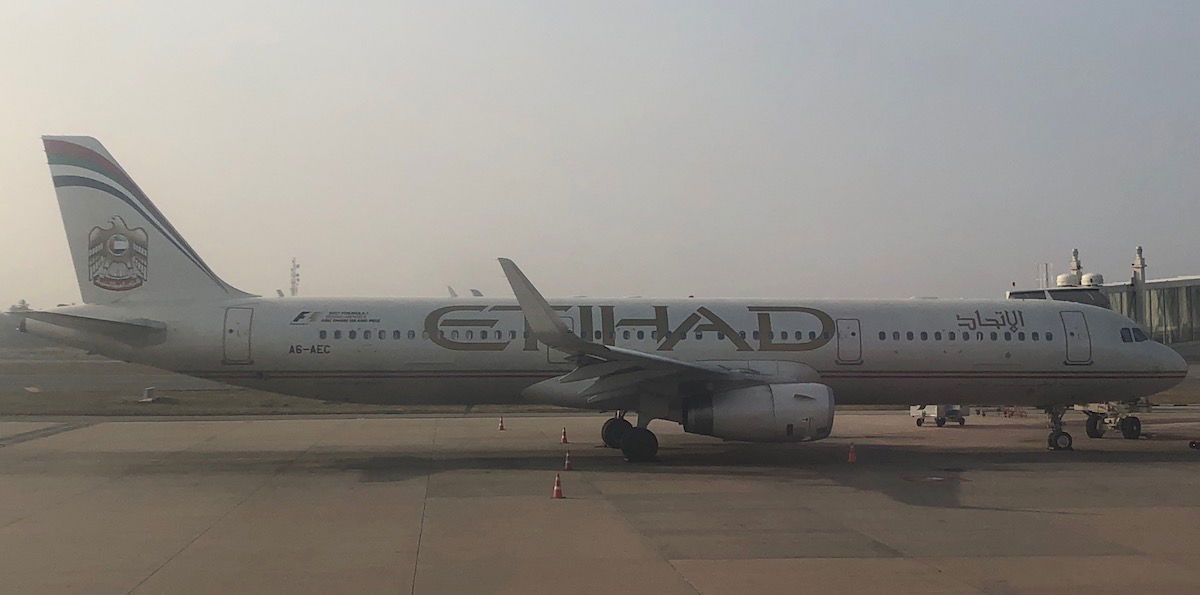 Etihad A321 Colombo Airport
Upon arrival I had to get my visa and pass through immigration, which only took about 10 minutes. Then I took a taxi to the Shangri-La, and was ready for a proper night of sleep.
Air India A321 business class bottom line
While Air India's 787 impressed me, their A321 didn't. The crew was friendly and the food was quite good, though everything else was disappointing. The plane felt ancient, there were no power ports, no entertainment, and the seats lacked padding. In the future I'd generally try to avoid Air India's narrowbody Airbus fleet, though if they were the only option I guess I wouldn't mind flying with them again on this plane.
If you've flown Air India on a regional flight, what was your experience like?