Update: This story was written based on a news story quoting an Emirates executive. However, Emirates has now told me "Emirates has no plans to launch services between Athens and Chicago. The original story was incorrectly attributed."
Emirates is apparently considering adding a fourth fifth freedom flight to North America, which would also be their second from Athens.
Emirates' fifth freedom flights to North America
As it stands, Emirates operates three fifth freedom routes to North America (these are routes between two countries that don't include the carrier's home country):
Milan to New York, using an A380
Athens to Newark, using a 777-300ER
Barcelona to Mexico City, using a 777-200LR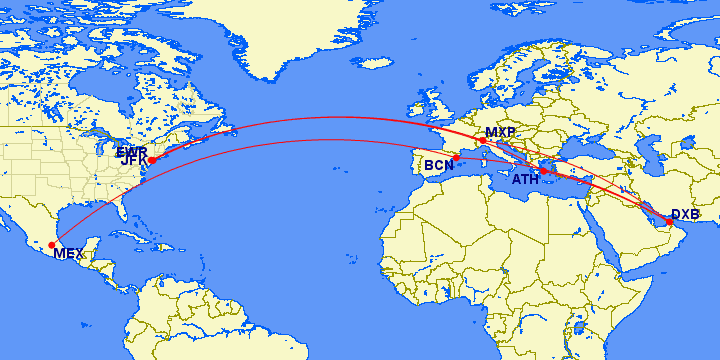 While the Barcelona to Mexico City route was only recently launched, Emirates has had success with the other two routes.
Emirates considering Athens to Chicago flight
Greek media is reporting that Emirates is considering adding an additional fifth freedom flight from Athens, with the frontrunner being an Athens to Chicago flight. This is according to Emirates' Country Manager for Greece and Albania, Khalid Al Zarooni:
"Athens is an important destination for Emirates, because of its strong tourism, culture, but also because of the business relationship between the UAE and Greece.

The Athens – New York route is a great success story for us."
Emirates currently operates a daily flight between Dubai and Chicago using a 777-300ER, so I would imagine the Athens route would be in addition to this one, in the event that it's added.
For what it's worth, American launched a seasonal daily Chicago to Athens flight in the summer of 2019, and it's being brought back in 2020, so I guess it performed at least as well as expected.
Chicago has the third biggest Greek population in the US (after New York and Boston), and of course Greece is an incredibly popular tourist destination in summer. On top of that, apparently Emirates does well with cargo on their existing Athens to Newark flight.
I wouldn't count on this route happening
While it's cool to hear that Emirates is considering this route, I wouldn't necessarily expect it to come to fruition. Emirates seems to constantly consider additional fifth freedom flights to the US, though most of them don't end up happening:
Emirates had been considering launching flights from Budapest to the US, given that MALEV went out of business, and at the time there were no nonstop flights between Hungary and the US (in the meantime Hungary has become a popular seasonal destination for US airlines)
Emirates had been considering launching flights from Hamburg to New York, which would actually be the resumption of a route that Emirates operated back in the day
With the Open Skies agreement Emirates can add an unlimited number of fifth freedom flights to the US. The only roadblock is getting permission from local governments for slots (which has been an issue in Germany, for example). That's unlikely to be an issue in Greece, though, as they no doubt welcome any transatlantic connectivity.
You can of course expect that if Emirates does launch any additional fifth freedom flights, the "big three" US airlines will whine endlessly about the unfair government subsidies that Emirates receives, which allows them to do revolutionary things like install TVs and power ports on planes. 😉
Bottom line
It would be awesome to see Emirates expand their fifth freedom flying to the US, and an additional Athens route sounds awesome, especially given how little service Greece gets direct from the US.
Emirates isn't really into seasonal routes, or else some more US to Greece flights in summer seem like a no brainer. The Athens to Newark flight even seems to work for them year-round, though, thanks to a combination of passenger demand and cargo.
What other fifth freedom flights would you like to see Emirates add to the US?