As anyone who has been following the airline industry knows, the US and Gulf carriers have been battling over Open Skies for well over a year now. The US carriers argue that the Gulf carriers are subsidized, and therefore shouldn't be able to compete under a treaty intended to promote free trade and competition.
Meanwhile the Gulf carriers complain that the US airlines are just whiny and have a double standard, given that they've benefitted from endless government subsidies as well, and are turning record profits.
Emirates has a flight they operate from Dubai to New York via Milan. This is a fifth freedom flight, meaning they can transport passengers exclusively between New York and Milan. This is the route the other airlines in the market — Alitalia, Delta, and United — have been fighting against, and in the past an Italian court even considered taking away Emirates' right to operate the route.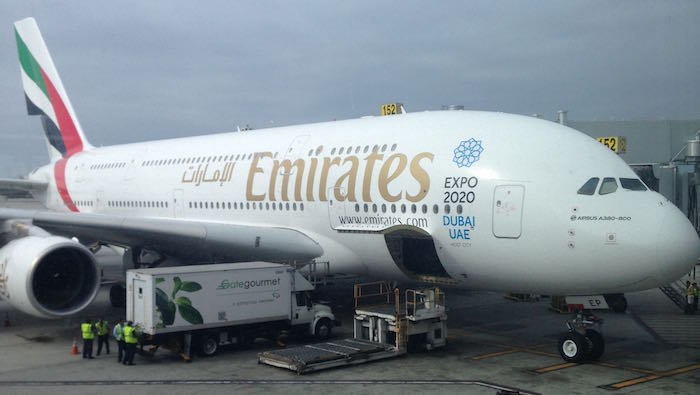 Emirates A380 flying between New York and Milan
So while Emirates would love to expand with similar flights, they're getting opposition from most European countries, given that they're protective of their own airlines. Well, except one country — Hungary. Hungary is basically welcoming Emirates with open arms, encouraging them to use Budapest as a transatlantic hub.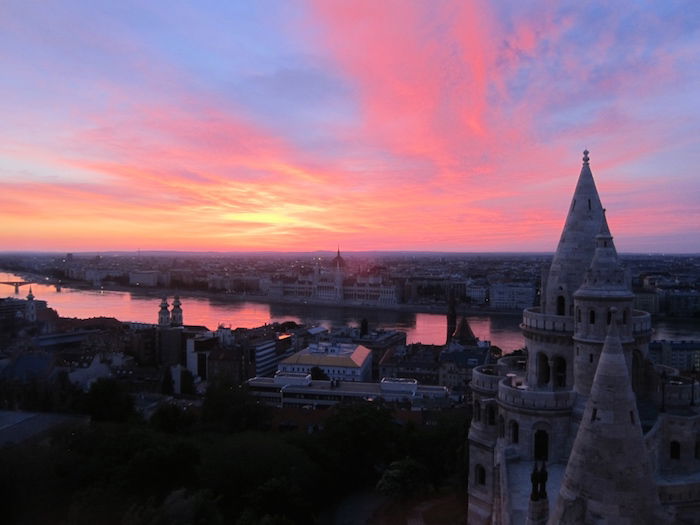 Budapest, Hungary
Budapest is one of the largest cities in Europe without any transatlantic flights. American used to fly to Budapest, though that flight was discontinued. Furthermore, Hungary's airline, MALEV, went out of business in 2012.
Per Al Arabiya:
Although no formal announcement has been made, it looks increasingly likely that Dubai's flag-carrier, Emirates Airline, will soon launch nonstop flights from the Hungarian capital Budapest to America.
In the battle over Open Skies, the argument is always made that the Gulf carriers are simply trying to flood markets with over capacity. That argument can't really be made here, since they'd be serving a market which no other airline is willing to operate in. I'm sure there will still be plenty of opposition, but it's tougher to justify complaints in this instance.
On the other hand, though, I'm not sure I totally see the upside for Emirates:
Emirates doesn't have the ability to get any connecting traffic from Budapest, so unless passengers are connecting from Dubai, this will be all origin & destination traffic; contrast that to Emirates in Seattle and Los Angeles (where they partner with Alaska), or in various other US cities (where they partner with JetBlue)
If this route is simply meant as a way for Emirates to increase US capacity, I don't see the advantage of this over their existing routes, given that their US flights are far from full as it is
Admittedly Emirates is hoping to pick up some local traffic in Budapest, though it seems that wouldn't be especially high yielding traffic; if markets like New York to Budapest were profitable, there's no doubt a US carrier would be operating the route nonstop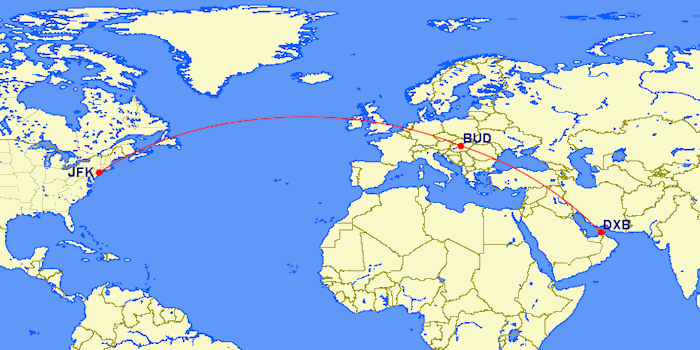 My guess is that this really would be more of an ideological route, where Emirates is taking advantage of any opportunity they can to expand their fifth freedom flights to the US. And with how efficiently Emirates operates, it might not be an unprofitable route — when you combine the (presumably low yielding) demand out of Budapest with connecting traffic, they could probably achieve decent load factors.
Bottom line
This situation is noteworthy because Hungary would be one of the few European countries to welcome Emirates with open arms. And frankly there's not a very good argument against Emirates offering flights between the US and Hungary, at least from the perspective of the two countries. I don't totally see a huge upside for Emirates, other than further expanding their fifth freedom footprint.
What do you make of Emirates using Budapest as a transatlantic focus city for fifth freedom flights?
(Tip of the hat to Wandering Aramean)