In 2006, Emirates began operating a daily fifth freedom flight from Hamburg to New York, using a Boeing 777-300ER aircraft.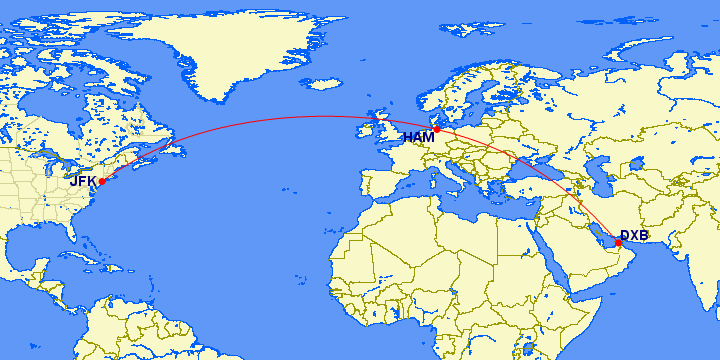 Unfortunately the route has since been discontinued, though Emirates does operate some other fifth freedom flights to the US, including from Athens to Newark, and from Milan to New York JFK.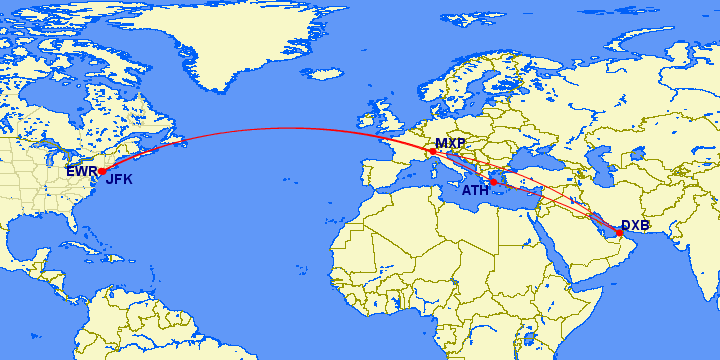 It seems like an additional fifth freedom flight to the US is under consideration. Hamburg has a new mayor who recently visited the UAE, and met with Emirates president Tim Clark.
One of the topics of conversation was Emirates restarting flights between Hamburg and New York:
The Hamburg mayor is in favor of the route, since currently Hamburg has very few transatlantic links in spite of being Germany's second largest city
Tim Clark says that Emirates could operate the route profitably
Emirates already flies twice daily between Dubai and Hamburg, once with an A380 and once with a 777-300ER, so this would be an easy enough extension
The big problem here is the challenges that Emirates will have with regulators in both the US and Germany:
Germany has extremely protectionist aviation policies, making it hard for the Gulf carriers to expand there
For years the US & Gulf carriers were in a dispute, though a resolution was reached in mid-2018; one of the conditions was that Emirates was unaware of any immediate plans to start additional fifth freedom flights to the US
The second point is of course an interesting one. Emirates didn't say they wouldn't launch additional fifth freedom flights to the US, but rather that at the time they didn't have any plans to.
However, from their perspective it may very well make sense to lay low for a bit and not ruffle any feathers, and wait 2-6 years until there's a new administration. Obama never took action against the Gulf carriers, while there's probably a bit more risk right now with Trump's "America first" agenda.
I also think that perhaps that Hamburg mayor is a bit optimistic if he thinks he can just "have a talk" with German regulators to get this route approved for Emirates on their end.
Bottom line
It's nice to hear that a Hamburg to New York flight is under consideration, and that Clark thinks it could be profitable and Hamburg's mayor is in favor of it. However, I fear this is a decision that's likely over their heads. I can't imagine this would be approved by German regulators, and even from Emirates' perspective this may not be the time to do this in the US.
But maybe this could happen a couple of years down the road?
What do you make of Emirates' interest in relaunching a Hamburg to New York flight?