Update: Emirates will launch the world's shortest regularly scheduled A380 flight as of July 1, 2019, between Dubai and Muscat.
Emirates is by far the world's largest operator of the A380. The airline exclusively has 777s and A380s, so they operate huge planes on short routes (and also huge planes on long routes, obviously).
As it stands, the airline operates the world's longest and shortest regularly scheduled A380 routes. The longest is their Dubai to Auckland flight (8,824 miles), while the shortest is their Dubai to Kuwait City flight (530 miles).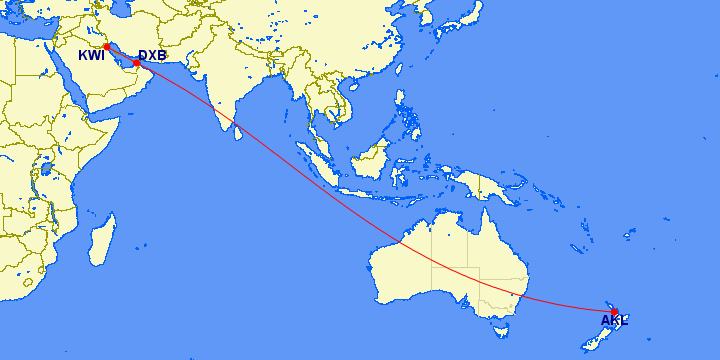 Previously they used to operate A380 flights between Dubai and Doha, which was just a 235 mile flight, but given the Gulf blockade, they don't fly to Qatar anymore.
Emirates sometimes operates one-off flights with A380s for one of two reasons:
While at this point it's only a technicality, Emirates will be operating the world's shortest ever scheduled passenger A380 flight this coming week. Specifically, Emirates will fly an A380 between Dubai and Muscat this coming Sunday, July 1, 2018. The following flight will be operated by an A380:
EK862 Dubai to Muscat departing 8:25AM arriving 9:35AM
EK863 Muscat to Dubai departing 12:05PM arriving 1:10PM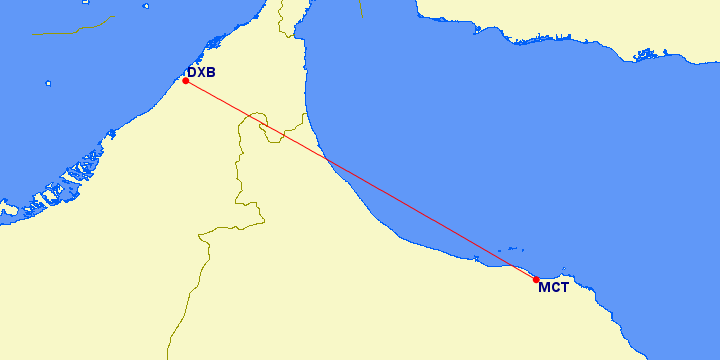 The flight from Dubai to Muscat covers a distance of just 217 miles, so it beats the previous shortest A380 route by 18 miles. While the flight is blocked at 65-70 minutes, the actual flight time can be as little as 40 minutes eastbound and 35 minutes westbound, at least based on looking at flight data from the past several days.
As of now this flight is being operated on a one-off basis. This special flight is to celebrate Emirates' 25th year of service to Oman, and also to help Muscat Airport make sure their new terminal can handle the A380. That suggests to me that maybe Emirates is in fact thinking of permanently flying the A380 to Muscat, since I can't imagine any other airlines would ever fly an A380 there.
This is the shortest scheduled passenger flight we've ever seen on the A380. This doesn't include shorter scheduled flights without passengers (like when Emirates flies their A380s from Dubai International to Dubai World Central to be parked), or unscheduled flights with passengers (like when a diversion is needed).
Emirates flying an A380 to Muscat isn't the only interesting thing happening at the airport on July 1. That's also the date that Oman Air is launching their new first class to London.