Hello from Los Angeles! I just flew Emirates' A380 business class for the 15hr10min flight from Dubai to Los Angeles. I've flown Emirates first class a countless number of times, though this was my first time in their A380 business class, so naturally I was curious how it compared.
Emirates' business class cabin on the A380 is large — there are 76 seats, spread across two cabins on the upper deck. The cabin is in a 1-2-1 configuration, with staggered seats. This means that in each row seats alternate between being closer to the aisle and being closer to the window.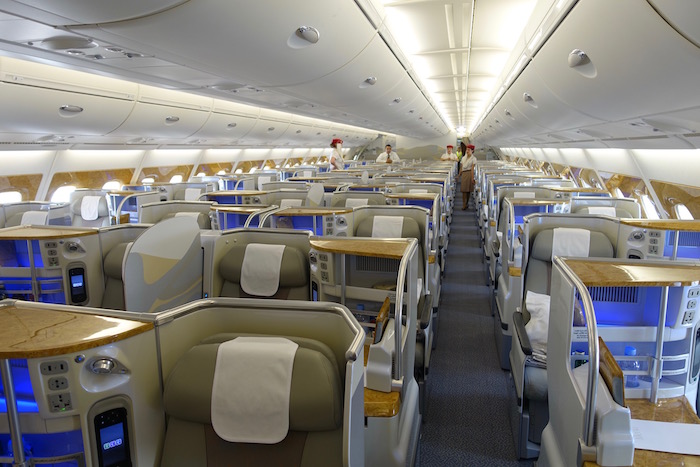 Generally my issue with these staggered configurations is that the foot cubby is small. However, I found Emirates' staggered configuration to be the most comfortable and spacious yet. I got a solid seven hours of sleep, and it felt like "legitimate" sleep rather than airplane sleep. I really felt like I was in a cocoon thanks to being in a "true" window seat.
I also loved the fact that there were bins along the side of the aircraft where you could store things, electronic window shades, a personal minibar, and a huge TV.
Of course Emirates finishes are an acquired taste, and won't be for everyone. Would I ever want to furnish a home like that? No way. But when flying Emirates I sort of like it.
Unlike their Gulf rivals, Emirates doesn't offer dine on demand. There was a lunch service after takeoff, then a snack in the middle of the flight (which could be ordered at any time), and then another meal before landing.
The food quality was above average, though not exceptional. The offerings are also fairly limited — you get a side salad and then your choice of an appetizer or a soup, then a main course, and then a choice of desserts.
For the first meal there was a side salad and choice of three appetizers — I chose the mezze.
Then there was a choice of three main courses. My Chilean sea bass was excellent. Fun fact — Emirates largely uses the same main courses in business class and first class, but they're just plated differently.
Lastly there was the choice between dessert, fruit, or cheese. I chose the dessert, which was a rich chocolate mango torte.
As you'd expect, the drink selection was pretty good, ranging from freshly made cappuccinos to Veuve Clicquot.
As far as the amenities go, Emirates is tough to beat in that regard. Emirates has the most extensive entertainment selection in the sky, you can get 500MB of (really slow) wifi for $1, and the onboard bar is always fun to hang out at.
There was a great BVLGARI amenity kit, though the bedding didn't impress as much. I liked the thick pillow, though the blanket was cheap and scratchy.
The service is what I'm most conflicted about. The crew itself was friendly and attentive, but I think Emirates business class service procedures are way off. There's not an airline in the world where I've felt as much like I'm part of an assembly line in a premium cabin as on Emirates. I'll get into more details of this in the trip report, but I really think they need to modify their service protocol, because it's so inefficient and impersonal.
To clarify, that's not the crew's fault, they were great. Rather it's the procedure they follow for service, which is so inefficient. Ironically this is in spite of the fact that Emirates doesn't offer dine on demand, unlike their rivals, Etihad and Qatar.
So overall the Emirates A380 business class experience exceeded my expectations. Having flown first class on them so many times I was expecting to be somewhat disappointed, though I wasn't.
The seat was more comfortable than I was expecting, I slept very well, the bar was fun as always, the amenities were pretty good, and the crew was friendly. However, there's definitely some room for improvement when it comes to their service process.
Stay tuned for the full report!