Introduction: Flying With Royalty (Or Not)
Review: Air Canada Premium Rouge 767 Tampa To Toronto
Review: Sheraton Gateway Toronto Airport
Review: EgyptAir Business Class 777 Toronto To Cairo
Review: Cairo Airport Lounge Terminal 2
Review: Royal Jordanian Business Class Embraer 175 Cairo To Amman
Review: Grand Hyatt Amman
Review: Royal Jordanian Lounge Amman Airport
Review: Royal Jordanian Business Class 787 Amman To Kuala Lumpur
Review: St. Regis Kuala Lumpur
Review: Plaza Premium Lounge Kuala Lumpur
Review: Royal Brunei Business Class A320 Kuala Lumpur To Bandar Seri Begawan
Review: Radisson Bandar Seri Begawan Brunei
Review: Royal Brunei Lounge Bandar Seri Begawan
Review: Royal Brunei Business Class 787 Bandar Seri Begawan To Dubai
Review: W Dubai Al Habtoor City
Review: St. Regis Dubai
Review: Emirates Business Class Lounge Dubai
Review: Emirates Business Class A380 Dubai To Los Angeles
---
This flight's adventure started before I even got on the plane. At the end of the jet bridge there were three guys in hoodies. As I approached them they pointed at my bag and said "we check." It had been a long travel day and my brain wasn't working properly, so I thought they were telling me I needed to gate check my bag since it was a regional jet.
"No, it will fit." After a bit more discussion they grabbed the bag out of my hand, at which point I became a bit irritated, since I didn't understand what they were doing, and the whole situation struck me as shady, as they didn't have visible badges or anything. Then the flight attendant apologized and explained that they were just doing pat downs and bag searches on the jet bridge. Ah, that kind of a "check."
I don't understand why they don't have badges and/or uniforms. Interestingly they were actually Jordanian security officials, as they flew back to Amman with us.
Royal Jordanian 502
Cairo (CAI) – Amman (AMM)
Wednesday, January 4
Depart: 12:10PM
Arrive: 1:25PM
Duration: 1hr15min
Aircraft: Embraer 175
Seat: 4A (Business Class)
At the door I was greeted by two fairly young (and attractive) flight attendants. Royal Jordanian's Embraer 175 business class cabin consists of 12 seats, spread across four rows in a 1-2 configuration. This is very similar to the configurations we see at U.S. airlines for similar jets.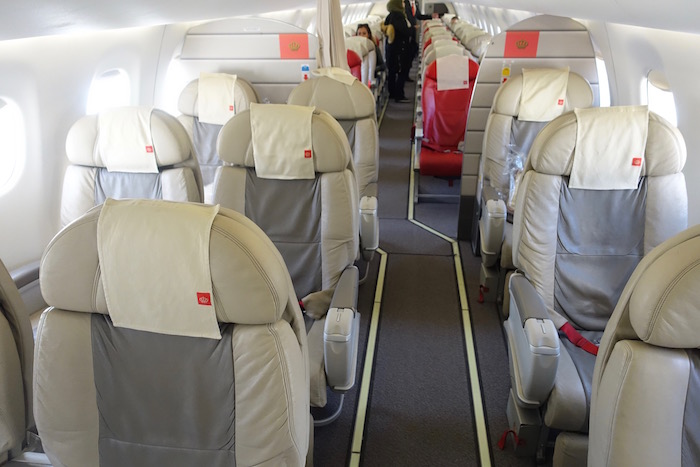 Royal Jordanian Embraer 175 business class cabin
I had assigned myself seat 4A, the window seat in the last row. As you can see, there was a pillow waiting on my seat.

Royal Jordanian EMB175 business class, seat 4A
The legroom was quite good, and the seat even had a legrest, which I didn't use.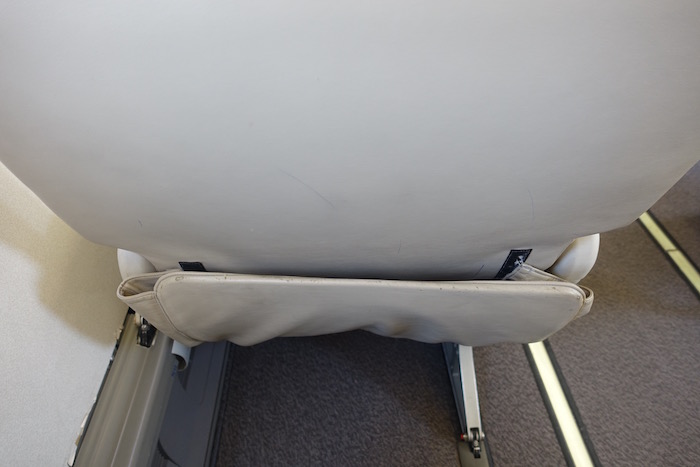 Royal Jordanian business class legroom
There was also a power port on the side of the seat.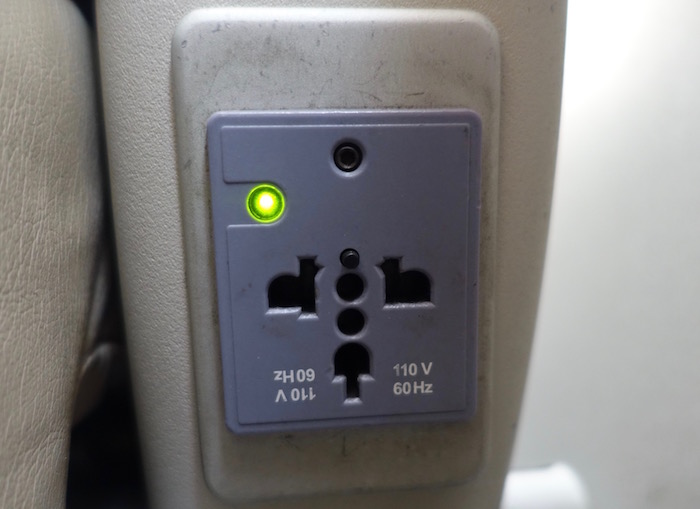 Royal Jordanian business class power port
There were a lot of people boarding over the next 10 minutes, though eventually the flight attendant came up to me to say I was the only business class passenger, and that I could choose any seat I wanted.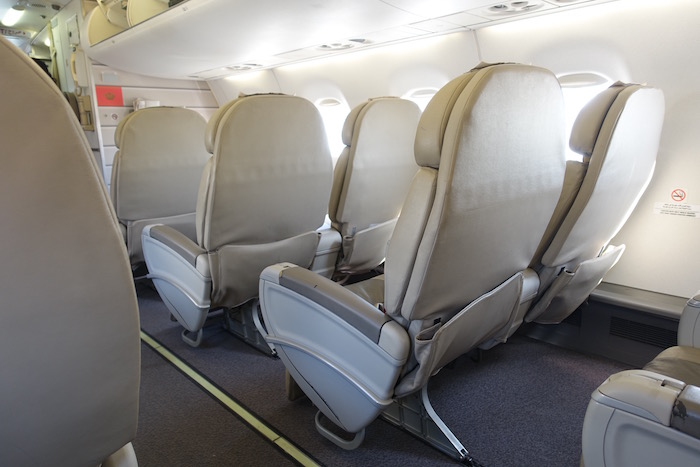 Royal Jordanian Embraer 175 business class cabin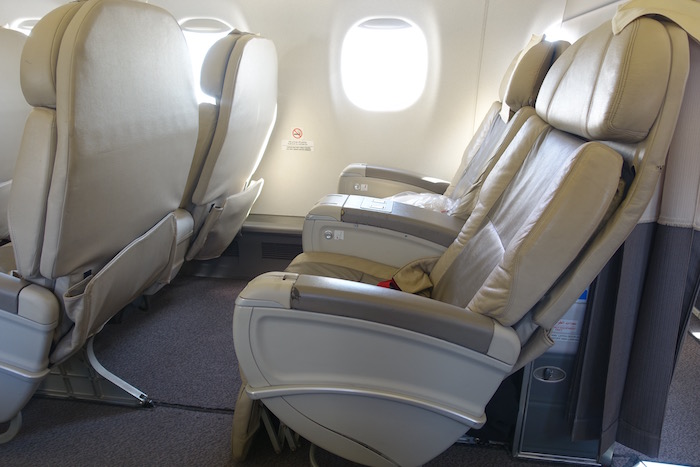 Royal Jordanian EMB175 business class cabin
As boarding finished up, the flight attendant said she could serve me any drink after takeoff, but only Arabic coffee on the ground. When I asked for some, she seemed surprised, said "really?" and had a big smile on her face. She even offered me a refill.

Royal Jordanian business class Arabic coffee
The cabin door closed at 12:05PM. At this point one of the security officers who gave me a pat down and checked my bag moved from economy to business class. Moments later we began our pushback.

View on pushback at Cairo Airport
The lead flight attendant made the welcome aboard announcement (there were no announcements from the cockpit), and informed us of our flight time of one hour. At that point the crew did a manual safety demonstration. There were three flight attendants on the plane — U.S. carriers have two on the same plane.

View on pushback at Cairo Airport
I enjoyed looking out the window as we taxied past Terminal 2, and in particular seeing some airlines I don't think I've ever seen before.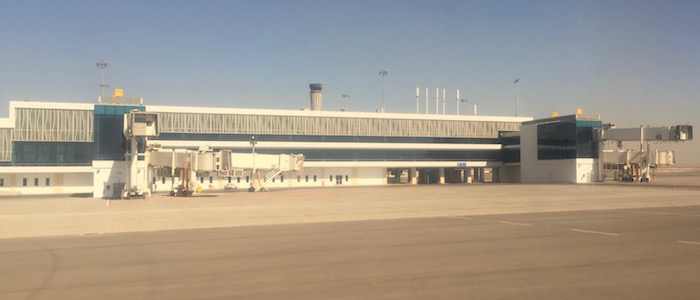 Taxiing past Terminal 2 at Cairo Airport
We had a long taxi to the departure runway, which I didn't mind one bit, given the unique plane spotting opportunities.
Finally at around 12:35PM we were cleared for takeoff on runway 23C.
I loved the views on our climb out.
A few minutes after takeoff the seatbelt sign was turned off. At that point I moved over to the window seat on the opposite side of row four, as I wanted to get my bag from the overhead bin and place it on the seat next to me.
At this point service began, and the flight attendant offered me a warm towel.

Royal Jordanian business class hot towel
She then asked if I wanted a snack, and said "I have cheese, salmon, dessert." I wasn't sure if she was offering me one or all of those, so I said "whatever you think." She placed a tablecloth on my tray table.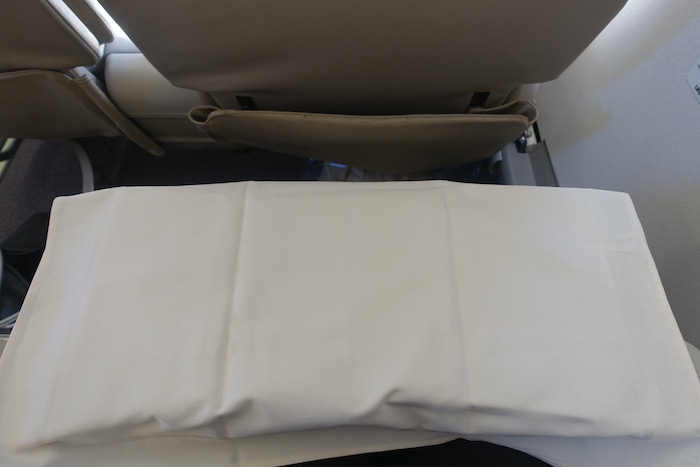 Royal Jordanian business class tablecloth
Then she brought me a tray with all three.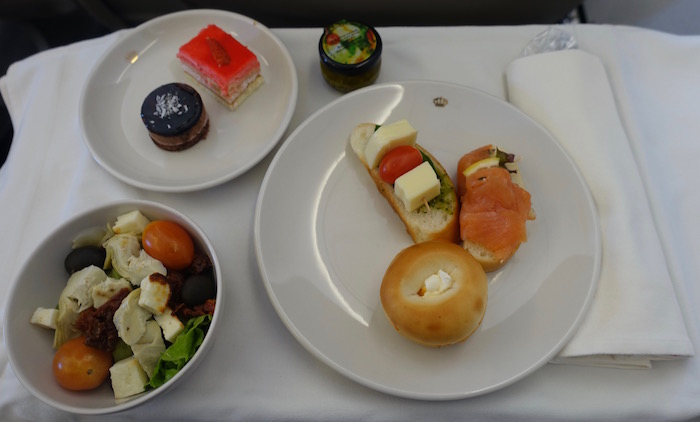 Royal Jordanian business class snack service
There was a piece of bread with salmon, a piece of bread with tomatoes and cheese, and a bagel with salmon.

Royal Jordanian business class snack service
Then there was a salad with artichokes, cheese, sundried tomatoes, cherry tomatoes, and olives.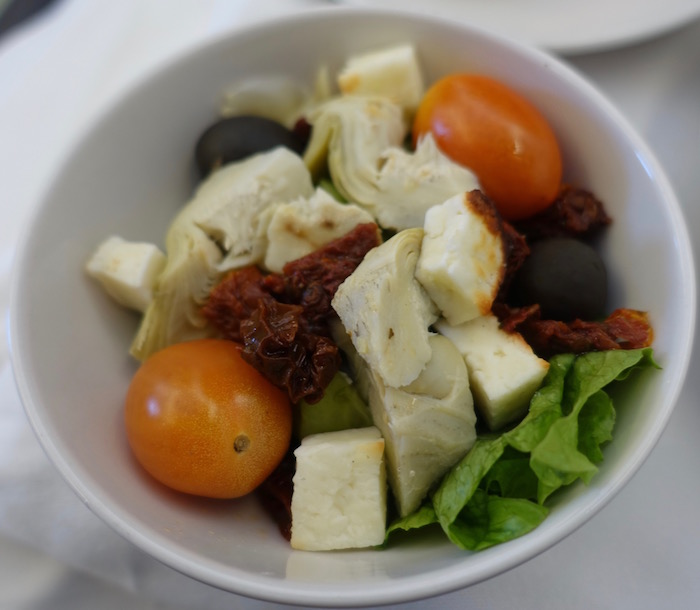 Royal Jordanian business class snack service
Lastly there was a dessert with some sort of chocolate and strawberry cakes.

Royal Jordanian business class dessert
I just wanted some water to drink, so was offered a bottle. While Royal Jordanian isn't a dry airline across the board, I believe they don't serve alcohol on short-haul flights.

Royal Jordanian business class bottled water
For the rest of the flight I just gazed out the window and enjoyed the views.
I noticed that the overhead bin above my seat had a sign saying "for cabin grooming use only." That confused me at first — while the flight attendants' eyebrows were on fleek, I didn't think they needed a dedicated overhead bin to accomplish that. But perhaps that's not what grooming refers to in this context.

Royal Jordanian business class overhead bin
The crew was attentive for the short flight, though they already fully prepared the cabin for landing more than 20 minutes out, meaning that really they were only up for about 35 minutes.
We touched down at Amman Queen Alia Airport at 1:30PM.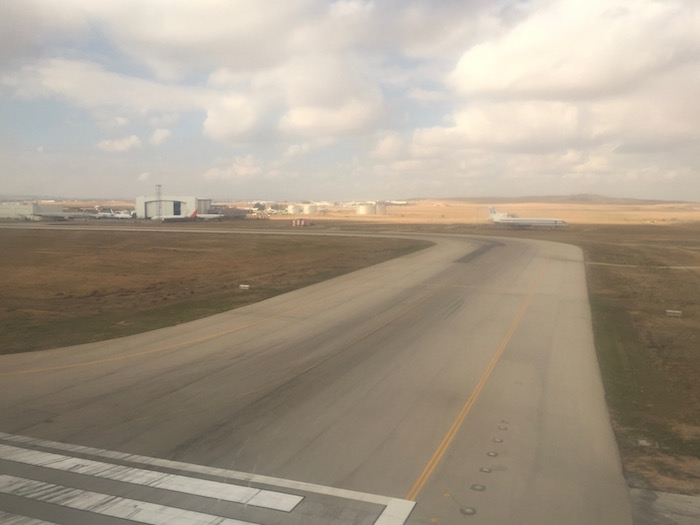 View on final approach to Amman
From there it was just a quick two minute taxi to our arrival gate.

Arriving at gate Amman Airport
Amman Airport is gorgeous, and the arrivals experience was easy. There was no line for immigration, and the process of paying for your visa on arrival and getting stamped is seamless.
Royal Jordanian business class bottom line
Aside from the jet bridge kerfuffle, this was a very pleasant, quick flight. In general I love the Embraer 175, though this one was especially comfortable — the business class cabin had plenty of legroom and power ports, and being the only passenger was nice as well. I'd gladly fly this plane again, even on a longer route.