---
My flight was departing from Tampa to Toronto at the ungodly hour of 9:45PM, which is way past my bedtime. On the plus side, at least it wasn't a full-on redeye, as I'd have a comfortable bed to look forward to upon landing.
I arrived at Tampa Airport at around 8:30PM, and the entire process of getting to the gate was a breeze, given that most flights had already departed for the night. Perhaps the most entertaining aspect of the experience was that the lady in front of me used her iPad as a mobile boarding pass, which really makes me wonder whether technology is actually making our lives easier or not.
My flight was departing from gate E72, though the inbound plane arrived behind schedule, at 8:55PM. While boarding was scheduled for 9:05PM, it only ended up starting at 9:25PM.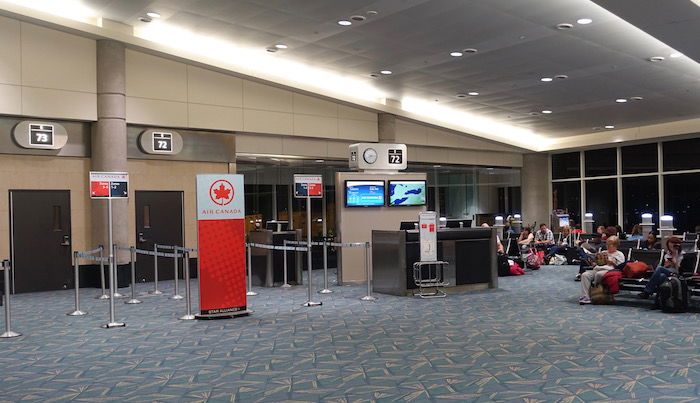 Air Canada departure gate Tampa Airport
I had a solid 20 minutes of entertainment as a lady in the gate area just went off on Air Canada. The flight was operated by a 767, which has very small overhead bins. So they were looking for bags to gate check, and her husband's bag was way oversized. So she went off on an epic Air Canada rant for a good 15 minutes. It wasn't actually directed at anyone (best I could tell), but she was saying it loud enough so the people around her could hear it. Lord, did she have strong feelings.
Finally at 9:25PM boarding began for Premium Rouge passengers.
For a bit of background, this flight was operated by Rouge, which is Air Canada's low cost carrier. Rouge has both narrowbody Airbus aircraft, as well as 767s. While they use 767s primarily for flights to Europe, I guess in the winter season it makes more sense for them to deploy them on flights within North America, where there's more demand.
Rouge 767s are very tight in economy, and don't feature a proper business class cabin. Instead they have Premium Rouge, which is sold as premium economy on longhaul flights, though within North America it's sold similarly to regional business class (given that the seats are similar to what you'll find in business class on Air Canada narrowbody aircraft).
Air Canada Rouge 1895
Tampa (TPA) – Toronto (YYZ)
Monday, January 2
Depart: 9:45PM
Arrive: 12:29AM (+1 day)
Duration: 2hr44min
Aircraft: Boeing 767-300
Seat: 4H (Premium Rouge)
The Rouge 767 featured a total of 24 seats, spread across four rows in a 2-2-2 configuration.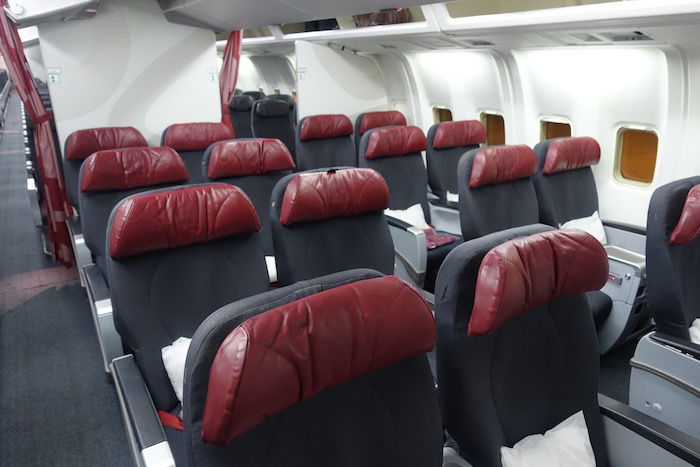 Air Canada 767 Premium Rouge cabin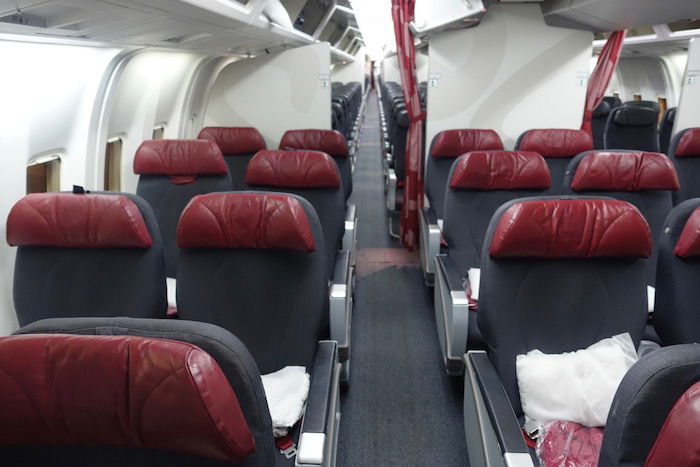 Air Canada 767 Premium Rouge cabin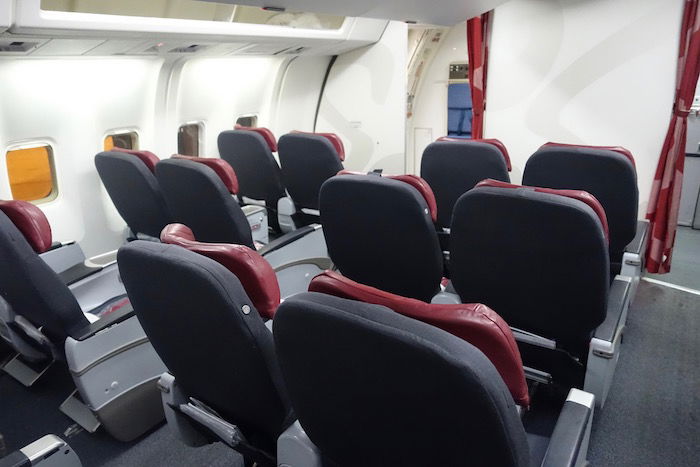 Air Canada 767 Premium Rouge cabin
The seat pitch in Premium Rouge is supposedly 37″, which is pretty much the same you'd get in domestic first class on a U.S. carrier.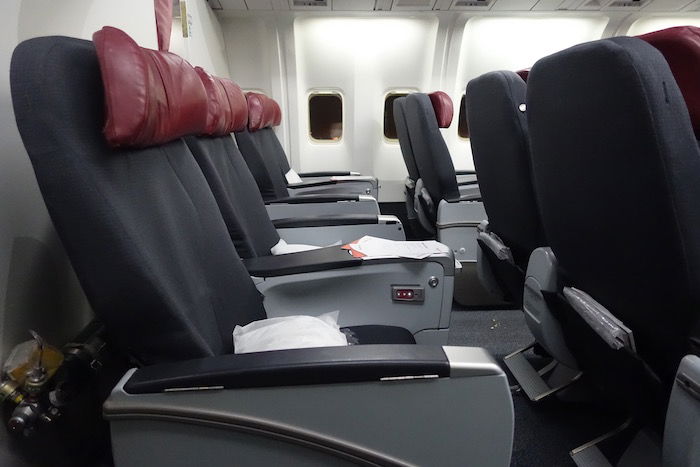 Air Canada Premium Rouge legroom
However, the seats are a bit on the narrow side, as you'd expect when there are six seats per row on a 767. Not only are the seats pretty narrow, but the center armrest is pretty tight as well.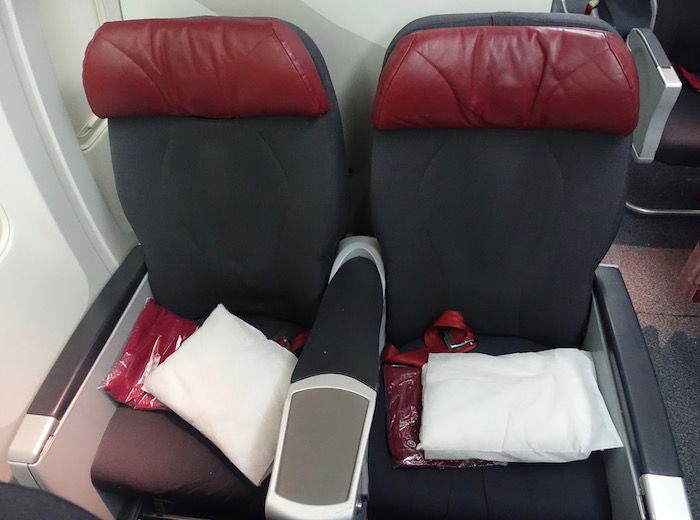 Air Canada 767 Premium Rouge, seats 4H & 4K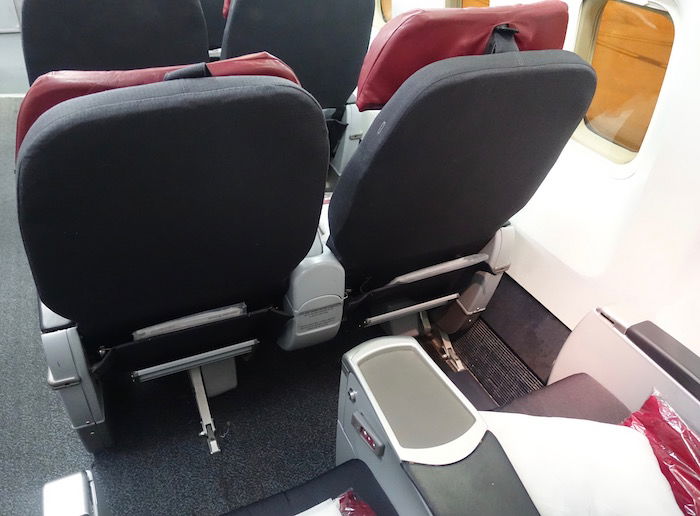 Air Canada 767 Premium Rouge, seats 4H & 4K
On the plus side, the seats do have footrests, which I far prefer to legrests in these types of configurations.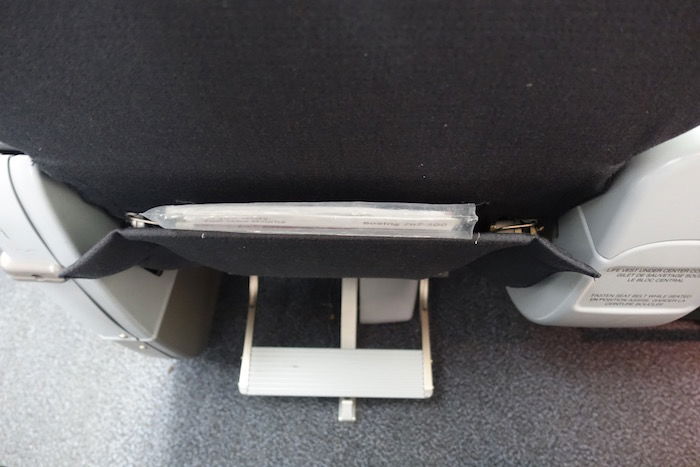 Air Canada Premium Rouge legroom & footrest
Seat recline was fairly limited, and was manual, wth the button for it being to the right of the seat. That's also where the call button and reading light button were located.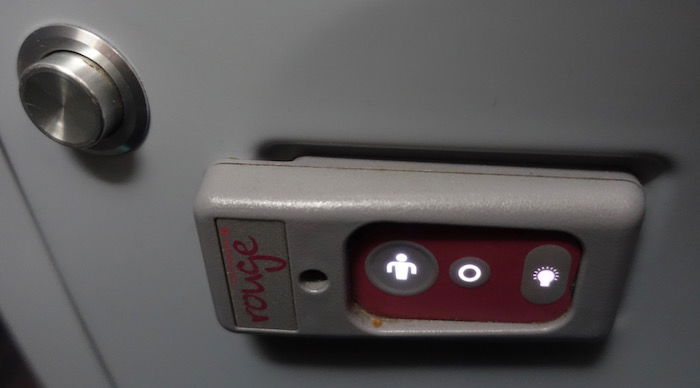 Air Canada Premium Rouge seat recline
Underneath the center armrest were power ports, which I was happy to see.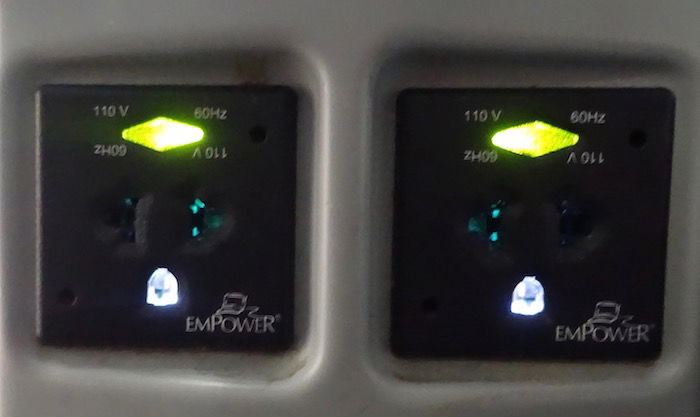 Air Canada Premium Rouge outlets
Also waiting at my seat were a basic pillow and blanket, similar to what you'd get on any Air Canada short-haul flight.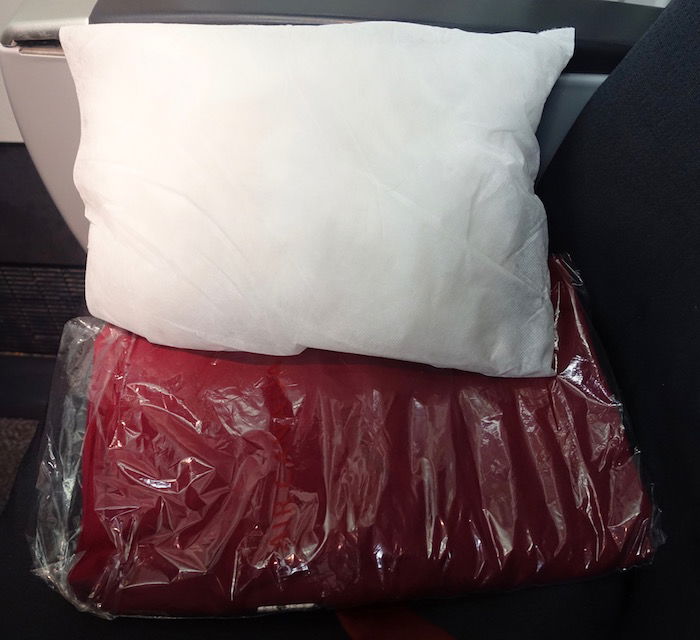 Air Canada Premium Rouge pillow & blanket
Before sitting down I had a quick look at the economy cabin, which looked tight, as the seat pitch is just 30″. While the seats in both economy and Premium Rouge looked fine, the cabin as such looked pretty outdated, as you can tell based on the overhead bins, etc.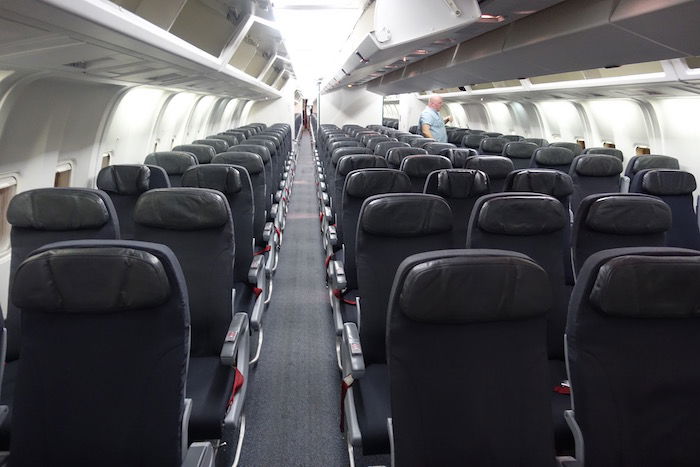 Air Canada Rouge 767 economy cabin
Boarding on the 767 is always a bit of a challenge, given that everyone boards through the forward door and the aisle is pretty narrow. Business class was boarded pretty quickly, mostly with families traveling together. Economy boarded pretty efficiently as well, despite the fact that the plane was full.
Once most people were settled in, one of the chipper flight attendants came by to offer pre-departure beverages — I selected a cup of water.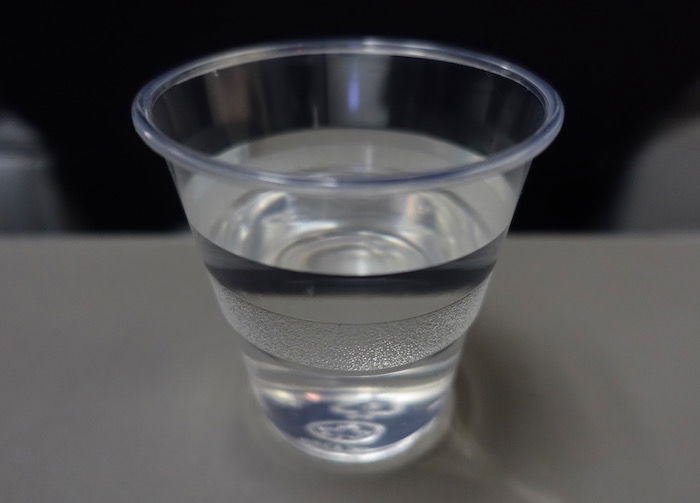 Air Canada Premium Rouge pre-departure drink
By 9:50PM boarding was mostly complete, though passengers were having trouble finding overhead bin space for their bags. I felt horribly for the crew, as passengers were taking out their anger over the lack of overhead bin space on them. Some people were quite literally yelling at the flight attendants, but they handled it pretty well.
Shortly before 10PM, Captain Tim made his welcome aboard announcement, which he started with "top of the season to ya." He informed us of our flight time of 2hr15min, and said the ride should be mostly smooth, though there may be some turbulence over the Carolinas.
At 10PM the door closed, and moments later we began our pushback. At that point the crew began their safety demo. Rouge crews are separate from Air Canada crews, so are typically quite a bit younger. While they were friendly and chipper, they weren't especially polished. As I often find to be the case with younger flight attendants, the lead flight attendant making the announcements barely seemed to pause for breath during the safety demo, to the point that words ran together and she was tough to understand.
Anyway, by 10:15PM we were airborne, and just five minutes after takeoff the seatbelt sign was turned off. However, five minutes later it was turned on again, as we hit some pretty serious chop. That also meant the crew had to be seated for the next 30 minutes or so.
Finally about 45 minutes after takeoff the ride got better, at which point the crew began their service, starting with distributing hot towels.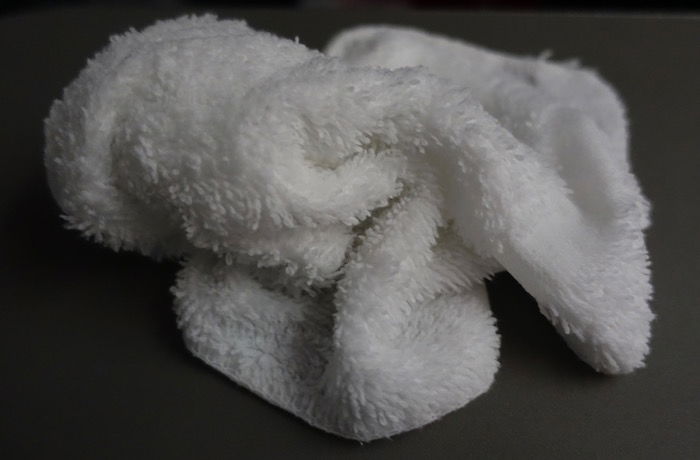 Air Canada Premium Rouge hot towel
Shortly thereafter iPads and in-ear headphones were distributed. Unfortunately Rouge doesn't have any built in entertainment. While I'm not a fan of that (I prefer built in IFE so I can watch the airshow), I do appreciate that they hand out the iPads even on short flights.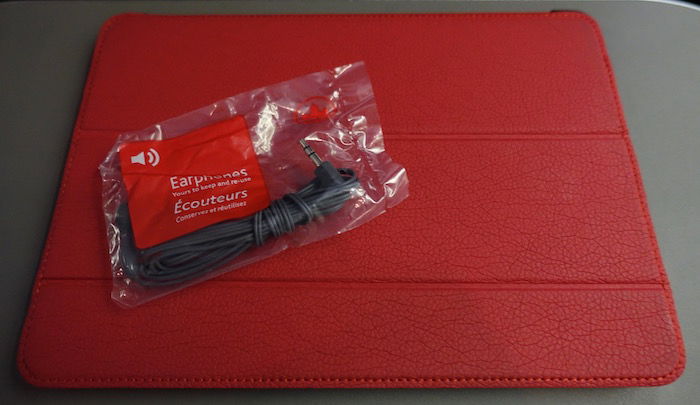 Air Canada Premium Rouge iPad
The iPad had a selection of about two dozen movies, as well as some games. Apparently there's supposed to be streaming content as well, as many passengers asked about it, but I guess the Wi-Fi connection for it wasn't working.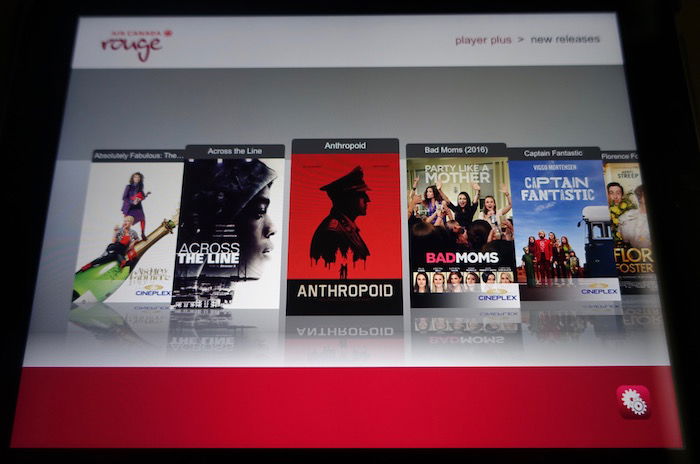 Air Canada Premium Rouge entertainment system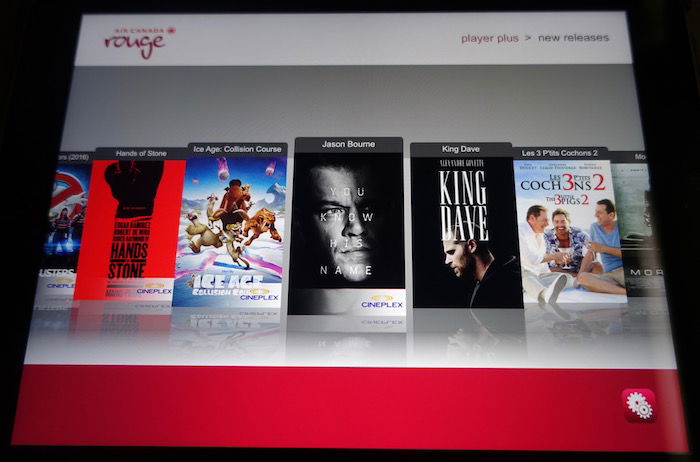 Air Canada Premium Rouge entertainment system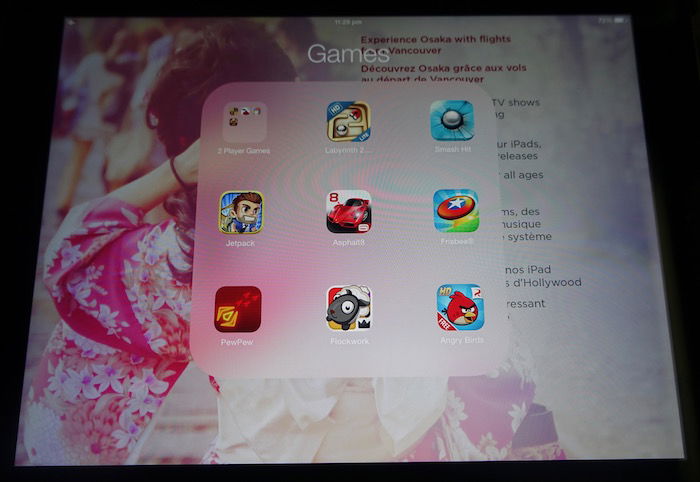 Air Canada Premium Rouge entertainment system
I ended up watching Florence Foster Jenkins, which was a fantastic movie. I'll be the first to admit that I have horrible taste in movies, so perhaps it was actually awful, but…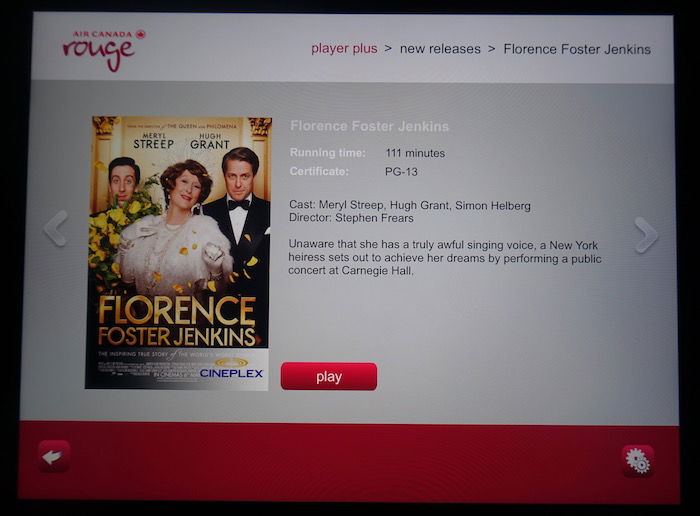 Air Canada Premium Rouge entertainment system
Then a few minutes later meal orders were taken. It's impressive that they serve a full meal on a 2hr15min flight departing at 10PM, and also that they have printed menus.
The menu read as follows: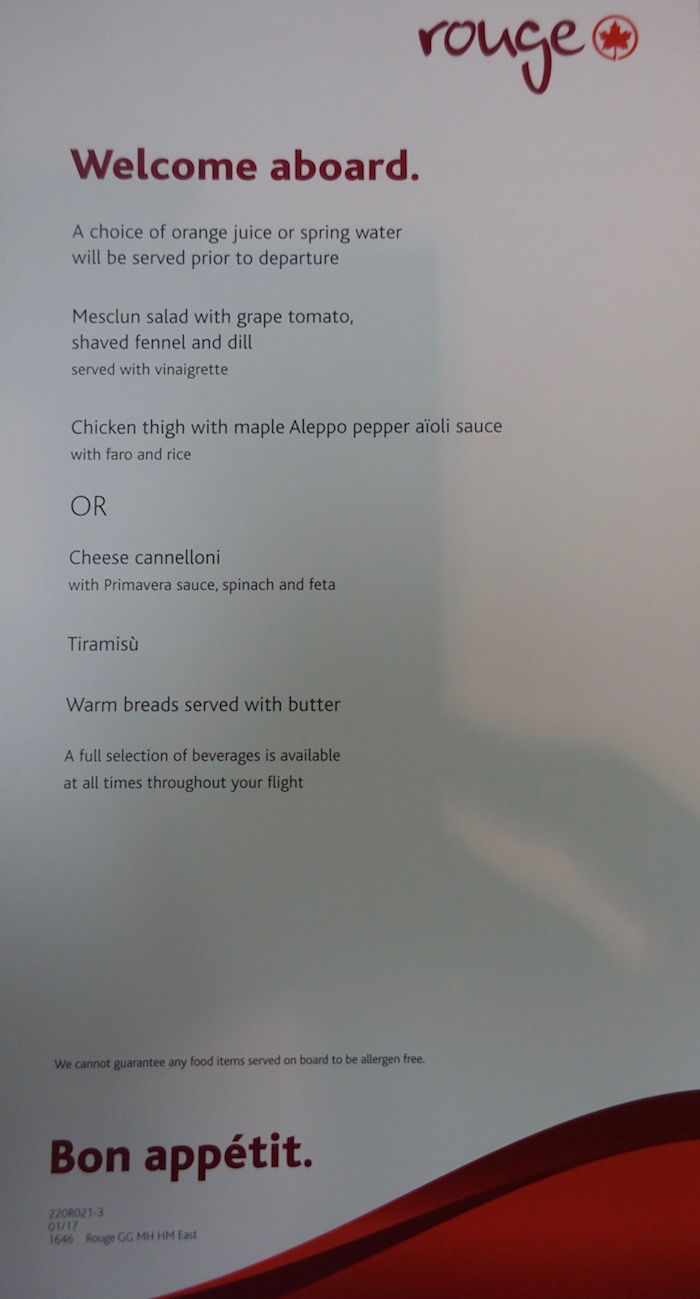 To start we were offered drinks and packaged roasted salted almonds. I had a glass of water.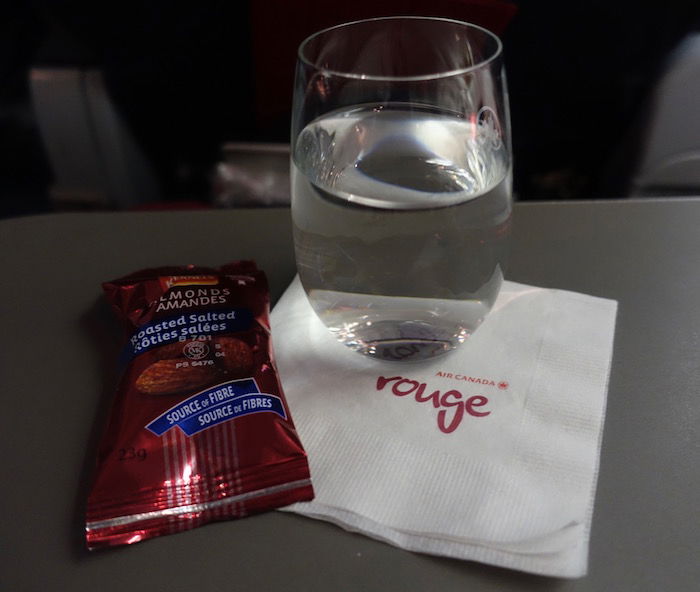 Air Canada Premium Rouge water and almonds
The entire meal was served on one tray, and was surprisingly good.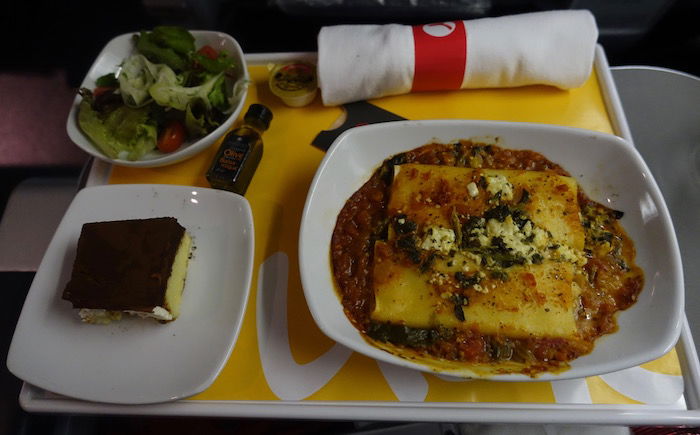 Air Canada Premium Rouge dinner
To start there was a small mesclun salad with grape tomatoes, shaved fennel, and dill. I appreciated that they served it with a vinaigrette, as U.S. airlines seem to love to offer ranch dressing with salads.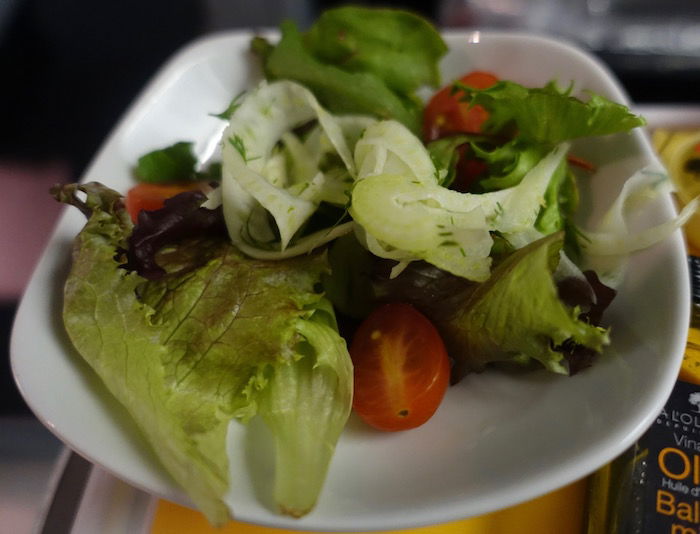 Air Canada Premium Rouge dinner — mesclun salad
For the main course I selected the pasta option, which was a cheese cannelloni with primavera sauce, spinach, and feta.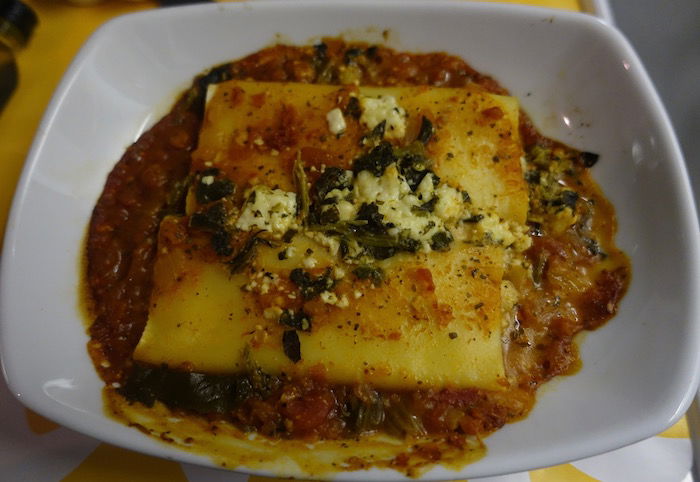 Air Canada Premium Rouge dinner — cheese cannelloni
Lastly, for dessert there was a small tiramisu.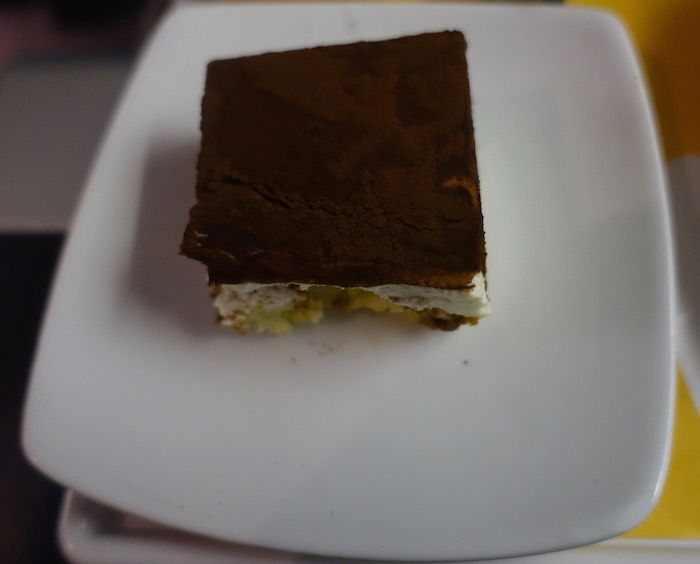 Air Canada Premium Rouge dinner — tiramisu
Overall the meal was quite good, though I only tried a bit of everything, as I wasn't hungry (like I said, it was about six hours past my dinnertime in Florida at this point). 😉
I watched the movie for the rest of the flight, and shortly before the descent checked out the lavatory at the front of the cabin. The lavatory was pretty typical for a 767.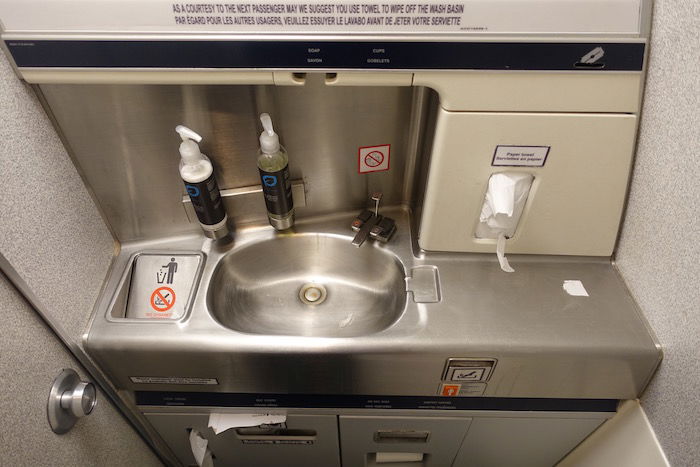 Air Canada Rouge 767 lavatory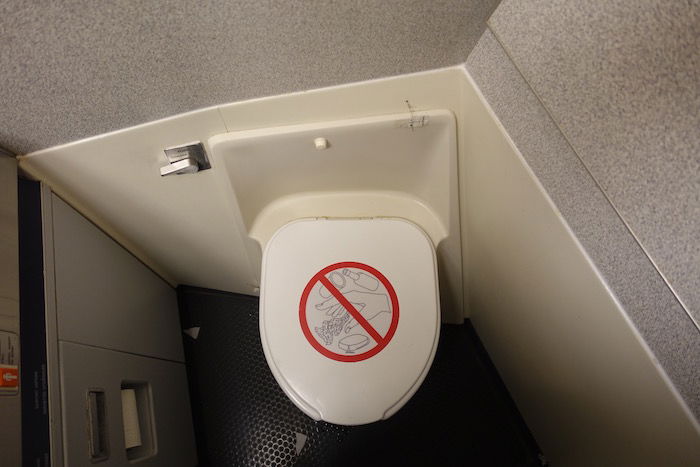 Air Canada Rouge 767 lavatory
At around midnight we began our descent, at which point the first officer provided updated landing information. We touched down in Toronto at 12:30AM, and from there had a 10 minute taxi to the gate, where we arrived just a bit behind schedule due to our late departure. I was excited to finally get a proper night of sleep!
Air Canada Premium Rouge bottom line
For flights within North America, Premium Rouge is basically the same as Air Canada's regional business class, except there's no built-in entertainment, and the crews aren't quite as experienced (which can be both a good and bad thing, depending on how you look at it).
For longhaul flights, Premium Rouge is like premium economy, minus the built in entertainment. Personally if I were to fly premium economy on a transatlantic flight I'd want to choose a product that offers Wi-Fi and built-in entertainment, though in fairness, Rouge flies to some pretty unique destinations that aren't otherwise served much out of North America.
So on longhaul flights this will be a very different experience than Air Canada's excellent longhaul business class, though that should be expected, given that this is a premium economy product.
Overall I was impressed by the fact that there was a full meal on a flight departing so late, though.