In the interest of full disclosure, OMAAT earns a referral bonus for anyone that's approved through some of the below links. Citi is an advertising partner of OMAAT. These are the best publicly available offers (terms apply) that we have found for each product or service. Opinions expressed here are the author's alone, not those of the bank, credit card issuer, airline, hotel chain, or product manufacturer/service provider, and have not been reviewed, approved or otherwise endorsed by any of these entities. Please check out
our advertiser policy
for further details about our partners, and thanks for your support!
Moving to Washington State last year was pretty much the end of my loyalty to American Airlines. The relationship was already deteriorating — the elite benefits stopped being as competitive, and there was nothing to justify the higher fares versus other carriers — but American has very little presence in Spokane with just three daily flights, which was pretty much a deal breaker.
Instead, I've moved my domestic flying to Delta, which over-serves Spokane as they continue their attack on Alaska cities. This is great in the short term, as it means flights are plentiful, inexpensive, and there are direct Delta flights to four of their hubs.
I did fly American this week, however, as part of my award ticket to London, and it reminded me that I've been wanting to do a comparison of the experiences between the two carriers. I know others are always considering switching their primary carrier for one reason or another, and there are certainly some differences to be aware of. As a Delta Platinum and former American Executive Platinum with a spectacular upgrade rate, most of my in-air perspective is in First, but there are plenty of differences in the ground experience as well.
So, in no particular order:
Boarding
American boards painfully early, and has nine boarding groups, yet somehow the boarding of nearly every American flight seems like a near-disaster. I don't know if it's because announcements aren't being made soon enough, if the advance boarding throws schedules off, or if American is just disadvantaged because of their hub airports, but boarding nearly always feels very disorganized. I consistently arrive at the gate ~5 minutes before the scheduled boarding time to discover that boarding is halfway completed, yet the gate agent is still frantic and passengers are all over the place not knowing when to board.
Delta, in contrast, has a theoretically less-organized boarding process, that somehow is better executed. While American has nine boarding zones, Delta still has the more traditional calls for pre-boards, military, families, etc., and usually starts that process at the posted boarding time. So the time listed for boarding your flight will bear little to no relation to the actual boarding time for you. The boarding notifications from the app are also based on aspirations, not reality, which seems like an adjustment that could be made. I've found that in bigger airports with all flights on time, "Premium" boarding can start 7-12 minutes after the published boarding time.
Both airlines could be more accurate with their boarding times, or at least their notifications. Time spent milling around the gate is the least productive time in an airport, and can lead to a chaotic boarding process, so keeping passengers updated is better for everyone. But boarding early doesn't seem to help matters at all.
Winner: Delta
Overhead bin space
Unless you're traveling with small children or otherwise need extra time, it seems the only reason folks board right away is to secure bin space.
Delta proactively and aggressively blocks first class bins for first class passengers. Some American flight attendants will take it upon themselves to do the same, but it's definitely not consistent.
I've also found that Delta agents are much more insistent during the pre-boarding announcements that unneeded carry-on bags should be checked. Like, multiple announcements, even on flights that aren't full.
And it seems to work, because I have never seen a Delta employee directing people to the carry-on sizer as they try to board. Meanwhile almost every American flight I take features someone regulating carry-on bags like their bonus depends on it, further complicating the already messy boarding process. I also see many more instances of people walking their bags to the front of the plane to be gate-checked on American than on Delta.
Winner: Delta
Mobile apps
This one is easy — I had no idea how atrocious and poorly designed the American app was until I didn't have to use it every week. Maybe the iPhone version is amazing, but the Android app is terrible.
Delta's app is much better, and they use it to far greater effect. There's more information in offline mode, the boarding passes are easier to scan, and the interface is generally more intuitive. My only complaint is that in the Android version the app is called "Fly Delta" which makes it annoying to find in the alphabetized app tray.
Winner: Delta
Outlets and onboard power
I flew through Phoenix on Wednesday, which reminded me that American's power situation is absolutely and completely unacceptable.
Many of the pre-merger US Airways planes don't have in-seat outlets. Still. In 2018. And I know there are always people who say "flights are supposed to be for relaxing, not everyone has to work, charge your devices before you leave," and whatever else. The majority of the flying public (particularly in first class where people are more often traveling for work) wants in-seat power. With the increasing reliance on airline apps for flight information (and entertainment), being able to charge devices is mandatory.
Neither of my American flights on Wednesday had outlets, and on both flights other passengers in first class were visibly looking for them. The inconsistency with on-board charging opportunities is compounded by the lack of available charging options on the ground. The renovated Admirals Clubs have improved their outlet situation, but most gate areas are still lacking in outlets.
Delta, meanwhile, has outlets, or at a minimum USB ports on nearly all mainline aircraft. The app lists whether or not a given flight will have in-seat power. And there are power-up stations that allow multiple passengers to charge devices at almost all gates.
Winner: Delta
Connections
Steph mentioned this briefly in her intro piece, but if you don't live in a hub city, and thus need to connect regardless, Delta has a stronger presence in better airports.
Salt Lake City and Seattle are much better than Phoenix. Minneapolis and Detroit blow Chicago O'Hare out of the water. LAX and JFK are equally horrible for everyone, but even Atlanta is easier to connect in than DFW or MIA.
For many of us, schedules and timing have a greater influence on our airline choice than anything else, and outside of weather concerns probably don't look too closely at comparative connections. But it's been an absolute delight connecting in the well-managed SLC and MSP airports as opposed to the PHX and DFW connections of my American years.
Winner: Delta
Lounges
American's Flagship lounges and dining are vastly better than anything Delta has to offer, but most people, most of the time, are just going to be using the standard SkyClubs and Admirals Clubs.
The caliber of the lounges varies dramatically with both airlines. Some, like the Seattle SkyClub, are either newly constructed or recently refurbished, with bright spaces and updated furniture.
Others are more like the Detroit SkyClub, which feels a bit dark and dated.
On balance, American has more recently-refreshed Admirals Clubs, which have abundant outlets and are generally not horribly crowded.
Obviously it will vary based on airport and time of day, but in general Delta lounges seem to be more heavily utilized. More people have access to SkyClubs than Admirals Clubs, given that many people have one of several cards that offer SkyClub access, like The Platinum Card® from American Express, The Business Platinum Card® from American Express, Delta SkyMiles® Reserve Business American Express Card, etc., or choose a SkyClub Membership as their Diamond Medallion Choice benefit.
American doesn't offer a pathway to Admirals Club membership through elite status, so the best way to gain access is through the Citi® / AAdvantage® Executive World Elite Mastercard®.
While American has been adding some speciality items to their lounge catering, with things like avocado toast and guacamole at certain lounges during certain time windows, for the most part the lounge offerings are limited and unimpressive.
The larger lounges will have things like prepared salads, soups, hummus, and olives at certain times of day, but outside those windows (or in satellite lounges), the selection primarily consists of cubed cheese, snap-less peas, and snack towers of sadness.
Delta isn't going to win Michelin stars for their SkyClub menu either, but I think the selection is much better. The main and larger SkyClubs have prepared items by local chefs, with a substantial mix of hot and cold items.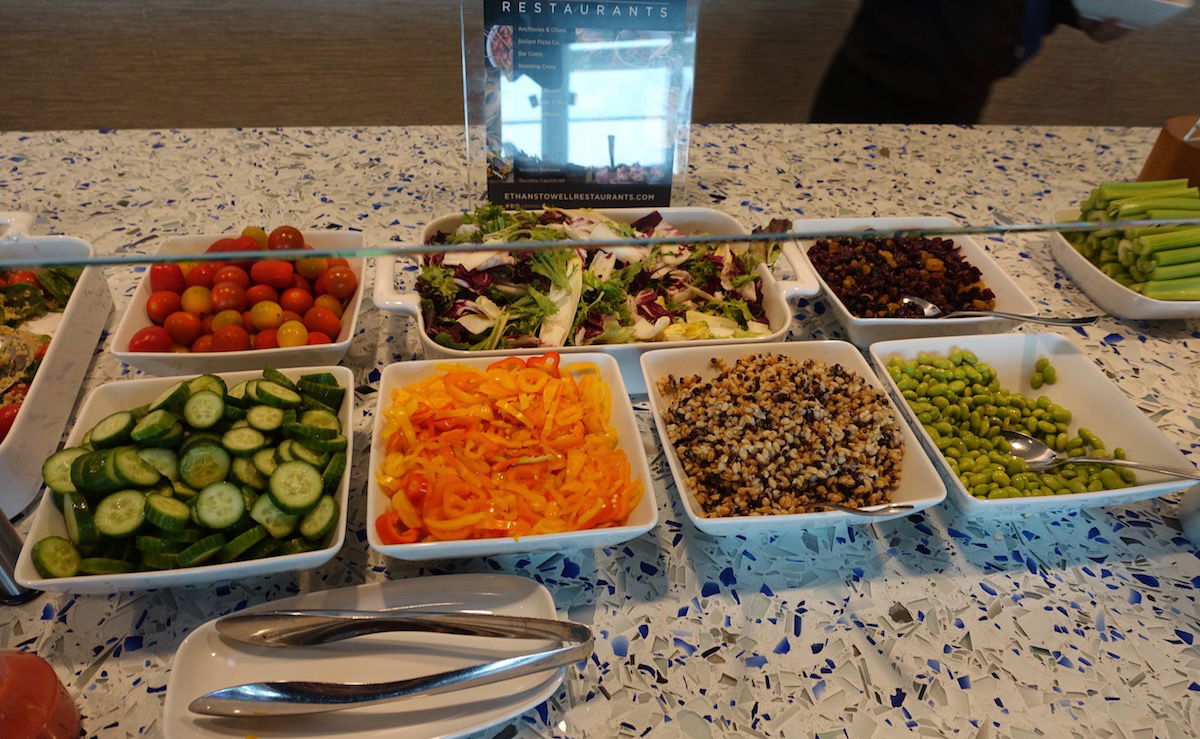 And even the smaller clubs and satellite lounges have a "SkyBowl" concept that accommodates a lot of dietary restrictions. On a connection in Salt Lake last week, for example, the salad bar had grilled chicken, three kinds of lettuce including a massaged kale, and several types of vegetables. The proteins vary, and sometimes one of the lettuces is replaced by a seasoned rice, but there's always a good mix. Soup or a macaroni and cheese dish is usually available as well.
Ultimately, I think, it depends on what you value, and the airports you'll be utilizing most often.
Winner: Tie
Onboard catering
Ben has said plenty about American's abysmal domestic catering, so I won't belabor the point. The one bright spot is that they now allow you to order special meals on domestic flights, though those can still be hit or miss.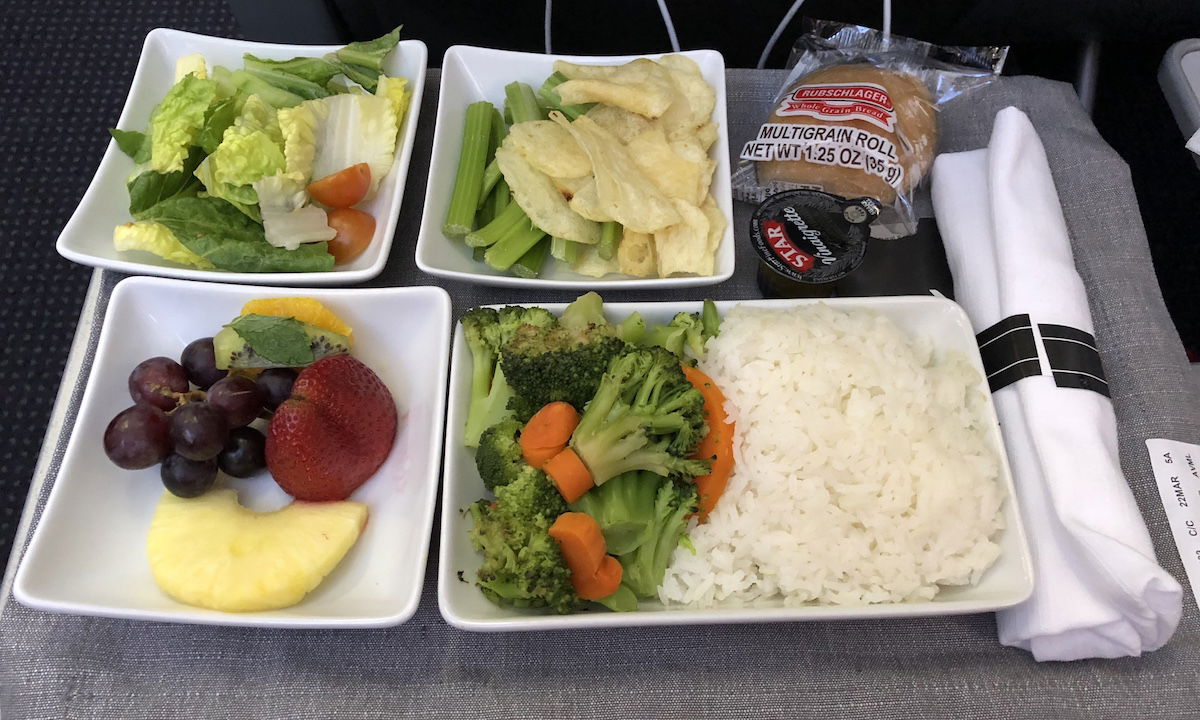 Delta's catering is of a higher quality, with better presentation. Even breakfast flights will often have a choice of hot or cold items (though there are some aircraft that don't have ovens, and only have cold meals regardless of the time of day).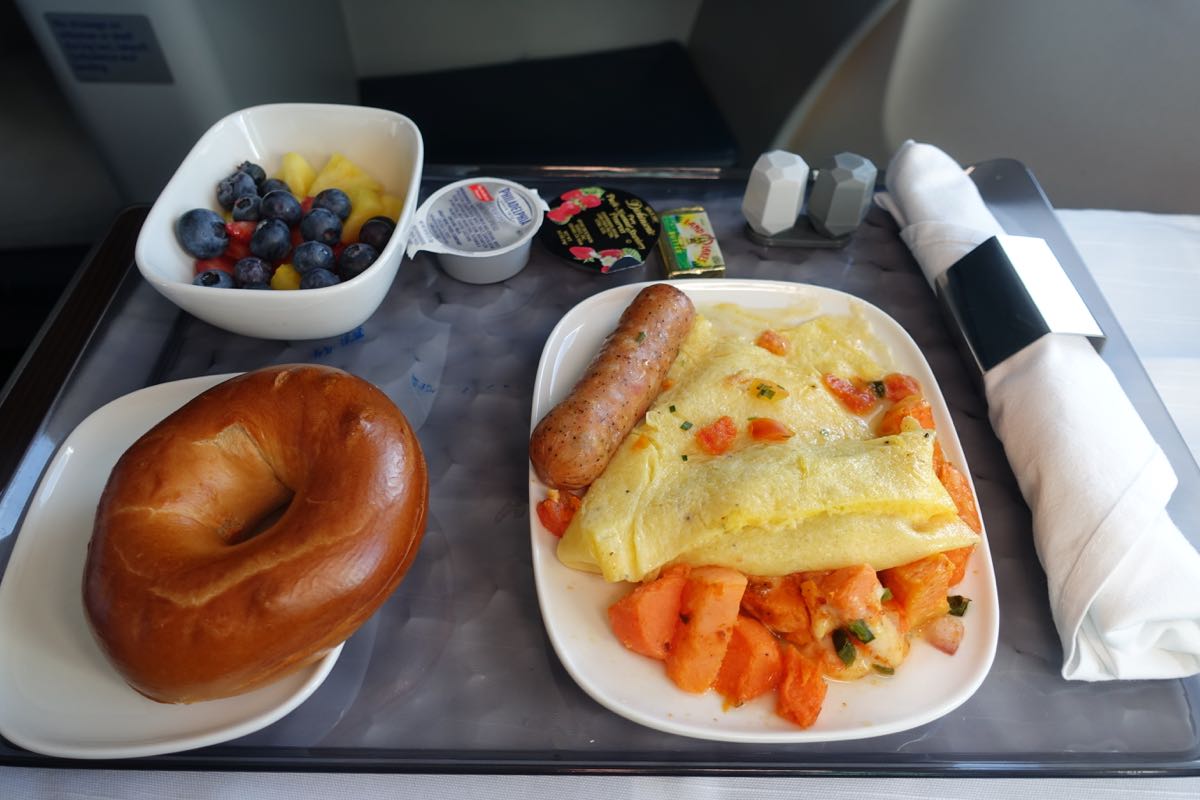 Both carriers have quite a few "snack basket" routes now, though Delta has fewer. The contents of said snack baskets are mostly junk, though Delta seems to have slightly more options on the "healthy" end of the scale.
Winner: Delta
Onboard amenities
If you're flying first class on Delta, you'll board to find a small bottle of water, a packaged blanket, and a pillow at your seat. Even on a regional jet.
Unless you're flying a premium transcon route, American doesn't stock pillows, but each seat will have a blanket.
Both airlines advertise pre-departure beverages, but American flight attendants don't like to serve them. My Delta crews have been great about offering drinks during boarding, and will generally take "once we're in the air" orders ahead of time as well.
Delta has been refreshing their fleet, and the interiors are stunning, with more spacious bins, mood lighting, and built-in IFE. There are, of course, still many un-refurbished planes, but the revamped aircraft are really pleasant.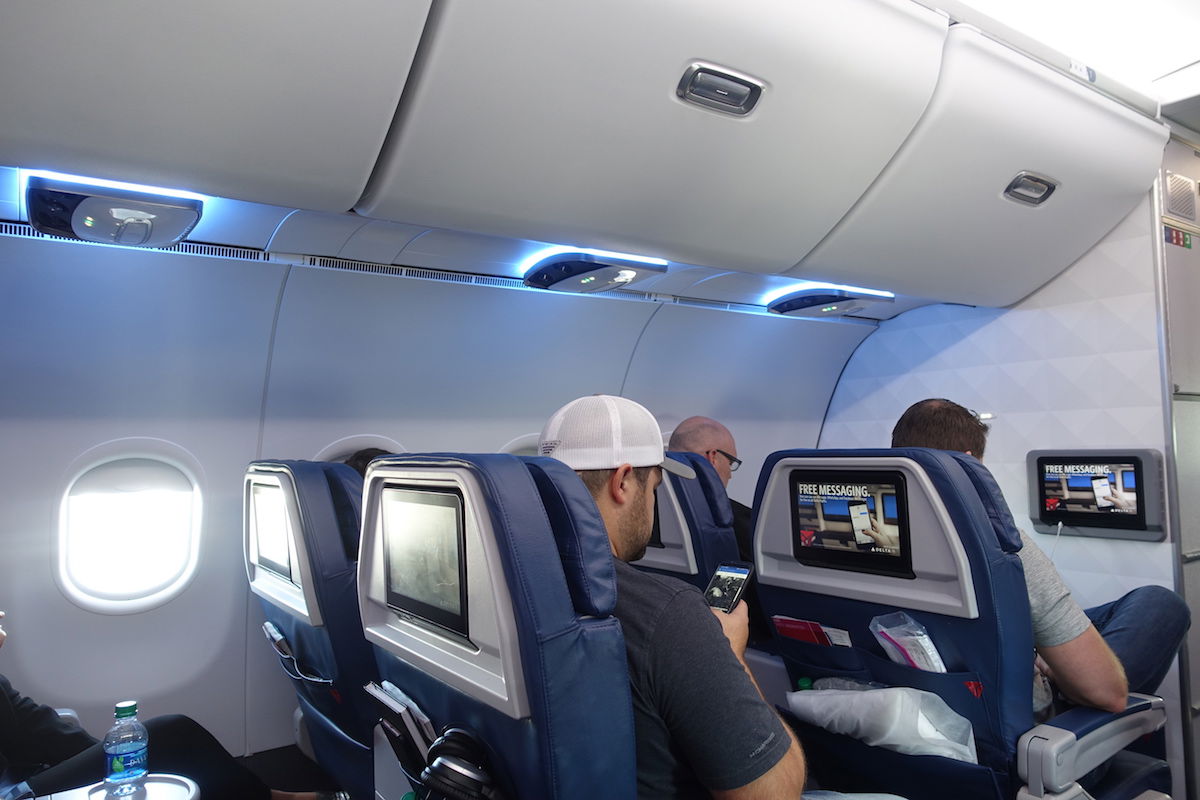 Delta has been improving their Wi-Fi coverage and speed, and when it works, it's amazing. On about 25% of my flights, however, the system is inactive for whatever reason. That's massively frustrating, and derails my productivity for the day (and sometimes the following day as I catch up).
American's Wi-Fi speeds aren't always great, but it's been a few years since I've been on a flight where it doesn't work at all, and I personally value consistency more than anything.
Winner: American (only because I care more about consistent Wi-Fi than any other amenity, for most people Delta probably wins out)
Bottom line
Even separating out the respective elite programs, and the value of the miles earned, and looking exclusively at the domestic flight experience, there are quite a few differences between American and Delta.
Overall, I think Delta offers a superior domestic experience, particularly in first class. Combined with the operational reliability and happier crew members, flying Delta has been much more pleasant than flying American recently.
Has anyone had a different experience? What do you value most for domestic flights in the U.S.?