My biggest complaint with the current state of American's fleet is their horrible legacy US Airways A320 and A321 aircraft. While the legacy American planes at a minimum have power ports at their seats (and many even have personal televisions), that's not the case with legacy US Airways A320 and A321 aircraft.
Those planes don't have power ports, entertainment, or Main Cabin Extra. So while a routing on a legacy US Airways plane sometimes works better for my schedule, I generally try to avoid it.
The worst part is that American hasn't announced any plans to update the interiors on these planes. It's one thing if they said now that they'll be updating the interiors with power ports and Main Cabin Extra next year, but they haven't. Instead they're just willing to use these horribly sub-par planes for many of their domestic routes.
Anyway, yesterday Ford flew from Los Angeles to Philadelphia (I was surprised his upgrade cleared), and before the flight I warned him about how bad the interiors are, with worn leather, no power ports, etc.
When he got on the plane he messaged me to say that the plane had new interiors. Hmmm, I figured maybe he was actually on one of American's new A321s, which didn't come from US Airways? I asked him to send a pic, and then noticed it wasn't, because there were no TVs.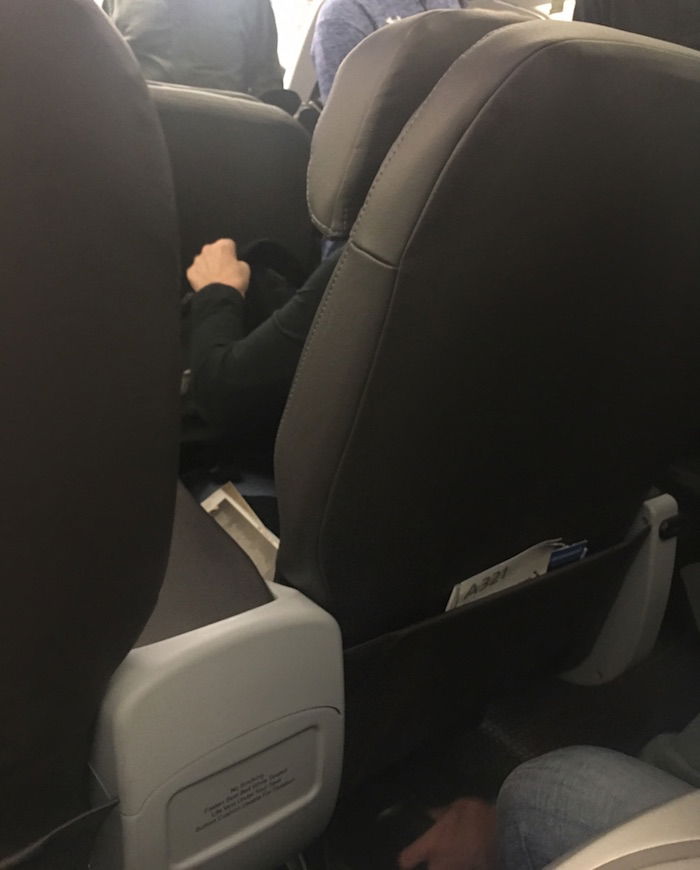 Maybe this has been going on for a while, but it's the first I've seen such an interior on a legacy US Airways A321. I reached out to American, and was informed that legacy US Airways A321 aircraft are getting a trim and finish update, which includes new seat covers and carpeting.
In regards to adding power, etc, they said "we are looking toward long-term retrofit opportunities for this fleet and expect to see power ports as part of the long-term strategy."
I'm not sure whether to be happy that American is going through the effort of replacing the seat covers and carpeting, or disappointed that they're making cosmetic updates without even addressing the biggest issues with the planes.
I also don't really get what they're "looking at" with retrofit "opportunities." It seems simple to me — you rip out the current seats, put in new seats with power ports (at a minimum), and add a few more inches of legroom in the first several rows of economy. Why is this so complicated, again? 😉
I should mention that they've at least made some updates to the legacy US Airways A319 aircraft, which now feature power ports and Main Cabin Extra. However, they removed a row of first class when they updated the interiors, which might be why they were so motivated to reconfigure the whole A319 fleet across just a few months.
Have you flown on one of these refreshed legacy US Airways A321 aircraft?