For over two years now, the "big three" US carriers have been trying to stop the "big three" Gulf carriers. The basis of their argument is that Emirates, Etihad, and Qatar, have been violating the Open Skies agreement because they're government subsidized, and therefore the playing field isn't level. I won't rehash all my feelings in this post, but rather will link to my post from a bit over a month ago about why I have zero sympathy for US carriers in this debate.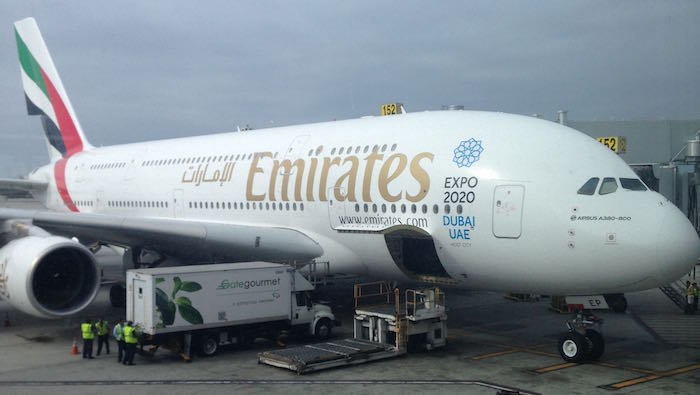 The Gulf carriers are in a lot of trouble at the moment when it comes to their US flights, between the US travel and electronics bans that are in place. This is causing them to cut routes, and on top of that these airlines are under increased financial pressure from their respective governments.
But that's not stopping the US carriers from continuing to run their mindless smear campaign. Here's the thing — the US airlines could make rational arguments for why the Gulf carriers should be stopped. But that's not what the US airlines have been doing — instead they've been trying to appeal to peoples' emotions, patriotism, etc. Maybe that's just the way the world works, but I refuse to support an argument that's based entirely on emotion rather than logic.
Delta recently published their latest smear "ad" against the Gulf carriers, in which they use a Delta flight attendant to make the case for why the Gulf carriers are so evil. And it's simply riddled with lies, rhetoric, and exaggeration. Here's the video:
https://www.youtube.com/watch?v=iwJ6I4qpTAI
Delta claims that they're sharing "just the facts," so let me provide the other side of those "facts," directly responding to a few of the things that this Delta flight attendant is saying (I could write paragraphs about each point, but rather will keep it brief and respond specifically to just a few of the claims):
"We could all be out of jobs in a few years if things don't change." Aside from how ridiculous that statement is, let's keep in mind that foreign ownership of US airlines still isn't allowed, so there's no way in hell you'd "all be out of jobs," unless you're suggesting that there will no longer be a need for any airlines operating domestic flights within the US. Let's not even address the fact that more people are flying US airlines than ever before, and that US airlines are experiencing record profitability.
"They don't have to make a profit, they can set prices as low as they want, because they'll always have money." Sure, these carriers are subsidized, but there's no denying that they're under increased financial pressure from their respective governments. If they'll always have money and don't have to turn profits, why is Emirates greatly reducing service to the US? Why are Gulf carriers adding fees and cost cutting like crazy? Why are they deferring aircraft deliveries? They are under a lot of financial pressure, and at least nowadays aren't being run as vanity projects anymore.
"For every route we lose, 1,500 Americans lose their jobs." Just curious, does that factor in the thousands of jobs being created at Boeing from the hundreds of aircraft that the Gulf carriers are ordering from the US, which cost tens of billions of dollars? Or do those jobs/families not matter? Let's not even talk about the staff that the Gulf carriers have based in the US, the indirect economic impact of the hundreds of thousands of people that the Gulf carriers are bringing to the US, etc.
"What about military travel? That's another big issue. If we keep losing international routes, we won't be able to get our military where it needs to go. Yes, often military personnel depend on commercial flights, us, to get where they need to be, to protect and serve overseas." Ummmm…. what?! Some of the above arguments are a stretch, but this is just next level.
"The US has trade agreements with these airlines' home countries, called Open Skies agreements, which explicitly restrict these sort of things." Sorry, but if that were the case this would have been enforced. There's nothing "explicit" here, but rather it's quite nuanced. That's why the Obama administration decided not to take action on this.
Bottom line
In a few years time, US airlines are likely to cease to exist unless things change, and we won't be able to get our military where they need to go to defend us.