Emirates is the world's largest operator of the A380. So far they have a total of 87 A380 aircraft in their fleet, with a total of 142 A380 aircraft on order. Emirates has almost as many A380s as all other airlines combined, which is pretty amazing.
Emirates has been a huge advocate for the A380
For years there have been rumors of Airbus cutting production of the A380 due to lack of demand, though Emirates has been campaigning for them not to stop production. Seemingly they're the only airline that's actually thrilled with the plane.
Perhaps their desire for A380 production to continue has to do with the fact that they've mostly funded the project, so they want to see the aircraft advance, rather than be discontinued.
Up until now Emirates has basically been taking delivery of the A380 as quickly as they can, and they've been putting the plane on some unusual routes, like Dubai to Doha, which is just a 40 minute flight.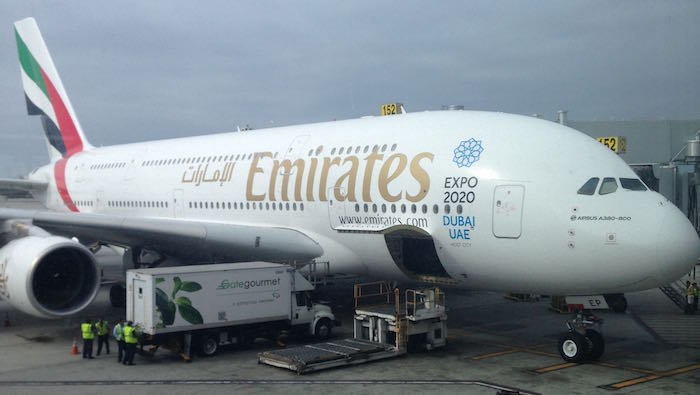 Emirates is delaying some A380 deliveries
For anyone who was doubting the financial pressure the Gulf carriers are under, here's a pretty clear sign. Emirates is delaying delivery of 12 A380 aircraft by at least a year. Per a press release from Airbus:
Following an agreement reached between Emirates Airline and Rolls-Royce and a consecutive agreement between Emirates Airline and Airbus, the Toulouse based aircraft manufacturer is to adapt the A380 delivery stream with six aircraft deliveries postponed from 2017 to 2018 and six others from 2018 to 2019.

Airbus re-confirms the target to deliver around 12 A380s per year from 2018 as announced earlier in July 2016.

Further fixed cost reduction initiatives will be accelerated so the impact on break-even in 2017 is minimal.
What this means for Gulf carriers
In and of itself this might seem minor, but it reflects a major trend we're seeing from the Gulf carriers. Clearly they're forecasting weaker global demand for air travel, while also being under immense financial pressure from their respective governments. For years the "big three" Gulf carriers were run primarily with the purpose of bringing people to the UAE and Qatar, with financial performance being of secondary importance.
However, it seems the Gulf carriers are largely being cut off by their governments. So I suspect we'll continue to see huge cuts across the board — just lately we've seen Emirates start charging for many economy seat assignments, Etihad lose patience with their equity partners, and Qatar making significant cuts to their soft product.
To go hand-in-hand with Emirates delaying delivery of A380s, they also recently fired many of their cabin crew recruiters, which shows that their growth will substantially be slowing down.
Expect a lot more changes over the coming years, this is just the beginning. I wouldn't be surprised to see further significant delays in aircraft delivery.