I guess this shouldn't come as much of a surprise, but the Associated Press is reporting that Emirates is greatly cutting back their frequencies to the US starting next month due to decreased travel demand as of next month. The Associated Press is reporting that:
Dubai to Boston, Los Angeles, and Seattle, will be reduced from twice daily to once daily
Dubai to Fort Lauderdale and Orlando will be reduced from daily to 5x weekly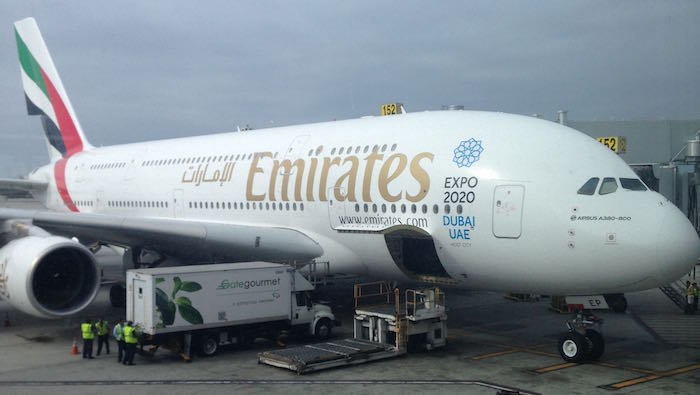 As of now it doesn't look like the actual route cuts have been updated in the schedule, but I imagine it will happen shortly.
This represents a net decrease of roughly 25 weekly flights between the UAE and US. However, do keep in mind that Emirates was already planning on decreasing frequencies on some routes prior to this announcement. For example, for the summer season they were already only going to operate once daily flights between Dubai and Los Angeles.
Perhaps the most telling thing is that they're cutting daily service in some markets down to 5x weekly. Emirates is an airline that likes serving almost all destinations on a daily basis, so that shows how poorly they must be doing in some markets.
Emirates claims that this is coming as a response to both increased immigration measures in the US, and also the electronics ban that's in place for US-bound flights, which is making many people avoid the Gulf carriers. Here's what the airline said about the service reductions:
Emirates said on Wednesday that the reductions will affect five of its 12 U.S. destinations, starting next month. It called the move "a commercial decision in response to weakened travel demand" in the three months since President Donald Trump took office.
It's interesting how Emirates is directly calling out President Trump here — they're not leaving anything to the imagination in terms of how they feel.
One could also argue that these cuts were coming anyway, and that the current situation is just an excuse. The Gulf carriers have been under a lot of financial pressure from their governments, so they've been doing less capacity-dumping. I'm not sure how many of these cuts can be attributed exclusively to Trump's policies in the past few months.
I'm not surprised to see this response. I'm sure the US carriers are rejoicing. It'll be interesting to see if other Gulf carriers reduce frequencies similarly (though in fairness, Etihad and Qatar don't operate as many routes to the US).
What do you make of Emirates' US service reductions?
(Tip of the hat to @JakeSherman)