As an airline product geek, the last quarter of this year is going to be so exciting. Just days apart we'll possibly see the world's two best new first class products unveiled. Specifically, on November 2 Singapore is unveiling their new A380 Suites Class, while just over a week later Emirates is unveiling their new 777 first class.
What we know about Singapore's new A380 Suites Class
Singapore Airlines is good about remaining tight-lipped when it comes to their new products. They reveal things on their own schedule, and we rarely see any sort of leaks. As of now there are really only two things we know:
The new Suites cabin will consist of six seats, presumably with a single aisle
The new Suites cabin will be on the upper deck
I suspect this will be by far the best first class hard product we've ever seen. Singapore Airlines will have just six suites in the same area that Etihad has nine First Class Apartments & The Residence on the A380, which is otherwise the most spacious cabin layout there is. So the product will be almost double as spacious as Etihad's A380 first class, which is saying a lot.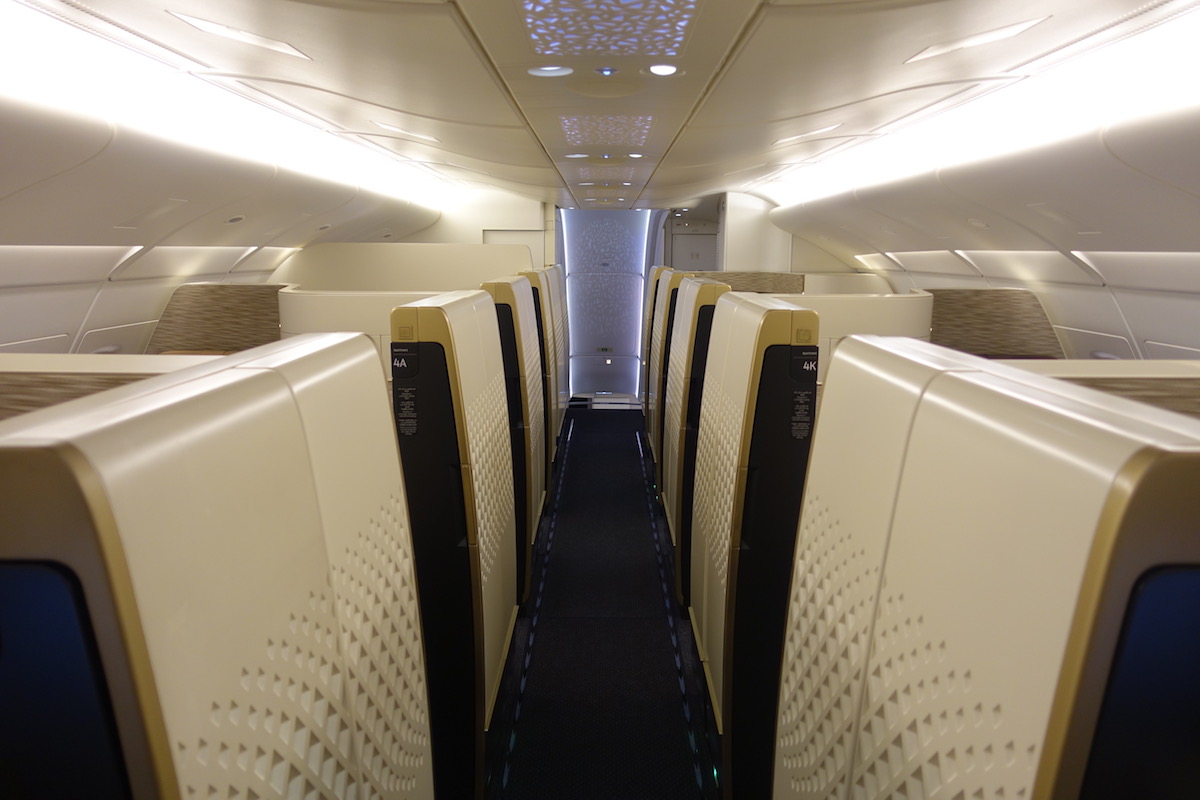 Etihad's spacious A380 first class cabin
There are two hints that recently came out that might give us some new insight into what we can expect from Singapore's new A380 Suites Class. In no particular order:
The window configuration of Singapore's new A380
Singapore's first A380 with the new Suites Class has already been built, and airlines deliberately configure the windows in each cabin based on the layout. For example, currently Singapore Airlines has their Suites Class on the lower deck of the A380, and you'll notice how the windows between doors one and two on the lower deck are configured in this layout, and specifically that there are (intentionally) several windows missing.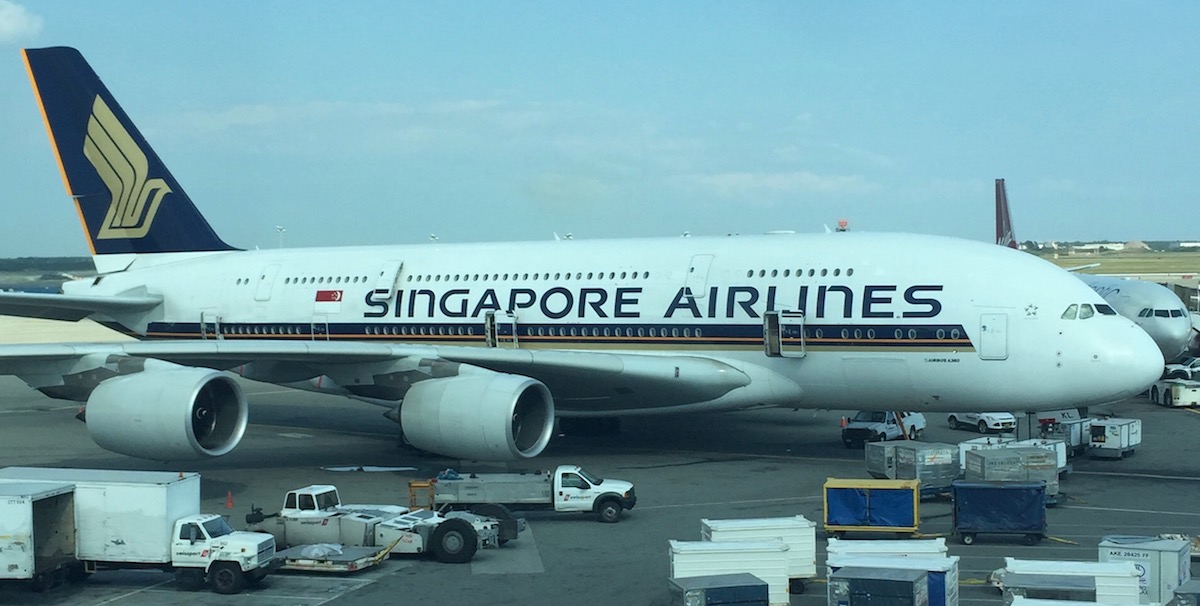 Singapore's current A380
This is because of the cabin layout, and that they don't want windows in areas where they couldn't be opened or closed, like in the thick partition between seats.

Singapore's current A380 Suites Class
Singapore's new A380 Suites Class, located on the upper deck, has a surprising layout. Take a look at this airliners.net picture of Singapore's brand new A380, and you'll see that Singapore only has a total of six windows on each side of the upper deck ahead of the forward door — there are four "open" windows, one "closed" window, two "open" windows, and then four more "closed" windows.
We know that's the case, but we don't know what exactly it means. Off the top of my head, possibilities include:
There's going to be a double bedroom in the forward part of the cabin, and then a single bedroom in the back part of the cabin, which explains why there are four windows in front and two in back
Each suite will have a living area and bedroom, with the living area being the "light" part, and the bedroom being the "dark" part
There's going to be some type of big, shared zone towards the back of the cabin, where the four windows are dark
I'm sure there are a lot of other explanations, but those are the first that come to mind.
Could this be Singapore's new A380 Suites Class interior?
On one hand, Singapore Airlines is good at keeping secrets, so I can't imagine they'd let a leak like this happen. At the same time…
Singapore's current A380 Suites Class was designed by Pierre Jean Design Studio, and rumor has it that they'll be designing the next Suites Class as well. SQTalk notes that if you go to the designer's website, they list all the airlines they work with, including Asiana, Emirates, Lufthansa, Qatar, Singapore, etc.
If you click on the Asiana, Emirates, or Qatar links, you'll see pictures of what the current cabins look like. If you click on the Singapore Airlines link, you get the following pictures:
That sure looks to me like an A380 interior. On one hand I can't imagine they'd actually put the product on their website when Singapore is keeping it so secretive, but on the other hand, if the shoe fits…
My guess is that this is some concept they came up with while developing Singapore's new Suites Class cabin. So I don't think it's the final product, but I also don't think it's a total coincidence that this is listed on their site under Singapore Airlines.
I should also mention that under the Lufthansa section they don't list Lufthansa's current first class product, and I don't believe the airline has plans to introduce a new first class product. So perhaps I'm reading too much into this.
What do you make of the window configuration on Singapore's first A380, and do you think the above interior is reflective of what Singapore Airlines has planned for Suites Class?
(Tip of the hat to @juliancha)