As I mentioned previously, over the coming days and weeks you'll see the occasional post from a fellow reader who has applied to write for OMAAT on an ongoing basis. It's possible that posts will still be in the publication queue after we've announced our decision, so we'll be publishing these anonymously. We hope you enjoy the different perspectives!
---
As a frequent business traveler who is a glutton for punishment values domestic experience and on-time performance over award redemptions, I have a pretty significant cache of miles with Delta.
So, when the topic of our annual December vacation came up and we decided on Malaysian Borneo, I did what your average Delta loyalist would do: I logged into my account and searched for the finest mainland Chinese carrier availability that SkyMiles can buy.
The booking process
The outbound flight was fairly straightforward: I was able to snag two one-way business class tickets for 80,000 SkyMiles (now 95,000) from New York JFK to Kota Kinabalu (BKI) on China Eastern. It's no Cathay Pacific or Japan Airlines but I'm a sucker for reverse herringbone seats, and I'm not typically bothered by cigarette smoke 😉
The itinerary involved a single connection to our fairly obscure destination (yay!), a 12-hour layover in Shanghai (yay?), and cough $295 per person cough in taxes and fees (or an opportunity to earn bonus MQMs and chip away at my MQD waiver so…yay?). The ticket was easily booked online, and I received a ticket number right away.
The return flight proved to be a bit more hairy, with loads of phantom availability showing up for both China Southern and China Eastern. A quick call with Delta confirmed my suspicions, so I gave up, booked my return ticket via other means, and promptly stopped thinking about it for the next eight months.
As it turns out, this mass amount of phantom award availability should have been red flag #1.
The check-in

experience

attempt
We waltzed up to the China Eastern counter on the night of December 25th feeling pretty good about our redemption and ready to crash for the next twelve hours. Anticipation quickly turned to angst, however, when the ticketing agent struggled to find our reservation. She quickly grabbed her manager while my husband shot me his best "don't worry, computer glitches happen all the time look" to try and calm my nerves.
Tony, the China Eastern manager, walked us to anther counter, inputted our passport numbers, and after what felt like a year (but was probably about 90 seconds) said the five words that would turn our next 48 hours of travel upside-down:
"Your tickets were never issued."
Uh-oh.
After breaking a new land speed record to locate Delta's auxiliary T4 desk, I was met with a thoroughly confused Delta agent who had no problem pulling up our reservation and seat assignments on her end. She kindly agreed to walk back to the ticketing desk and duke it out with Tony and the China Eastern system.
At 11PM (the end of her shift), she flashed us a thumbs up on her way out the door, and we breathed a huge sigh of relief. Temporarily.
Rock bottom
20 minutes later, we still hadn't been cleared and we were close to check-in closing, so I decided to check in again for the latest.
"This happens all the time," Tony bemoaned apologetically as he typed away. "Do you have Chinese visas?"
Umm…no?
"I can get you on the flight to Shanghai, but the flight to Borneo is oversold in both business and economy. So without Chinese visas, I can't send you to Shanghai unless you have a ticket onward."
And then came the moment when I knew we were out of luck:
"Are you committed to traveling to this destination, or could you go somewhere else?"
Crap.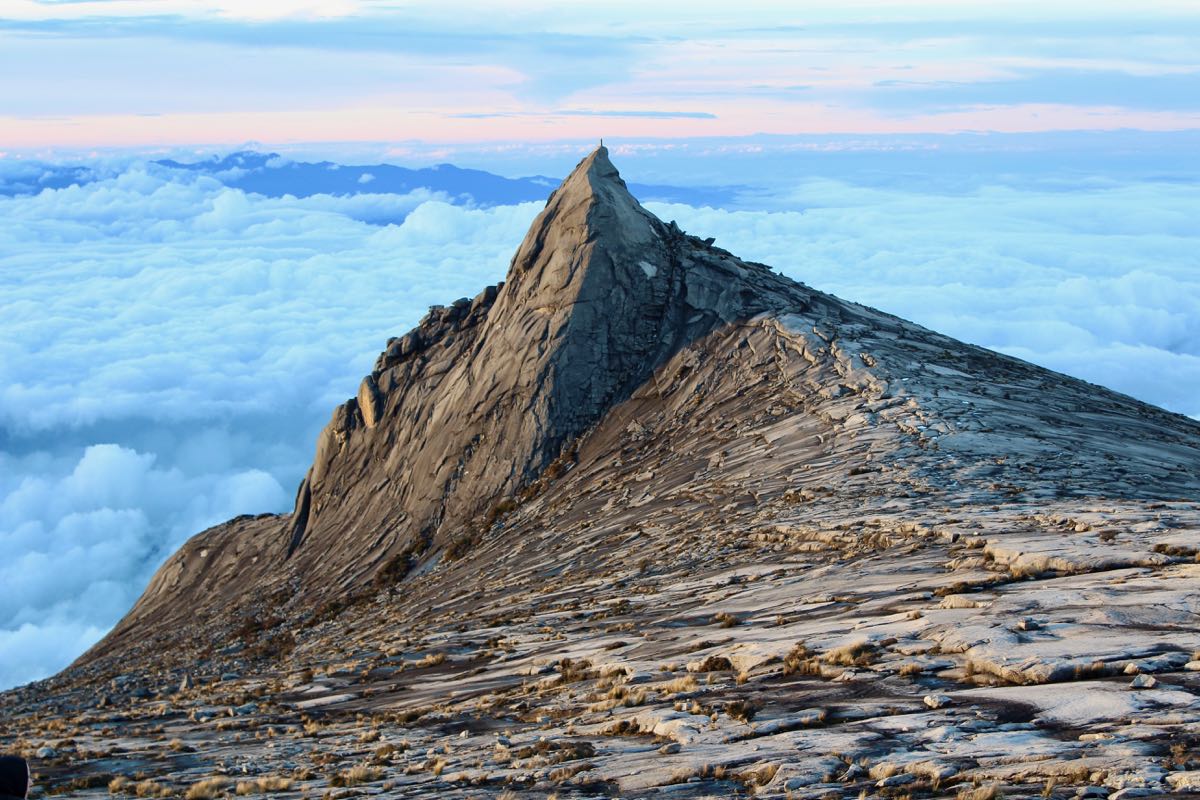 With views like these at stake, I wasn't about to give up on our destination that easily!
Damage control
At this point there was little to be done on China Eastern's end, so I shifted my attention back to Delta's call center. Lisa was kind and met me with a mix of disbelief and empathy, but her search availability was limited to other Delta award inventory, and nothing seemed to be showing up for the next three days.
Suffice to say, I don't think Delta's VPs of Anything are spending their Christmases at the call center.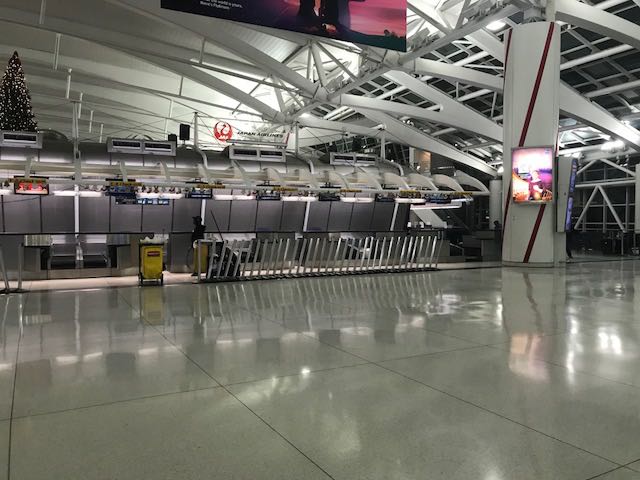 A rare sight – an empty JFK T4 at 1AM. I hope no one else has to experience this.
With our hands seemingly tied, I started to get creative. This may come as a shock, but Kota Kinabalu isn't exactly a happening hub airport, so I suggested that we look at flying into Kuala Lumpur instead.
And just like that, we were back in business.
We settled on the following itinerary:
JFK – LAX on Delta, leaving at 7 AM (business class)
LAX – Shanghai on Delta, leaving at 12:05 PM (business class, cigarette smoke not included)
Shanghai – Kuala Lumpur on Malaysia, leaving at 2:15 AM (economy class but at least we were getting to the right country)
Kuala Lumpur – Borneo on Malaysia, paid in cash, to be reimbursed separately
And off we went to get two hours of sleep before the long journey ahead.
The Silver (Laurel?) Lining
Our saga had only begun when we boarded the plane from Los Angeles to Shanghai, as the auxiliary power unit blew up during the boarding process, causing the power on the aircraft to completely shut off. This isn't usually a cause for celebration, but I knew that a mechanical would open up a ton of inventory that previously hadn't been available.
My fingers were hitting "send" before the pilot could finish saying the words "we apologize," and three phone calls to three different agents later, we were ticketed on the following (unbelievable) itinerary (and yes, all in business class):
LAX – Taipei on EVA Air
Taipei – Borneo on Malaysia
Side note: I was pretty psyched to not only "redeem" SkyMiles for EVA Air business class, but to "build" an award ticket that spanned all three airline alliances.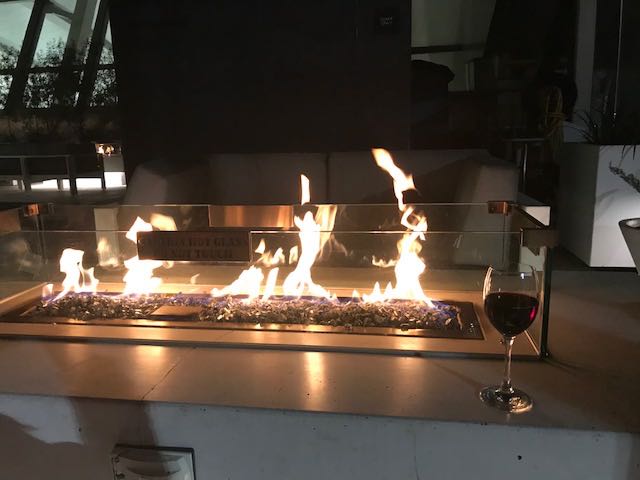 Enjoying a much-needed pre-flight beverage before (finally!) boarding our flight to TPE.
To Delta's credit, they proactively offered my husband and I (each) a $200 credit after the initial ticketing blunder, 15,000 bonus SkyMiles after the mechanical at LAX, and a $100 check later on that evening.
Bottom line
To this day, I'm still not clear on what went wrong on the technical end, and I'll be darned if I can find anyone else who's had this same issue.
My suspicion is that the issue originated with China Eastern's system and the ticket should never have been issued in the first place. Here's what I learned, so that you hopefully avoid the same mistakes I made:
Always double-check with the operating airline when booking with a third party.
Historically, my award bookings with Delta on partner airlines had always been seamless, and I trusted the process implicitly. I had a ticket number!
The ability to book seats on the Delta app further lulled me into a state of complacency, leaving me in damage control mode at the airport, with a ticking clock and limited options. I should have checked my seats and reservation with China Eastern directly.
A five-minute (heck, even a one-hour) phone call would have saved hours of headache down the road. And if you're reading this and having an "oh crap" moment right now, their North America Central Reservations number is 1-855-589-5530.
Be flexible with your point of arrival.
It was clear that alternative options were limited, and if I hadn't offered to fly into Kuala Lumpur when I was talking with Lisa on that fateful night, I might still be sitting on the floor at JFK, hoping that a flight to Borneo eventually opens up.
This happens all the time domestically as well – phone agents may look at availability into Hartford without ever checking Boston or Providence, for example.
If at first you don't succeed, call, call again.
I can't emphasize enough how worthwhile it was to keep plugging away. It took four phone calls, and the mechanical most certainly helped, but finding an empowered agent who understood the situation and was able to route me to the right place was worth its weight in gold.
And the Veuve Clicquot and pajamas in EVA's business class didn't hurt, either 😉
Has anyone else had a similar experience with SkyMiles, China Eastern, or any award ticket not processing? If so, what did you do to fix the situation?
---
As a reminder, this post was guest-written by a fellow reader. Feedback is appreciated, but please keep the comments kind and constructive.