Hello, live from a China Eastern flight enroute from Los Angeles to Shanghai. I'll have more thoughts on the flight once I land, given that the Wi-Fi is super slow. Suffice to say that China Eastern has a great (though very bland) reverse herringbone hard product, and a soft product that gives China Southern a run for their money.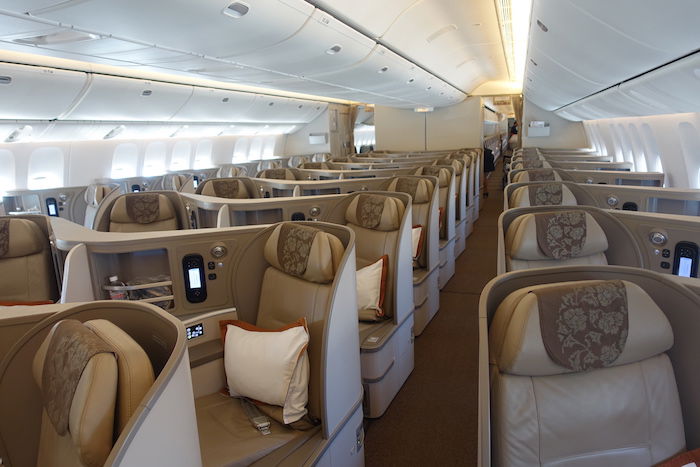 Despite the slow Wi-Fi, I have to share the most bizarre aspect of this flight.
Before flying China Eastern I had heard rumors that their crews will smoke inflight, though I always assumed that wasn't the case, or was perhaps an isolated incident.
Well, after over four million flown miles, this is a first for me — the smell of cigarette smoke has filled the cabin no fewer than a dozen times over the past five hours of my China Eastern flight.
Shortly after takeoff we noticed the smell and asked the flight attendant, and she brushed it off, and said "probably oven." That's complete BS, since there's a difference between the smell of cigarettes and the smell of smoke from an oven.
However, every 20-30 minutes throughout the flight there has been a strong smoke odor. Really strong, as if someone is smoking just a few feet from us.
We've been investigating this, and several times now have walked through the cabin, only to find no one smoking. In one instance none of the lavatories were even occupied.
So I'm not sure who is smoking, though I have to assume that it's either the pilots in the cockpit, or otherwise the flight attendants in the galleys and crew rests. I don't want to falsely accuse them, but we've brought the smell to their attention multiple times and they consistently say they don't smell it, which suggests to me they're trying to cover it up.
I hope they're at least careful with disposing of the cigarettes, since we know how dangerous fires on planes can be…
Have you ever experienced a similar situation on a plane?