Korean Air SkyPass is one of my favorite frequent flyer programs. The points are harder to come by since the partnership with Ultimate Rewards ended, but you can still move points over from Marriott.
What makes Korean Air SkyPass awesome?
There are lots of things that make SkyPass awesome, including:
You can redeem these miles for Korean Air first class between the US and Asia, and award availability is wide open; you can even do a stopover in Seoul Incheon on a one-way award ticket
You can redeem SkyPass miles for first class on China Eastern, China Southern, and Saudia, and these first class awards are wide open, given that Delta SkyMiles members don't have access to international first class awards
SkyPass allows very long holds, often up until only a few days before departure
SkyPass has very reasonable change and redeposit fees
Anyway, the point of this post isn't to talk too much about the program in general, but I figured those were some useful points to make for anyone who isn't at all familiar with the program. Simply put, there's not another program that has so much saver level first class award availability between the US and Asia, and the redemption rates are reasonable to boot.
The one catch of SkyPass is that you can only redeem miles for you and your family members. You can't redeem them for friends, non-married spouses, etc.
My SkyPass partner airline conundrum
As some of you may remember, I flew Saudia first class from New York to Riyadh to Dubai several weeks ago, and I booked that using 160,000 SkyPass miles. The catch is that while you can do a one-way award ticket on Korean Air flights, when you're redeeming SkyPass miles for partner airlines you have to book it as a roundtrip.
So I booked the outbound for a few weeks ago, and then the return for the end of the year. One of the reasons I did so was because I had hoped that the electronics ban would be lifted from the Middle East to the US, so I wanted to minimize my odds of being impacted by that. Fortunately that paid off, as the electronics ban has indeed been lifted.
There's only one slight problem. I recently booked a cheap business class ticket from Mexico City to Easter Island, and only after confirming did I realize that I had planned my return from Dubai to New York on Saudia for just a couple of days after I returned to Mexico City. Sure, I could have quickly gotten to Dubai and then flown right back, but that wasn't ideal.
So my goal was to change the date of the return ticket, though I wasn't sure if that was allowed. I've never done that before with SkyPass, and different programs have different rules when it comes to changing partner award tickets after you've already flown the outbound.
Can you change SkyPass partner awards after departure?
I wanted to keep the same routing from Dubai to New York for a more convenient date, so I found the award availability I wanted online. Saudia first class is so wide open on miles, so finding availability wasn't an issue.
Then I phoned up the SkyPass service center, and got a great agent. I told her the date I wanted to switch to, and she confirmed those flights were available. "Do you want to make the change?" "Yes please."
She said "okay, it's all done," and before she could finish the sentence, the email with the new flights was in my inbox. There was no fee or anything, but she did warn me that the policy had changed as of August 1, 2017, and that there was now a 30,000KRW (~27USD) fee for changing tickets, but she made an exception since it was my first change.
Seriously, I don't remember the last time changing an award ticket was that easy. So the great news is that you can easily change the date of your return after you fly the outbound, which is good for those who want to book a SkyPass partner award one-way, but aren't yet sure when they want to use the return portion.
But then I decided to push my luck again and see if they'd let me change my return destination after flying the outbound. Could I change my Dubai to New York flight to a Dubai to Los Angeles flight?
I phoned up SkyPass again, got the same agent (I'm pretty sure there's only one agent per shift in their US SkyPass office), she confirmed the flights were available, and within five minutes she had my ticket changed. This time I was charged the ~27USD fee, which is very reasonable.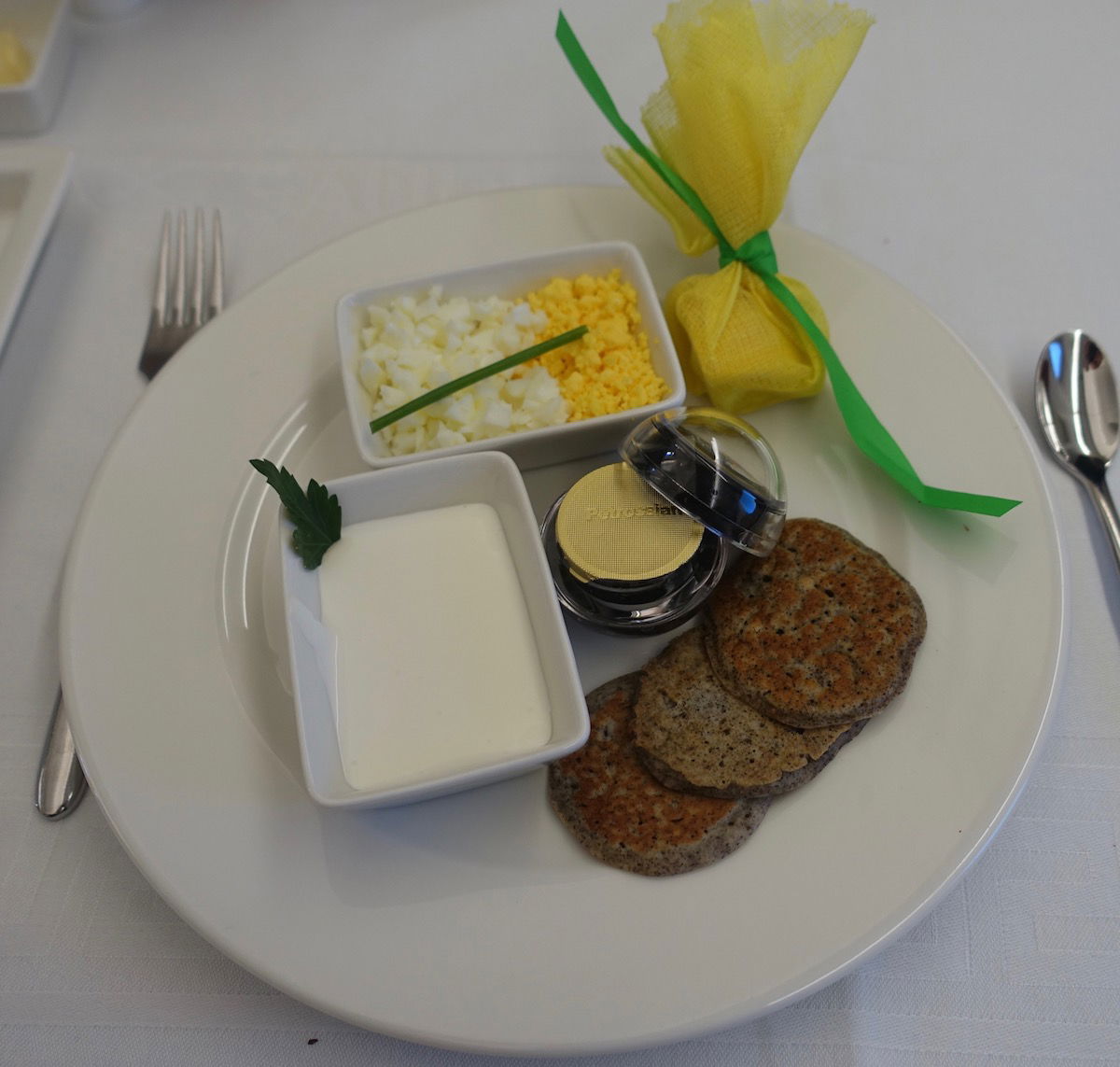 Caviar in Saudia first class
Bottom line
This is great news for anyone looking to book a Korean Air SkyPass award. Often I'm just trying to book a one-way award, while SkyPass requires a roundtrip ticket for partner airlines. So as long as you use the whole ticket within 12 months of when it's issued, it's super easy to make these changes. Not only can you change the dates, but you can also change the destinations (as long as you're otherwise following SkyPass rules).
If you're in a similar situation and not sure when you want to return yet, I recommend booking the return date as far out as possible, and then closer to the date you can easily make a change.
With this change it also means I'll be able to luxuriate for nearly 30 hours in Saudia first class… talk about a cleanse!