I've written extensively about Korean Air SkyPass, which is a Chase Ultimate Rewards transfer partner (although this benefit unfortunately went away in 2018). The way I see it, it's the single best program for first class award redemptions to Asia.
Why Korean Air SkyPass is so awesome
Korean Air releases more saver level first class award availability to Asia than any other airline. That's true whether you're booking 11 months in advance…
…or whether you're booking a week before departure.
I can't think of any other airline where you can redeem miles for four first class seats on a single flight in advance.
Availability is probably so good because SkyTeam doesn't have reciprocal first class award redemptions across the board. While economy and business class redemptions are available to all carriers, airlines individually have to negotiate with one another for first class redemptions. Delta doesn't let SkyMiles members redeem for international first class redemptions, so that means Korean Air first class award availability is wide open for SkyPass members.

Korean Air A380 first class seat
Korean Air flies to more US cities than any other Asian airline, and first class availability is excellent across the board.
One-way Korean Air SkyPass first class redemption rates are as follows:
North America to Japan, Korea, and China: 80,000 miles
North America to Southeast Asia: 95,000 miles
North America to Southwest Asia: 105,000 miles
North America to Oceania: 120,000 miles
80,000 miles for first class redemptions to Japan, Korea, China, etc., with excellent availability is tough to beat. But there are some other things to keep in mind about Korean Air SkyPass, both good and bad:
There are no fees for changing or redepositing awards, so you can freely make changes
You can do a stopover on a one-way award, meaning you can stop in Seoul Incheon enroute to elsewhere
Miles can also be redeemed for first class on China Southern and China Eastern, though roundtrip travel is required for travel on partner airlines
There are "peak" dates, where mileage rates are higher
You can only redeem miles for yourself or direct family members, which is a rather frustrating policy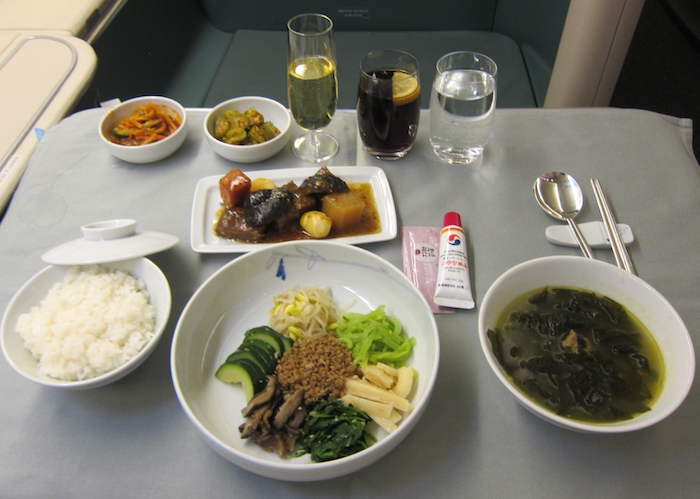 Bibimbap in Korean Air first class
Korean Air SkyPass is adding fees to award tickets
I've written in the past about how Korean Air SkyPass has one of the best policies for changing or cancelling award tickets, as there are no fees under a vast majority of circumstances.
Well, Korean Air SkyPass has just announced that they will be adding some change and cancellation fees as of August 1, 2017. That's right, they're giving about 15 months notice of these changes, so kudos to them for that. That's what I call proper advance notice!
And the changes really aren't that bad. They apply to award tickets on Korean Air, as well as to award tickets on partner airlines. Here are the new fees:
Reissuing an international award will cost 30,000KRW (~26USD)
Refunding an award ticket will cost 500 miles for a domestic flight, or 3,000 miles for an international flight, if the refund is issued within one year from the date of issue of the award ticket
Refunding an award ticket more than a year from the date of issue (which no one should do), will cost 3,000 miles for a domestic flight, or 10,000 miles for an international flight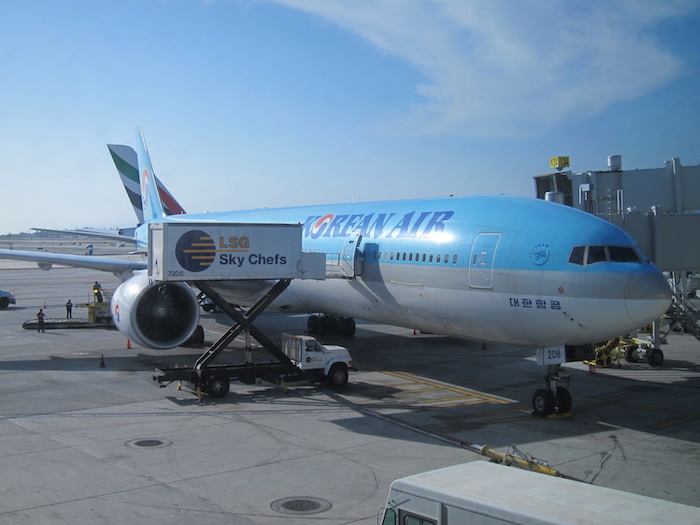 Korean Air 777 at LAX
Bottom line
Korean Air SkyPass continues to be the single best program for international first class redemptions between North America and Asia. Not only do they offer the most North American gateways of any Asian airline, but they also have the most availability.
While Korean Air first class isn't one of the absolute best products in the world, it's very solid, and I wouldn't hesitate to fly it again. So far I've flown Korean Air first class from Tokyo to Seoul, Seoul to Los Angeles, and Los Angeles to Sao Paulo.
(Tip of the hat to Kwangsu)