---
Back in the day Cathay Pacific used to be one of the most consistent airlines in the world when it came to releasing last minute first class award space. Unfortunately that has changed significantly over time, so in this post I wanted to take an in-depth look at Cathay Pacific's current first class award availability trends.
Stuff has changed significantly with Cathay Pacific, as they no longer release first class award seats to partner airlines close to departure, even when cabins are wide open.
Why Cathay Pacific First Class Is Awesome
Cathay Pacific offers one of my all around favorite first class experiences in the sky. No, it's not the world's most private or modern first class product, but it's the most consistent and one of the most comfortable, in my opinion.
Cathay Pacific exclusively has first class on their 777-300ERs, and there are just six seats — there are two rows in a 1-1-1 configuration.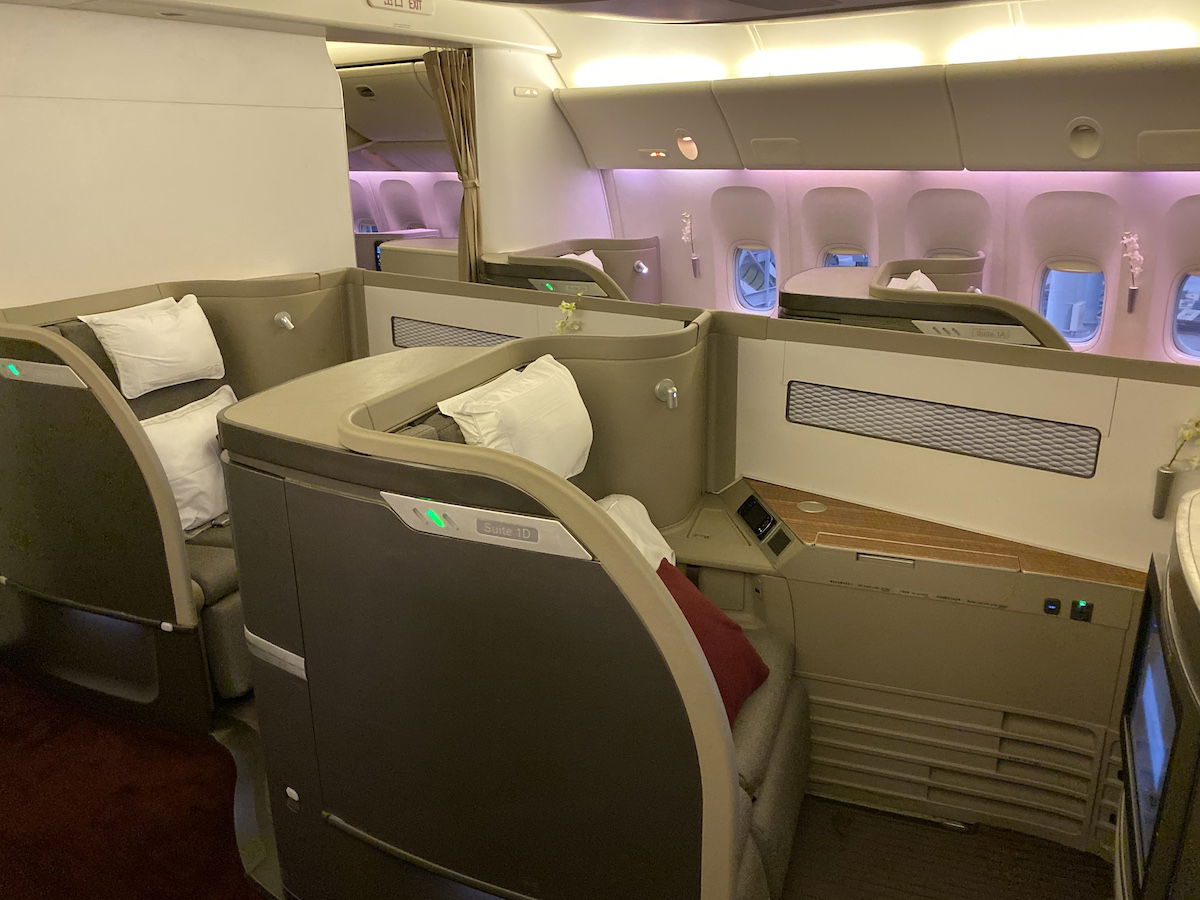 Cathay Pacific first class cabin
For so long Cathay Pacific didn't change much about their first class, but they're finally changing some things up for the better: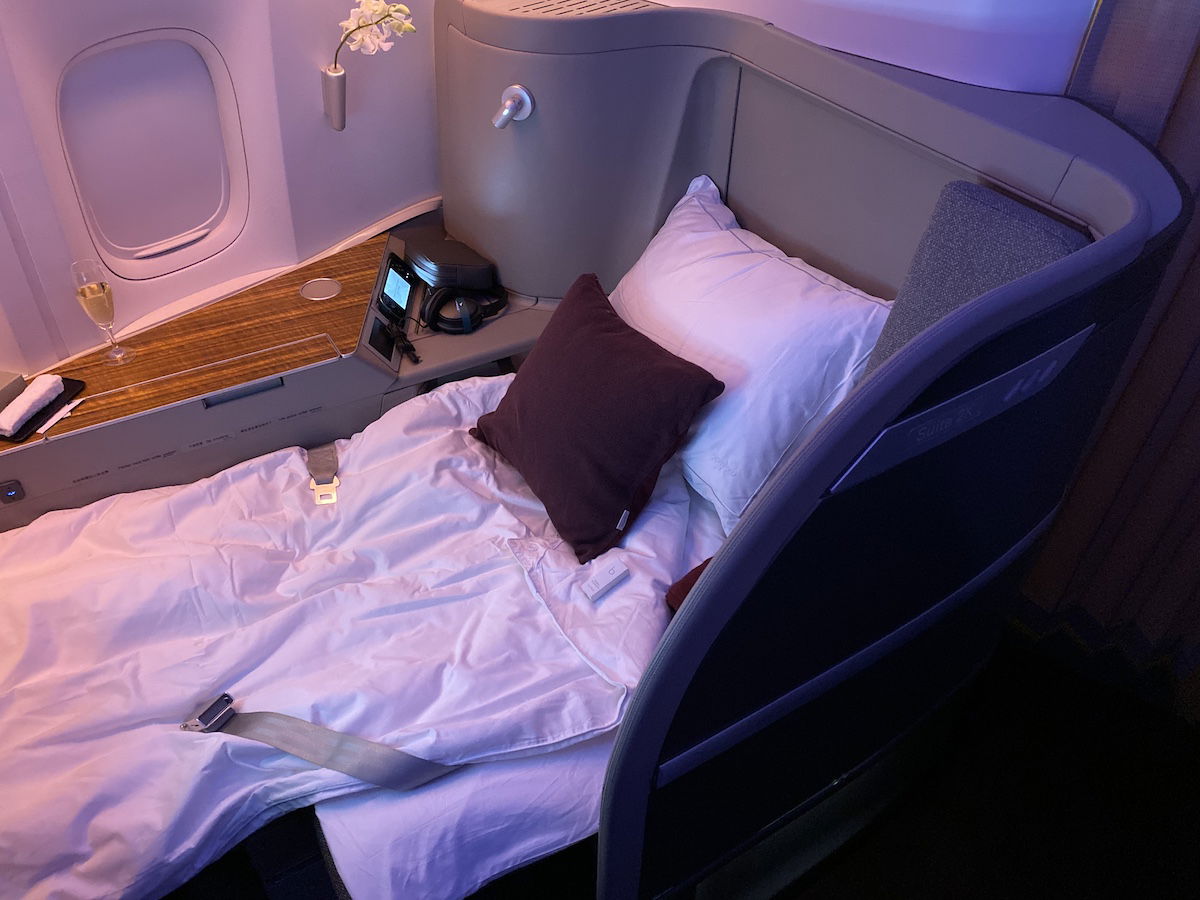 Cathay Pacific first class bed
Cathay Pacific first class is such a great way to cross the Pacific.
How Cathay Pacific Used To Release Award Space
I think some historical context might be useful here. Back in the day Cathay Pacific would release up to one or two first class award seats per flight when the schedule opened, and those seats would be bookable either through Cathay Pacific's own Asia Miles program, or using partner airline miles.
What was especially awesome was that closer to departure Cathay Pacific would release more first class award availability, both to members of partner programs, and to members of their own Asia Miles program.
The closer to departure it got, the more award seats they'd offer — for example, within a day of departure they'd usually make all but one first class seat available using miles. This created one of the most readily available opportunities to redeem for transpacific first class.
The catch is that this pattern has changed over the past year, though I wasn't willing to draw too many conclusions. Why? Cathay Pacific had a huge first class mistake fare on New Year's Eve last year, and this radically changed their first class inventory. Some flights 10 months out were already two thirds booked out in first class.
So when patterns changed, I wasn't sure if it was just a temporary change given the circumstances, or a permanent shift. Well, we've now reached just about the one year mark since that mistake fare, so I think it's finally safe to draw conclusions based on all of this.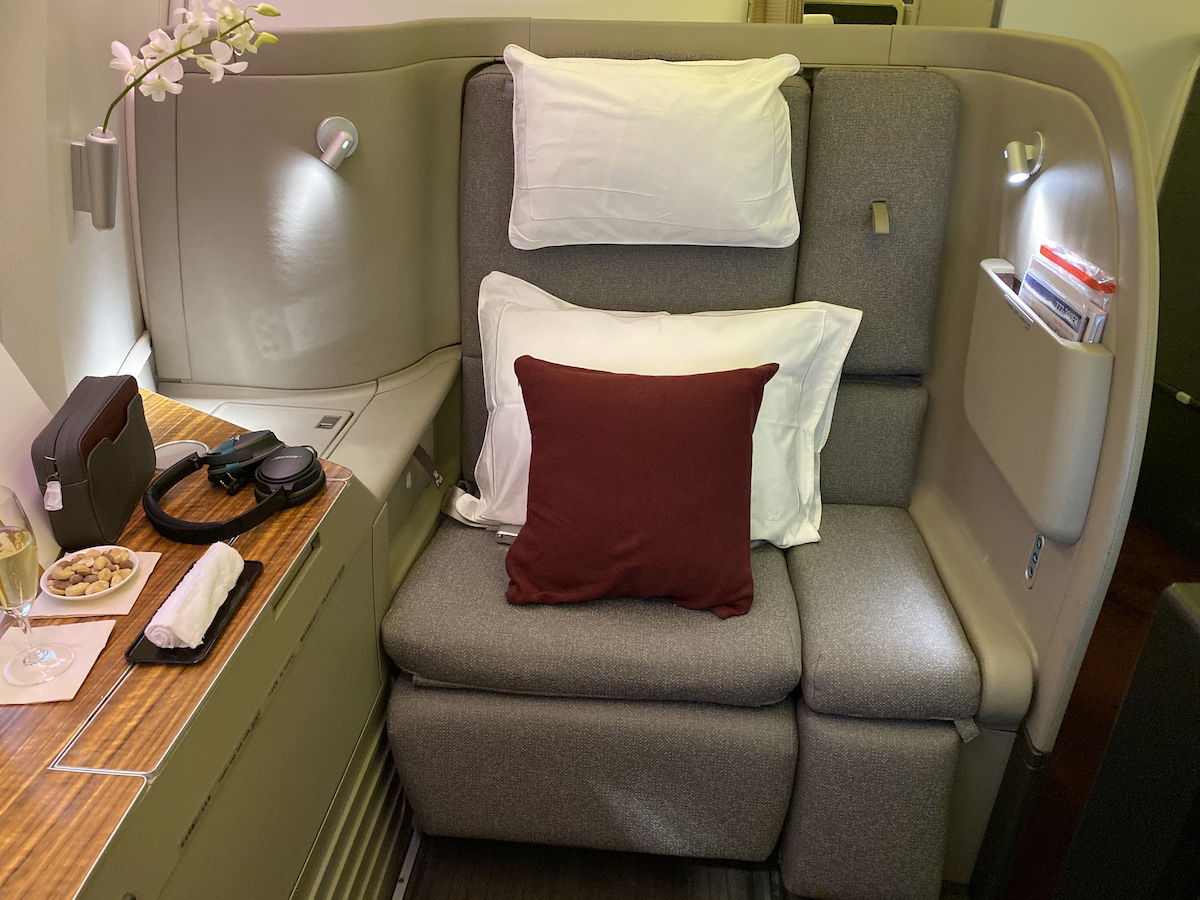 Cathay Pacific first class seat
Overall Cathay Pacific Award Trends
Before I talk in detail about what Cathay Pacific's first class award trends look like nowadays, let me note a couple of general trends we're increasingly seeing from Cathay Pacific Asia Miles.
Award Availability Varies Drastically For Partners
Nowadays Cathay Pacific makes significantly more award space available to members of their own Cathay Pacific Asia Miles program, compared to members of partner frequent flyer programs.
This has always been the case somewhat, but never to the extent we're seeing now. To me this also means that Cathay Pacific Asia Miles is a useful program for the first time for those with transferable points.
This is true in all cabins, though it's especially true in first class, where the difference is most noticeable.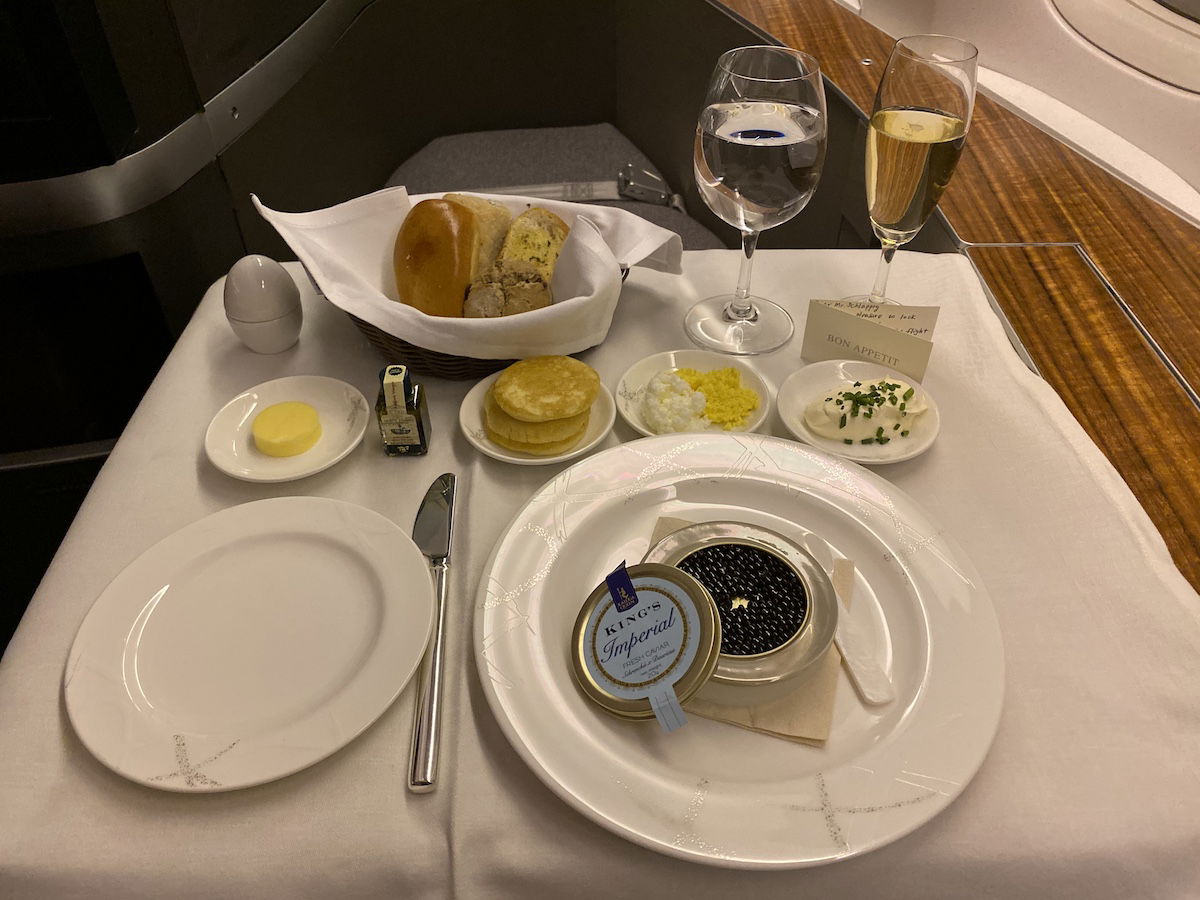 Cathay Pacific first class caviar service
Heavy Use Of Married Segment Logic
Cathay Pacific has started heavily using married segment logic for award availability. Married segment logic has long been used for revenue airline tickets, but only in the past few years has it become common on award tickets.
Essentially with married segment logic, airlines may only be willing to sell you a seat (in cash or in miles) if you're connecting to a certain place, rather than if you're looking to fly nonstop.
In the case of redeeming miles, that means they might say there's no award availability on a particular flight from Hong Kong to New York, but if you search availability from Taipei to New York via Hong Kong, suddenly there's an award seat. That means the airline is willing to let someone book that if they're connecting, and not if they're flying nonstop.
There are a variety of reasons airlines use this method, thought he most common is that they know that generally people are willing to pay a premium to fly nonstop. So that's why they may only make "saver" seats available with a connection, since they might think there's less risk of that award seat cannibalizing a revenue booking if it's not in a nonstop market.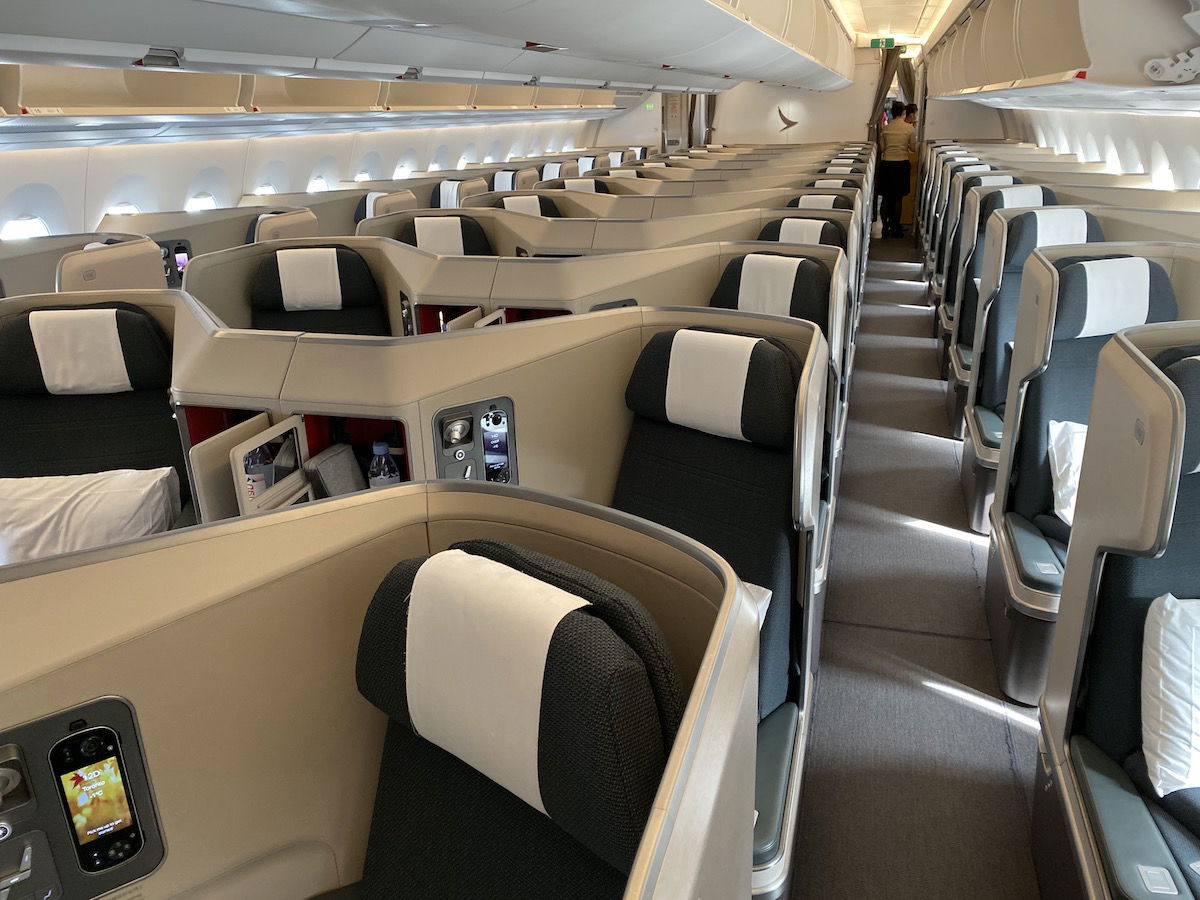 Married segment logic is especially common in business class
Redeeming Partner Miles For Cathay Pacific First Class
Cathay Pacific continues to make up to one first class award seat available to partner airlines when the schedule first opens, just under a year before departure:
Not every flight will have a first class award seat, though many will
You'll virtually never see two first class award seats available to partners
For example, Cathay Pacific has a few frequencies per day between Los Angeles and Hong Kong, and virtually every date has at least some award availability when looking way in advance.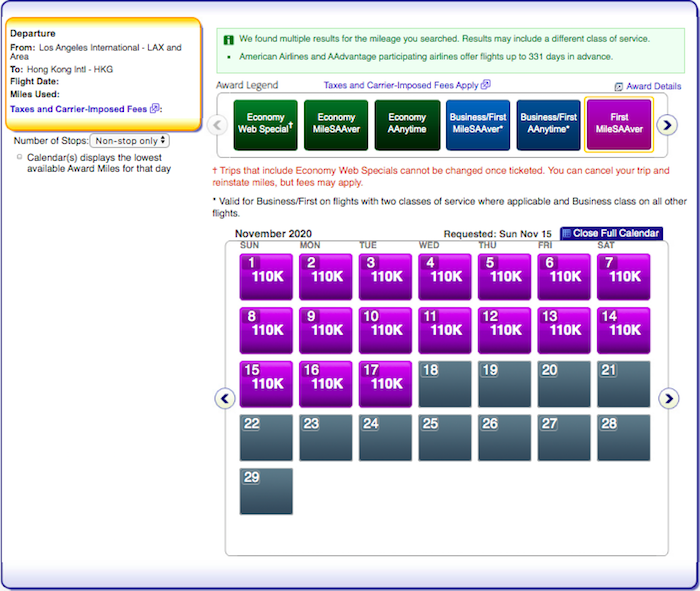 As you can see, sometimes you even have several flights per day with availability.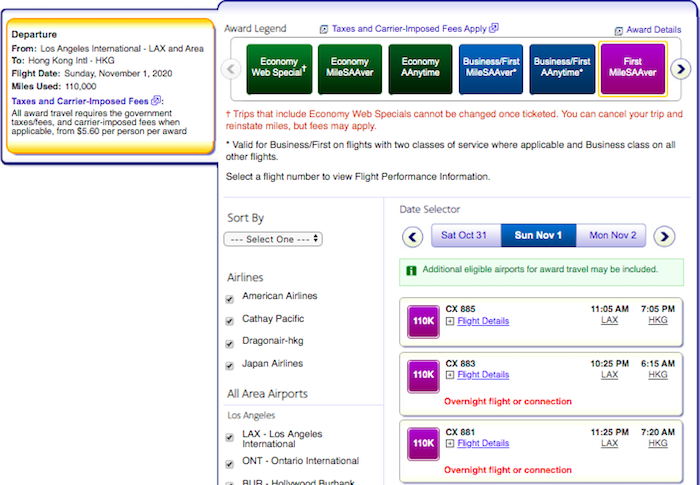 Cathay Pacific first class is still quite attainable using partner miles, but only for one person, and only in advance.
Conversely, you'll virtually never find any long haul Cathay Pacific first class award space close to departure anymore through partner programs, even if the cabin is completely open. For example, on my recent trip the Hong Kong to Boston Cathay Pacific flight I was looking at had all six first class seats remaining for sale, but no award seats, even a few days out.
Looking at the schedule right now, the next award seat I see in first class from the US to Hong Kong is on January 16, over three weeks from now (and that's from New York to Hong Kong).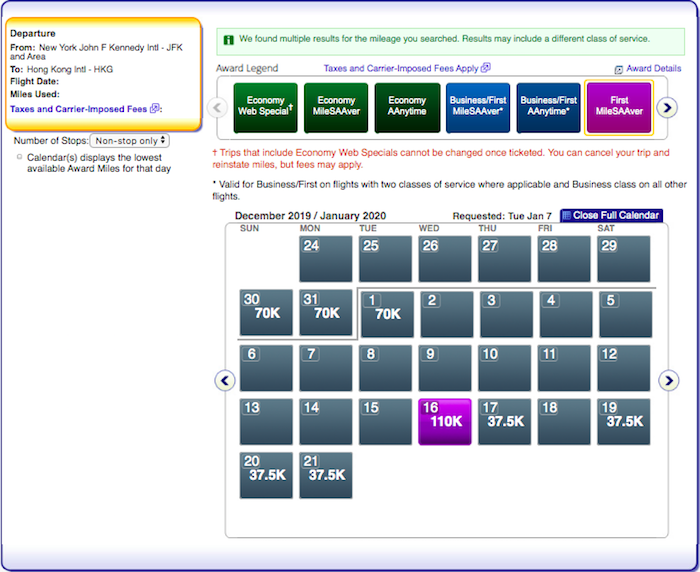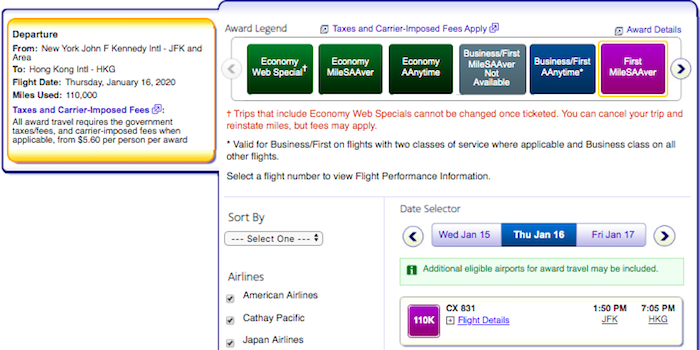 Just to further drive home the point, that's the case in spite of the fact that I see multiple flights between now and January 16 that have all six first class seats for sale (with other cabins wide open too), and no award seats.
So this isn't an accident, but Cathay Pacific seems to be intentionally wiping out last minute partner award seats. This is something they said they were considering doing a while back, and it looks like they've followed through on that.
The closest to departure you should expect to see Cathay Pacific first class award seats through a partner is a few weeks, but even that is pushing it. Even then expect to see just one seat per flight at most.
How To Search Cathay Pacific Partner Award Availability
One of the general challenges with redeeming for Cathay Pacific first class is that there are some quirks associated with searching award availability, so at least be aware you may need to cross reference when searching space:
American AAdvantage has a useful award calendar, but sometimes struggles with accurately showing availability due to married segment logic (however, if you see availability on a nonstop flight then it should be bookable)
British Airways Executive Club sometimes inaccurately shows married segment award availability, and doesn't show any Cathay Pacific award space within a week of departure (the latter part isn't a huge issue for Cathay Pacific first class, since there's no space close to departure)
Qantas Frequent Flyer is generally the most accurate website for searching partner award space, but is otherwise the least user-friendly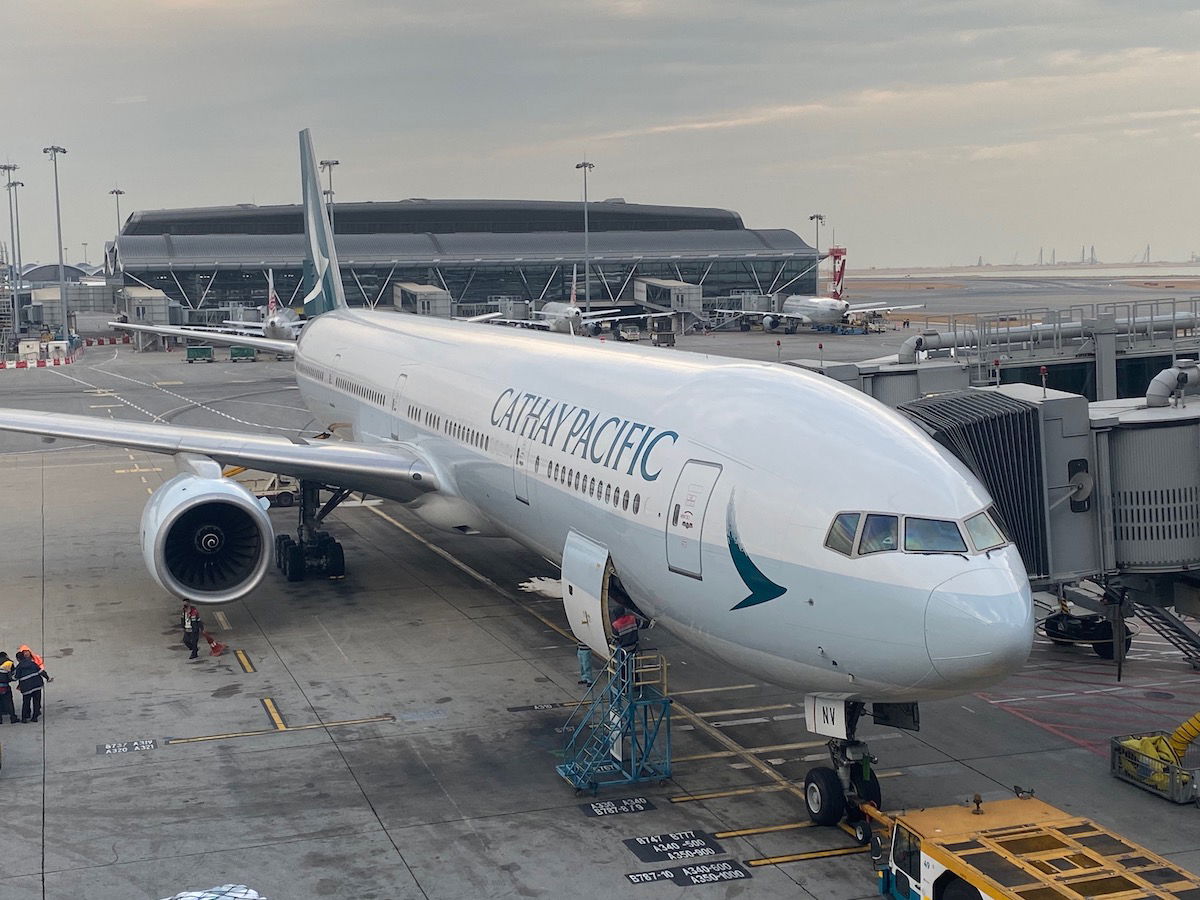 Cathay Pacific 777
Best Partner Award Values For Cathay Pacific First Class
If you want to redeem partner miles for Cathay Pacific first class, what are the best values?
The absolute best value is to redeem 70,000 Alaska Mileage Plan miles for a one-way ticket, and you're even allowed a stopover. The catch is that sometimes Alaska Mileage Plan doesn't have access to the same award availability on Cathay Pacific as other partners. Sometimes hanging up and calling again does the trick, while other times it doesn't. See this post for the best credit cards for earning Alaska Mileage Plan miles.
Alternatively, you could redeem 110,000 American AAdvantage miles for a one-way ticket between the US and Asia.
See this post for the best credit cards for earning American AAdvantage miles.
Redeeming Asia Miles For Cathay Pacific First Class
Asia Miles is Cathay Pacific's frequent flyer program, and nowadays they have access to a lot more Cathay Pacific first class award space than partner programs.
For the most part, when booking right when the schedule opens, Asia Miles also only has access to one saver level award seat per flight.
This assumes you want to redeem at the "standard" level and not the "choice" level, which I'd highly recommend. Sometimes you'll see a second seat but it's rare, and definitely the exception rather than the norm.
When you search award availability, don't be thrown off by it saying "only a few seats left." Logically you'd interpret that to mean "wow, they have a few more award seats on that flight in first class!" But nope, in reality it just means that only a "few" more seats are for sale (which is logical enough, since the cabin just has six seats).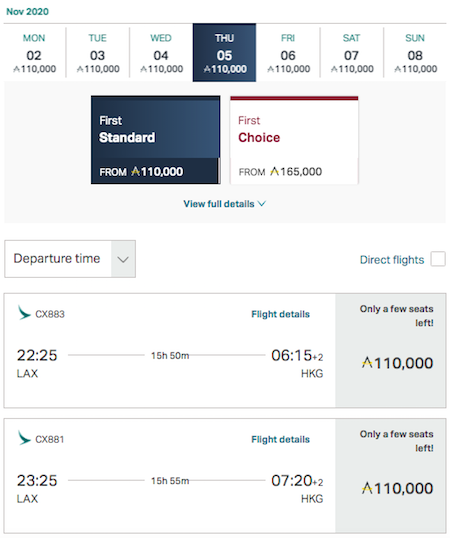 There's not a whole lot of movement with award availability two to ten months out, but then closer to departure you will see more award seats.
I don't see a pattern that's 100% consistent (I guess they're trying to keep us guessing), but to give an example, the Boston to Hong Kong flight on December 26 (four days from now) has five first class seats for sale, and three are bookable as awards.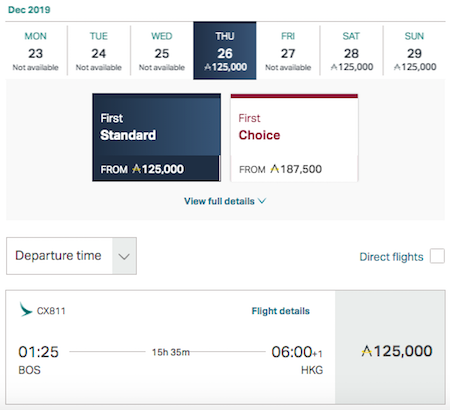 It seems like for the most part close to departure you'll see them release award seats so that there are still two to three seats left for sale, even right before departure.
For example, tomorrow (December 23) two of Cathay Pacific's Los Angeles to Hong Kong flights are pretty wide open. One has six first class seats for sale, and one has five seats for sale — the one with six seats for sale has three award seats, and the one with five seats for sale has two award seats. So on that flight they're willing to release awards to the point that "only" three seats are remaining.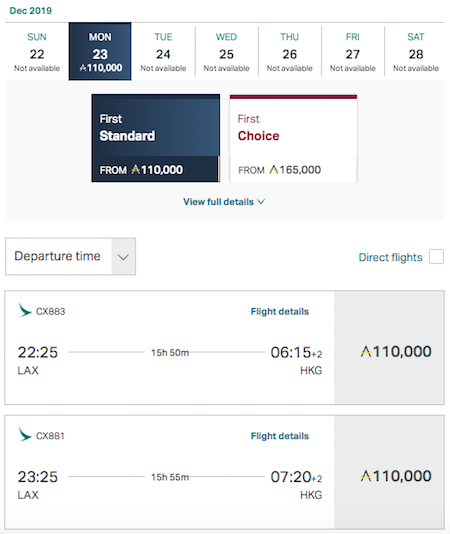 Sometimes they're more conservative, though. For example, also tomorrow (December 23), the evening flight from London to Hong Kong has all six first class seats remaining for sale, but only one is available for an award seat. That's odd, especially since other cabins don't seem to be oversold.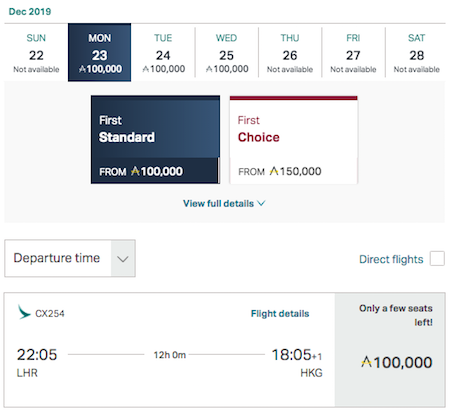 Cathay Pacific Asia Miles Award Chart
While you've seen a sample of some redemption rates above, here's the Cathay Pacific Asia Miles award chart:

As you can see, the chart is distance based, and it's based on the entire distance of your one-way journey (including connections). So when it comes to first class redemption rates for long haul travel:
A 5,001-7,500 mile journey costs 100,000-110,000 miles

The cost is 100,000 miles if you're not flying to the Americas
The cost is 110,000 miles if you are flying to the Americas

A 7,500+ mile journey costs 125,000 miles
Cathay Pacific does have some mild carrier imposed surcharges they add to awards, but they're not too crazy. For example, I booked a one-way Cathay Pacific first class award from Beijing to Hong Kong to Boston, and that cost me 125,000 Asia Miles plus a total of $140 in taxes, fees, and carrier imposed surcharges.
Cathay Pacific Asia Miles Change & Cancelation Fees
If you end up booking a Cathay Pacific award through Asia Miles, the fees you'll potentially face are as follows:
An award ticket refund costs $120 per person
An award ticket rebooking (on the same route — just changing the date and/or flight number) costs $25 if done online and $40 if done by phone
An award ticket change (changing the award type, cities, etc.) costs $100
How To Earn Cathay Pacific Asia Miles
Asia Miles is transfer partners with Amex Membership Rewards, Citi ThankYou, and Capital One:
Amex and Citi points transfer at a 1:1 ratio
Capital One points transfer at a 2:1.5 ratio
We occasionally see transfer bonuses to Cathay Pacific Asia Miles; for example, in the past year we've seen a targeted 30% transfer bonus from Amex, and a publicly available 20% transfer bonus from Citi
If you transfer points to Cathay Pacific Asia Miles during a transfer bonus, then the value of redeeming for Cathay Pacific first class last minute might not be too bad.
Bottom Line
A lot has changed with how Cathay Pacific releases first class award availability.
Nowadays you can expect Cathay Pacific to release some first class award availability to partner programs a year out, though don't expect more than one seat per flight, and don't expect any award availability at all last minute (even if the cabin is open).
Nowadays if you want to book multiple seats in Cathay Pacific first class, booking through Asia Miles is your only option. They also typically only have one seat in advance at the lowest award level, but as the departure date approaches you'll often find flights with two or even three award seats.
However, across the board don't expect as much Cathay Pacific award space as they used to make available. They're no longer consistently willing to make all but one seat available as an award last minute, so if you want multiple seats you'll have to look for flights with really wide open first class cabins.
Historically I've never really focused on the Asia Miles program, but going forward I could see myself transferring points there when there's a bonus for doing so.
If you've tried to book a Cathay Pacific first class award lately, what was your experience like?