Brussels Airlines is in a unique position. They're owned by Lufthansa, but Lufthansa is in the process of basically merging Brussels Airlines and Eurowings, which is their low cost airline. It seems complications related to that may have led to a very unusual flight yesterday.
Brussels Airlines' nine hour flight from Brussels to Brussels
Brussels Airlines' flight from Brussels to Washington (SN515) is usually in the air for about 8-8.5 hours, at least based on looking at flight tracking for the past couple of weeks. Yesterday the flight was in the air for around nine hours… and it landed back in Brussels.
That's right, Brussels Airlines operated a roughly nine hour flight from Brussels to Brussels, as the plane turned around halfway over the Atlantic. The plane took off at 12:30PM, and landed back in Brussels at 9:15PM.
Here's a map that shows the rough route, though it doesn't show just how far it flew — that's because Flightradar24 often can't track around the middle of the Atlantic.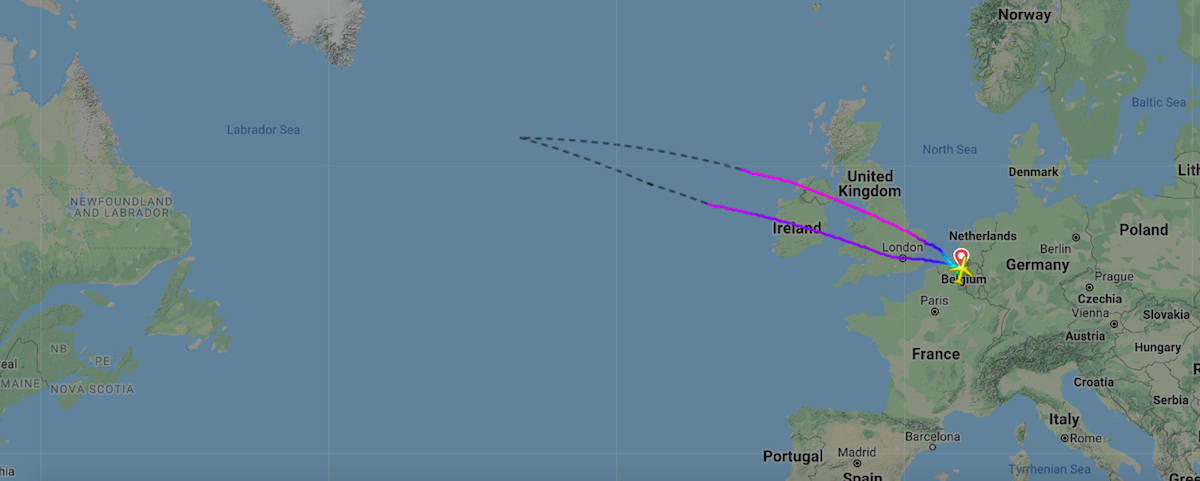 What happened?
Well, we're not sure, as the airline isn't saying, other than noting that it was for "operational reasons."
The flight was supposed to be operated with an A330-200 that had the registration code OO-SFZ, but it got swapped last minute for operational reasons. The plane was then operated by an A330-300 that had the registration code OO-SFL.
There are some interesting things about this plane:
It flew for Lufthansa until March 2019
Then it was transferred to Brussels Airlines, and it began flying for them as of May 18, 2019
While the plane is flown by Brussels Airlines, it's technically registered to Eurowings, given that it has an "OO" registration code
This is part of Brussels Airlines being integrated into Eurowings, which is their low cost carrier
This was the plane's first flight to the US since it was re-registered as a Brussels Airlines/Eurowings plane
Passengers on board report being told that this issue was because the plane was new and hadn't been registered yet in the US.
While we don't know the full reasons yet, it seems pretty clear that this ultimately boiled down to some sort of paperwork issue. I guess the airline hadn't filed to have the plane registered with the FAA in the correct way, and that caused this diversion.
This was an insanely costly mistake
This (likely) paperwork mistake probably cost Eurowings hundreds of thousands of Euros, if not more.
At a minimum, EU261 applies, which is the EU's mandatory compensation policy for delays. Every passenger on this flight is due 600EUR cash compensation. This includes both passengers on the Brussels to Washington flight, as well as those on the Washington to Brussels flight that ended up being canceled.
If you assume each of those planes had 250 passengers, that's 300,000EUR in compensation right there. Of course this assumes passengers actually request compensation, which many probably won't know to do.
That doesn't factor in any of the other costs — hotels, food, getting the passengers to their destination, the crewing costs, fuel burn, etc. Those amount to several hundred thousand Euros as well.
In the end I'd estimate this mistake cost the airline well over 500,000 Euros.
Bottom line
This is a crazy story, though the truth is that we see a story like this probably once a year. If you had a medical situation you'd usually divert to the nearest airport (in this case probably in Iceland).
The only circumstances under which you'd have a plane turn around at the halfway point (or even further) is if there's some paperwork issue, or if there's some maintenance issue where you think you're best off flying everyone back to base, rather than continuing to the destination.
Was anyone on yesterday's SN515 who can share what exactly happened?