This is one of the more embarrassing reasons that an airline has operated a flight to nowhere…
Jetstar flight from Melbourne to Bali returns to Melbourne
This incident happened on Tuesday, December 27, 2022, on Jetstar flight JQ35, scheduled to operate from Melbourne, Australia (MEL), to Bali, Indonesia (DPS). For those not familiar, Jetstar is a low cost carrier that's a subsidiary of Qantas.
The flight was operated by a roughly eight year old Boeing 787-8 with the registration code VH-VKE. The 2,719-mile flight was scheduled to take six hours, departing at 6:15PM and arriving at 9:15PM (there's a three hour time change).
Unfortunately the flight already started on a bad note — it only departed at 11:02PM, nearly five hours behind schedule. At this point passengers were already going to be landing in Bali in the middle of the night. The flight climbed up to 40,000 feet, and for the first four hours operated roughly as planned.
However, while over the very north of Western Australia, as the plane was about to start its journey over the ocean, the plane turned around. It proceeded to fly all the way back to Melbourne. The plane landed back in Melbourne at 6:48AM, essentially performing a 7.5+ hour flight to nowhere. And again, that doesn't even factor in the nearly five hour departure delay, as passengers returned to Melbourne more than 12 hours after their scheduled departure.
Funny enough (well, at least for those of us who weren't on this flight), the flight covered a distance of 4,196 miles, over 50% further than the planned distance to the actual destination.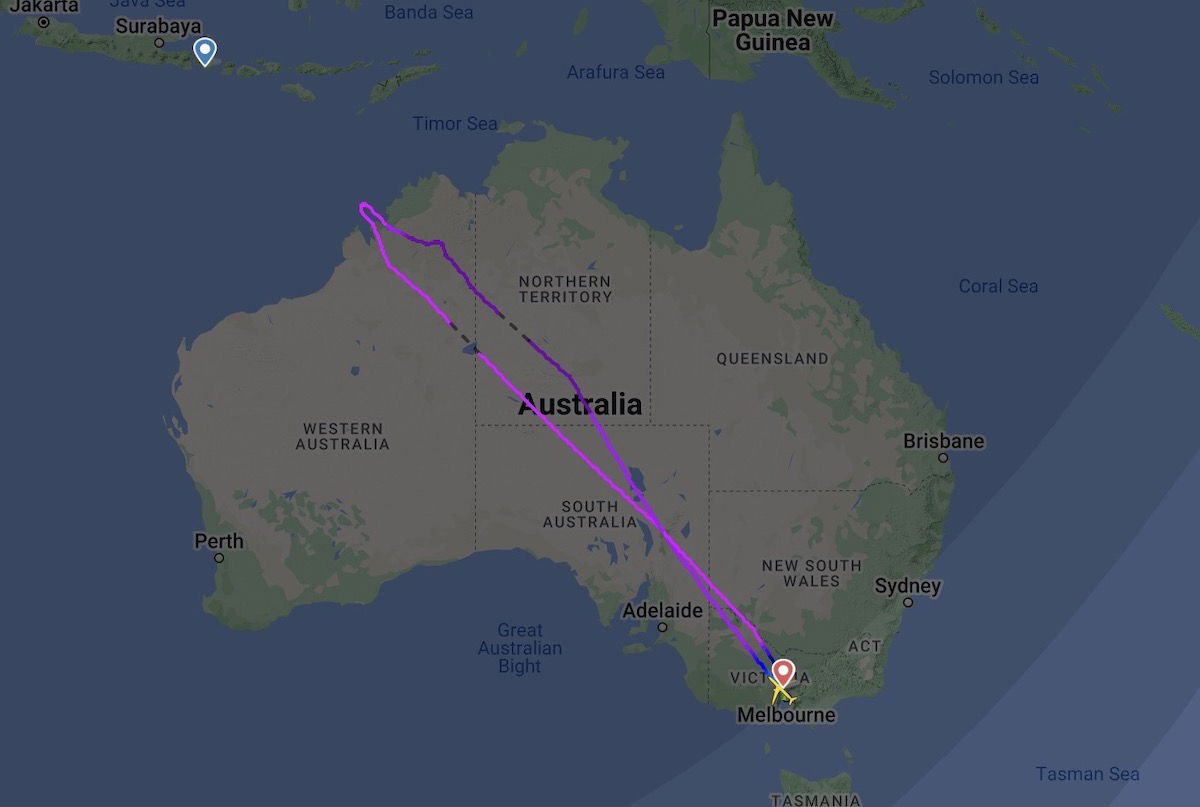 What went wrong with this Jetstar flight?
There are lots of legitimate reasons that flights sometimes return to their origin — there could be a maintenance issue, there could be an issue with the destination that makes flying there challenging, etc. Fortunately or unfortunately, depending on how you look at it, that wasn't the case here.
So, what happened? Well, this Jetstar route is ordinarily operated by an Airbus A321neo, rather than a Boeing 787-8. However, for whatever reason the airline decided to upgrade the flight to a bigger plane. It's not clear if this was due to higher seasonal demand, or due to some maintenance issue with another aircraft (given the delay).
There's only one problem — the airline forgot to get permission for this with authorities in Indonesia. With authorities there refusing to grant the plane permission to land, the decision was made to turn around.
As a Jetstar spokesperson explains:
"Unfortunately, due to a miscommunication, the swap to a larger aircraft had not been approved by the local regulator in Indonesia. As soon as we became aware, the flight returned to Melbourne, and we have rebooked passengers on a flight later today."
Interestingly the airline seems to show some Bali flights over the coming days similarly "upgraded" to the 787, though I imagine that will be changed. At least that assumes that the airline didn't get permission to fly a bigger aircraft on the route on some dates, but not on Tuesday.

Obviously this is a humiliating blunder. I don't envy the position that the crew was in, informing passengers on a flight that's already five hours late that they'll be turning around to Melbourne, and flying nearly eight hours to nowhere.
This is an embarrassing mistake that was clearly avoidable. That being said, aviation is incredibly complicated (including all the permission that has to be requested with foreign authorities), and once in a while things go wrong. That's not to excuse it, but human error does happen sometimes.
Bottom line
A Jetstar flight from Melbourne to Bali was first delayed by nearly five hours, and then had to return to Melbourne more than halfway through its journey, resulting in a 7.5+ hour flight to nowhere. This was because Jetstar swapped to a larger aircraft for the flight, but that hadn't been cleared with authorities in Indonesia.
While flights to nowhere happen every once in a while, this is one of the more avoidable reasons…
What do you make of this Jetstar flight to nowhere?