Passengers on KLM's Saturday flight to Rio de Janeiro had quite a long day.
KLM flight to Rio de Janeiro returns to Amsterdam
On Saturday KLM flight 705 was scheduled to fly from Amsterdam to Rio de Janeiro. The flight was operated by a Boeing 787-9 with the registration code PH-BHD, that had been delivered to the airline in January 2016 (so it's roughly five years old).
As reported by The Aviation Herald, about 4hr30min into the flight (roughly 620nm south of the Azores Islands) and at 36,000 feet, the outer pane of the right hand cockpit windshield cracked. It's reported that a loud bang could be heard even by passengers in the cabin, though the pilots reported to ATC that "only the outer pane" was cracked, "so no very big damage of the window."
The crew made the decision to return to Amsterdam. That makes sense, so that maintenance can fix the plane most easily. After all, you generally prefer to have a plane with issues at a hub, where it's potentially cheaper and faster to fix, rather than at an outstation.
The plane touched down in Amsterdam 9hr10min after takeoff, and about 4hr40min after the decision had been made to turn around.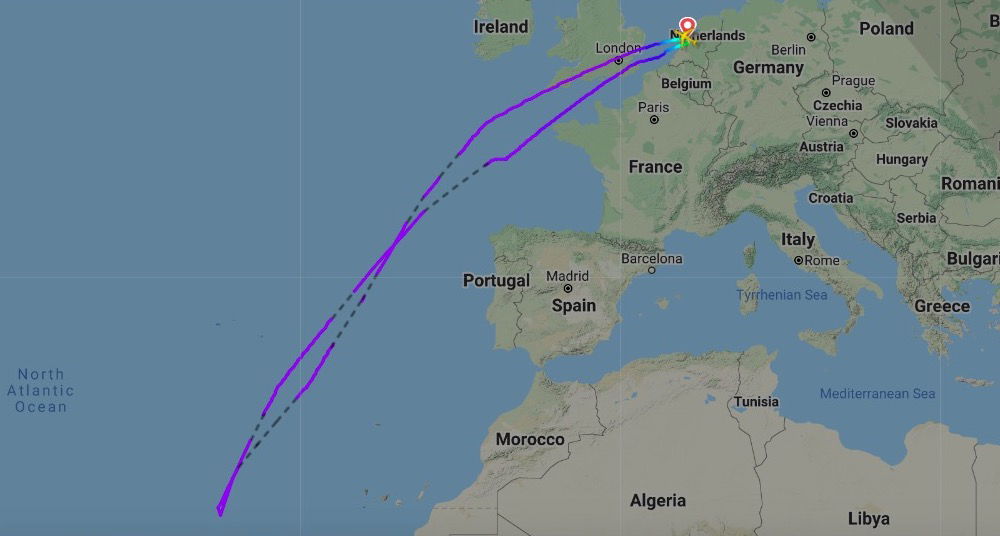 What happened to the passengers?
One of the challenges with international flight cancelations, particularly in countries that allow sterile transit, is that not all passengers are eligible to enter the country. That's true even more than ever before in the coronavirus era, where the EU has particularly strict entry requirements.
Once the plane returned to Amsterdam this wasn't as easy as just rebooking passengers on the next available flight (which would have been in two days), since many would have likely been stuck in the terminal.
Fortunately KLM acted quickly, and the airline found a replacement 787-9 and crew to operate this flight just hours after it returned to Amsterdam. That 11hr13min flight operated without issues, and arrived in Rio de Janeiro in the early morning hours of Sunday, roughly 14 hours late.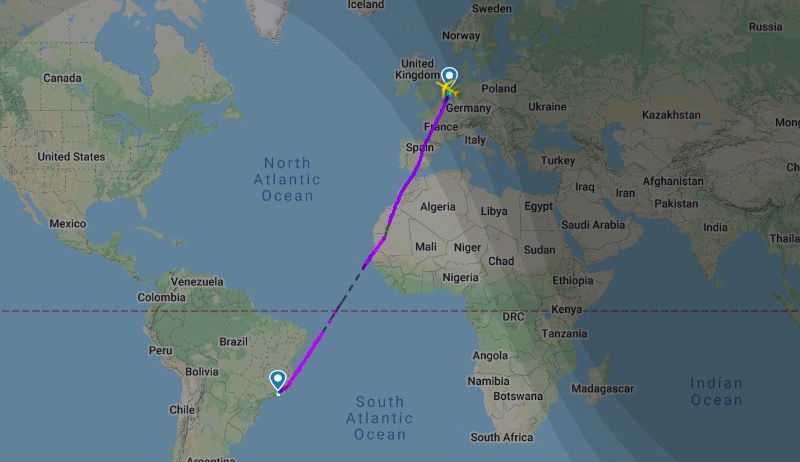 Bottom line
On Saturday KLM operated a roughly nine hour flight to nowhere, which happened after a 787-9 windshield cracked over the Atlantic Ocean. It's understandable the airline would want to bring the plane back to base with such an issue, even if it didn't pose any immediate danger.
Fortunately the airline acted swiftly and had a replacement aircraft ready to go within a couple of hours, so the passengers were "only" delayed by about 14 hours (which isn't bad when you consider the situation).
We hear about these "flight to nowhere" situations every so often, and this isn't even the longest such KLM flight I've written about. In November 2019 a KLM 747 due to operate from Amsterdam to Mexico City operated an 11 hour flight to nowhere, due to volcanic activity.