Eurowings attempted to operate their first scheduled flight to Sardinia on Saturday since the crisis started, and that didn't exactly end well…
Eurowings flies to Olbia, turns around
Eurowings is a low cost carrier in the Lufthansa Group. Early on Saturday morning a Eurowings Airbus A320 was scheduled to operate flight 9844 from Dusseldorf to Olbia, a 730 mile flight.
The flight departed on-time, and within 90 minutes was approaching Olbia. This is the point at which the pilots learned that the airport was closed to commercial traffic. The plane entered a holding pattern for 40 minutes in hopes of getting permission to land, but that wasn't granted.
While the plane could have diverted to another Italian airport, the crew made the decision to turn around, and the Eurowings plane flew all the way back to Dusseldorf. The total flight time was 4hr10min. The passengers and crew were back where they started, with nothing more than burned fuel to show for it.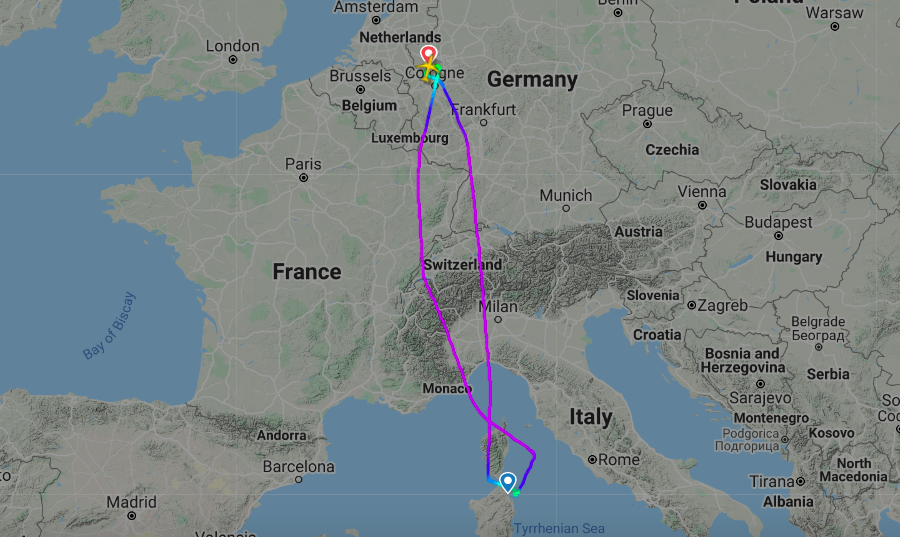 On the plus side, not that many people were inconvenienced, as the plane had only two passengers onboard.
How exactly did this happen?!
How did Eurowings end up trying to operate a flight to a closed airport? As reported by Corriere Della Sera, the airline says an investigation is taking place.
For what it's worth, on Thursday afternoon (a bit over 36 hours before the flight) a notice to airmen (NOTAM) was issued that should have made it clear that commercial flights weren't allowed to the airport:
COVID-19. AERODROME CLOSED TO COMMERCIAL AVIATION TRAFFIC IN COMPLIANCE WITH REGIONE SARDEGNA DECREE 23 OF 17TH MAY 2020. RMK: GENERAL AVIATION ACTIVITY AND COMMERCIAL AVIATION ACTIVITY ON DEMAND (AEROTAXI) WITH AIRCRAFT HAVING MAXIMUM CABIN CONFIGURATION EQUAL OR LESS THAN 19 SEATS ARE APPROVED IN COMPLIANCE WITH MINISTRY OF INFRASTRUCTURE AND TRANSPORTATION DECREE 207/2020 AND REGIONE SARDEGNA DECREE 23 OF 17TH MAY 2020.
The one potential source of confusion is that Italy's Ministry of Infrastructure and Transportation on May 17 established the reopening of Olbia Airport, but within hours a regional ordinance ordered the airport to be closed to commercial traffic through at least June 2, 2020.
Obviously there were some oversights here by more than one party:
How was the airline selling tickets?
Why didn't the pilots notice the NOTAM?
How was a flight plan approved for service to a closed airport?
While it's presumably not ATC's fault, did no one along the way inform the pilots they were flying to closed airport?
Bottom line
A Eurowings flight scheduled to operate from Dusseldorf to Olbia ended up diverting back to Germany, causing a four hour flight to nowhere. Obviously it can be a confusing time right now with so many different rules, but one still has to wonder how exactly this happened…