On Friday I flew from London to Brussels to New York on Brussels Airlines… or so I thought. While I'll have a full review of these flights shortly, I wanted to first talk about something I found to be strange.
Am I Flying Brussels Airlines Or Eurowings?
I flew from London to Brussels on an A320, and I was surprised to see the plane was in fact painted in the Eurowings livery…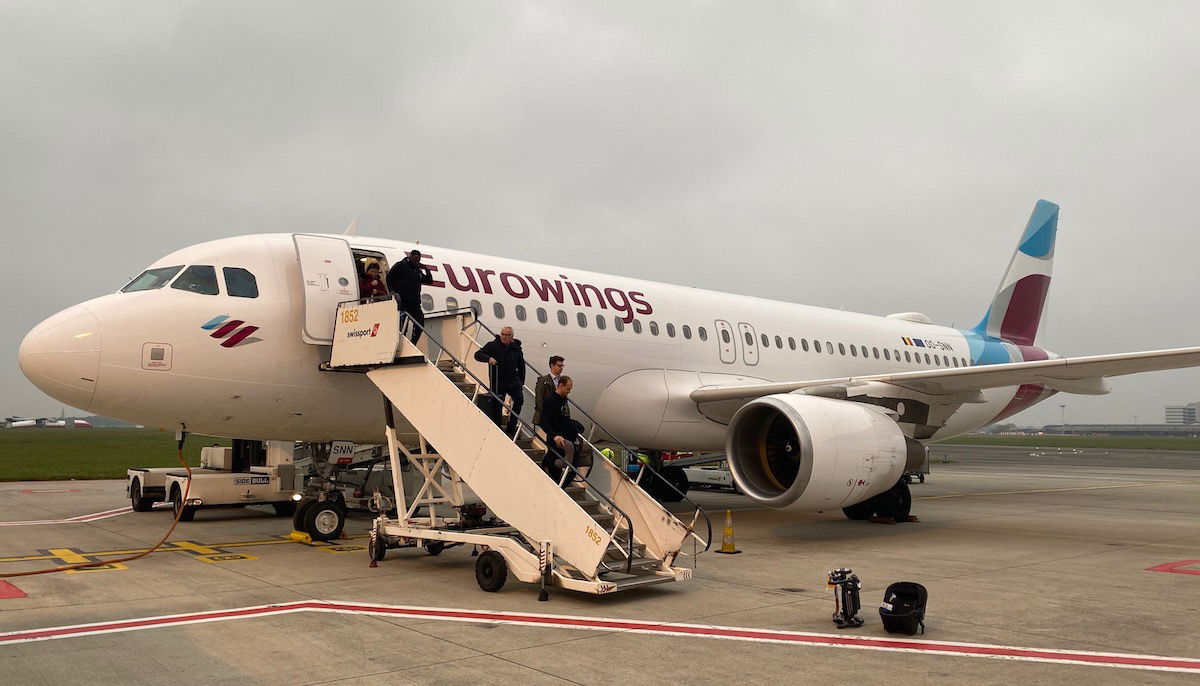 I didn't think much of it at the time, since I know the two companies are working more closely together, but then it came time for my connection.
My flight from Brussels to New York was operated by an A330-300 featuring Brussels Airlines' brand new business class…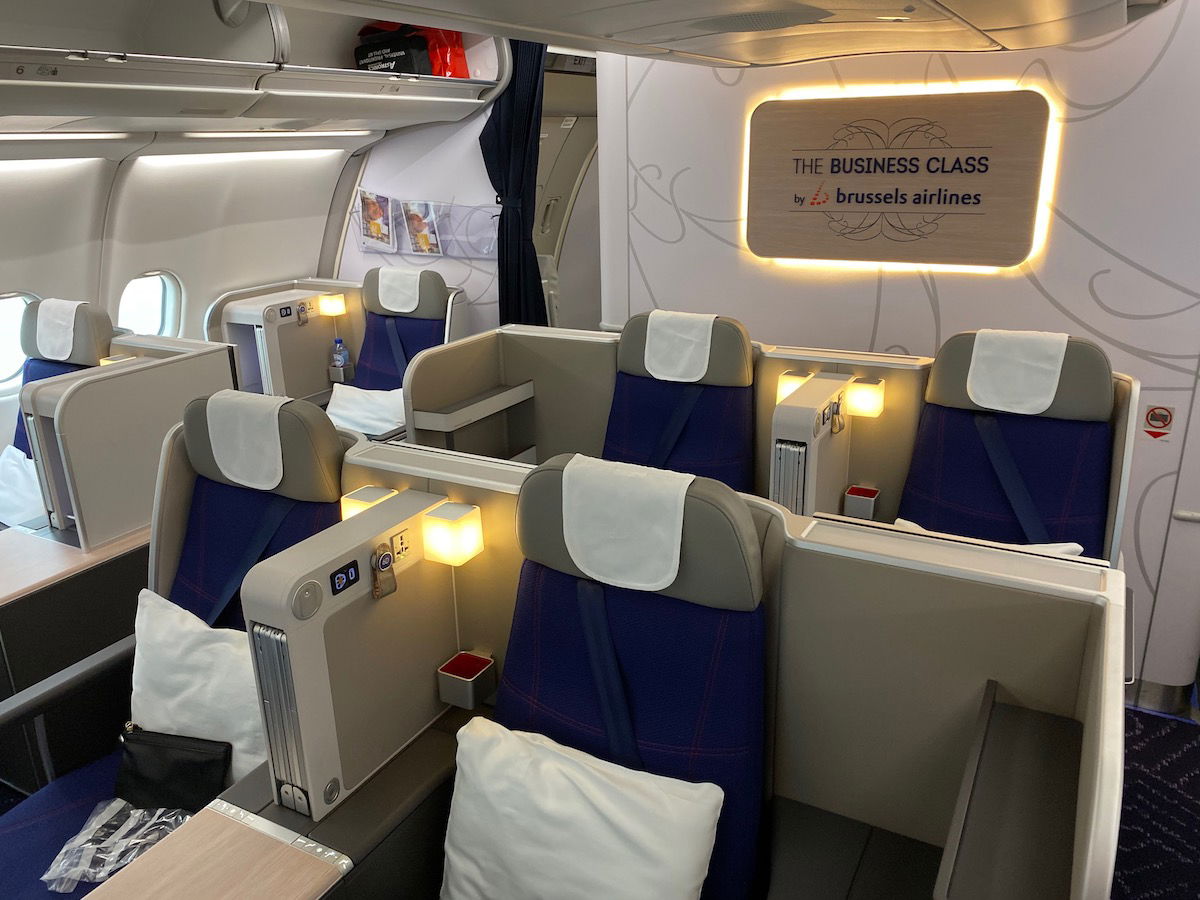 …yet somehow this plane was also in the Eurowings livery?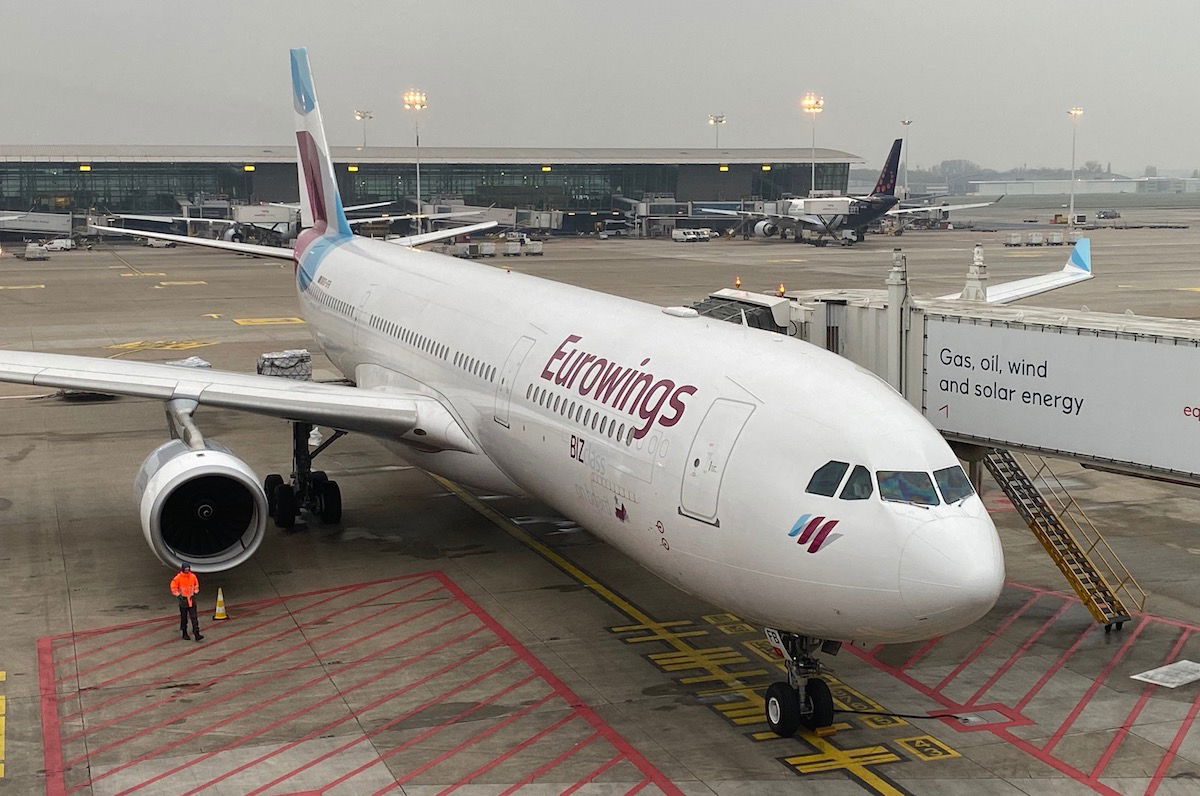 On neither flight did the crew in any way mention Eurowings or acknowledge the paint scheme.
Sometimes you have airlines that operate as subsidiaries and when that's the case they'll usually announce that specifically. That wasn't the case here, as references were exclusively to Brussels Airlines.
Looking at the two tail numbers, here's what is apparently going on (at least according to Airfleets data):
The A320 was OO-SNN, a former Laudomotion plane that was taken over by Brussels Airlines just last month, but painted in Eurowings colors
The A330-300 was OO-SFB, a former Cathay Pacific plane that was taken over by Brussels Airlines, then taken over by Eurowings and leased to Brussels Airlines, and then taken over by Brussels Airlines again
The Brussels Airlines & Eurowings Connection
Brussels Airlines and Eurowings are both owned by Lufthansa Group. In many ways these have been the two Lufthansa Group airlines with which they've been having the most issues:
So Lufthansa Group has been struggling in deciding what to do with the two airlines. In early 2018 the plan was for the two airlines to be integrated into one, which seemed like a questionable decision.
Last I heard that's not fully the plan anymore, as they plan to continue operating Brussels Airlines and Eurowings on both short haul and long haul flights. However, as the strategy is described, Brussels Airlines is the "long-haul competence center" of the Eurowings Group, and Eurowings is "responsible for the "short-haul business."
Again, they still plan on maintaining both airlines, which makes all of this is even more confusing.
Bottom Line
I really don't understand the Lufthansa Group strategy with Brussels Airlines and Eurowings. My two flights with them on Friday further drove home the point about the bizarre brand identity they're taking on.
Everything about the soft product was Brussels Airlines, and the crew was from Brussels Airlines. But the planes were in Eurowings liveries, which as a passenger can be rather confusing.
I actually wasn't too surprised to see the short haul plane in Eurowings livery, but there is something strange about flying an airline's flagship aircraft with all new cabins, only to find it painted in the livery of a different carrier.