Update: You can read a review of Brussels Airlines' new business class here.
In late February 2019, Brussels Airlines announced some changes to their long haul flying experience. They're branding this as a "boutique hotel in the air," which might be a bit of a stretch. Then again, airlines like to push their luck when it comes to marketing (kind of how American calls their uncomfortable new interiors "Oasis").
Well, as I noted at the time, Brussels Airlines' first A330 with the new cabins was expected to be flying by April 2019, so there's an update on that front.
Brussels Airlines' first A330 with new cabins now flying
Brussels Airlines has quietly put their first Airbus A330-300 into service with the new cabins. The plane has the registration code OO-SFD, and it has been in service since late last month.
Brussels Airlines did the work on this Dresden, and flew the plane back to Brussels on April 26. Since then the plane has operated routes to Douala, Yaounde, Abidjan, Cotonou, and New York.
It doesn't look like the plane is being assigned any specific route in advance just yet. However, if you check the Flightradar24 page for this aircraft registration, you can see where it's scheduled to fly in the next day or so. For example, the plane is flying from Brussels to New York to Brussels today, and tomorrow is flying to New York yet again.
Looking at the seatmap, both the old and new business class cabins have 30 seats. However, the configuration is a bit different. In the new configuration, there are two seats in the center section in every row, while in the old configuration every other row has just one seat in the center section (in other words, the old configuration alternates between 1-2-1 and 2-1-2, while the new configuration alternates between 1-2-1 and 2-2-1).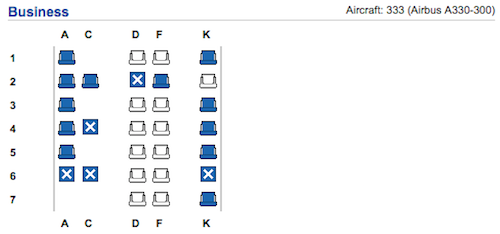 Perhaps the easiest way to tell is to look at the economy seatmap, because the first three rows will be in a 2-3-2 configuration, since those are premium economy seats (the airline isn't yet selling those seats as premium economy).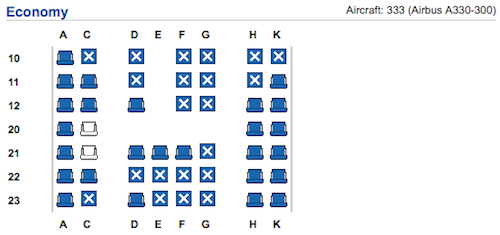 Brussels Airlines' second A330 is currently being reconfigured. This work is being done in Amman, Jordan, and the plane was flown there on April 30. Hopefully that plane is in service in the coming weeks as well. That plane has the registration code OO-SFE.
What's different about Brussels Airlines' new A330?
So what's the big deal with Brussels Airlines' new cabins?
Well, in business class they're maintaining the same general configuration, which is to say that they'll still have fully flat staggered seats. However, they're installing a version of the product with more privacy, and it's an updated version similar to what Swiss has on their 777-300ERs.
On top of that, Brussels Airlines is following the trend in the Lufthansa Group, and is introducing 21 premium economy seats, in a 2-3-2 configuration. The airline didn't previously have premium economy.
Bottom line
I'm happy to see Brussels Airlines stuck to their timeline when it came to introducing these new A330s. It has been several years since I reviewed Brussels Airlines, so I look forward to trying their new business class. However, it looks like we may have to wait a while until the reconfigured planes are consistently on any route.
If anyone has the chance to fly Brussels Airlines' reconfigured A330, please report back!