In March 2019, British Airways unveiled their spectacular new Club Suites (update: read my review of BA Club Suites here). These are essentially reverse herringbone seats with doors, so they added an innovation to an already great seat.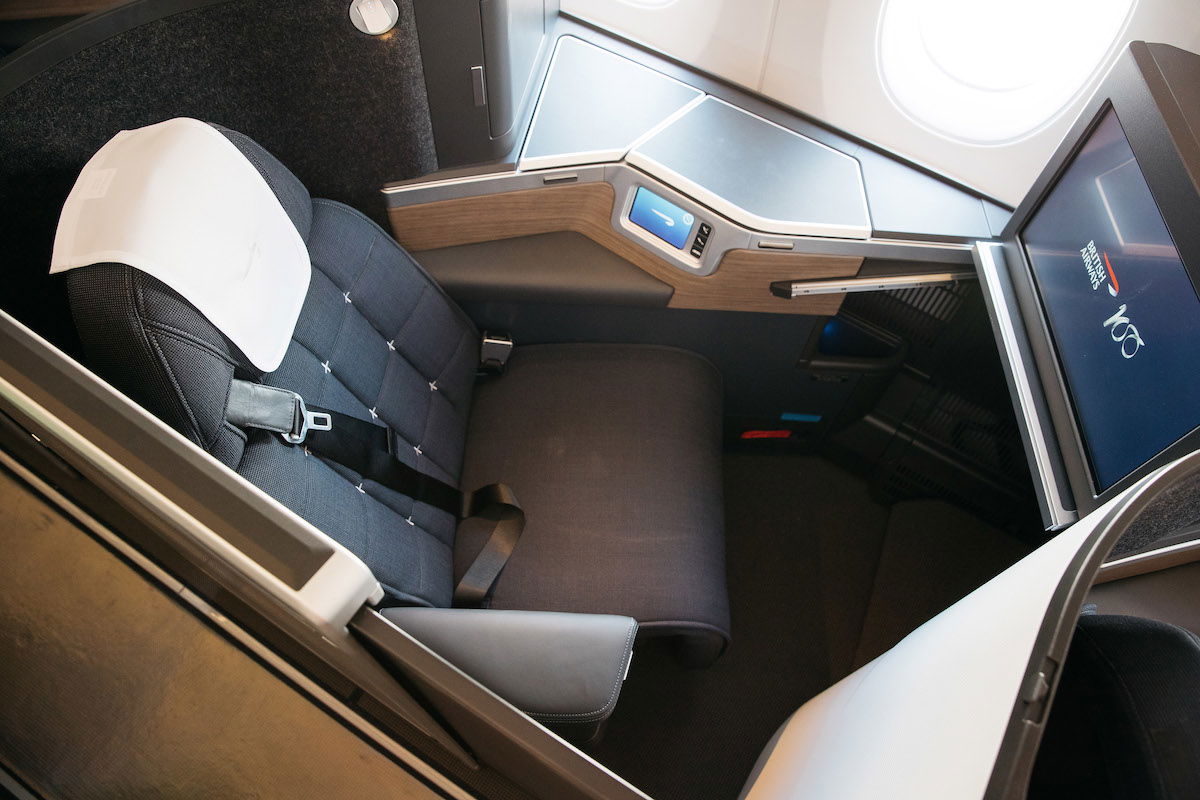 This represents a massive leap for the airline, which has otherwise had a lackluster business class product. These new cabins can't come soon enough, and one question has been when we can expect these cabins to be available on more than a handful of routes.
After all, sometimes it feels like a seat is already outdated once the airline gets around to reconfiguring their entire fleet.
British Airways' Club Suites Progress So Far
British Airways' Club Suites debuted on their newly delivered A350-1000. British Airways took delivery of their first A350 in late July, and the airline has a total of 18 of these on order. Each of these is being delivered with the new seats.
As far as long haul British Airways A350 routes go, the airline is currently flying the planes to Toronto and Dubai, and they'll also soon fly to Tel Aviv and Bangalore.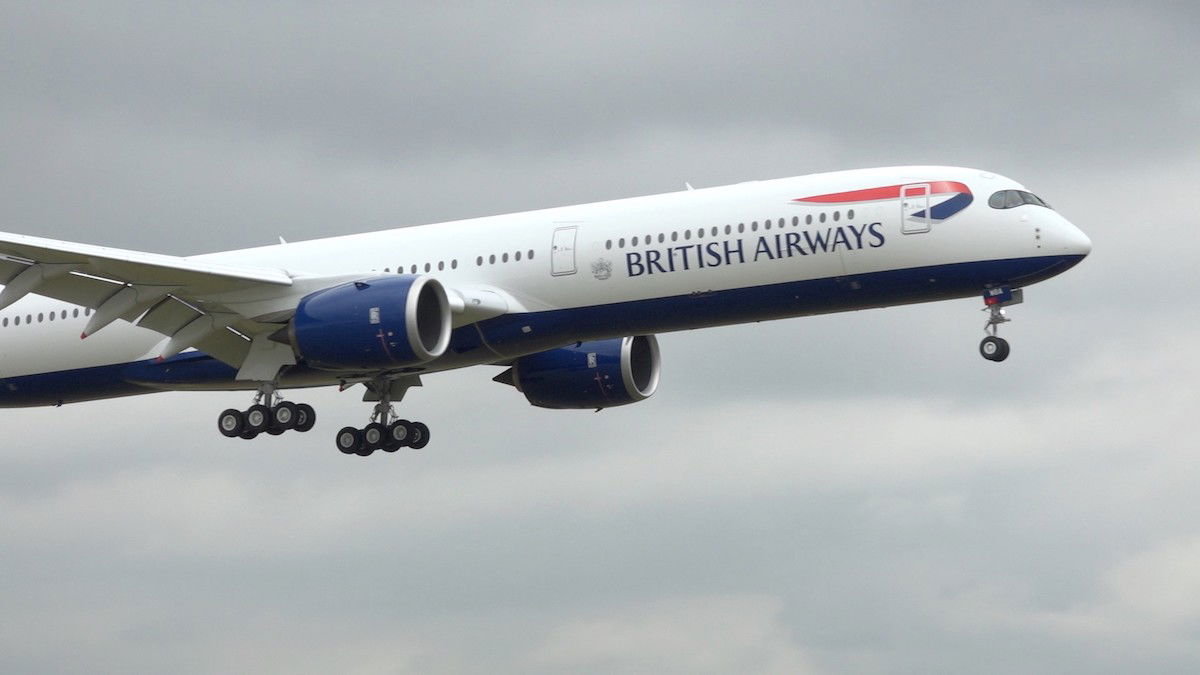 On top of that, British Airways has already reconfigured their first 777-200 with the new Club Suites, and that plane is flying to New York JFK. We should see several more 777s enter service with Club Suites over the coming months.
Club Suites Rollout Will Be Complete By 2025
Up until now I haven't seen any concrete and detailed plans for adding Club Suites throughout the rest of the fleet. I was expecting it would take several years, though British Airways has now provided a more detailed look at what they're planning.
The new Club Suites installation should be complete on all London Heathrow based long haul aircraft by 2025. That's a while, but I'm actually impressed that the plan is for 79% of aircraft to have Club Suites by 2022, and 92% of aircraft to have Club Suites by 2023.
Here's a graph showing British Airways' plans, per British Airways' Capital Markets Day presentation today: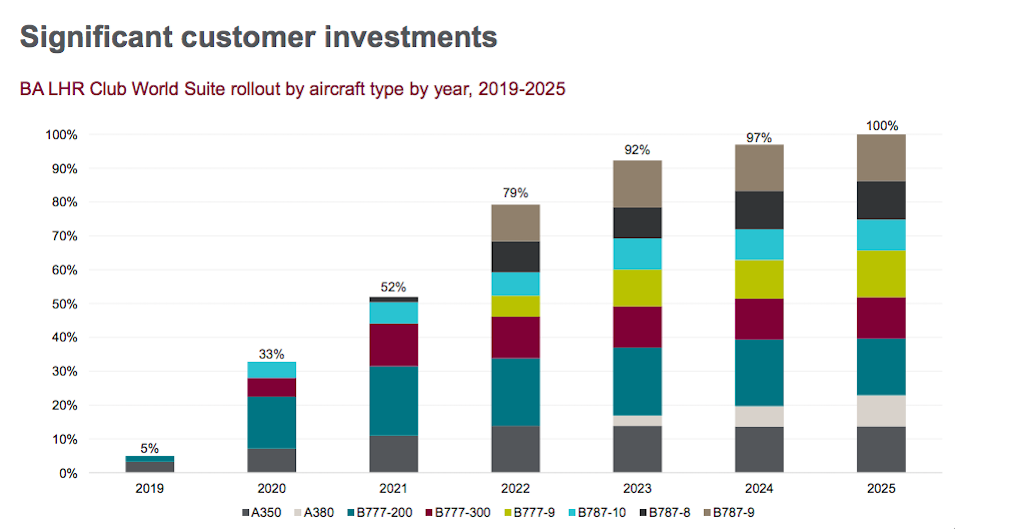 To break it down a bit further (this is all based on long haul Heathrow based aircraft):
By the end of 2019, 5% of aircraft will have Club Suites; this will include just A350-1000s and 777-200s
By the end of 2020, 33% of aircraft will have Club Suites; a majority of that increase will come from 777-200s being reconfigured, though we'll also see 777-300s start to be reconfigured, as well as newly delivered 787-10s
By the end of 2021, 52% of aircraft will have Club Suites; we'll see more 777s reconfigured, more 787-10s delivered, and we'll also see 787-8s start to be reconfigured
By the end of 2022, 79% of aircraft will have Club Suites; we'll see a big focus on 787-8s and 787-9s being reconfigured, plus we'll see newly delivered 777-9s
By the end of 2023, 92% of aircraft will have Club Suites; this is when we'll start to see A380s reconfigured with the new seats
In 2024 and 2025 we'll see them get to 100%; this will largely happen thanks to newly delivered 777-9s, and more A380s being reconfigured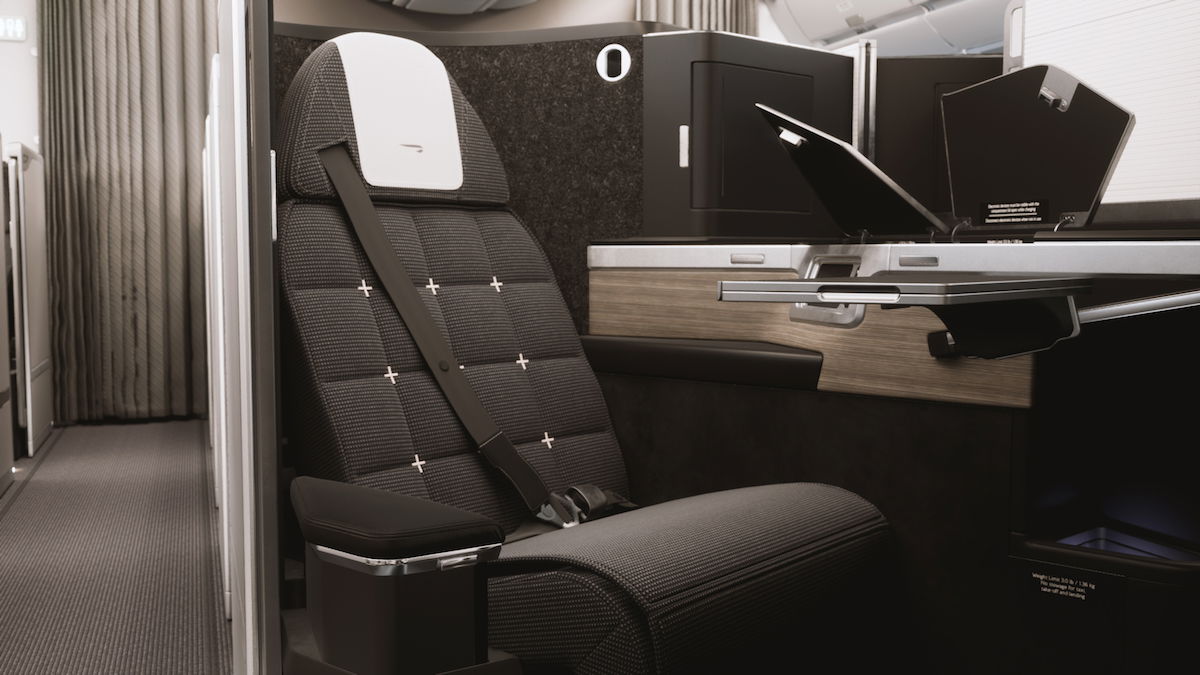 Bottom Line
We can expect all Heathrow based long haul aircraft to have Club Suites in six years, by 2025. While that's a long time, realistically in three years almost 80% of aircraft should have Club Suites, so that's a pretty decent pace, actually.
As a point of comparison, United started their Polaris project just under three years ago, and they're about 50% of the way there.
We'll see British Airways take delivery of A350-1000s, 787-10s, and 777-9s, with the new cabins, and then we'll see them first focus on reconfiguring 777s, then reconfiguring 787s, and then reconfiguring A380s.
It's great to see British Airways plans to install Club Suites on A380s, since other airlines are dumping the planes nowadays. Then again, these plans are years out, so things can change.
What do you make of British Airways' Club Suites rollout schedule?
(Tip of the hat to Sven Blogt)