A few weeks ago a British Airways Boeing 787 suffered a nose gear collapse at Heathrow, and we now have a sense of what happened.
British Airways 787-8 suffers nose gear collapse
In June, a British Airways Boeing 787-8 with the registration code G-ZBJB suffered a nose gear collapse while parked at a remote stand at Heathrow Airport.
The eight year old Dreamliner (which was also the first 787 that British Airways ever took delivery of) had previously last flown on Wednesday, June 16, 2021, when it operated a Moscow to London flight. The incident occurred on the morning of June 18, 2021, while the plane was parked at a stand, and preparing to operate a cargo flight to Frankfurt.
Fortunately there were no passengers onboard, and only one person suffered minor injuries. The plane sustained serious damage, though, including to the lower nose, the nose landing gear doors, the engine cowlings, and the second door on the left (which separated from the fuselage). The plane hasn't flown since the incident.
Below are some pictures and videos of the plane, which show you just how bad the damage was.
How did the Boeing 787 damage happen?
The UK's Air Accidents Investigation Branch (AAIB) immediately sent a team to Heathrow to investigate what happened, and a report has now been released, including a special bulletin, to prevent this from happening in the future.
According to the report:
While the plane was being loaded with cargo, a procedure was being carried out with regards to some deferred maintenance
The procedure required the cockpit landing gear selection lever to be cycled with hydraulic power applied to the aircraft
To prevent the landing gear from retracting, the procedure required pins to be inserted into the nose and main landing gear downlocks
The nose landing gear downlock pin was accidentally inserted into the wrong hole — it was put into the apex pin bore, adjacent to the correct location (see the below diagram)
As a result, when the landing gear selector was cycled, the nose landing gear retracted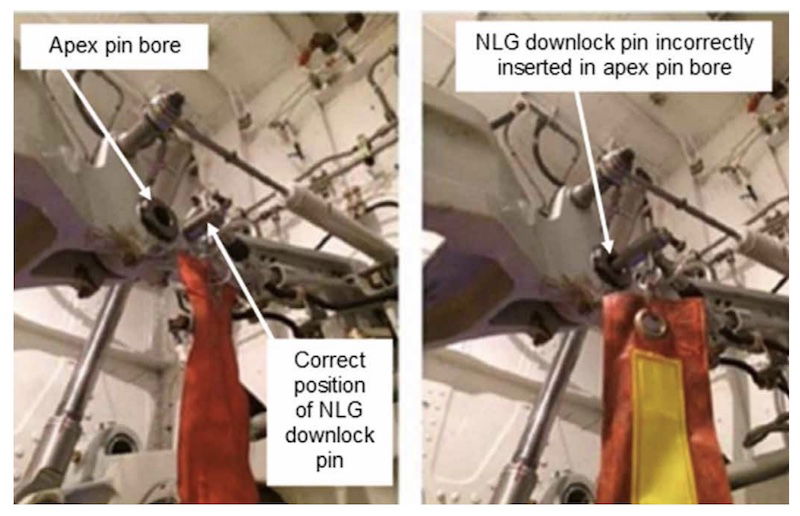 To prevent this from happening in the future, an airworthiness directive has been issued, requiring operators to install an insert over the apex pin bore.
I'm curious to see how long it will take for this damage to be fixed (if it's fixed at all).
Bottom line
In mid-June, a British Airways Boeing 787 was badly damaged at Heathrow. The plane was being loaded up for a cargo-only flight to Frankfurt, and some maintenance was being performed on the plane.
An investigation has revealed that a pin was placed in the wrong hole near the nose landing gear, and that caused the gear to collapse. An airworthiness directive has now been issued to make sure something like this doesn't happen again.
Fortunately no one was seriously hurt, though I can't imagine the plane will be flying again anytime soon…