Last night I flew from New York JFK to London Heathrow, which is in my opinion simultaneously the least and most glamorous route in the world. There's no denying that there's something intriguing about the "NYLON" route, but at the same time it's such a short flight that there's no way to really arrive well rested, let alone truly enjoy the flight.
I redeemed 62,500 American AAdvantage miles for travel from New York to London to Brussels in British Airways first class. American does impose fuel surcharges on British Airways redemptions, which sucks, though it was the only practical option for me to get to Brussels in time for my Tomorrowland flight tomorrow.
While I'll have a full trip report soon, I figured I'd make a quick post sharing my initial thoughts on the flight:
British Airways 747 first class seat
As is the case with most British Airways frequencies between New York and London, my flight was operated by a 747.
British Airways crams 14 seats into the nose of the 747. As a point of comparison, Cathay Pacific has nine first class seats in the nose of their 747s, while Lufthansa has eight.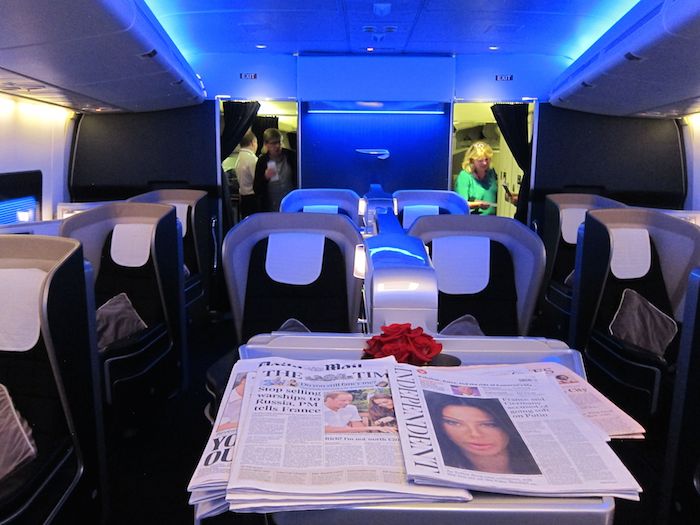 British Airways 747 first class cabin
As I've said before, I find British Airways' first class hard product to be more like the world's best business class. I'd say it's marginally more comfortable than a reverse herringbone seat.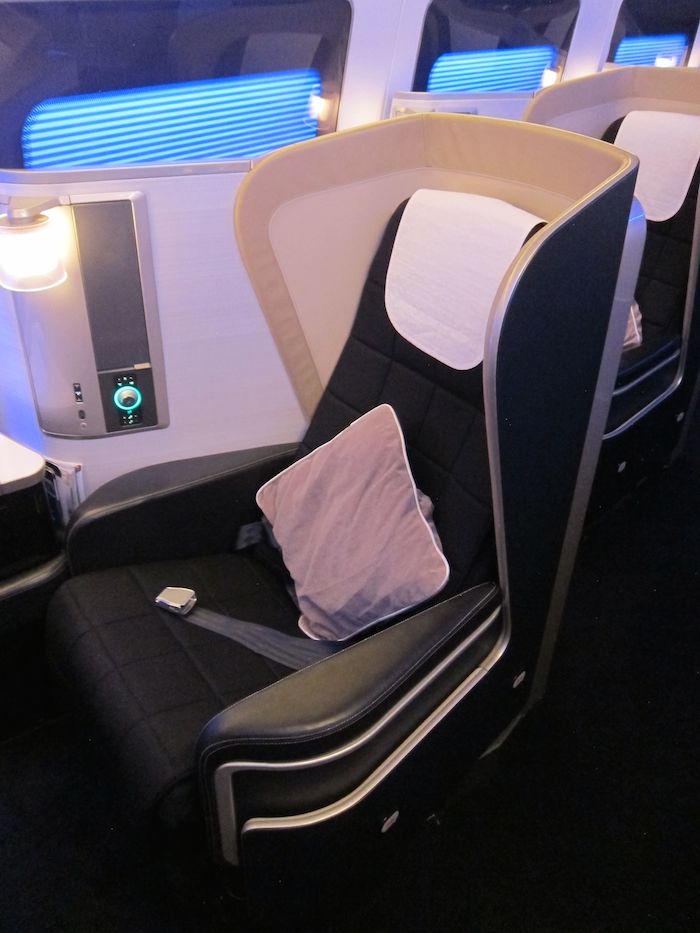 British Airways 747 first class seat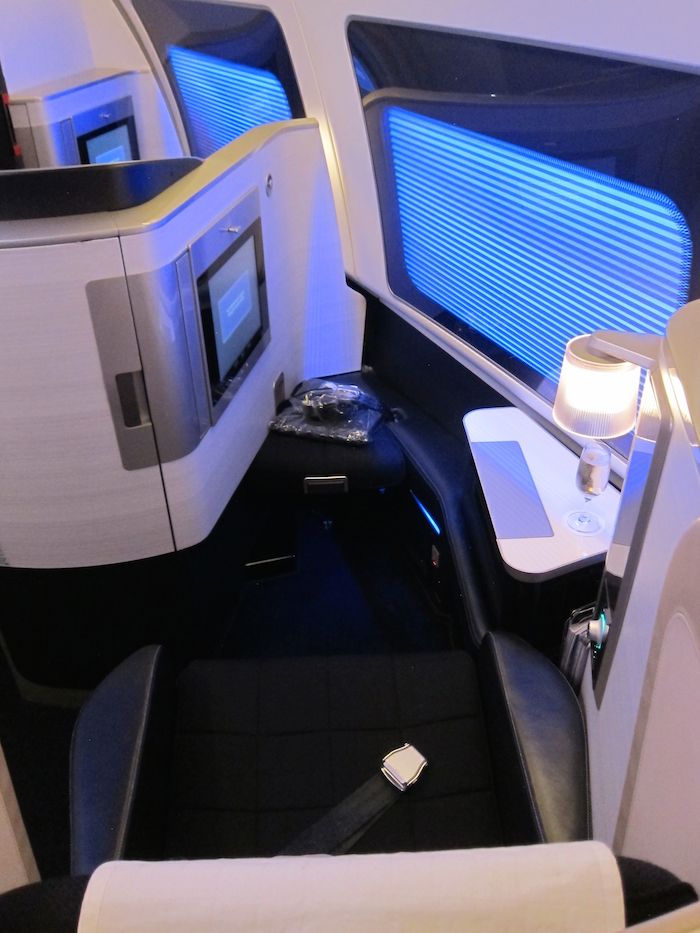 British Airways 747 first class seat
That being said, the points British Airways loses for space they largely win back on style. I don't think there's a more stylish first class product out there than British Airways', from the finishes to the window shades to the mood lighting.
It's also worth noting that this flight was less than half full, and row one stayed empty. So I was in 2K, and the crew made my bed in 1K. Despite the flight being only six hours, I got roughly three hours of sleep, which is the best I've done on this route.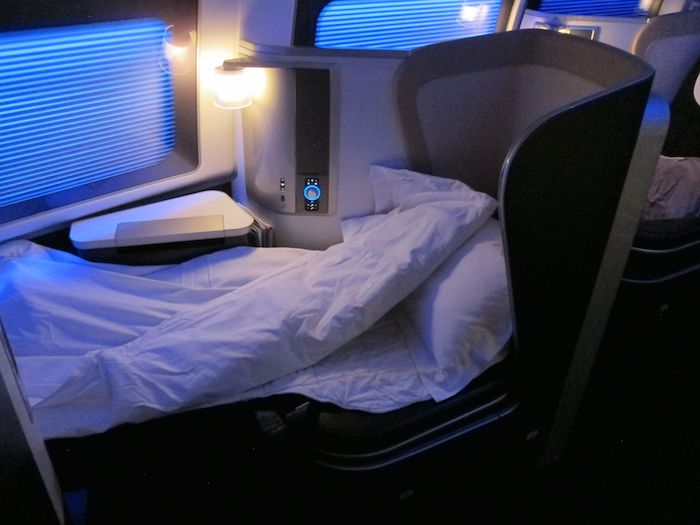 British Airways 747 first class bed
British Airways first class food
There's no way to "win" on food in the New York to London market. The focus is on maximizing sleep, and with flight times of under six hours, it's tough to find the right balance between having a "proper" service and keeping the cabin as quiet as possible.
There's a three course dinner menu, a bistro menu, and a full breakfast service, so if you want you could eat all the way from takeoff to touchdown.
The food was all perfectly edible. I don't think there was anything on the menu that I wouldn't expect in Etihad business class (or another leading business class product), but at the end of the day I'm fine with that.
I had an amuse bouche to start.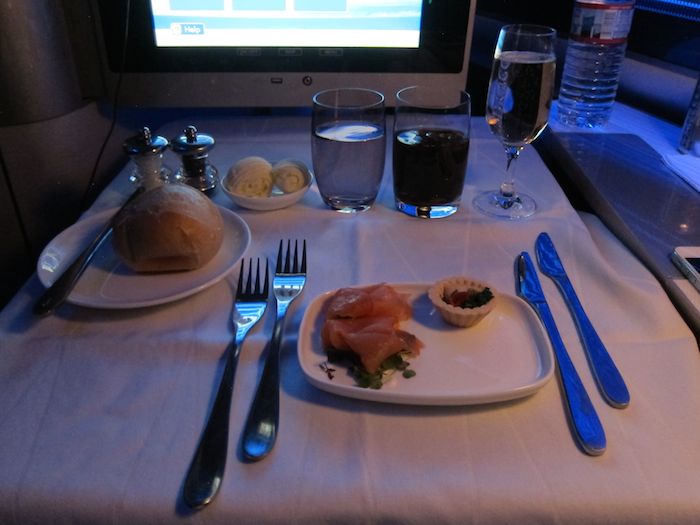 British Airways first class amuse bouche
Then an appetizer.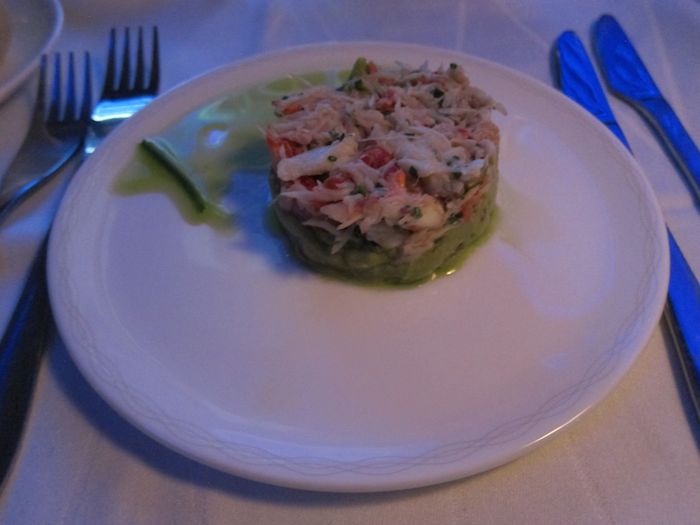 British Airways first class starter — Alaskan king crab, mushroom and avocado timbale
Then a main course.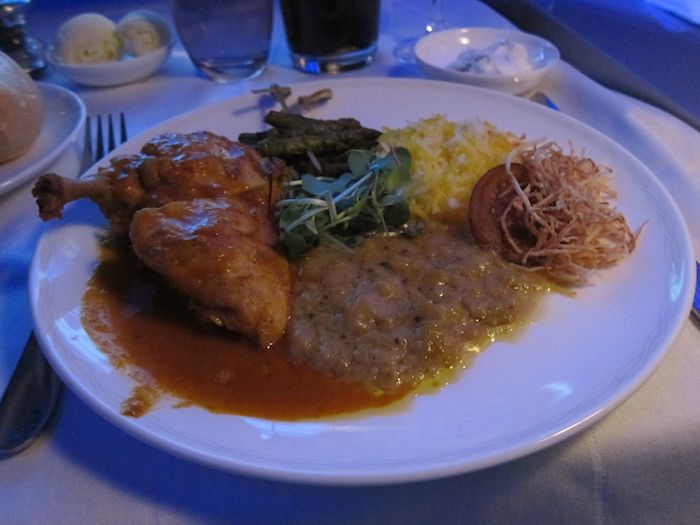 British Airways first class main course — chicken tikka masala with pulao rice, coconut lentils, and spicy asparagus
And dessert.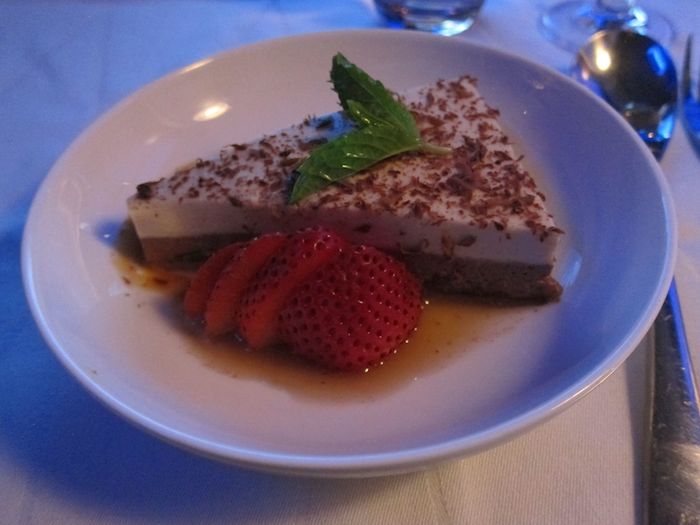 British Airways first class dessert — crispy banoffee pie with salted caramel
I should note that British Airways serves Laurent Perrier Grand Siecle champagne both in the air and in their first class lounges, so they get some points for that.
British Airways first class service
My last flight on British Airways was with one of their mixed fleet crews, which are their super young and energetic crews, even if they're not especially polished.
This wasn't a mixed fleet crew, and I can't say I was especially impressed. They were clearly just going through the motions, which I can to some degree appreciate on such a quick flight focused on efficiency, but a smile here or there wouldn't have hurt.
Only six of the fourteen first class seats were occupied, and despite that service wasn't very attentive.
British Airways first class amenities
For one, this flight had Wi-Fi, which was really exciting.
Beyond that, British Airways does in general have awesome amenities. Their pajamas are my favorite of any airline, and they have a fairly nice amenity kit as well.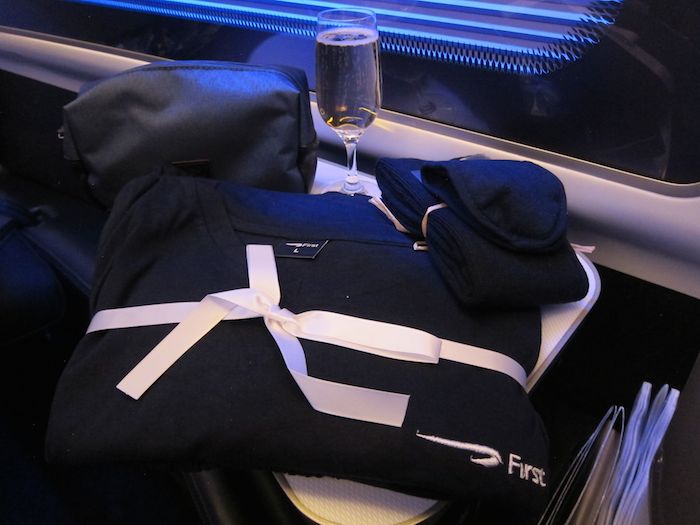 British Airways first class pajamas and amenity kit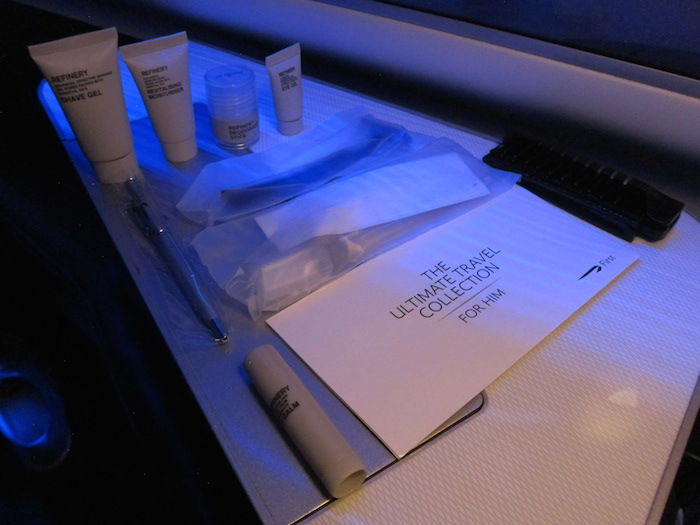 British Airways first class amenity kit contents
The entertainment selection on British Airways isn't very good, though I brought my own.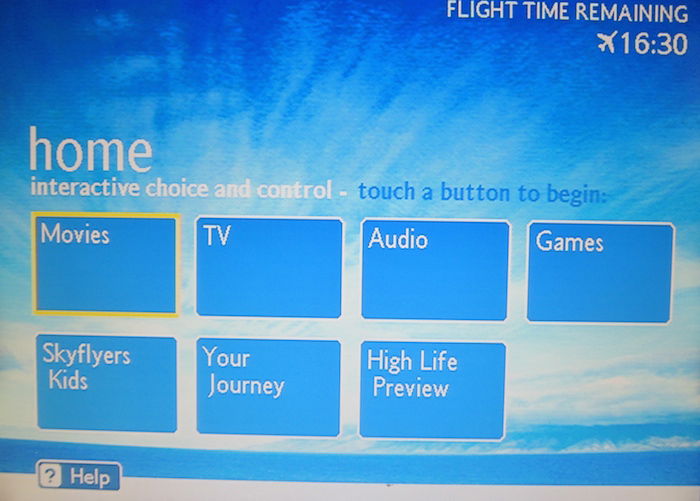 Yes, we clearly had very strong headwinds 😉
British Airways first class bottom line
Is it one of the world's best first class products? No.
But I do find the cabin to be stylish and fairly comfortable, the food to be edible, and service to generally be acceptable. In the future I'd definitely try to get on a flight with a British Airways mixed fleet crew, as I do prefer that service.
While the fuel surcharges on British Airways suck, the way I look at it, it's a somewhat fair tradeoff for decent award availability (thought even that isn't as good as it used to be).
I only booked this ticket a few hours before departure, and as a point of comparison, American's flight from New York to London was only half full in first class and had no one on the upgrade waitlist, but still didn't have any saver level award space.
If you've flown British Airways first class, what has your experience been?