Breeze Airways is a new airline that's about to launch in the United States, and it's founded by the same person behind JetBlue. The airline was initially supposed to launch in 2020, though understandably the timeline was pushed back a bit.
It has taken Breeze Airways a while to get all necessarily regulatory approval, and it looks like this has finally happened. Breeze Airways has announced that flights will go on sale as of 8AM ET on Friday, May 21, 2021, at flybreeze.com, and via the new Breeze mobile app.
Ahead of this launch, below is a recap of everything we know about Breeze Airways so far.
"Moxy" was announced in 2018
David Neeleman is the founder of several airlines, including JetBlue. He hasn't worked at JetBlue since 2008, and in 2018 he announced that he planned to launch a new airline in the US.
In July 2018 his new airline placed an order for 60 Airbus A220-300s, with deliveries expected to start in 2021.
While Moxy was used as the working name when the airline was first announced, we knew all along that the carrier wouldn't necessarily operate under that name.
Breeze Airways was revealed in early 2020
In February 2020 it was revealed that Neeleman's new airline would be known as Breeze Airways. Breeze Airways' livery is an interesting one — on the one hand it's unique and stands out, while on the other hand it already looks kind of outdated to me.

Rendering of Breeze Airways Airbus A220-300
Breeze Airways will launch in mid-2021
As mentioned above, Breeze Airways was supposed to commence operations in 2020, though understandably the pandemic has delayed things a bit. Even though many believe a recovery will take years, Breeze still plans to launch flights soon. The airline will primarily be focused on leisure domestic flying, which is a type of travel that has almost entirely recovered domestically.
The airline will put tickets on sale as of May 21, and then we'll see when flights actually launch — I'd expect it to be within several weeks.
Just for some context on Breeze's previous plans up until this point:
Breeze was initially going to start with charter services, but given that there's less demand for charter flights (especially with sports teams), this no longer makes sense
Breeze already has its first planes, and has been hiring pilots and flight attendants (more on that below, because it has been controversial)
Breeze has been granted final approval to operate scheduled flights, so the airline can start selling tickets
The airline has already started employee training, so operations are imminent
Breeze Airways' initial route plans
Breeze Airways hasn't made much public about its route plans, presumably because the airline doesn't want to give competitors too much of a heads up. However, we recently learned some details about Breeze Airways' initial route plans:
Breeze will initially fly 49 nonstop routes
Breeze will initially serve 15 cities
Breeze's first route will be Tampa to Charleston
Other launch cities include Nashville, New Orleans, and Pittsburgh
Breeze's initial focus will be connecting the Rust Belt to the Sun Belt
Breeze Airways' fleet plans: Embraer 190/195s, Airbus A220s
The long term plan is for Breeze Airways to fly Airbus A220s, given that it has 60 of these planes on order. However, initially the airline is leasing Embraer 190s & 195s from Brazil's Azul. This is mutually beneficial, as Azul is looking to get rid of those planes anyway, in favor of new Embraer 195-E2 jets.
With Breeze Airways' current plan:
Breeze Airways will launch operations with three leased Embraer 190s & 195s, with plans to lease up to a total of 15 of these aircraft
As far as Breeze Airways' A220s go, the airline will get its first one in August 2021, its second one in September 2021, its third one in November 2021, and then will get one per month starting in January 2022, until it has all 60 that have been ordered
While Embraers were initially going to be a temporary solution for Breeze, the latest plans I've heard suggest that the airline may keep these planes in the long run, to complement A220s. We'll see how things evolve.
Breeze's Embraers will feature 108 to 118 seats, meaning they will stay in the same configuration that they previously had with Azul, which is a one cabin layout with an extra legroom economy section.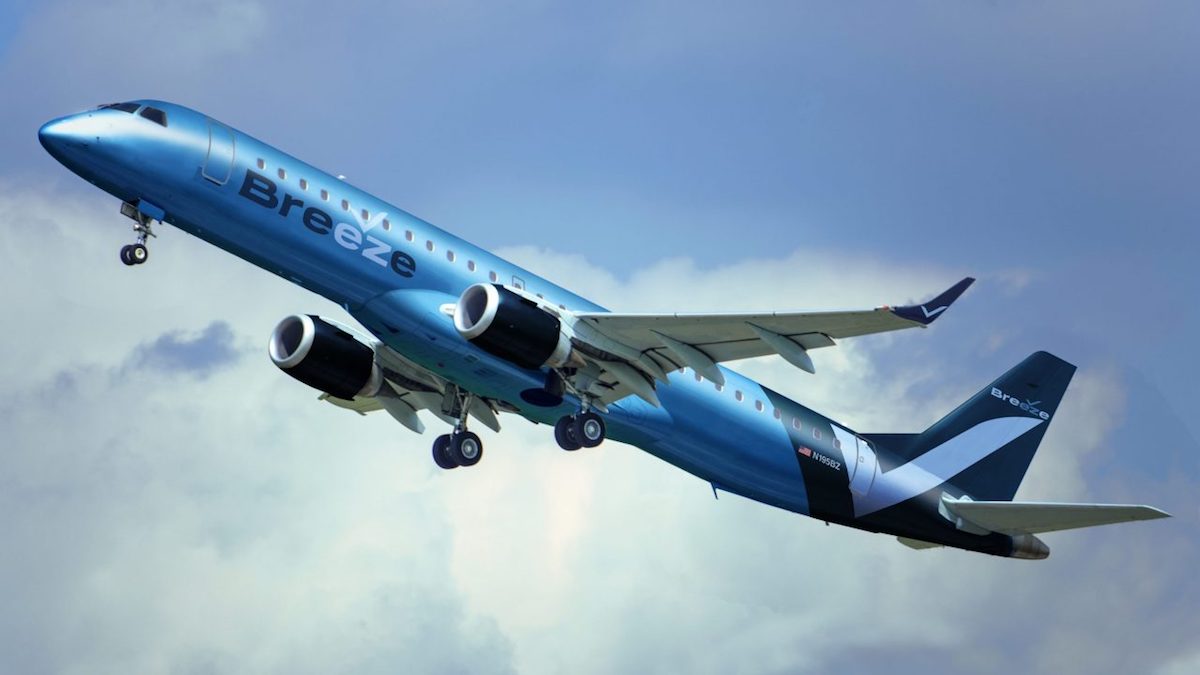 Breeze will initially fly Embraer aircraft
Breeze Airways' business model
In many ways the USA aviation market was already crowded before coronavirus, so what will make Breeze Airways different?
On the most basic level, Breeze Airways plans to operate point-to-point flights between markets that the airline considers to be underserved. This would include mid-size city pairs with no current nonstop flights, and it would also include flying into & out of secondary airports in regions. As Neeleman describes it:
"Breeze will fly nonstop service between places currently without meaningful or affordable service."
In other words, it sounds like Breeze's plan is to take a similar approach to route planning as Allegiant, except to offer a better experience.
Historically point-to-point leisure flying was a very different business model than what you found at legacy airlines. However, with business travel having dried up, we're seeing the "big three" carriers also launch endless point-to-point leisure routes that they would have never previously considered. This seems to at least somewhat reduce Breeze's competitive edge.
Breeze does have a significant cost advantage, though, as the airline is leasing these planes for very little, and labor costs are low. Neeleman claims that the airline could break even with a fairly low load factor, and even with parking the planes for several days per week.
Neeleman also says that Breeze Airways will be "the world's nicest airline." That's a big statement to make, so we'll see how that goes.
Interestingly Breeze is only one of two major new USA airline startups, with the other one being Avelo Airlines, founded by a former Allegiant Travel and United Airlines executive. That airline has a similar business model in terms of the routes it flies, with one major difference — Avelo is using older planes, and is focused on providing extremely inexpensive and basic transportation.
Breeze Airways' passenger experience
As far as Breeze Airways' passenger experience goes, the airline plans to be a low cost carrier with a twist:
The airline won't have seatback entertainment, but will have streaming entertainment and Wi-Fi (the airline has said that Wi-Fi may be free, but we'll see)
Breeze Airways will eventually have first class, and the type of seats may vary based on route; the airline may offer standard first class seats on some routes, and flat bed seats on other routes (this will apply to the A220s, as the Embraers won't feature first class)
Technology will be a big focus, and Neeleman has even described the business as "a technology company that happens to fly planes"
Regarding that last point, so many airlines talk about the importance of technology, and how they'll use that to differentiate themselves, etc. I'm always highly skeptical of the claim, because the reality is that very few airlines truly differentiate themselves on that front. We'll see if Breeze Airways is any different.
Breeze Airways' controversial hiring practices
Breeze Airways says it aims to be the world's nicest airline, which many would argue doesn't really mix well with the carrier's hiring practices, which have caused quite a bit of controversy:
So yeah, I'm curious to see how this works out for the airline. On the one hand, Neeleman has built airlines with good cultures. On the other hand, some of these practices seem highly questionable.
Bottom line
It looks like tomorrow we'll finally learn all the details of Breeze Airways, and I sure am excited.
Neeleman has done a fantastic job with the airlines he has founded, so as consumers we should be looking forward to Breeze Airways. He is promising the world's nicest airline, and in the past he has done a good job building companies with great cultures. I have some concerns about Breeze's approach to hiring, though only time will tell how that works out.
I'm very curious to see what Breeze's fare structures and routes are like. Even more than that, I look forward to learning more about the A220s, though it may be a while before those details come out, since the airline isn't launching with those planes.
Are you excited to finally learn the details of Breeze Airways?